There used to be a little restaurant in Decatur, Alabama called The Iron Gate. My mother dearly loved that place. I remember her taking us to meet her sister there, who'd have my baby cousin with her (That baby is now a DJ in Little Rock, Arkansas – who let him grow up?!). We'd play in the lobby where they had all of these large leaf plants and Mama an her sister would wait for them to open so they could go inside and have Mama's favorite dish – which she calls Chicken Poulet. The funny thing is, Poulet means "Chicken" in french so really, this dish is called Chicken Chicken.
Since it was a restaurant that catered primarily to adults, their menu didn't have much that appealed to children so they allowed parents to bring in fast food for them to eat. Silly me, I thought I was lucky at the time as I sat there with my paper wrapped hamburger and Mama dined on Poulet and homemade rolls!
Nowadays, I don't actually consider fast food edible by most counts – its just something you eat to keep from starving when you have no other choice. But this Poulet is actually pretty fast when it boils down to it because you assemble it the night before and stick it in your fridge. Come home from work or a day of running the errand rat race and just top it with your cream soup, pop it in the oven, and supper is on it's way!
Now we're talkin!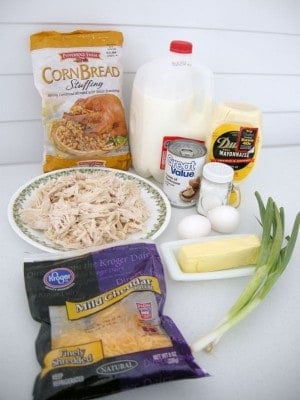 You're gonna need: Chicken, cheese, mayo, green onions, eggs (You'll need four so ignore the two in the pic), stick margarine, 1pkg peppridge farm stuffing, milk, cream of chicken soup, little bit of salt, and a can of chicken broth.
The chicken broth isn't pictured. I tried to get him to hop on the table but he was camera shy :).
Place your water and margarine in a cup and melt in the microwave until the margarine is completely liquefied.
Look at our pretty bowl we're gonna use today! Isn't it nice and sunshiney?
Okay, I'll get back in the kitchen now…just had to show ya what had me grinning!
Place stuffing mix in a large bowl. Add water and melted margarine.
Stir
Add chicken broth
and eggs
Stir that up good, too.
In a separate bowl, place shredded chicken, mayo, and onions.
I just boiled a couple of chicken breasts for this but you can use leg quarters, a whole fryer, even canned chicken! Just cook it until done and remove and shred meat to use in this.
Stir that up good.
Place half of stuffing mix in the bottom of a 9×13 pan.
Top with all of the chicken mixture. Sprinkle with salt.
Top with the remaining stuffing mix.
In a measuring cup, beat two eggs. Pour in milk.
Stir that up a bit.
Pour over poulet
Like so
It will be a little runny but that's okay!
Cover this up and stick it in the fridge for at least eight hours.
I just stick it in there the night before I plan on having it for supper.
Right before baking, spread the can of cream of mushroom soup over it.
Bake at 350, uncovered, for 45 minutes.
Remove from oven and top with cheese.
Return to oven for about five minutes, or until cheese is melted.
Have ya a lil' chicken chicken ~grins~
Mama's Chicken Poulet, or "Chicken Chicken"

Ingredients

Chicken Poulet
2 chicken breasts, cooked and shredded
1 Cup Shredded Cheddar Cheese
½ C Mayo
¼ C Green Onions
4 eggs
1 stick margarine
2 Cups Chicken Broth (a )) ounce can
16 ounce pkg Peppridge Farm corn bread stuffing mix
1 cup milk
1 cup water
1 can cream of mushroom soup
Sprinkling of salt

Instructions

Melt stick of margarine in cup of water by heating in the microwave. Place stuffing mix in bowl. Pour water and margarine over and stir. Add 2 eggs and chicken broth, stir.
In separate bowl, combine shredded chicken, mayo, and onions. Stir well.
Place ½ of stuffing mix in bottom of a 9x13 pan. Top with all of chicken mixture. Dash salt over chicken. Top with remaining stuffing mix. Beat together remaining two eggs and milk. Pour over mixture in pan. Cover and place in refrigerator for at least eight hours.
Before baking, remove cover and spread cream of mushroom soup over top. Place in 350 oven, uncovered, and bake for 45 minutes. Remove from oven and top with shredded cheese. Return for another five minutes, or until cheese is melted.
Be careful what you think because you will say it,
Be careful what you say because you will do it,
Be careful what you do because you will become it.

~Submitted by Kamilla. To submit your quote, click here.
Yum