Aunt Louise's Cheese Ball. Who is Louise? Louise was my Grandmama Lucy's sister. She always had a twinkle in her eye and a mouth that curved up every so slightly at the corners, as if she were going to burst into a smile at any moment. She was a good hearted person who, like my grandmother, had lived a hard life but always came out on top because she chose to focus on the good  instead of amplifying the bad.
I wrote about her in my first book, in the "Everybody's Favorites" chapter. I had almost finished the book when I woke up at 3:00 one morning with the image of Louise leaning down over her crochet work, racing against time, trying to use what waning sunlight she had to finish just one more project.
The story I included in my book just began writing itself inside my head and it was almost as if Louise was tugging at me to get up and write it. I actually said out loud "I'm tired Louise, I don't want to get up now." But then I could see her again so clearly, and my heart felt a spark of warmth as it always did when she smiled, so I got up and quietly walked into the den to sit down at my computer.  Her story just flowed out of me and onto what would become the pages of my book.
Everything Louise made always tasted unusually good. Folks would have her beef stew (recipe in my first book) expecting it to be just a beef stew but people would remark how really good Louise's beef stew was. Whenever Mama shares her cheese ball recipe, she inevitably gets a call back saying "That was a really good cheese ball!". Everything she made seemed to be really good in some hard to pinpoint way, but I have always felt her secret was her easy smile and kind heart. People like that can't help but spread their attitude into all that they do.
You just enjoy being around them, and it's always a treat to get to taste their cooking 🙂 We sure do miss her, and this year we are missing Grandmama something fierce, but I know the two of them are up in heaven cooking up some awfully good food this Christmas.
This is an unusually good cheese ball, perfect for a party, family get together, or snacks before a meal. For best results, smile as you make it, and think of the folks you love 🙂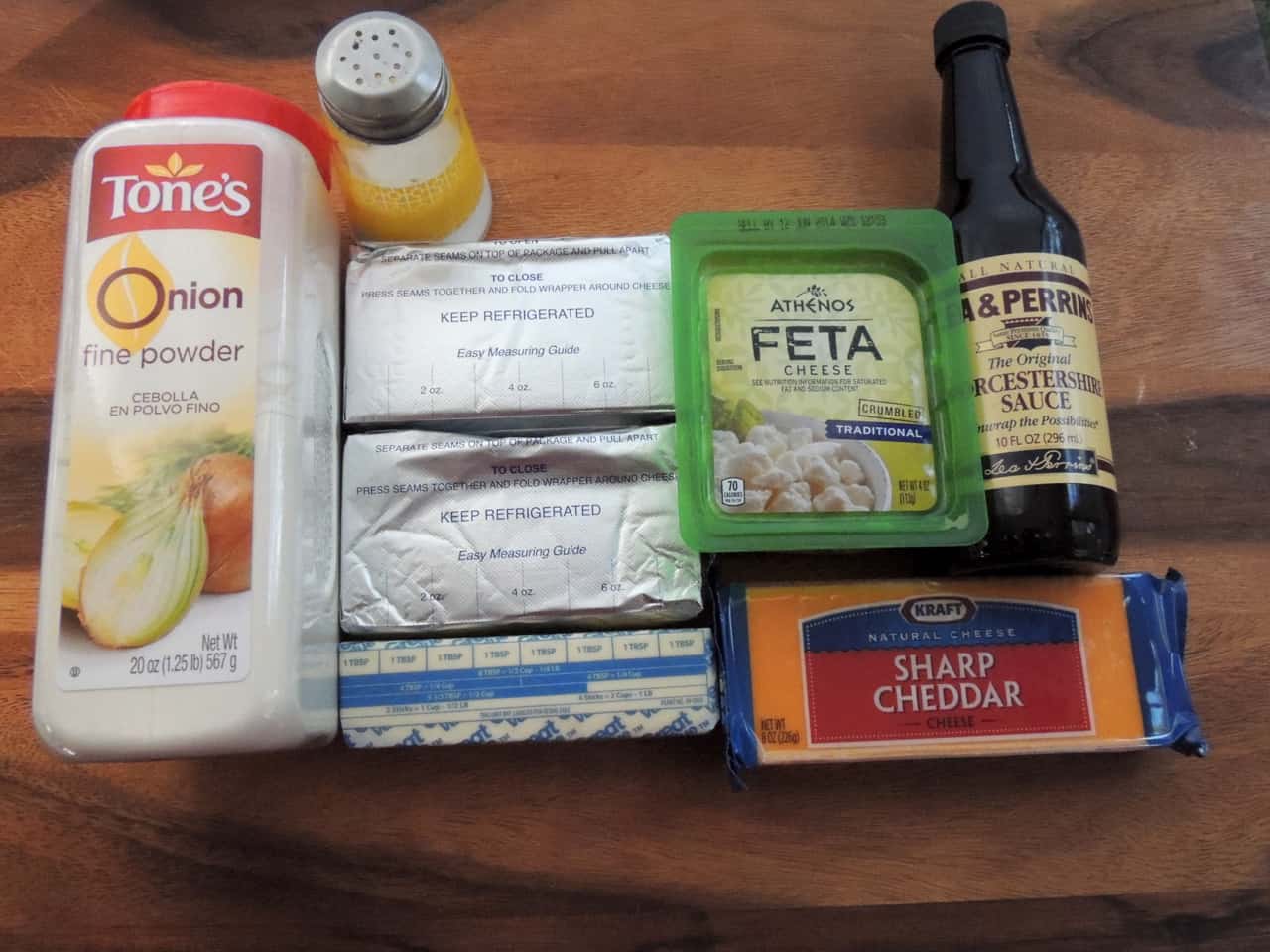 You'll need: Onion or Garlic Powder, Salt, Cream Cheese, Margarine or Butter, Feta Cheese*, Worcestershire Sauce, Sharp Cheddar, and Mayo (the mayo was camera shy, so it's not pictured).
Note: You are seeing too much cream cheese here. You just need one brick. But these blocks had become quite close during their short stay in my fridge and I hated to tell one "Well, you're not really needed so you stay behind." So I took him out and got his picture made and he was all happy, felt like he was part of the gang really, then went back to the fridge. In truth, I didn't have enough sharp cheddar to make a whole recipe so I ended up halving it but forgot to take the full recipe amount of cream cheese out. Hey, I'm tired.
**Louise's recipe calls for Bleu Cheese in place of the feta. If you are a bleu cheese person, you should definitely use that. There are certain foods that I have found to be highly polarizing, I mean people either love love love them or hate hate hate them. Coconut is one of these. I love that stuff and could eat it pretty much in any form all day long but I'm always amazed at how many people really can't even bear the thought of eating one bite of it.
Cilantro is also one of those things, only with it, some folks actually have a genetic disposition that causes cilantro to taste like soap to them! I'm not one of those, I love me some cilantro, too.
Where I come into play is bleu cheese. Man, that stuff tastes and smells absolutely horrendous to me. I have no idea how or why people eat it. Although, I have eaten it before, when I did TV for Southern Living and even back when I was filming Beat The Chefs, but those times I ate it because it was part of my job. It is no longer part of my job right now and I knew Louise really well and know she'd totally approve of me using feta in it's place since it is along the same lines in term of texture, but I actually enjoy eating -it versus having to take a deep breath and try to temporarily leave my body 🙂
Now listen, one of the crazy things about the internet is that when you mention not liking something, there are all of these folks sitting around waiting to be offended so they jump on that. But please don't take it personally if you love bleu cheese. Rejoice! You can have my share! I'm all generous that way 🙂
Grate sharp cheddar and set aside, covered, at room temp for about an hour.
Let Cream Cheese come to room temp as well, then put all ingredients into a mixing bowl.
Mix.
You saw that coming didn't ya?
~winks~
Now this part is totally optional, especially considering how expensive pecans are…
Scatter some pecan pieces on top of a piece of plastic wrap.
Dump and scrape your cheese onto this.
Roll it up into a ball a little bit and sprinkle pecans on the bald spots.
Wrap it up in the plastic wrap and cover with more, then shape it into a smoother ball and refrigerate for a couple of hours.
Or, if you are in a hurry like me, pop that puppy in the freezer for about ten minutes 🙂
Serve with crackers and enjoy!
 Thanks, Louise 🙂
You can read a story of what Christmas was like for Louise and Grandmama when they were kids, back during the great depression, by clicking here. 
Ingredients
8

ounces

sharp cheddar

2

ounces

Bleu Cheese or Feta

eyeball half of a 4 oz box

8

ounces

cream cheese

2

Tablespoons

mayonnaise

2

Tablespoons

softened butter or margarine

1

Tablespoon

worcestershire sauce

1/4

teaspoon

salt

1/8

teaspoon

garlic or onion powder

Chopped pecans

optional
Instructions
Grate cheddar cheese and allow to sit at room temp for one hour (cover it so it doesn't dry).

In a medium mixing bowl, place all ingredients. Mix until smooth and well blended.

Turn out onto plastic wrap that has been sprinkled with chopped pecans (can skip the pecans if you like). Shape into a ball and press pecans in to cover, if desired. Wrap in plastic wrap and form into a ball.

Refrigerate for a few hours before serving.
"Christmas, my, child, is love in action.
Every time we love, every time we give, it's Christmas."
~Dale Evans
Yum