25 Homemade Christmas Food Gifts & Candies
This festive season, spread joy with these scrumptious homemade Christmas food gifts and Christmas candies.
The holidays are here and boy, do I have a bumper blog post for you today! The guide features my favorite homemade Christmas food gifts that I regularly gift to friends, family, neighbors, and teachers this time of year. From homemade hot chocolate mix to caramel corn, I've got you covered.
Then we venture into all the edible Christmas treats your heart could desire. There are Christmas cookies, Christmas candies, and Christmas fudge, to name just a few of the recipes waiting below. One of the best things about these recipes is that a lot of them you can make with your kids.
So without further ado, let's jump into my holiday gift guide… the edible edition!
Homemade Christmas Food Gifts
Christmas Treats
This Holly Jollies recipe is one of my most popular blog posts of all time. But how good do they look all wrapped up to gift? These homemade Christmas candies involve melting almond bark or chocolate and combining them with the mix-in of your choice. Options include salted peanuts, Rice Krispies cereal, dried cranberries, raisins, crushed peppermint candy cane pieces, other salted nuts, or your favorite dried fruit.
You only need almond bark, peppermint oil, and crushed candy cane pieces to make my double-layered candy cane bark. It's bursting with peppermint flavor and a fun alternative to Christmas crack.
These homemade caramels taste so much better than store-bought and will positively melt in your mouth. This recipe makes a lot of caramels, so simply pop some in a gift bag and you have yourself the perfect edible gift.
Made with cream cheese icing and vanilla chips combined with crushed candy cane pieces, this festive peppermint fudge recipe is quick, easy, and the perfect minty holiday sweet treat. Need more fudge in your life? Well, I've got Oreo fudge and chocolate fudge recipes too.
Looking for an over-the-top version of Rice Krispie treats to gift this holiday season? Make my 3-ingredient Golden Grahams Treats!
This cutout Christmas cookie recipe includes sugar cookies topped with festive icing and decorations. They're the perfect homemade holiday treat to make with the kids. We also have Southern Plate's must-make Christmas cookies.
These melting snowman Oreo balls are possibly the cutest Christmas sweet treat. You basically cover an Oreo truffle with melted white chocolate and add decorations.
All you need is four ingredients to make a batch of these delicious melt-in-your-mouth cream cheese mints. Such a fun and unique Christmas gift!
Featuring chocolate, pecans, and coconut, these homemade bon bons are an irresistible bite-sized treat or homemade food gift to make for family and friends these holidays.
What do you get when you combine peanut butter, chocolate, and white chocolate? My 3-ingredient easy tiger butter recipe is a decadently rich fudge snack. This is one of those Christmas recipes my family asks for this every festive season and I'm happy to oblige because it truly is so quick and easy to make.
Edible Christmas Gift Ideas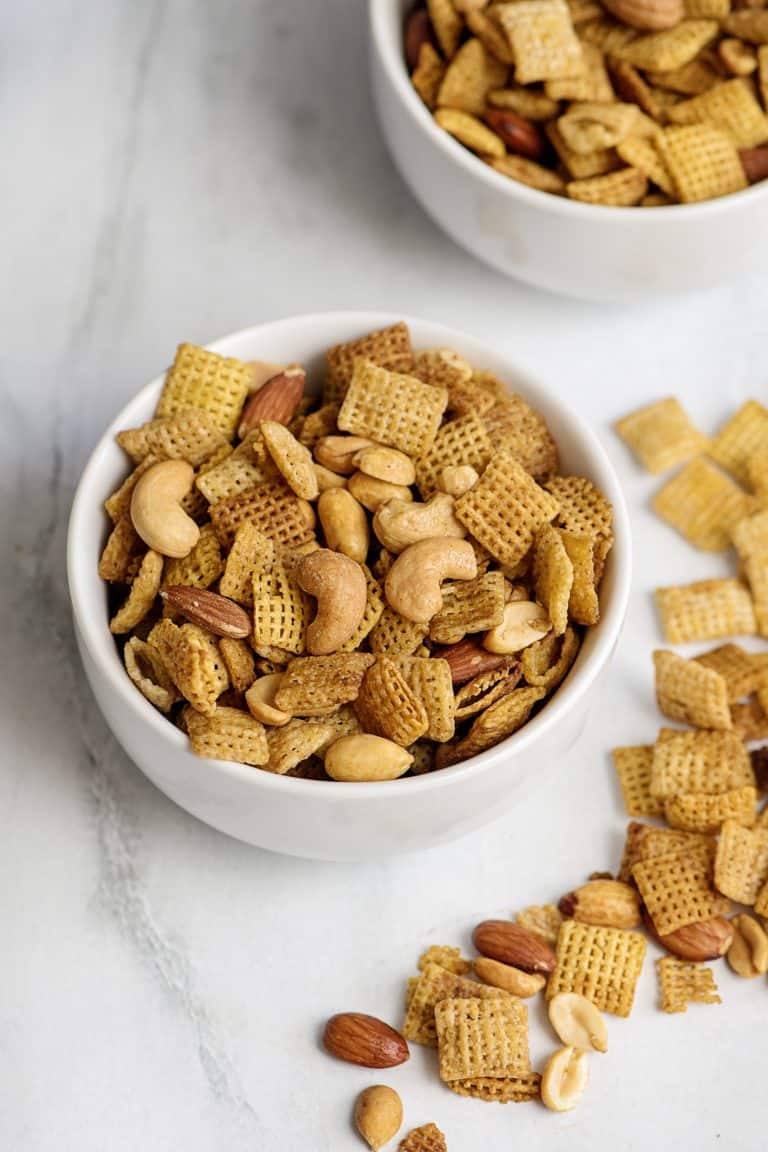 Made with seasoned salt, Worcestershire sauce, mixed nuts, butter, and two different kinds of Chex Mix cereal, this microwave Chex Mix is an easy recipe to gift in bags this festive season.
This easy candied pecans recipe features the perfect blend of sweet, cinnamon, and a hint of salt to make a great holiday snack or homemade food gift when added to a mason jar with a big decorative bow. I also have a recipe for candied peanuts if that's more your style.
No holiday food gift or snack is quite as scrumptious as this recipe for caramel corn. It features freshly popped popcorn coated in a sweet homemade caramel sauce. But seriously, how good does it look in these bags with a big bow on top?
Made with just 4 ingredients, I'm not kidding when I say this quick and easy homemade hot chocolate mix recipe is the creamiest, milkiest, chocolatiest hot chocolate you'll ever taste. Pop some in jars and share the love!
Some more great mixes you might want to gift this holiday season? Fruit crisp mix, pecan pie muffin mix, and chocolate gravy mix.
This takes our homemade hot chocolate mix and transforms it into snowman soup kits! This is another classroom favorite and I actually got the recipe from my first-grade teacher!
This is for the coffee lovers in your life!
I'll just leave these other Christmas recipes here if you need more inspiration as well…
14 Best Christmas Cookie Recipes
Plus, fun crafts!
Easy Reindeer Shirt (and fun reindeer gift ideas for grandparents).
Christmas Mice with Candy Cane Tales (includes printable template).
"Appreciate what you have before it becomes what you had."
Submitted by Mona Hickey.