Some recipes just get you talking about the old days, which is why we love them so much. Cranberry Crunch is one of those recipes that gets my mother to talking about her childhood. The school lunch ladies often made this around the holidays and she loved it so much that one of them gave her the recipe for it, which has led us to enjoy it for the past couple of generations. Nothing like an heirloom recipe to bring memories back to life, especially around the holidays. Which brings me to my point…
You know, our kids are going to look back on this Thanksgiving the same way you look back on yours as a child. This time of year, I can't help but think back to when I was a girl, when my Grandaddy and great grandmother were still with us at all of the Thanksgivings we celebrated at their house on Brookline Drive in Huntsville, Alabama. My cousins and I would stay outside as long as we could because the house was so hot from all of the baking. We'd come in when called, eat a plate full of our favorite foods, and rush right back out into our leaf piles and hide and seek games.
Later on, I'd end up sitting up against my grandaddy, my head resting on his shoulder as he worked on a crossword puzzle or told one of his latest jokes to the family, fully content at feeling the warmth of him through his thin cotton shirt and his strong arm around me. He'd lean over at some point and kiss the top of my head and tell me he loved me. It was such a natural gesture for him that I don't think he even gave it thought when he did, which made me all the more content.
I can't help but get caught up in those memories this time of year, but I try to stay ever conscious that these Thanksgivings, today, are the ones my kids will remember.
We've shifted to new generations now. I'm one of the ones at the stove, who put them in the sweater that ended up being so warm it forced them outside to seek a cool breeze away from the oven's heat. Someday folks will gather on a Thanksgiving day and play a video of this year and one of my kids might walk in during the middle of it and see faces that are no longer with them. They may be the ones finding themselves having to walk out of the room, feeling hurt that no one warned them they were about to hear their Grandaddy's voice calling out for the first time in nearly fifteen years.
Some parts of the holidays will always be bittersweet when you have loved and been loved, but living in the past should always come full circle as a reminder to live in the moment.
Nowadays I understand the hint of sadness in the eyes of people, even though they are with their family at the holidays. Even though children are sitting up in their laps and siblings and spouses are chattering away while they pass dishes around a table filled with blessings.
Oftentimes, as we look around that table it occurs to us…someone is missing.
Yes, some folks may be missing from our tables this year, but that isn't an excuse for you to be. I miss them, too, but there are so many people here with us now waiting to have an arm wrapped around them. Waiting to be told they are loved. Waiting for that one special moment with you that they will someday tell their kids about when they think back to Thanskgiving. Waiting to taste that special recipe you made just for them.
Next year, 2019 will be a Thanksgiving past and it will be added to your reserve of treasured memories for you and all of those around you.
Don't set yourself so firmly on remembering Thanksgivings past that you forget to put your heart into this one.
Cranberry Crunch ingredients are pretty simple. You'll need: Whole Berry Cranberry Sauce, Old Fashioned Oats*, Flour, Brown Sugar, and Butter.
*I use old fashioned but quick will work just as well if that is what you have on hand. You can also use margarine instead of butter and don't waste a single moment fretting over it! As for brown sugar, I'm using dark because it is my very favorite, but if you have light or prefer light, knock yourself out!
Place your flour, oats, and brown sugar in a bowl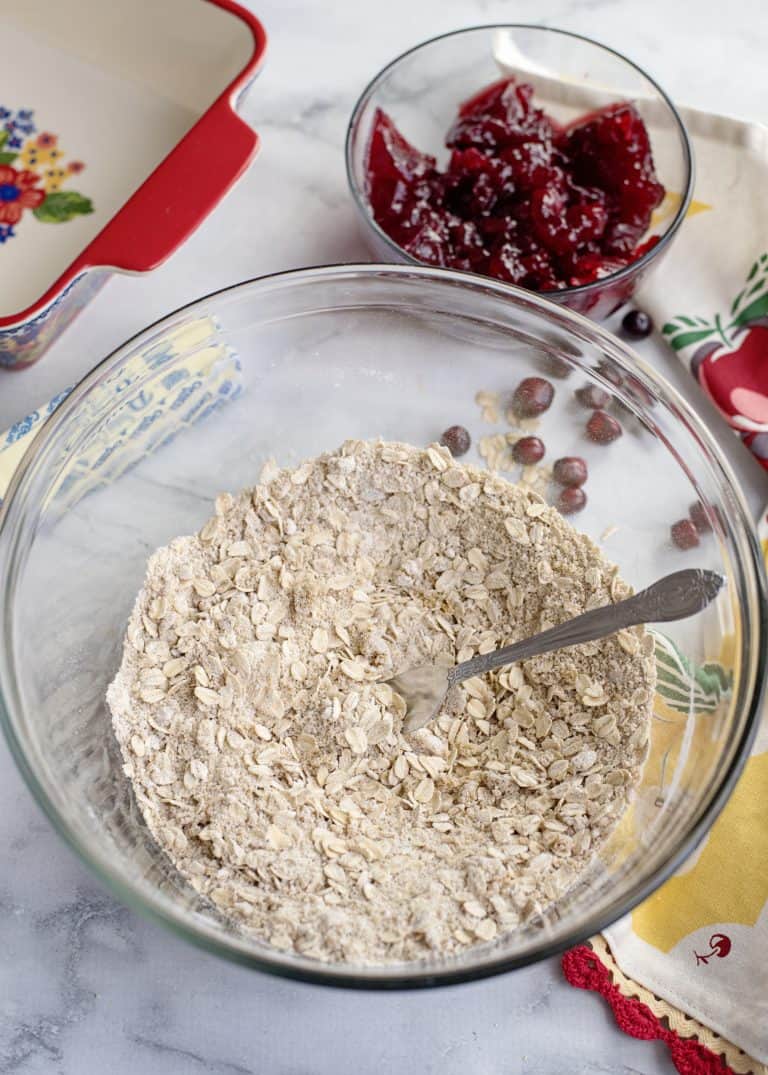 Stir them up.
Add in your butter or margarine and cut that in with a long tined fork.
Like this 🙂
Now spray a pie plate or 8×8 dish with cooking spray.
You can see some of these pretty dishes by fellow food blogger, Ree Drummond, here.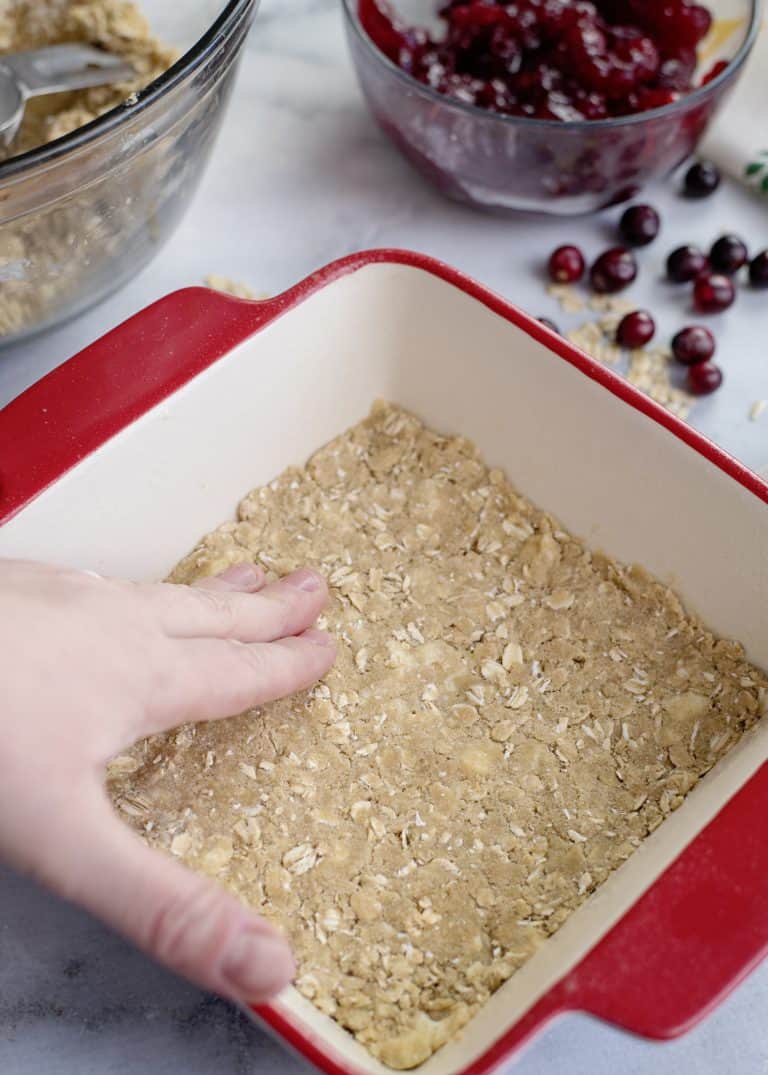 And press half of your mixture into the bottom of the pie plate to form the crust for Cranberry Crunch.
Top that with the entire can of cranberry sauce.
I just glob it by spoonfuls on top of my little crust…
Then take that same spoon and spread it around a bit.
Sprinkle remaining topping over cranberry sauce.
Bake Cranberry Crunch at 350, uncovered, for 45 minutes to one hour, or until bubbly and browned.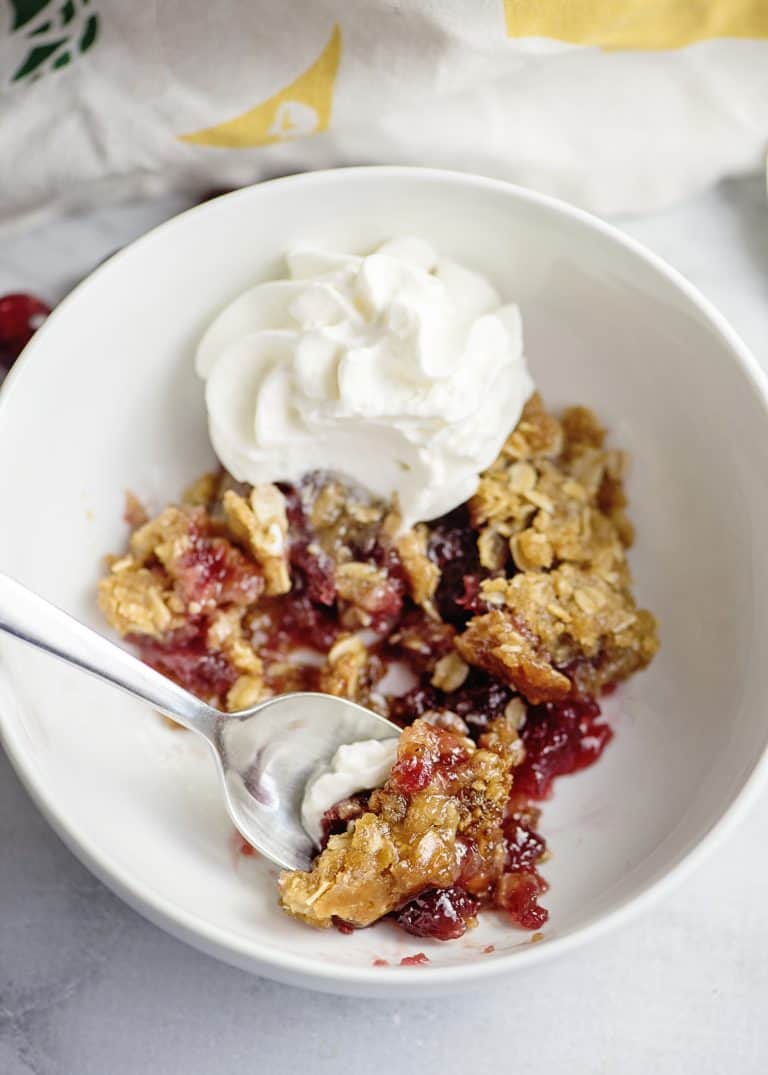 Cranberry Crunch is excellent served with whipped cream or ice cream but you can also serve it as a side dish as well. Enjoy!
Ingredients
1

Cup

oats

I use old fashioned but quick will work

1/2

Cup

all purpose flour

1- 16

ounce

can whole berry cranberry sauce

1

Cup

brown sugar

I use dark but light is fine

1/2

Cup

butter or margarine
Instructions
Mix the oats, flour, and brown sugar together. Cut in butter.

Pack 1/2 in bottom of greased pie plate or 8x8 dish.

Spread sauce over crust. Top with remaining crumbs.

Bake at 350 for 45 minutes to 1 hour, or until lightly browned. Excellent served with whipped cream or ice cream.
This post was originally published in November 2011. I updated the post in 2019.
https://www.southernplate.com/crock-pot-cornbread-dressing/
Some parts of the holidays will always be bittersweet when you
have loved and been loved, but living in the past should always
come full circle as a reminder to live in the moment.
~Christy Jordan. I apologize for quoting myself, but I think it bears repeating.
This post contains affiliate links. You will pay the same but I will get a small commission to go towards my coffee fund so thank you!
Yum