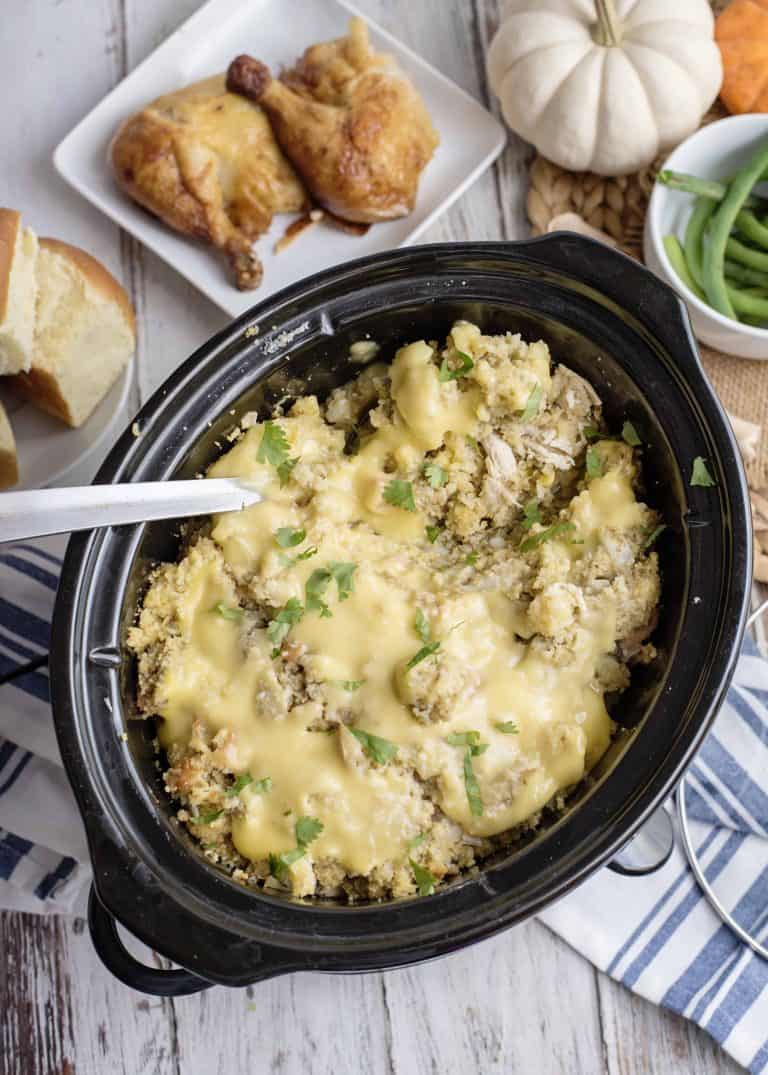 We do dressing differently in the south. Dressing is moist and delicious, served steaming with sides of cranberry sauce and ample amounts of chicken or turkey inside. Often reserved for holidays, my grandmother changed all of that with her crock pot chicken and dressing recipe. Now we have this family favorite all year long thanks to the little effort involved in preparing it.
I've often said there is no sight prettier than an old lady with a casserole dish – but the sight of my Grandmother toting her crock pot has it beat by far! This is from my grandmother, Lucille, to you. Enjoy!
(Good thing y'all aren't waiting in real time for me to finish this post. Its taking me ten forevers because I am sitting here eating more dressing as I do it.)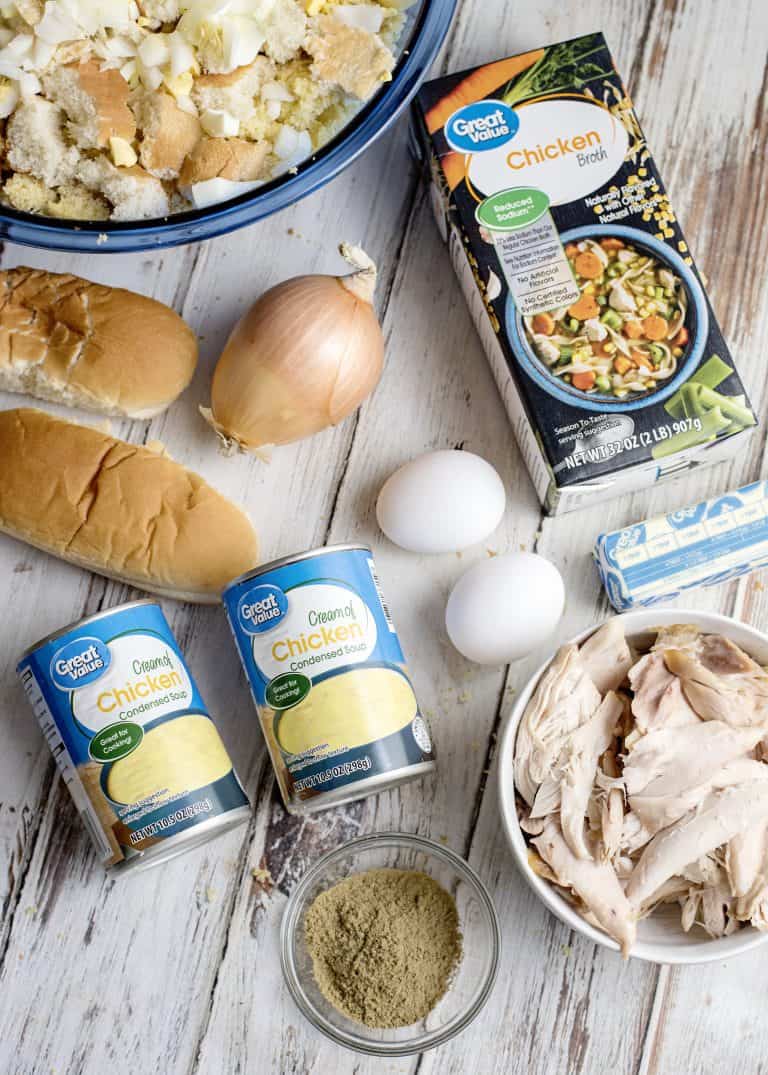 You are going to need…TWO pans of cornbread (I know I am only showing one here, but trust me, two, two..), Two hotdog or hamburger buns, two boiled eggs, stick of butter, chicken (I used 4 boneless skinless breasts and just boiled them in water until done), two cans cream of chicken soup, two cans chicken broth, sage, and a chopped onion. Uh oh! Here goes my tangent…..
Eons ago (A few years), I was watching the Martha Stewart show and Donald Trump and his new young thang were on there. The newly acquired Mrs. Trump had come to demonstrate how she makes meatloaf. Who are we kidding here, if you were married to "The Donald" would you make meatloaf? Anyway, lest we actually think she had done this before, she requested a latex glove (which she pronounced "Lah-tex") before handling the meat. The following segment was perhaps the most riveting food show segment of all time. A super model attempting to smoosh ground beef for the first time. Okay, so my point is this, Mrs. Trump was too good to touch ground beef with her bare hands and you know what? I think she was on to something.
I think all of us, no matter what station in life or how little money we have, should all choose something and declare ourselves too good to do that. Its just a state of mind really. I mean, load your dishwasher and tell yourself in a diva-esque tone "I'm too good to hand wash dishes." See how it feels, really. Me, I'm too good to chop onions ~grins~.
Alright so…I'm too good to chop onions when the grocery store has the frozen ones in stock but still – at times I am too good to do something and it makes me feel rather indulgent and as close to being a princess as I am likely ever to come.
–End Tangent. On To Recipe–



Alright! Things are heating up here at Southern Plate! We now have ACTION Photography!!! Crumble all of your cornbread into a large bowl. I will be posting a cornbread tutorial later in the week. My mother said she is going to do it because I use whole milk instead of buttermilk when I make it ~dramatic gasp followed by a giggle~.
Tear hot dog or hamburger bun into small pieces and place in bowl. We always use two types of bread in our dressing. The white bread helps to bind it together. If you don't have any buns, you can always use loaf bread.
Chop eggs.
Add to bowl eggs, onions, sage, melted butter…
…one cream of chicken soup and both cans of broth.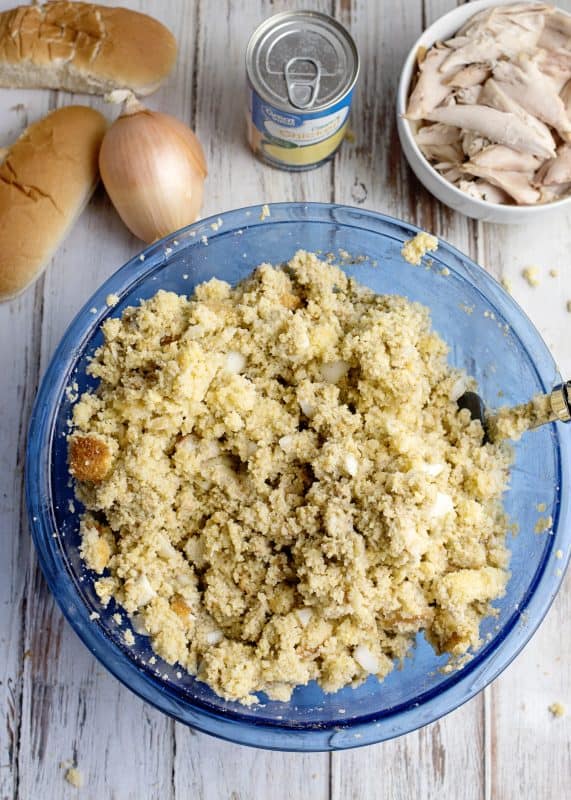 Stir well until it looks like this. You've made your dressing!!! Go you!!!
In crock pot, spread half of the remaining can of cream of chicken soup.
Top with 1/3 of your dressing.
Top dressing with half of your chicken. I just tear it up as I add it in here.
You can do that or shred it or cut it…or ask it really nicely to separate into tiny pieces and hop in.
Repeat with another layer of dressing, remainder of chicken, and a final layer of dressing.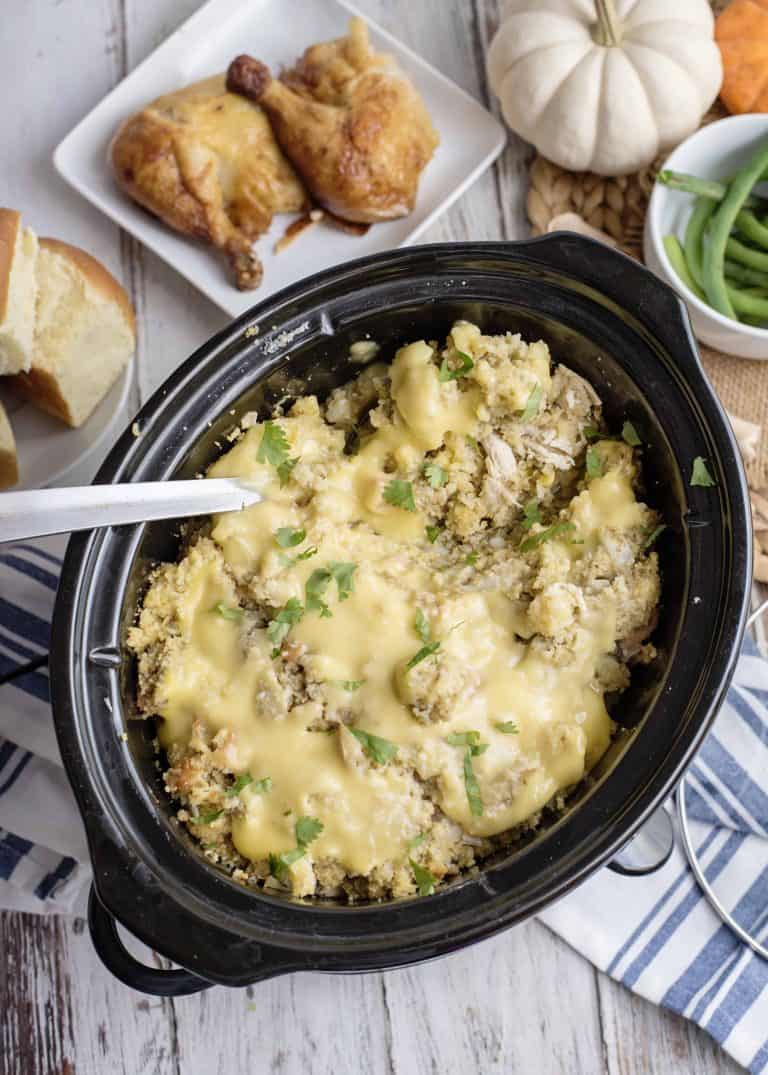 Spread remainder of cream of chicken soup over the top. Cover and cook on low for three to four hours.
Ingredients
4

4 chicken breasts, cooked

2

2 pans of cornbread or two quarts

2

quarts

cornbread

crumbled

2

hamburger or hot dog buns (can use a few slices of white bread)

crumbled

2

tablespoons

sage

chopped

2

hard boiled eggs

chopped

1

med

onion

2

cans

cream of chicken soup

1/2

cup

butter

melted

2

cans

chicken broth (3-4 cups)
Instructions
In a large bowl, mix together cornbread, buns, sage, onion, eggs (chopped), melted butter, one can cream of chicken soup, two cans broth. This is your dressing mixture.

Spread half the remaining can of cream of chicken soup in the bottom of a large crock pot. Top with 1/3 of the dressing. Top dressing with half of the chicken, shredding it as you put it in. Top with 1/3 dressing, remaining chicken, and remaining dressing. Spread other half of cream of chicken soup over top.

Cover and cook on low for three to four hours. Serve hot.
Yum