When the Garden is coming in, you'll find these on my plate throughout the week! I serve them as a side dish with supper and often have a plate full for lunch. This is one of my favorite summer dishes, taking advantage of those fresh flavors in an uncomplicated, delicious way. They're super easy, fuss free, and done in no time at all. Best yet, if you have a garden, chances are most of the ingredients are right outside your door!
You'll need: Tomatoes, fresh mozzarella, basil (fresh or dried), and kosher salt (or table salt if that's all you have).
I'm using Roma tomatoes but you can use garden tomatoes if you like. You can also just use shredded mozzarella if that is what you have on hand. I have basil growing in my sunroom right now but I wouldn't think twice about using dried basil or dried Italian seasoning on these.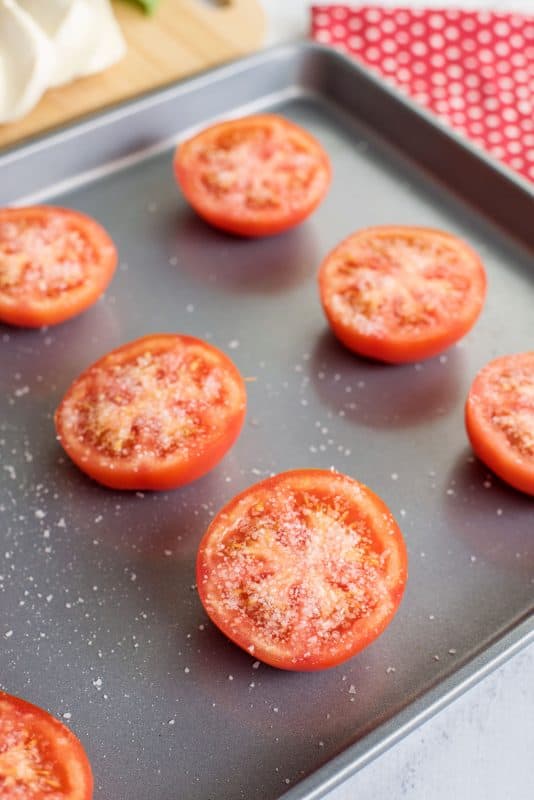 If using Roma tomatoes, slice them in half lengthwise. If using garden tomatoes, slice them 1/2-3/4 inches thick. Place in metal pan and sprinkle tops with kosher salt. Be sure you use a metal pan for this because we are going to be cooking it pretty rapidly under a very high heat and glass just isn't designed to be cooked with in that way.
Place under the broiler on high and cook for anywhere from 3-5 minutes, watching carefully. I cook mine until it gets lightly wrinkled on the skin. You can just cook it just long enough to heat it through if you like though. I love tomatoes in any cooked form but don't care at all for raw tomatoes. I'm weird like that. Actually, I'm weird in many other ways too but today we'll focus on my odd raw tomato aversion. If you'd rather not cook it under the broiler like I do, you can just put it in a 500 degree oven for 5-7 minutes.
Remove tomatoes from oven and top with slices of fresh mozzarella and bits of torn basil. (remember, you can also just sprinkle with some dried basil or dried italian seasoning)
Return to oven for just a couple of minutes, until cheese is melted.
Enjoy!
Ingredients
Tomatoes*

Fresh Mozzarella

sliced

Fresh Basil

torn (or dried basil)

Kosher Salt

or table salt
Instructions
Slice tomatoes into thick slices (if using smaller tomatoes, just slice in half). Place on metal pan and sprinkle with kosher salt. Place under broiler for 3-5 minutes or in 500 degree oven for 5-7 minutes. Remove from oven and top with slices of mozzarella and basil. Return to oven for 2-4 more minutes, or until cheese is fully melted. Serve warm.

*For tomatoes- If using Roma, slice in half down the center. If using Garden tomatoes, slice in thick 1/2 -3/4 inch slices.

Serving Size: This will serve as many as you allow tomatoes for. I usually allow two slices per person. This is one of those recipes that you can just adjust the quantities based on how many you want to make, which is why it makes a perfect lunch for one!
Nutrition
I originally posted this recipe in 2011 along with a family story. If you'd like to see that post (and read the story of a road trip that changed our life), click here.