To see the Excalibur dehydrator I currently use, click here. For a complete collection of dehydrators offered by Amazon, click here.
I've been trying to show folks ways they can save money to combat rapidly rising grocery costs lately and one of those is, of course, buying food at today's prices and preserving it. With that in mind, I've done a lot of dehydrating videos lately. I really feel the dehydrator is an often overlooked appliance that can save every household money – and freezer space! I've shown you how to dehydrate frozen vegetables, make your own instant rice (for pennies a serving instead of $1 a serving), and even how to make shelf stable ground beef. And now, Dried Watermelon Jerky!
Scroll down to the instructions if you don't have time to visit a bit today…
First though, I want to talk to you about something that came to me a couple of years ago as I was driving to a book signing in North Carolina. This is something that has been placed firmly on my heart, so if it sounds to you as if I am speaking from a personal conviction, then you're right :). If you feel it gripping hold of your heart while reading it, it may be that you're being convicted as well. I don't mean guilty of something. I simply mean that wisdom is being passed to you which was meant to be passed to you, either to help yourself or to help others.
So take a deep breath and get ready to dive deep with me because that's the waters I'm meant to go into today. Or just skip ahead to the watermelon part :).
~Takes out her soap box and clears her throat~
Today's word is: Sacred.
Nothing is sacred. Have you heard that phrase before? It has been around since the dawning of time to describe times and societies, people and cultures, that don't hold anything in so high a regard as to consider tampering with it off limits.
Used to be, many things were sacred. Nowadays, it is actually envogue to eschew sacredness of certain things and treat them as disposable instead. Relationships, people, beliefs, etc.
Now don't go expecting me to write about how you should hold your love of self sacred. If you want someone to tell you me-ism is alright, look to the world because you get plenty of that there. I won't be serving that up because I believe that is what got us into this mess to begin with.
Somewhere along the line someone said "Love yourself above all others! No one is as important as you are!" and we bought it.
We looked at the honor and integrity and self sacrifice of love we had and tossed it to the wind.
We saw something that looked easier, more fun, like less work, and we bit – hook, line, and sinker.
And we lost.
We lost the joy that comes from sacrifice. We lost the depth of love that comes from digging and working to know a person and loving them through their flaws to see the treasure on the other side.
We lost the stability of knowing that someone was going to be there for the next half of our life just like they were there for the first. We lost the ability to depend on people without our fingers crossed behind our backs and our breath held in secret uncertainty. We cut off our connection with our creator because He might expect things of us and we decided that we shouldn't have to live with expectations just in case they didn't make us feel good or required more than relaxation and flatline brain activity. We traded our expectations of liberty because someone offered to take that off our plate in exchange for fewer expectations of us. We walked right past that small group of friends we'd known since pigtails and decided to boast of 500 friends on Facebook instead.
We walked away from sacred things. Willingly. Joyfully. Tragically.
We need more sacred in our lives.
We need relationships that we protect and nurture, we need perhaps fewer friendships to allow time for deepening of the well. We need deeper wells. We need to focus on lowering that bucket each day and drawing up wisdom and growing deeper in who we are, who we want to be. In knowing ourselves. Our lines. We need to draw lines that we will not cross. Set standards for ourselves that we strive towards. We need to love someone more than we love ourselves.
We need to truly value ourselves and know that the definition of such isn't "Be good to yourself" but "Challenge yourself". Hold yourself to the highest standard you can set and once you reach it, set the bar higher. Strive for something. Be a better person today than you were yesterday and a better person tomorrow still. Be more compassionate. Make your word mean something. Grow in wisdom. Grow in love. Don't remain stagnate.
GROW!
Live for a purpose.
We need to hold some things sacred. When we do, when we decide that there are things in our life that are are so dear to us that we will not cross lines with them, or compromise, or put ourselves in a position to damage them, we become people of honor and integrity and purpose.
We become hope.
We need more sacred things in our lives. If you find yourself swerving willy nilly on the road of life, this is the missing ingredient that can align your steering and make your tires stick to the pavement.
Your life is your journey. Choose your vehicle and path wisely.
~takes a deep breath and quietly steps down, picking up her soap box and slinging it over her shoulder as she walks it back to the basement~
And now, for a real fruit snack that will have your taste buds singing… Dried Watermelon.
I've done a few videos lately on ways to use a dehydrator to save money, freezer space, and preserve food and the feedback has been surprising! I didn't realize how well received they would be, how many emails I'd get asking for more, and how many of y'all would actually go out and buy a dehydrator! Links to the dehydrators I have are at the bottom of this post. I do feel like this is a wonderful investment and an easy way for every household to preserve food with the lowest maintenance possible.
Although I do can to preserve foods (click here for my tutorial), dehydrating takes far less hands on time and allows me to preserve things I wouldn't be able to with traditional canning methods.
So today, rather than bring you another video, I thought I'd do one of my more traditional posts with step by step photos instead with a little disclaimer: I had to eat a lot of watermelon for this post. I ate it fresh, I ate it dried, I salted it, I snacked on it, I even had it as a full on meal yesterday when taking the final photographs (Fresh watermelon was cut, I couldn't very well waste it!) and so I want to thank you. Not only for being here, but for bringing wonderful excuses to eat mass amounts of watermelon into my life!
Let's get hopping!
Why would you want to dry watermelon? Well, sometimes we may have a bumper crop! Sometimes we may find a good deal and want to preserve it. Sometimes we may just want to taste what dried watermelon tastes like – and I highly recommend any of the above – especially growing your own. It is so very important to grow something, even if just a small portion of your own food nowadays. Any little thing you do makes you that much more self sufficient and that much less dependent on corporations and transportation halfway across the country to put food on your table.
To start with, you need a watermelon. Technically, this is a watermelon.
I don't actually consider it to be a real watermelon but this isn't the season for those and you know how the saying goes, any port in a storm!
In my mind, real watermelons are about twice this size (at least), picked from a garden or bought off the back of a farmer's truck, and contain lots of tiny black seeds that can be used for ammunition in spitting contests while you sit barefoot on the back porch.
Have you seen those teeny tiny grapefruit sized watermelons? My Southern brain just doesn't understand those at all. They call them personal watermelons. Well, that is what I call one of those big old watermelons, too!
While we're here, let me show you how you can tell if a watermelon is good, even if it is tiny :). You want a bright yellow underbelly. That means that the watermelon was ripened in the field. It should also be very heavy so you know it is fresh and juicy, and have a dull thud sound when you thump it.
But be nice. Watermelons don't like to be thumped anymore than you do 🙂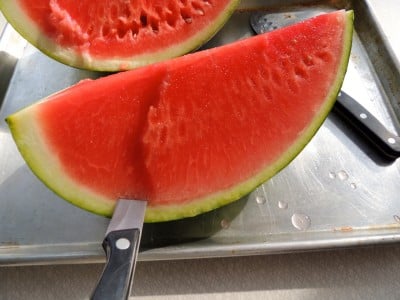 To start you need to cut up your watermelon however you feel like cutting up your watermelon.
I slice mine in big wedges and then cut it apart from the rind.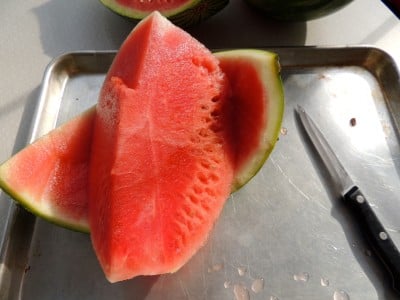 Voila!
Then I slice that wedge into thinner slices. The thinner the better.
Having said that, I kinda slice it however it ends up being sliced because I'm not one to fuss over things.
cut those up into smaller pieces still.
And lay them out on your dehydrator trays that have been lined with parchment paper or fruit leather sheets.
Load up your dehydrator..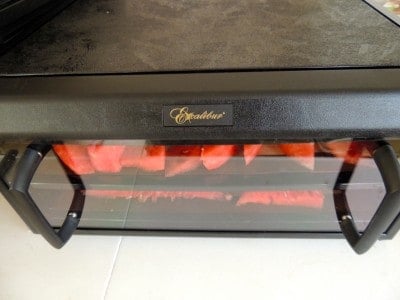 Put the door on 🙂
And set your temperature for fruit (about 135 degrees) and your timer for Ten Forevers.
I'm not kidding. That is how long this will take. Most likely 18-24 hours.
BUT
it is so worth it. The watermelon is so sweet and tastes like watermelon jolly ranchers, only better! It is slightly chewy like an easy to chew taffy, and all of that wonderful watermelon flavor is concentrated in a way that you've never tried before.
Then…ENJOY!
Link to the dehydrators I currently own:
Instructions
Cut watermelon and remove flesh from rind. Cut flesh into pieces as close to 1/4" thickness as you can. Remove seeds if possible.

Place on lined dehydrator trays and dehydrate at 135 degrees for ten forevers, or 18-24 hours, or until watermelon jerky is sufficiently dry and breaks when you bend it.

Store in airtight container.
To see the Excalibur dehydrator I currently use, click here. For a complete collection of dehydrators offered by Amazon, click here.
Yum