I'd love to have you subscribe by email and please feel free to chat with the rest of the family in the comments section!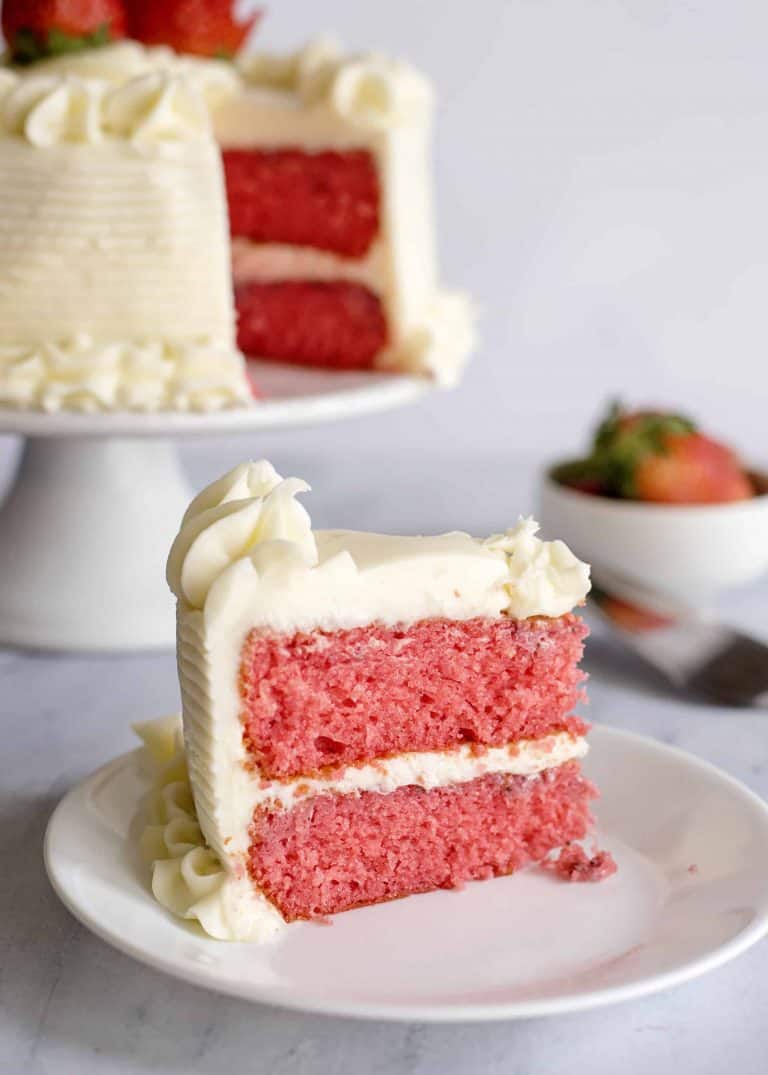 Fresh Strawberry Cake is my mother's favorite and a guaranteed showstopper. I've served this at baby showers, bridal showers, and spring brunches. My favorite place to serve it, though, is at my own dinner table.
I've had strawberries on the brain lately. This time of year, the prices have gone down and they are so inexpensive that you can purchase whatever you need for cooking and an extra carton just to nibble. I eat them all on the way home, then throw the container in the trash on my way in the house. The trick is always to hide the evidence!
There are so many strawberry dishes that I love. My personal favorite is my Mama's strawberry pie, Ricky's favorite is Strawberry punchbowl cake, and Bradybug favors good old fashioned strawberry shortcake. But this cake is in a league all it's own!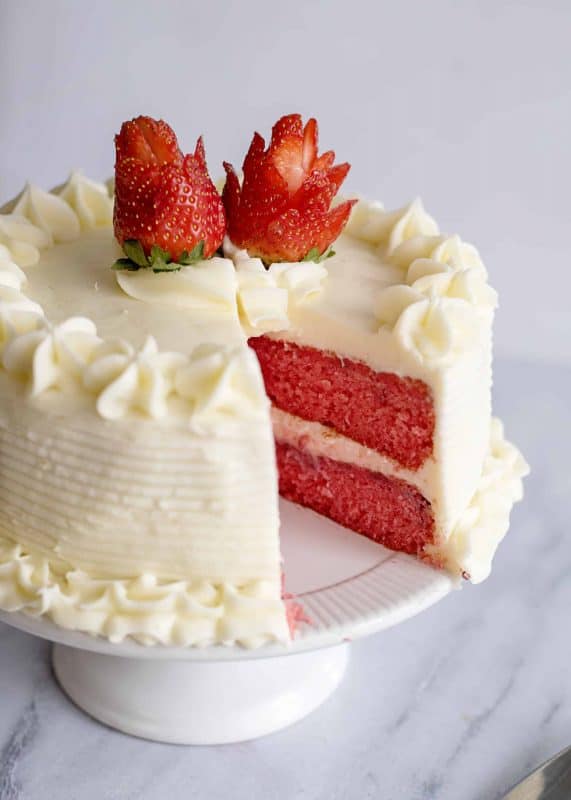 Oooh I can't wait for you to try this, if you haven't already!
For the cake, you'll need: White cake mix, strawberry gelatin mix, cooking oil, milk, fresh strawberries, and three Eggs.
Wash your strawberries and cut the tops off, slice them up a bit.
Put them in a big old plastic bag and crush them a bit. You can use a rolling pin if you want to be civilized but somedays call for a few fun karate chops!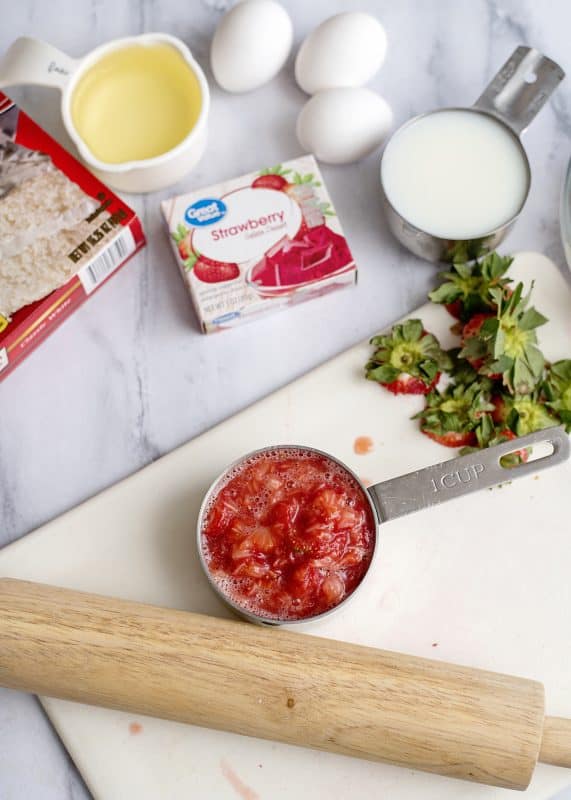 *The amount of strawberries needs to be one cup after they are crushed, not before.
You can use any method of crushing that you like but I find a plastic bag and a can of somethin' works just great.
You know, they have all of these gadgets for the kitchen nowadays but it just seems like most of them are more of an inconvenience to keep up with and clean after wards than just using what you have on hand.
Personally, I'm so unorganized that if I did had all these gadgets they made I'd never know where I put the things anyway.
In a large mixing bowl, place cake mix, milk, oil, eggs, and gelatin.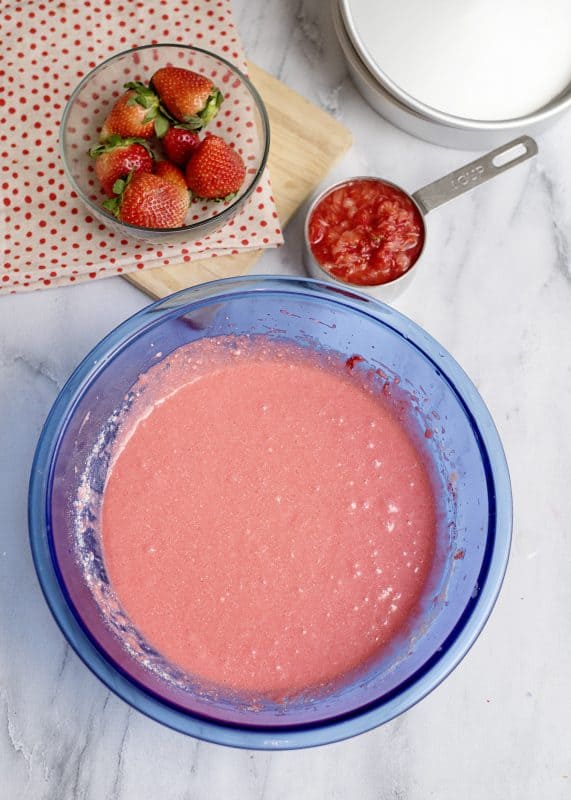 Mix that up with an electric mixer until you have a smooth, creamy, pink batter, about two minutes.
Add in your crushed strawberries, juice and all.
Mix that up again.
Now grease and flour two round cake pans.
Divide your batter evenly among the cake pans
(I really prefer to make sheet cakes and skip all of this dividing batter nonsense but I'm doing this for y'all coz I love ya so much ~hugs your neck~)
Bake these at 350 for 25-30 minutes, or until a toothpick inserted in the center comes out clean. Remove from oven and allow to sit in the pans for ten minutes before turning out to cool completely.
Now lets make us some cream cheese icing.
We're gonna need cream cheese, butter, and powdered sugar.
Important note: If you want to decorate your cake as I have done in these photos, you will need to double this recipe.
Your cream cheese and butter really need to be room temperature so set them out earlier in the day before starting this.
Place your butter, cream cheese, and powdered sugar in a bowl. Mix 'em up til they're nice and creamy smooth, scraping down sides as needed.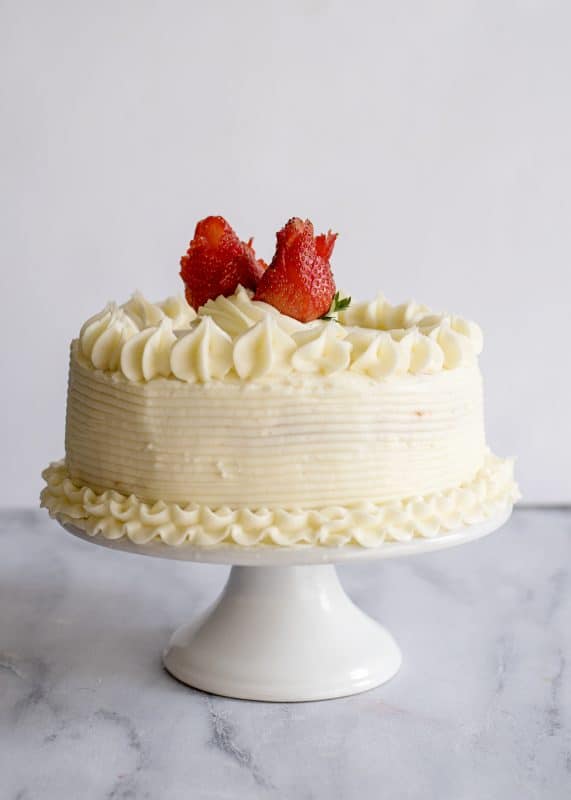 Ice your cake.
Look how pretty!
And this cake is just as delicious as it is pretty!
Now cut it quick! The youngun's are a waitin'!
Store this cake in the refrigerator. It's even better served cold!
Ingredients
1

Package Plain White Cake Mix

1

Cup

Chopped strawberries

with juice

3/4

Cup

Milk

1

Package Strawberry Gelatin

3 ounce

3/4

Cup

Vegetable Oil

3

Eggs
Icing
8

ounce

Cream Cheese

room temp

4

Tablespoons

butter

room temp

3

Cups

confectioner's sugar
Instructions
Grease and flour two 8 inch round baking pans or one 9x13 inch pan.

Wash and cut the tops of strawberries. Coarsely chop them. Gently mash strawberries by placing them in a large plastic bag and rolling over it with a rolling pin or large can.You need to measure out one cup once they are mashed.

Place cake mix, milk, gelatin mix, vegetable oil, and eggs in large mixing bowl. Beat with an electric mixer until smooth and creamy, about two minutes or so. Add in strawberries and juice, mix again until well combined. Pour into baking pans.

Bake at 350 for 25-30 minutes or until toothpick inserted in center comes out clean. If using two round pans, allow to sit for ten minutes before turning out of pans to cool completely. If baking in 9x13 pan, simply allow to cool in pan.

Combine all icing ingredients and mix with electric mixer until smooth and creamy. Ice cooled cake.

Store cake in refrigerator.

Ice cake. Store in the refrigerator.
Notes
Important note: If you want to decorate your cake as I have done in these photos, you will need to double this recipe.
*Some people add 1/2 cup crushed, drained strawberries to this icing as well. I leave them out to make the cake a bit prettier and easier to ice but feel free to add them in for more great strawberry flavor! Just mix them in after your icing is smooth and creamy and all other ingredients have been added.
"The distance between who I am and who I want to be
is separated by my actions."
~Brian Solis
This recipe is featured on Meal Plan Monday and The Weekend Potluck!
Yum