Ham, Egg & Cheese Casserole
Filled with ham, melted cheese, and hashbrowns, this ham, egg, and cheese casserole recipe is the perfect low-carb and protein-rich breakfast to make the morning after a big holiday feast.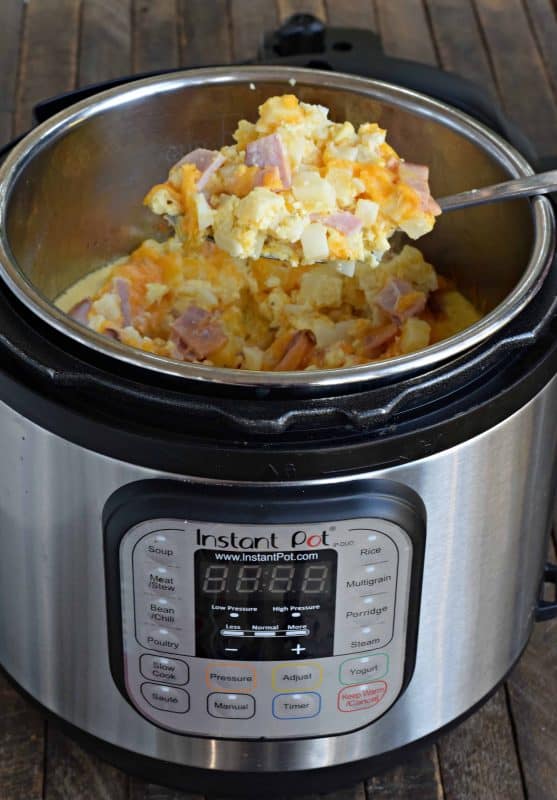 Hey friends! Today I'm sharing a recipe from my second book, Come Home To Supper (page 155). This ham, cheese, and egg casserole is a favorite for a low-carb and protein-rich supper, weekend brunch, or breakfast for a group over the holidays or any celebration. Christmas and Thanksgiving morning will be here before you know it!
It's overflowing with all the good stuff you need to make the perfect brunch. This includes ham (the perfect recipe to make with ham leftovers), cheddar cheese, golden hashbrowns, and eggs, of course. Fortunately, it's also one of the easiest casseroles to make – just what you want after a big celebration. Simply combine the ingredients and cook in the kitchen appliance of your choice.
I'm using my Instant Pot to make my ham, cheese, and egg casserole. However, it is a slow cooker or oven recipe as well. Instructions for the different cooking methods are in the printable recipe at the bottom of this post. I've had tons of people ask me for Instant Pot recipes since I first mentioned having one, so here we go!
Recipe Ingredients
Onion
Shredded cheddar cheese
Frozen cubed hash browns
Diced ham or meat of your choice
Milk
Eggs
Salt and pepper
How to Make Ham, Egg, and Cheese Casserole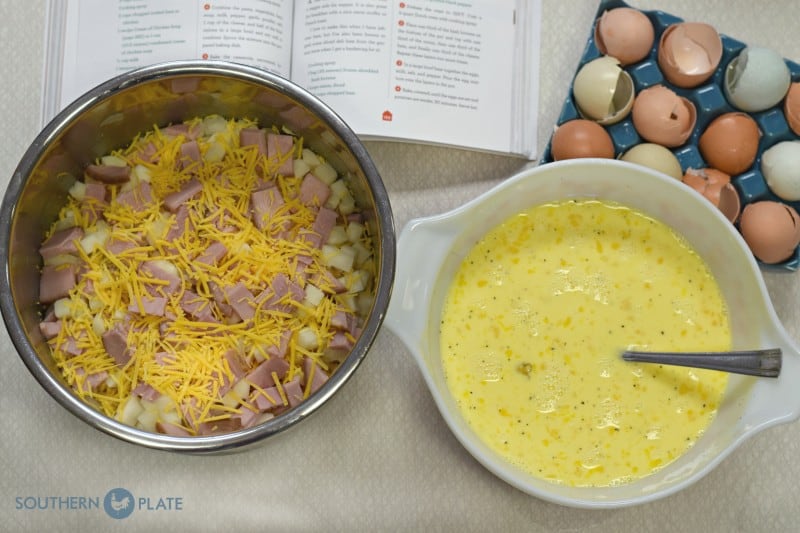 Layer 1/3 of frozen hash browns, 1/3 of onions, 1/3 of ham, and 1/3 of shredded cheese in your insert. Repeat this two more times until it is all used up.
Beat eggs, milk, salt, and pepper together and pour over layers.
Instant Pot Instructions
The instant pot has several settings. Personally, I'm just tossing all this in and using the slow cooker setting.
I press "slow cooker" and then press "adjust" until it goes to the "less" light on the display screen.
I now have it slow cooking on low. From there I use the plus or minus sign to move the time up to 7 hours. If you want to cook this on high, just press "slow cooker" and it is automatically on high. Then adjust your time to anywhere between 3 to 4 hours.
You could probably adapt this recipe for a pressure cooker, but I usually reserve pressure cooking in my instant pot for roasts, chickens, stews, dried beans, boiled eggs, and potatoes.
Dig in!
Storage
Store breakfast casserole leftovers in an airtight container in the fridge for up to 4 days.
To freeze this ham, egg, and cheese casserole, wrap it up tight and freeze it unbaked for up to 3 months (learn how to freeze a casserole the right way!). To bake, completely thaw in the refrigerator for 24 to 36 hours. Remove from the refrigerator 30 minutes before baking and then follow the baking instructions as shown above.
Recipe Notes
You can chop the onions yourself and shred the cheese if you like but I just love buying these frozen chopped onions for a great shortcut on the days when I just want to make my life a tiny bit easier.
This breakfast casserole recipe is wonderful with crumbled turkey breakfast sausage. I recommend the Jenn-O brand because that is our favorite. Another option is bacon, of course.
Want to add more flavor? Opt for a teaspoon of Dijon mustard added to the egg mixture or a teaspoon of Italian seasoning. You could also add some fresh herbs, like chopped fresh parsley, chives, thyme, or rosemary.
If you'd like to add vegetables, opt for thinly diced bell pepper, zucchini, or mushrooms. Another option is spinach, which pairs perfectly with the casserole.
You can use any cheese in this recipe or a combination. Other options include Swiss, Colby, Monterey Jack, Pepper Jack, and Gouda.
If you decide to oven bake your casserole, you can also add layers of cubed bread (I recommend between 4 to 6 slices of bread cut into pieces). They just won't crisp up as well in the Instant Pot.
Serve your

ham,

, and

casserole with salsa, hot sauce, or sour cream and chives.
You might also enjoy these Instant Pot recipes: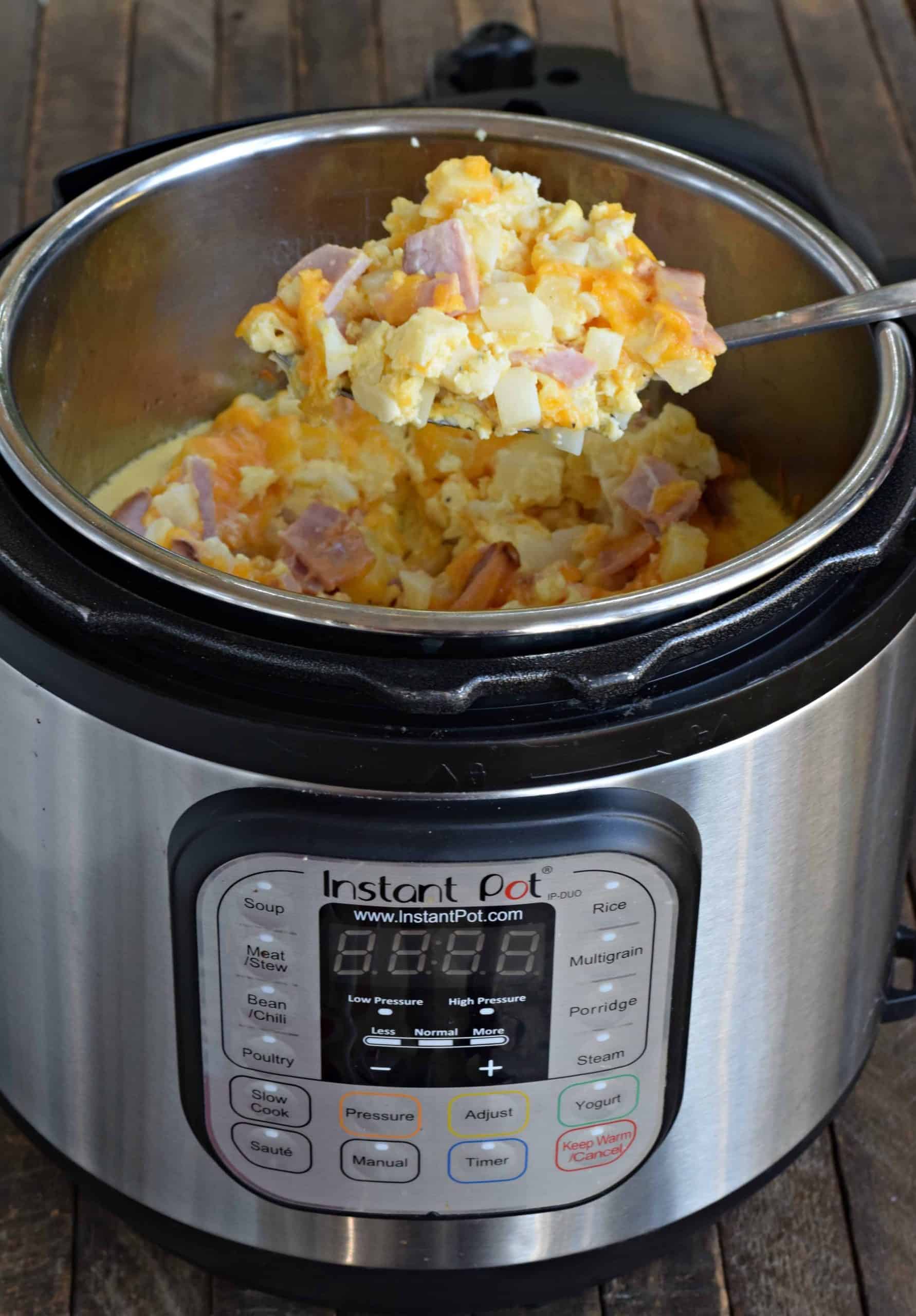 Ingredients
1

bag

frozen cubed hash browns

32 ounces

1

large onion, diced

1-2

cups

cooked ham or crumbled turkey breakfast sausage

2

cups

shredded cheddar cheese

10-12

large eggs

1

cup

whole milk

1

teaspoon

salt

1

teaspoon

pepper
Instructions
Spray the insert of a slow cooker, instant pot, or 5-quart Dutch oven with nonstick cooking spray. Place 1/3 of hash browns in the bottom. Top with 1/3 onions, 1/3 ham, and 1/3 cheese. Repeat two more times.

1 bag frozen cubed hash browns,

1 large onion, diced,

1-2 cups cooked ham or crumbled turkey breakfast sausage,

2 cups shredded cheddar cheese

In a large bowl, beat together the eggs, milk, salt, and pepper until well blended. Pour over the ham and potato layers.

10-12 large eggs,

1 cup whole milk,

1 teaspoon salt,

1 teaspoon pepper
To make in the oven
Bake, uncovered, at 325 for 90 minutes, or until the eggs are set.
To make in the slow cooker
Place the crock in the slow cooker, cover with the lid, and bake on low 7-8 hours or high for 3-4 hours.
Place the insert in the Instant Pot. Press "slow cooker", then "adjust" until the light comes on under "less". Adjust the time using the plus and minus sign to get it to 7 hours. If you'd like to cook it faster, press "slow cooker", don't adjust to less, then adjust the time to 3-4 hours.
Nutrition