Thank you so much for entering this giveaway! The contest is now closed. Winners will be announced here soon! You know what I love most about life in general? Meeting good people. As far as I'm concerned the only thing better than meeting good people is meeting an entire company of good people. That's just what I found when I traveled with my family to beautiful North Carolina to spend some time with the folks at House-Autry Mills. Having already fallen in love with their products (as everyone I've talked to has!) I was hoping that the company would prove to be as wonderful as their breadings and mixes and I was overjoyed to find a group of folks with family values, love for their community, and a real heart for the people who buy their products.
House-Autry has been around since 1812, when the House Family first settled in North Carolina. All of their coatings are specially milled and mixed to cook up light and crispy. Having been the choice of Southern cooks for nearly 200 years, their products are available in thousands of grocery stores in 28 states. (Click here to find a store near you). Their products are also served in the food service industry and restaurant chains.
I got to spend time with the heads of the company and was thrilled to find their favorite topic to be their own children. We talked about our different efforts to maintain that bond with them as they grow and to make time for our families our first priority. They talked about the employees families and the great things they had done together and they talked about the community surrounding their milling factory and how much the folks meant to them.
My family had a wonderful time with the House-Autry family and I came back excited to be able to share them with you as well. To help you get to know this wonderful company they are offering Southern Plate's biggest giveaway ever, not one but TEN gorgeous gift baskets filled with House-Autry Mills Products! We have also teamed up with five other top notch food bloggers who are offering additional basket giveaways on their sites as well so be sure to read how to enter (and get extra chances!) at the bottom of this post – there is also a little surprise for- an exclusive coupon for everyone reading this so you can try any House- Autry product!
But before that, how about a behind the scenes tour of their factory? ~grins~ Here we go!
Lets start by meeting Pat! This is me with Chef Pat from House Autry. She works in their test kitchens and develops amazing Southern recipes using House Autry products. I was a little intimidated about meeting Pat because she's a Chef and I'm just a home cook, but let me tell you that woman has a heart of gold and I can't imagine anyone not falling in immediate love with her. She is just as down home as you and me and as kind as the day is long. Love this gal! I could have talked to her all day long!
I got to spend a good bit of time with her at their booth at the Got 2 B NC Festival in Raleigh. They set up a booth and served up hot and fresh hush puppies as well as gave out samples of their products to a never ending line of folks! One thing I noticed was how much the community loves and supports House-Autry. I think this speaks volumes for the type of company they are.
We also got to go to the plant and get a special behind the scenes tour that I'm going to share with you. Don't you just love seeing how things are made? Sit back and get comfy because I'm taking you all with me!
This is a display of their products in a meeting room at their corporate headquarters.
Everything I have tried has been absolutely wonderful, seriously! They are known for their breaders and their hushpuppy with onion mix is the number one selling hush puppy mix in the country.
I've done some fun things with that hush puppy mix beyond hush puppies that I plan on bringing you in the future, too. While we can't find all of their products in our grocery stores, their chicken and seafood breaders as well as the hush puppy mix (I especially love the HushPuppy with onion mix) is available at every grocery store I've been to. Just look for that bright red package.
Speaking of packages, their boxes are made of recycled materials.
GLORY! My great grandmother always made her cornbread with fine white corn meal and I have the awfullest time finding plain white corn meal, let alone fine. Everything at my grocery store in North Alabama is self rising. ~sighs~ I'm gonna have to swipe me a bag of this from North Carolina. If you live where you can buy this, you have no idea how lucky you are!!
They have an extensive line of corn meal. Fine white plain, yellow self rising, medium white plain, and self rising white. Now tell me this isn't a Southern company!
This is me with Jamie and Keith, two of the guys from House-Autry.
Bradybug all suited up for the factory.
This is our family pic as we are getting ready. We don't have hair nets on but we're almost there.
The kids coats were too long so we had to use scissors to hem them!
As soon as I saw all of this I was in heaven. I couldn't help but fantasize about how much corn bread I could bake…how many people I could feed..
I really gotta add on to my kitchen!
Brady shared my excitement. look at all of this! Can you imagine the hush puppy festival we could throw?
Okay so here is the really neat thing. You see these bags? They are entirely sterile and have a sealed liner inside BUT this is where the finished product is until it is separated and put into boxes. Look at that? Can you imagine what I'd give to have that big old thing in my kitchen? It might take me a while but I know I could use it!
Me and Katy Rose sporting our hair nets 🙂
Katy, Ricky, and Brady as we are getting ready to go into the room where they fill the bags with product.
These are the guys taking bags off the conveyor after they are filled. They put them on the pallets. They said this is a really hard job so they switch around who does it quite often so no one gets too tired.
Remember that huge old sack I was hugging ? This is where it goes, into this machine and then it comes out through the tubes to fill the sacks.
This is Katy being given some corn kernels that they use to grind and make their corn meal. It starts that fresh!
She still has these in a little plastic bag at home, one of her favorite souvenirs of the trip!
This is the grinding room. Each of these machines grinds the dried corn into meal.
This is how it looks after its been ground a bit.
Katy is holding her little corn kernels and she doesn't quite believe that ground corn is the same thing!
This is an empty bag that will soon be filled again.
I just wanted you to see how big that thing is (and how much I really need that much corn meal in my kitchen!)
Just outside of the test kitchens, we found this little baby and I got stars in my eyes yet again.
Katy, how big of a cake could we make with this mixer?
Then they take these bags…
and load them in the bag thingiemabobber
The machine puts one bag in each little compartment and the pipes fill it with product as it moves through
Here is the finished and sealed bag of hush puppy mix
it goes on a conveyor and through a metal detector. This is a  safety precaution since the machines have metal parts
This little thing sprays the date on each package.
Then they are moved to a machine that groups them and wraps shrink wrap around them.
After they are sealed up together they're moved to a palette.
Like this 🙂
A thing of beauty!
I think one is gonna tag along home with us!
Reckon what I could do with that… ~grins and winks~
HUSH PUPPY TIME!
Now let me show ya how easy it is to make some of the worlds best hush puppies!
The thing I like most about these is that you never even have to touch the mix…
I place about an inch and a half of vegetable oil in a small sauce pot. I like to use small pots since you don't need as much oil to get it deep enough. Put that on medium high heat to be heating up well while you prepare your mix.
I just measure out the amount of dried mix I need in a large measuring cup
add water
and stir that up well
Then we use a cookie dough scoop or spoon to drop the batter into our hot oil
At this time I lower the temperature on my oil to medium
Drop them one at a time, make sure you get it right by the oil before you drop it so it won't splash
Here is a hint: To see if your oil is hot enough, put a sprinkle of flour in it. If it sizzles, your oil is ready.
let them brown on both sides, turning when you need to
like this
Remove to paper towel lined plate
and feed happy kids!
(This recipe and instructions are on the House Autry Hushpuppy Mix bag)
Would you like to try House-Autry for yourself?
They've offered us an exclusive coupon that can be used on any House-Autry Mills product.
And NOW for you! Remember how I said House Autry really cares about their community? They are doing one JIM DANDY of a giveaway for Southern Plate readers! House Autry has these great gift baskets, filled with a sampling of their products and some fantastic kitchen accessories as well. Well, they're not just giving away one, they are giving away TEN baskets to ten lucky Southern Plate readers!
Leave a comment below to enter to win one of TEN of these fabulous gift baskets filled with House-Autry Mills products!
For additional entries into the Southern Plate giveaway you can do one of the following:
Post a link to this contest on your Facebook and come let me know on The Southern Plate Facebook page
Post the following on Twitter: Win one of 10 HUGE Gift baskets! From @HouseAutryMills & @SouthernPlate!http://snipurl.com/y4rpe
WANT EVEN MORE CHANCES TO WIN?
We've partnered with these great blogs to give you even more chances to win and to discover their wonderful sites which I know you'll enjoy! Each of the blogs below is running their own House-Autry Basket giveaway so be sure and visit them to enter!
*please allow a few hours for their giveaways to be posted if they aren't already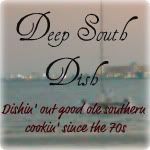 ~~~~~~~~~~~~~~~~~~~~~~~~~~~~~~~~~~~~~~~~~~~~~~~~~~~~~~~~~~~~~~~~~~~~~~~~~~~~~~~~~~~~
Visit House Autry Mills on Facebook, too!
And don't forget to print off your exclusive coupon!
Disclosure: The folks at House-Autry Mills were kind bring my family to North Carolina to visit and tour their factory for the purpose of this post. They are providing the baskets for this giveaway and they also provided me with products to use in this post. However, all opinions contained here are my own.
If you laugh a lot, when you get older your wrinkles will be in all the right places!

Thank you so much for entering this giveaway! The contest is now closed. Winners will be announced here soon!
Yum