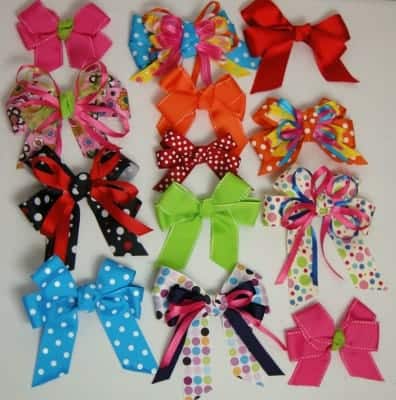 I've always loved hairbows, really big ones! I was one of those little girls who identified with Laura Ingalls, but still thought Nellie Olsen was the luckiest girl in Walnut Grove to always have those big old bows perched atop her head! Now that I have a little girl, one of the things I have the most fun with is dressing her up in an assortment of bows. Fortunately, she enjoys them as well or I wouldn't get to do this.
The other night I stayed up until midnight doing just that, and then posted the fruits of my labor on my Facebook page. My FB friends were so sweet! I received a lot of requests for a tutorial on how to make hair bows so I decided to post a video as well as a step by step photo tutorial. The video is the easiest way to learn, I think, with the photos acting as a good reference for later.
There are countless ways to make hair bows and you can find plenty of other instructions on the net. This is the way that I figured out how to make them a few years ago and I find that it works better for me than any of the other methods I've tried.
My husband and I did this video in about fifteen minutes and I spent a grand total of about five editing it so this is just a homegrown production but I think it shows ya what you need to know and I hope you find it helpful! Between the video and step by step photos I'm hoping I make sense but feel free to give me a holler in the comments section if you have any questions. I'd also love to hear from you if you find the tutorial helpful or just wanna say "hi"!
How To Make Hair Bows with SouthernPlate.com from Christy SouthernPlate.com on Vimeo.
If you have any problems viewing this video, please see the help section at Vimeo.
And now for the step by step photos!
You'll need: Ribbon, glue gun with extra sticks, barrettes, and thread and needle (already threaded with a knot tied at the end)
You're also going to need scissors.
I usually start with a thicker ribbon but you can use this method for smaller bows as well, just use smaller ribbon.
Make your first loop.
This first one determines the size of your bow so if you want a larger one,
make a larger hoop and likewise if you prefer a smaller bow.
Now bring your ribbon around and make your second loop, holding the center secure with your fingers.
(This makes a lot more sense on the video, I think)
Now make your third loop…
And finally make your fourth, bringing your tail down to the side of the first one like this.
(honestly, you just gotta see the video to follow me here, I'm afraid..)
There, now we have four loops and we're ready to secure it in the middle.
Run a few stitches right through the center.
Don't worry about how your thread or your knot looks because no one will ever see this once we're done.
This is my nice way of saying that if you ever looked at the centers of my bows, you'd see that I make these with all the grace of a bull in a china shop.

Secure the thread with a knot but don't cut it yet. Now you're ready for the next step.
At this point if you want to add contrasting colors or ribbon you set this one aside, cut your thread, and repeat the first few steps with each new ribbon, making them slightly smaller than this one we just did.
Once you get all of your other bows done, sew them to this and don't cut your thread before going on to the next step.
Pinch your bow together…
and wrap the thread (which is still securely attached to the ribbon) tightly around the bow.
Until it looks like this. I wrap mine four or five times.
Run  your needle through the back and tie a knot. Cut the thread.
You know, there is no law that says you can only have four loops, if you want more, knock yourself out 🙂
Tug at your bow a bit until you have it arranged like you like, spreading out the loops a bit.
There, I like that. 🙂
Tie a knot in a small section of ribbon (a contrasting color is fun to use here).
Place a dot of glue in the center of the front of your bow.
Press center of knot down on top of glue.
Flip bow upside down.
Place a dab of glue in the center of the back.
Place open barrette on top of glue.
It's important that it be open because if you glue that puppy shut its really annoying to try to open it again and get all of the glue mess off.
Take the top end piece from your knotted segment and pull it through the barrette like this.
Press down to seal the glue and then cut off excess.
Place a line of glue just above the barrette.
Pull the bottom portion of the knotted segment through as well, pressing down to seal the glue.
Trim excess.
Now you have a bow!
Trim tails of ribbon. I like to cut mine at an angle pointing towards the inside.
Some people cut "V"'s for their tails but those are harder to get even so I stick with the angle cut.
Because I like it when life is easy.
like this.
Take a bit of fray check and run it along all raw edges.
Don't forget that little bit of exposed edge on the back.
Voila! Our bow is done!
That fray check is damp now but will be dry in about an hour.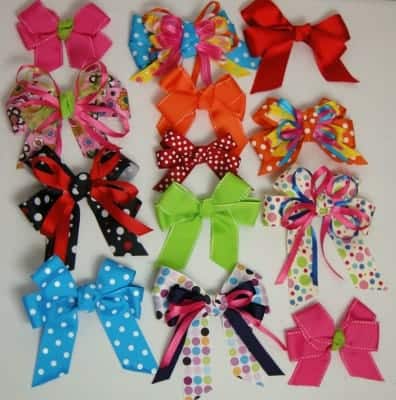 This is about an evenings worth of work and well worth it. Making your own bows saves a lot of money over purchasing them and allows you to dress up simple outfits or really highlight fancier ones (We do more of the "dressing up simple outfits" at my house, though!)
I had a lot of fun making these and my Katy Rose loves showing them off!
Enjoy your bows!
The difference between an ordinary life and an extraordinary life is finding extraordinary things in an ordinary life.

Submitted by Judy. To submit your quote or read more, click here.
Have a wonderful Sunday!
Gratefully,
Christy 🙂
If you enjoy Southern Plate, please tell your friends!
I'd love to have you join my Southern Plate page on Facebook by clicking here!
Yum