Rustic Apple Strudel – and why I love my imperfection
Today I'm bringing you my last puff pastry post for Pepperidge Farm, a flaky and delicious Rustic Apple Strudel. The recipe is based off of one I found on their website, with a few minor alterations, most notably the term "rustic", which I will explain in just a minute.
I call this my "Rustic" Apple Strudel because, well…You see, I'm not a perfectionist – but my mother is. She never insists that others do anything perfect, she just insists that she does it that way. Mama has always done everything perfectly and we've always benefited from it, but I've never felt the need to emulate.
The cool thing with me is, I figured from the start that I could never do anything as well as Mama did so I just never tried to, I did it my way – and Mama has always been very supportive of that. I can't count how many times Mama has finished a quilt top only to find a single square in the center not placed quite how she had intended, then she sets to work taking out stitches and completely reworking it because of a misplaced two inch square. Me, I just tilt my head to the side, squint my eyes until it looks normal, and call it "original". That keeps the fun in it for me.
I'm much the same way when it comes to food presentation. Cooking is something I truly enjoy. I love "playing" in the kitchen and making meals and treats for people. I have fun with it but if I were to insist that the things I turned out looking like something in a magazine, that would replace fun with stress for me. One thing I've never quite understood is why folks want to make homemade food look like restaurant food. Being someone who considers homemade food to be superior (I mean, really…can a restaurant chef's cooking compete with the cooking of someone who loves you?), it seems that when you take a homemade item and try to make it look "professional" you're taking a step down. Another thing, in my mind, is that when you focus on trying to make a dish look like a photograph, it takes your eye off the prize – that you are fortunate enough to be able to cook for your family.
So this is where the term "rustic" comes into play ~grins~. You see, Pepperidge Farm had the most gorgeous apple strudel on their website. It really was beautiful. I bet food stylists and photographers fussed over that thing to perfection. I sure do appreciate them going to all of that trouble to offer me up a photograph yummy enough to motivate me to make this.
However, back in the real world here at Bountiful, it was 5:00, the kids were hungry, the husband was on his way home, and my phone was ringing off the hook. While I wanted to serve this delicious dessert to my family, I had precious little time to fuss with it. Fortunately, puff pastry is a workhorse, as I've said before. You can be rough with it, it can take it. I rolled that sheet out, paying little attention to the wrinkle here and there I rolled into it. I thawed my frozen apple slices and used them in the original wedges I had cut them in instead of slicing them thinly as the original recipe had done. Tossing it all together, I rolled it up, sealed it, and popped it in the oven. It didn't look exactly like theirs, but mine was *rustic*. ~grins~
Puff Pastry is perfect for "rustic" desserts as well as polished ones. Whichever you make, I'm sure your brood will enjoy this Apple Strudel as much as mine did and you'll enjoy that it took me just a little over five minutes to throw the thing together and have it happily baking in my oven.
You'll need: Apples (peeled and sliced), sugar, flour, one sheet of puff pastry (two come in a box), cinnamon, and allspice.
This is my modification on the original recipe.
I used apples that I froze this past summer. I thawed them in the microwave and then drained the juice off of them. You can use fresh apples though, just peel and slice them.
Place apples in a bowl. Add sugar.
I'm gonna use just a teensy bit more sugar than the original recipe called for…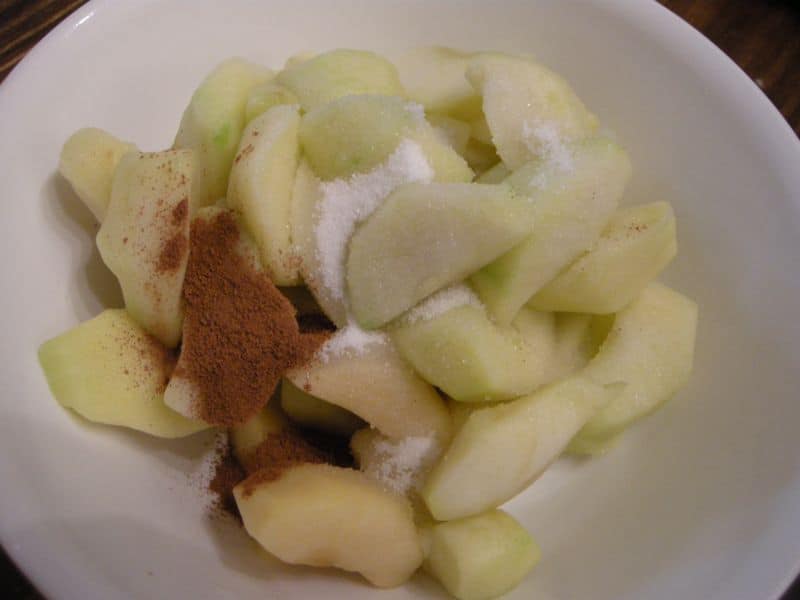 Add cinnamon
And whenever I bake apple desserts, I like to add a pinch of allspice. It really makes the cinnamon *pop*.
Add a bit of flour.
And stir that up really well.
Four a surface. I like to roll out a bit of waxed paper to do this on for easy clean up.
Add thawed puff pastry sheet.
Roll it out a bit.
This is where mine starts getting "Rustic" as I am not going to measure the size I roll it out to and I'm gonna overlook those few wrinkles I rolled into it while Katy Rose came into the kitchen to talk to me.
Place all of your apples in the center.
That juice in the bottom of the bowl looked too good to throw away so…
Roll over each side.
Press the ends up as well and press lightly on all seams to seal. If you need to, you can dampen the edges to get them to stick.
The recipe called for using a beaten egg for this part but melted butter sounded good to me. I also sprinkled the top with a bit of sugar.
Bake at 375 for twenty minutes, or until golden.
Ricky says to serve hot with vanilla bean ice cream :).
Ingredients
1

Puff Pastry sheet

1/2 of a package

1/2

stick margarine

melted

3

T

granulated sugar

1

T

all-purpose flour

1

tsp

ground cinnamon

1/8

tsp

allspice

2-3

large granny smith apples

peeled and sliced (I used frozen ones)

Confectioners' sugar

optional - we used ice cream instead :
Instructions
Remove one puff pastry sheet from the package and let sit at room temperature until thawed, about a half hour or so. Place on floured surface and roll out just a bit with floured rolling pin. In medium bowl, place sliced apples and add flour, 3 T sugar, and spices. Stir well to coat apple slices entirely. Spoon apples down the center of your puff pastry sheet. Fold over sides and press seams to seal. Brush with melted butter and sprinkle with a little bit of sugar.

Place on baking sheet and bake at 375 for twenty minutes, or until golden.
You cannot do a kindness too soon,

for you never know how soon it will be too late.

~Ralph Waldo Emerson

Submitted by Bill Gentry. Submit your quote here. (I always need more quotes!)
Hang on to your hats because I'm about to bring you a ton of Christmas gift recipes! To keep up to date, join our Facebook Family page or check back at the headline of Southern Plate often! (The headline is the green part. I'll be putting last year's gift recipes up there and changing them out periodically).
Gratefully,
Christy