Today my Mama is sharing her Sweet Potato Dumpling recipe with you and I want to strongly encourage you to make these A.S.A.P. because they are on my top ten list of best things I've ever eaten. Seriously!  ~Christy
Take it away, Mama!
I need to start this article with a disclaimer.  If you love sweet potatoes as much as I do, you may not want to try this recipe.  I almost make myself sick every time I make them because they are so delicious that I can barely stop eating them.  I first had these sweet potato dumplings when my husband and I went to a gathering in Birmingham, Alabama.  They had hired a caterer to cook steaks and chicken for everyone but had left the sides and desserts up to the ladies in the group.  Now if you ever want to try new and exciting dishes, always accept any invitations to potlucks!  I know that whenever I prepare a dish for something like a potluck I always "cook to impress".  This gathering was no exception.  Every dish that I tried was delicious but as always I was eyeballing the dessert table.  Desserts at this type of thing are always amazing.
I didn't know anyone there except for one lady and her husband who had rode there with us.  As we looked the dessert table over, we spied a dish of what we thought were apple dumplings.  Now there were only ten dumplings in the dish.  Yes, we counted them.  We both said we had to get one before they were all gone.  I took the first bite.  I knew it was not an apple dumpling but couldn't quite place the flavor.  I just knew I had fallen in love with whatever it was.  My friend and I discussed it and after savoring the dish decided it was sweet potato and they melted in your mouth.  I asked the other ladies at our table if they knew who brought them.  No one did.  I looked for my husband and immediately went to him and gave him the job of finding out who made them.
Now, anyone who knows my husband knows that the most dangerous place is between him and a microphone.  When Christy and Ricky got married, Bill set up his sound system and was charged with playing the music that Christy and Ricky had picked out.  Christy gave him stern instructions not to sing!  There were people coming from Ricky's family that she had not met and she didn't want them to know how crazy we were just yet.  Guess who was on the microphone singing an Elvis song when Christy and Ricky arrived at the reception?  You guessed it, her dad.  Now it is very funny, but at the time she gave him "the look".   But back to our potluck dinner and my quest for finding the recipe.
I am not the outgoing person that Christy and my husband are.  In fact, when we are at functions like this one, I try to be cordial and friendly but I am not overly outgoing.  I usually sit with some of the wives and discuss food, kids, work, etc.  Bill knows that I do not want attention brought to myself.  Well, he must have had a lapse of memory.  He had to make a speech and after he finished he said that he had one more thing to discuss.  He announced that his wife had eaten one of the sweet potato dumplings and fell in love.  She absolutely must have the recipe.  Could the person who made them please raise their hand.  All the time, everyone was looking at me.  I would have crawled underneath the table if it would have helped.  In the back of the room, an older lady raised her hand.  Everyone was watching to see what I would do.  She was so nice to me.  Since she was an older lady, I asked if I could give her my address and have her mail the recipe to me.  Imagine my surprise when she asked if I didn't have an email address.  She would just email it to me when she got home.  I had figured since I was not that savvy with technical devices she wasn't either.  Boy, was I wrong.  When I got home the recipe was in my inbox waiting.  I still have that same printout.  It is stained and creased from all the times I have made it.  I recently wrote it in my recipe book to be sure that I didn't misplace it.  I made it today so that I could photograph it for you.  And I will eat it so that I am sure it is worthy of passing on to you.  I just hope you appreciate the sacrifice I am making for you!  Thank you Ms. Earlean for the recipe.  I thank you, my family thanks you and now all the Southern Plate family will thank you too!
This is the line up for our great food adventure today.  Canned flaky biscuits, Sugar, Light corn syrup, Water, Butter, Yam patties, and Cinnamon.  Really simple ingredients but they all go together to make one delicious dish.
Note: These are called yam patties but they are really sweet potatoes. They are sold in the freezer section at the grocery store. You can also use canned sweet potatoes (also called yams on the can most of the time) or peel raw sweet potatoes, slice them in slices, and boil for a few minutes just until tender.
Just thought I'd include a photo to let you know what I have to do in order to take photos in my sunroom.  My three grandsons have taken over the table for Lego construction.  Don't do like me and push it all to the side too quickly.  A huge container full will fall and spill all over the floor.
FYI:  A dust pan and broom makes short work of picking up Legos.  Trust me, it has worked on more than one occasion!
This is a close up of the city and vehicles for this week.  Next week, who knows how it will look or how large it will be become!
Now, back to our recipe.  Melt a stick of butter (or you can use margarine if you prefer, we don't judge on SouthernPlate) in a 13X9 ovenproof dish. I placed the dish into my preheated oven and let the butter melt.  Just watch it so that the butter doesn't brown.
Cut sweet potato (or yam) patties in half and sprinkle with spices of your choice.
Peel biscuits into two pieces.  You will end up with 16 biscuit pieces.
Press biscuit pieces to flatten and place one sweet potato piece to the side.
Fold biscuit over and press edges to seal.  See there, a cute little dumpling right before your eyes!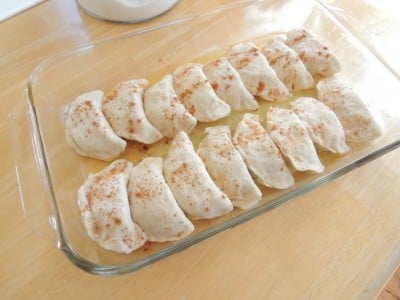 Line your cute little dumplings all up in two rows.  Sprinkle with additional spices.
Stir water, sugar, and corn syrup together in a saucepan and bring to a boil, stirring occasionally. 
Reduce heat and allow to simmer until sugar is completely dissolved, still stirring occasionally.
Pour hot syrup mixture over your cute little dumplings.
Bake at 350 degrees for 25-35 minutes or until dumplings are golden brown.
The syrup will thicken some as the dumplings cool.
This is how our cute little dumpling looked right before I ate him.  He was mouth watering delicious!
Ingredients
1

large can

8 count Grands Flaky Biscuits

8

slices

frozen sweet potato rounds

thawed

1

stick butter

2 1/2

cups

water

2

cups

sugar

2

tablespoon

light corn syrup

cinnamon

nutmeg or ginger, whichever you like best
Instructions
Divide each biscuit in half by pulling layers apart and pat each side out flat.

Slice sweet potato rounds in half and sprinkle with spice of your choice. I used cinnamon since that is my favorite spice with sweet potatoes.

Place half of 1 sweet potato round (thawed) on biscuit half.

Fold biscuit over and seal edge like a fried pie or turnover.

Melt butter in a 9 X 13 pan in 350 degree oven.

Place biscuits in melted butter in the pan .

Stir water, sugar, and corn syrup together in a saucepan and bring to a boil over medium high heat, stirring occasionally. Reduce heat and allow to simmer until sugar is completely dissolved, still stirring occasionally.

Pour hot syrup around biscuits.

Bake at 350 degrees for 25-35 minutes or until golden brown. Sauce with thicken as dumplings cool.
The sweet potato rounds that I bought this time were labeled Yam Patties. Either one is fine,yams or sweet potatoes, the taste is the same. If you are not able to find frozen sweet potato patties, you can substitute canned sweet potatoes that you slice into approximately 1/2 inch slices.
"You don't drown by falling in water; You drown by staying there." 
~Edwin Cole
You might also enjoy this recipe! Chewy Sugar Cookies
Yum