Find out how to make banana bread delicious moist and flavorful in no time flat. You'll be hiding those bananas before you know it so they will get old just so you can make this recipe 🙂

I honestly don't know anyone who doesn't make banana bread on a regular basis. We see bananas going bad on our counter and our hands are already reaching for the flour. I'm certain this is another example to support my theory that all of the best southern dishes came about from the whole yankees-trying-to-starve us thing. 😉
How Ripe Should the Bananas Be?
The one requirement for making banana bread is that you use ripe bananas. Once the skins start to turn and get brown and freckly and the banana is a little too mushy for y'all, then it's banana bread time. If you let them get really brown this will increase the sugar content and will make your bread even more strongly banana-flavored and sweeter.
Can I Make Muffins With This Recipe?
You sure can. Use your muffin tin to make little mini banana bread snacks to pack in lunches or to have as a quick snack. They will likely be done in around 15-20 mins so have a toothpick handy and when they comes out dry from sticking those muffins in the middle, they are ready to go.
Frosting The Loaf…
This recipe doesn't use frosting but we do love a banana bread loaf with a butter cream frosting so you can use the icing recipe from our Carrot Cake loaf here.
Can you Freeze It?
This recipe freezes well just make sure you cool it completely, then tightly wrap it in two layers of plastic wrap or seal it with a food saver. Place the the in a freezer-safe plastic bag or container and enjoy over the next few months or give as a gift.
Recipe Ingredients:
Sugar
Bananas
Pecans (optional)
Eggs
Butter
Self Rising Flour
Milk
Vanilla
If you don't have self rising flour available where you life, go to the bottom of my post on buttermilk biscuits to see how to make your own! 😀
Grease and flour two loaf pans by spreading vegetable shortening in them and then dusting with flour.
Place peeled bananas in your mixer bowl and add sugar. Turn this on and beat until bananas are liquified. This makes your banana bread have tons more flavor than if you simply mash the bananas!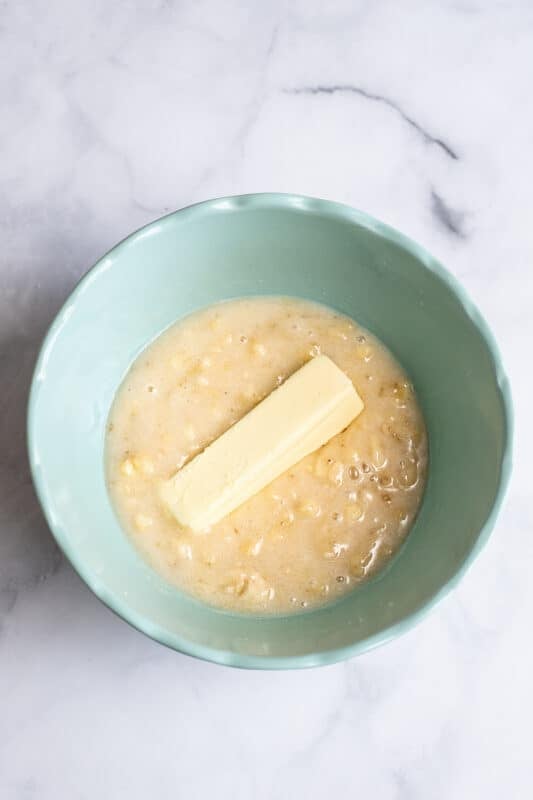 Add butter and mix well.
Add eggs, flour, and vanilla. Mix.
Lightly mix in chopped pecans.
Pour into two greased and floured pans.
Add extra pecans on top if you like (optional). Bake at 350 for an hour until golden brown.

Now, go hide a loaf of this because TOMORROW I am going to show you something positively SINFUL to do with leftover banana bread!
Mmm, Mmm! Enjoy it while you can, before it disappears!
Ingredients
2

Cups

sugar

1

Cups

milk

1

Cups

chopped nuts

optional

3

Cups

self rising flour

1/2

cup

butter

softened

2

eggs

3

bananas

1

teaspoon

vanilla
Instructions
Place peeled bananas in mixing bowl, add sugar. Mix until bananas are liquefied.

Add butter, mix until creamed together with banana mixture. Add all other ingredients and blend well.

Pour into two greased and floured loaf pans and bake for one hour at 350.
Nutrition
UPDATE: This was posted a few years ago so here are the links to what to do with the leftover banana bread (If you have any!)