Grandma Lucy's Pimento Cheese
Today I'm bringing you a much beloved recipe from the South. From what I read and hear, it isn't nearly as popular outside of our little geographic region as it is here, but folks in these parts consider it a staple in every home!
Long before the days of snack cakes and convenience foods, Pimento Cheese sandwiches dominated minds when it came to a "quick bite to eat" or a "little lunch". They were cheap and delicious on plain old white bread, although I serve mine on wheat these days.
I remember going to Grandmama and Grandaddy's house and finding one or both sitting at their kitchen table having a pimento cheese sandwich and a glass of milk. They'd always ask "Ya want some puh-men-ah cheese, baby?". I never refused.
I've wanted to get this recipe up on here for a while and asked Grandmama how she made her pimento cheese so I could bring you the taste I remember so well. She immediately said "Oh, now if you want the best pimento cheese, you gotta use Velveeta."
What better time to bring you this than during my time serving as a Velveeta Kitchenista? I hope you've been visiting Velveeta It!'s facebook page this month as myself and four other Mom bloggers present a new Velveeta recipe each day but if you haven't you can still breeze on over there and catch up on all of the wonderful tips and recipes that have been shared so far! Just visit www.facebook.com/velveeta and be sure to drop a howdy to me there this Thursday when I'll be hosting Tasty Traditions Thursdays!
You'll need: 16 ounce block of Velveeta, Pimentos, and a little Mayo.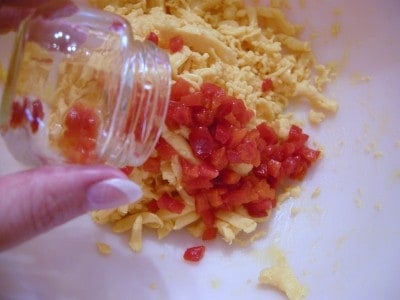 Grate your Velveeta. Now Velveeta is a little on the soft side so I found an easy way of doing this. You remember play-doh? Just get your grater out and place the block of Velveeta against it and press into the grater. It comes out the other side quick and easy as can be and ends up being a lot less work than grating a block of cheddar.
Dump in a jar of drained pimentos. I used the small jar which is about 2 ounces.
Add about 1/2 cup of Mayonnaise. You can add more to taste if you like.
Stir that up well.
Grandmama doesn't salt and pepper hers so I didn't either. I found it to be utterly sublime as is but feel free to salt and pepper (and even garlic!) yours if you got a hankerin' to.
Serve on a sandwich or crackers.
These are a standard at every party, too. There is nothing like little finger pimento cheese sandwiches with the crusts trimmed off to add an air of tradition to a gathering!
Did you eat pimento cheese growing up? Do you have a different recipe or a special Pimento Cheese memory?
Tell me about it in the comments!
Ingredients
16

ounce

block Velveeta

2

ounce

jar Pimentos

drained

1/2

C

Mayonnaise
Instructions
Push Velveeta through a grater until all is grated in a bowl. Add Pimentos and Mayo. Stir well. Salt and pepper if desired. Serve on loaf bread.
Today's quote is one of those that kinda hits you in layers. Hope you enjoy it!

"Preach the Gospel at all times and when necessary use words."

St. Francis of Assisi
I really enjoyed Maralee Mckee's post this morning on Trick or Treat Manners.
Click here if you'd like to read it, too!