My trusty 4-ingredient burger slaw recipe is a little bit tangy, a little bit sweet, and a whole lot tasty! It's the perfect complement to a juicy beef burger.
This Southern-style burger slaw is one of my very favorite accompaniments to a big old juicy hamburger, especially a mouthwatering meatloaf burger like I posted yesterday! It's simple to make and compliments beef really well.
Luckily, it's a very quick and easy recipe. It takes less than 5 minutes to combine all of the ingredients in a bowl. What are the 4 ingredients, I hear you say? Vinegar, granulated sugar, Season All, and coleslaw mix (shredded cabbage and carrots). Once they're all mixed together, you chill it in the fridge for at least 30 minutes so those delicious flavors can mingle and soak into the coleslaw. The longer you chill, the better… but sometimes we're hungry and can't wait, right?
This burger slaw is a little bit tangy thanks to the vinegar, a little bit sweet thanks to the sugar, and a whole lot tasty thanks to the delicious Season All seasoning. Add it to any burger or sandwich to take it to the next level. Slaw burgers on hamburger buns are something else!
Let's get cookin'!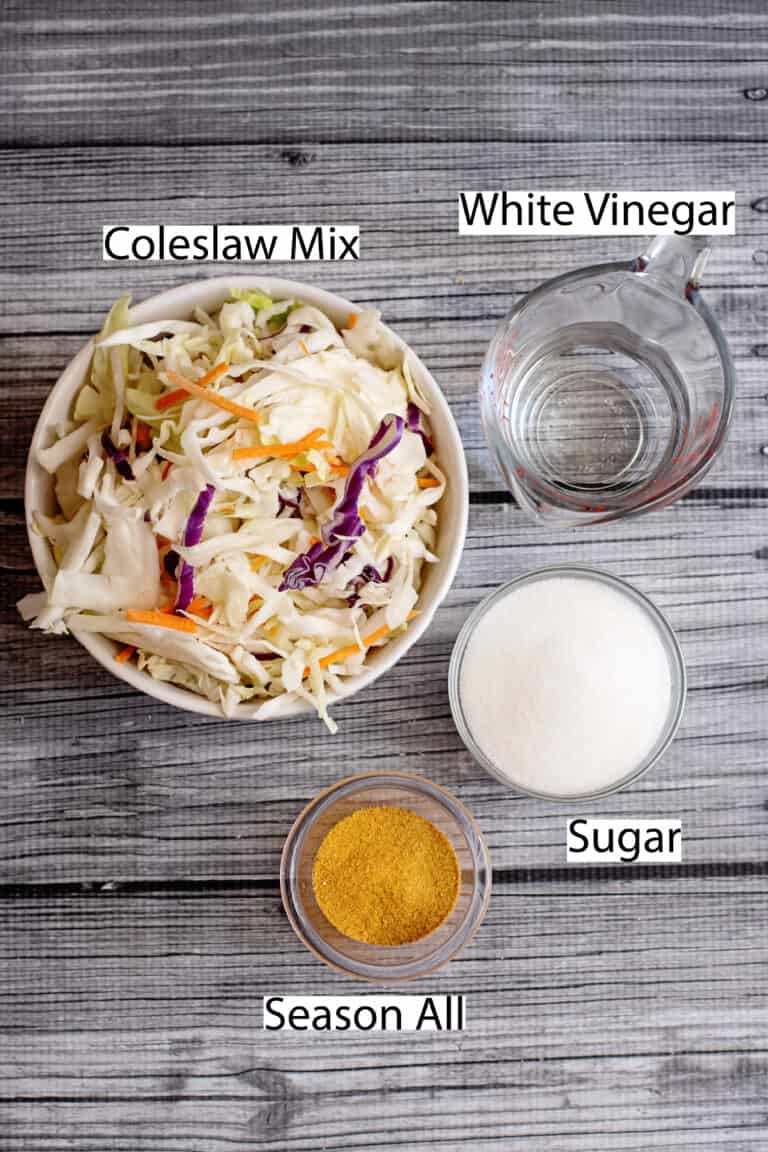 Recipe Ingredients
White vinegar
Coleslaw mix
Sugar
Season All
How to Make Easy Burger Slaw
Pour sugar into the vinegar.
Stir that up a minute or so or until you're tired of fooling with it.
Most folks would say until your sugar dissolves, but we're gonna pour this over our cabbage and let it marinate for a bit and the sugar can dissolve just fine during that process without needing me to babysit it 😉.
Add Season All…
…which has no MSG. Not that I, personally, have a vendetta against MSG but I know a lot of folks do and suspicions would be raised in the comments about whether or not this was evil.
Stir that up. Again just until you're tired of fooling with it.
Put your coleslaw mix in a big old bowl and pour our vinegar mixture over it.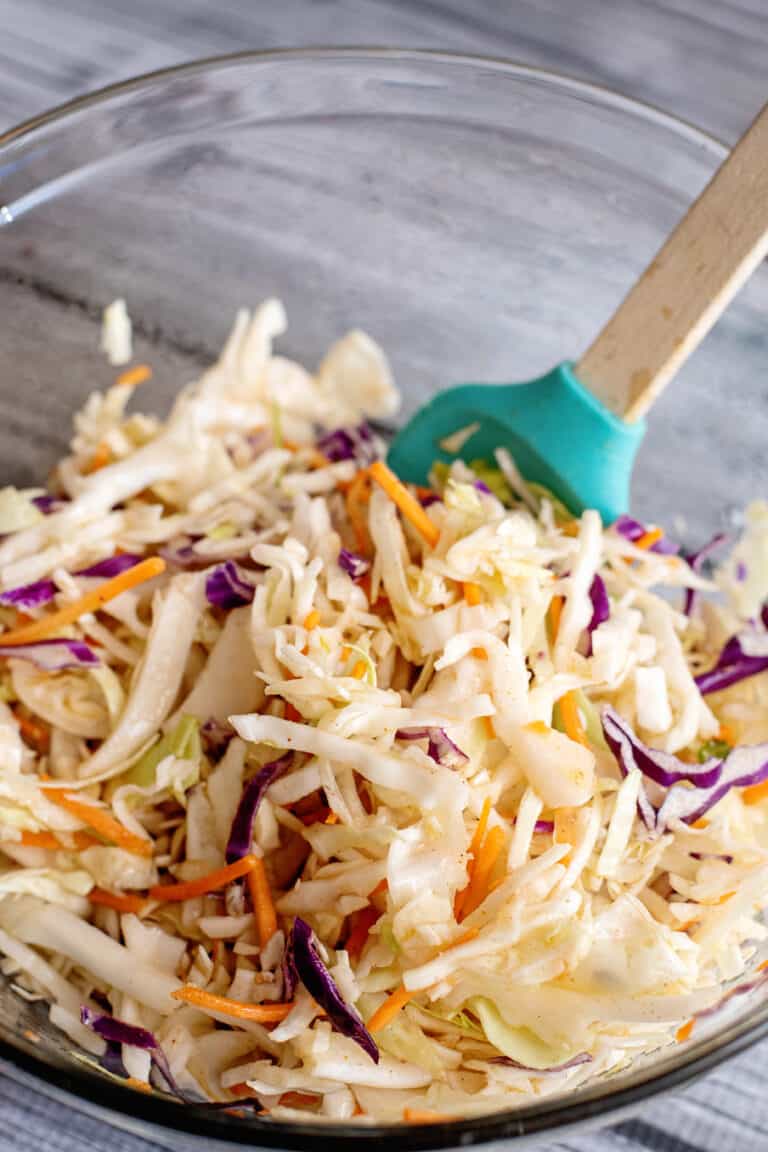 Stir it really well until it is all coated.
Put a lid on this and place it in the fridge for about half an hour (or more if you need to).
During that time the burger slaw will wilt down significantly and become filled with even more wondrous yumminess.
Use it to top your favorite burger. I especially love it on these mouthwatering meatloaf burgers that I posted yesterday.
Now go make it a GREAT day!
Storage
Store leftover hamburger slaw in an airtight container in the fridge for up to 4 days.
Recipe Notes
If it makes you feel better, you can shred the cabbage and carrots yourself instead of buying this bag (you overachiever, you!). Just get a small head of cabbage and about 2 carrots (whatever size you grab first) and shred those puppies up.
You can totally substitute the white sugar for brown sugar if you like.
Another common substitution is swapping the white vinegar for apple cider vinegar.
If you're a fan of mustard, add a 1/4 cup of yellow mustard or your mustard of choice to the vinegar mixture.
If you want to add more veggies to the cabbage slaw, add 1/2 cup of chopped bell pepper.

Want to make a

instead? Add 1 tablespoon of

(like

) to the

mixture or simply add it to your

before taking a big ol' bite.
Recipe FAQs
What is the difference between burger coleslaw and burger slaw?
The main difference is that coleslaw is typically creamy and made with mayonnaise, while our burger slaw has a vinegar-based marinade. But both burger toppings are made with a combination of cabbage (napa cabbage, purple cabbage, red cabbage, or a mixture) and carrot.
What do you serve with burger slaw?
Here are a few more burgers and sandwich options if you're wondering what to pair with this delicious burger slaw: hamburger steak burgers with fried onions, smoked burger recipe, steak sandwiches, loose meat sandwiches, and juicy pork burgers.
Another option is to make your own slaw burger. Grab a burger bun, add a turkey burger or salmon burger patty for something different (check out this recipe), and layer on the tomato slices, white or red onion, cheese, and slaw.
Check out these other scrumptious slaw recipes:
Mustard Slaw (from the SouthernPlate Mag!)
Ingredients
1

package

coleslaw mix

1 pound of shredded cabbage and carrots

1/2

cup

white vinegar

1/2

cup

sugar

2

tablespoons

Season All
Instructions
Stir together the vinegar and sugar. Add Season All and stir again.

1/2 cup white vinegar,

1/2 cup sugar,

2 tablespoons Season All

Place coleslaw mix in a medium bowl and pour the vinegar mixture over it.

Stir to coat, cover, and refrigerate for at least 30 minutes.
Nutrition
Falling in love is not a choice. To stay in love is.
~Unknown