November Favorites (Sawdust Pie, Cinnamon Buns, Wedding Cookies)
As I enter my third November with SouthernPlate.com, I thought I'd bring you some past November favorites from the site. Hope you enjoy them!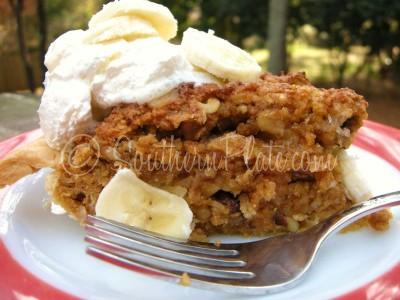 If you've never had Sawdust pie before, I really do feel it could become a fast family favorite. The taste is rich and buttery, and whipped cream and sliced bananas set it off to sheer perfection.
These cinnamon rolls have power behind them – real power. You could pretty much get anything you wanted if you showed up toting a plate of these babies, warm with icing oozing down the side.

My mother used to make these especially for me when I was a little girl because I loved the Danish Wedding Cookies that were sold in the grocery stores. They were a bit pricey, so she made these for me instead – which were MUCH better anyway!
THANK YOU for supporting the book and SouthernPlate.com!
I love what I do and am forever grateful to you for allowing me to continue to do it.
Dear Family,

I've made it to the home stretch of the book tour! This is my last week of heavy travel away from the kids and we are really looking forward to getting back to whatever our new normal ends up being. I'm looking forward to being home to get them ready for school and tuck them in at night. I've had a wonderful time getting to meet you all, but I am soooooooo meant to be at home with my family.
As I head out to Fairhope and Birmingham Alabama this week, you can watch for me tomorrow on Talk of Alabama in Birmingham and come meet me at either of those book signings. I have a hug with your name on it! For more information, please click here.
Be sure to check out what I've added December 29th! It's a special surprise. I'll have another surprise to put up there soon, too! A lot of people have read about that surprise date and asked if I'm bringing the family with me. I'm actually going to fly in and fly back home as soon as I can. 1. It's very expensive to fly four people up there. 2. As beautiful as New York can be at Christmas and New Years, Alabama has all that I need.
Thank you for lifting me up and loving me back. 🙂
Gratefully,
Christy
Every person ever created is so special that their presence in the world makes it richer and fuller and more wonderful than it could have ever been without them.