Oven Fried Green Tomato Caprese Stacks and a Cookbook Review!
Today I'm sharing with you a new cookbook from one of the sweetest people you could ever meet, Robyn Stone. Robyn is down to earth, good hearted, a wonderful mom, and an amazing cook and her book feels the same way.
Well, it doesn't feel like a mom, I mean, not once did it ask me if was really going to wear that or why I didn't have earrings on (my mother's pet peeve is me being on tv without earrings).
Click here for more information or to order the Add A Pinch Cookbook
But I digress…This cook book is gorgeous and filled to the brim with fresh takes on Southern classics as well as the standards we all love, offering up that comfortable feeling of being around Grandma's table. In short: I love it and recommend it for anyone who loves Southern cooking.
Today I'm sharing a recipe from the book with you that has my mouth watering! Oven Fried Green Tomato Caprese Stacks start off in a skillet but finish frying up in the oven for perfectly tender tomatoes, layer them with two of my favorite ingredients: fresh mozzarella and fresh basil, drizzle with some balsamic reduction, and I will happily make a meal out of this alone!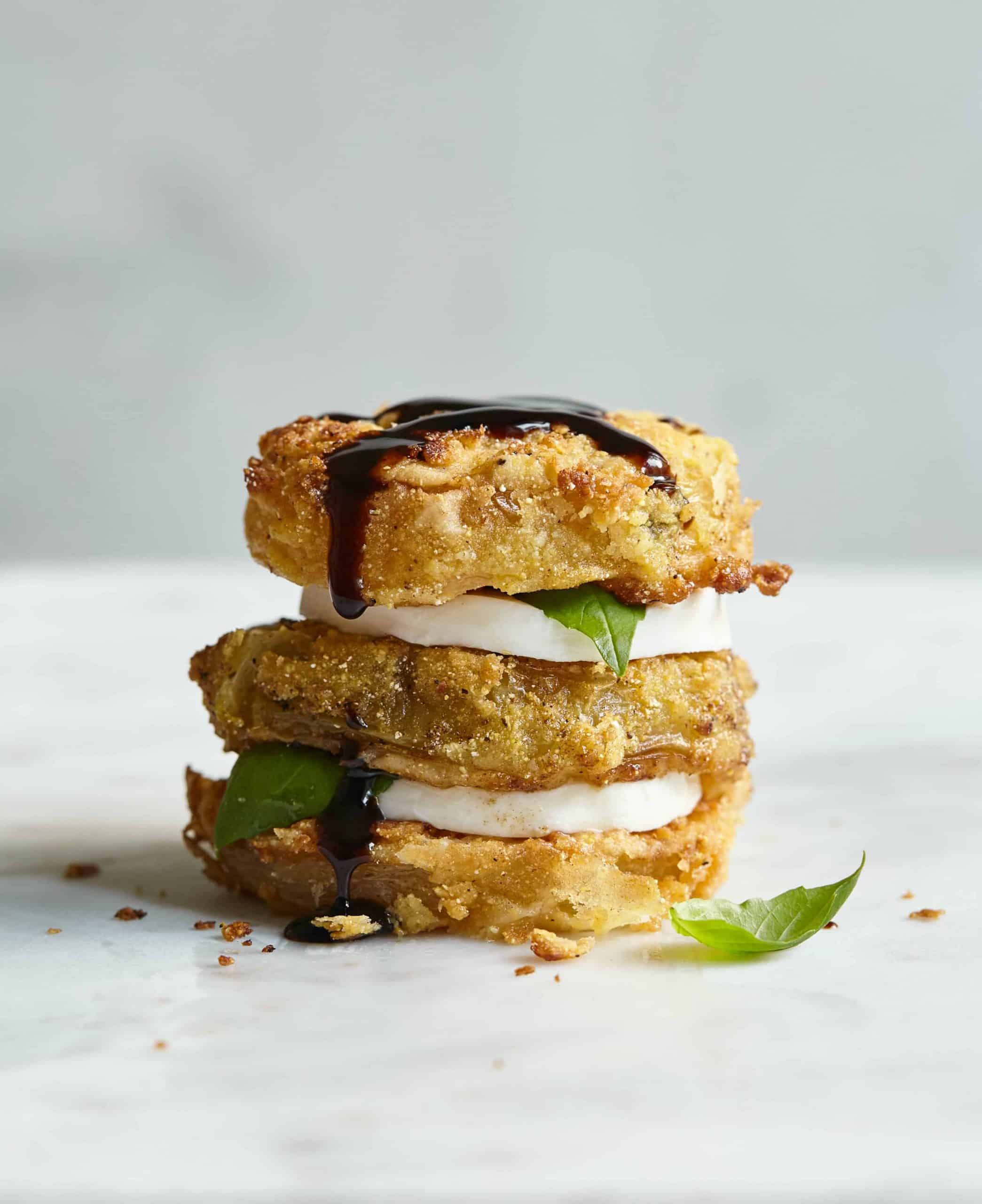 Ingredients
Cooking Spray

4

large green tomatoes

cut into 1/2 inch thick slices

1/2

cup

buttermilk

2

large eggs

1

cup

cornmeal

1

cup

all purpose flour

1

teaspoon

kosher salt

1/2

teaspoon

freshly ground black pepper

6

tablespoons

olive oil

8

ounces

mozzarella cheese

cut into 1/2 inch thick slices

12

whole basil leaves
Instructions
Preheat oven to 450. Line a baking sheet with foil and place wire rack on baking sheet. Lightly spray the rack with oil. Line a second baking sheet with paper towels.

Place tomato slices on the baking sheet lined with paper towels. Cover the tomatoes with additional paper towels and pat dry.

In a shallow dish, whisk together the buttermilk and eggs. In a separate shallow dish, whisk together corn meal, flour, salt, and pepper. Working in batches, dip the tomato slices into the buttermilk mixture and then into the cornmeal mixture, making sure that both sides and edges are well coated.

In a medium skillet set over medium heat, heat 3 tablespoons of the oil until it begins to shimmer, about 1 minute. Cook the tomatoes until lightly browned on one side, about one minute. Flip to the other side and cook one more minute. Transfer to the prepared wire rack. Repeat with remaining tomatoes and remaining oil. Bake until for tender, about 20 minutes.

To make Balsamic Reduction: In a small sauce pan over low heat, bring vinegar to a simmer. Let simmer until vinegar reduces by more than half and coats the back of a spoon, about 15 minutes. Remove the pan from heat and let cool.

Assemble stacks by placing one tomato slice on a plate. Top with a slice of mozzarella and then a basil leaf. Repeat with another tomato slice, piece of mozzarella, and basil leaf, then top with final tomato slice. Repeat with remaining ingredients. Drizzle with balsamic reduction.
Notes
Even Easier! If you want to skip the stacking, you can easily turn these ingredients into a lush and satisfying salad. Arrange 2 cups mixed salad greens in a bowl and then add 1/2 cp halved cherry tomatoes, the fried green tomatoes, mozzarella slices, and torn basil. Top with balsamic vinegar and olive oil, instead of the reduction.
Nutrition
For more information on the Add A Pinch Cookbook or to order, please click here. 
Visit Robyn online at her blog, Add A Pinch, by clicking here.