Quick Suppers from your Freezer! ~Updated~
We all have those days when supper seems to "sneak" up on us. You wake up, start your day, get as much work done as possible, and then look up to find it's 5:00!
On those days it is more tempting than ever to hit up the local drive through for a bag of greasy convenience. Even in addition to the grease, the cost is stunning! For the four of us to eat fast food for supper or lunch (which we do when we are on trips from time to time) usually runs over $20! I can feed my family 3-4 good suppers for that amount. 
I spoke about this as one of my 3 Backup Plans I use to make sure I can have supper on the table every night no matter how crazy life gets in my Southern Plate Radio Show this week. To hear about this and my other two backup plans, listen to the Southern Plate Radio Show online by clicking here.  I also talk about how to cook these freezer meals without thawing first and several different ways to freeze them and save lots of space in the freezer, too!  This show is no longer online. Sorry about that!
I keep my freezer stocked with pre-made supper options as a way of saving time, money, and last minute 911 drive through trips.
It's easy to stock your freezer and there are two main ways to do this.
1. Set aside a mass cooking day and do it all at once. A big grocery trip would yield the ingredients to make 2-4 of each meal you choose to stock. Spend a good day in the kitchen and you'll be pretty tired at the end of it but you'll have convenience meals whenever you need them for months to come.
2. Build it slowly – my preferred way. Each week I make sure to make one or two of my favorite freezer friendly meals for supper and just double or triple it. I serve one fresh and freeze the others. This is a no fuss way that doesn't really take much extra work but builds up my supply of freezer convenience meals really well. Suppers you can make now to eat later.
These are just a few of the things in my freezer right now to help inspire your thinking!

 
Ma's Rice and Chicken Bake -This is also part of my Bags To Dishes backup plan, click here to read more about those.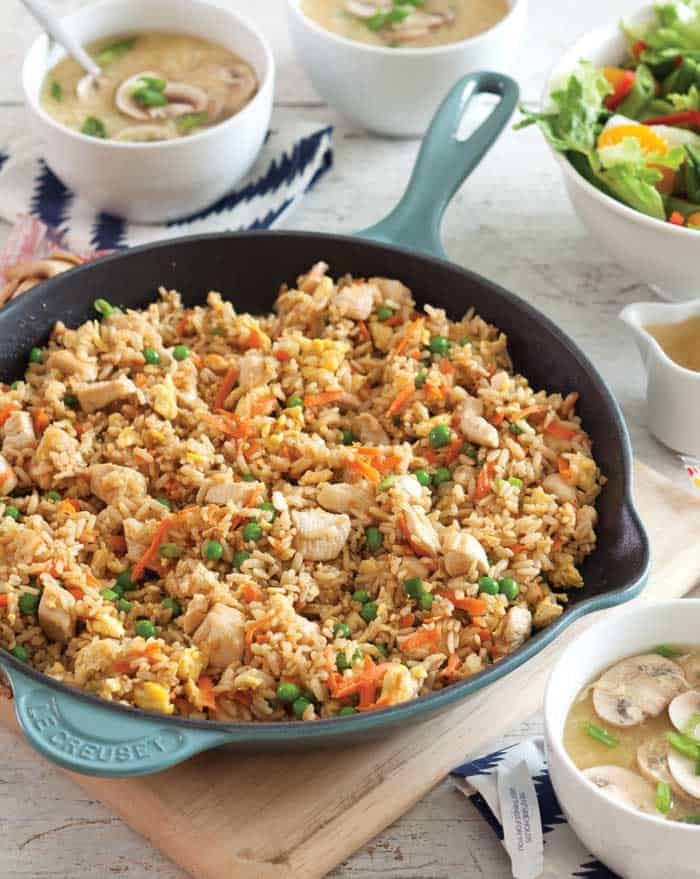 Chicken Fried Brown Rice – This is one of my son's favorite meals and saves so much money over buying takeout. I just make double (or triple) and freeze the other portions for future suppers. To cook, heat in the microwave or reheat in a large skillet on the stovetop by heating 2 tablespoons oil and adding rice, stirring and sautéing over medium heat until heated through again.
Country Casserole – This is my entire family's go to casserole. You can double the veggies, leave out the meat, swap ham or ground beef for chicken, switch up the pasta, etc. I even have a simple recipe for making your own cream soup in about five minutes using ingredients you probably have on hand in my new cookbook, Come Home To Supper. Pictured holding the casserole is a Pyrex Butterfly Gold Lasagna Pan. Click here to read my Confession of A Pyrex Hoarder post. I try to always have a few of these in the freezer. I mix up the casseroles in a big dishpan and then store them in gallon size zipper seal bags with the air pressed out. I freeze them flat to save on space. To cook, thaw in the microwave or in the refrigerator overnight. Pour into casserole dish and bake as directed.
I have two of these in my freezer right now that I made using leftover turkey from Thanksgiving.
Chicken Patties – I make these using leftover chicken. Sometimes I'll make sticky chicken and cook an extra breast or two, or if we just don't end up eating as much as I'd thought we would. I just take off the skin and shred the leftover chicken then whip up however many of these patties I have enough for and put them in the freezer. They make the most delicious chicken sandwiches! I cook these directly from frozen, no thawing needed. I actually made sticky chicken last week and ended up with a little too much since my son (who is a big eater) had supper at a friend's house. I was able to make four chicken patties with the extra chicken he wasn't here to eat and we'll all have a fresh supper later instead!
Slow Cooker Chicken and Wild Rice – This is a slow cooker recipe that you can double and freeze the extra for another meal! To reheat frozen versions, just heat in the microwave or thaw overnight in the fridge, pour into a casserole dish, cover, and bake until heated through at 350, 20-30 minutes.
A question I am often asked is "What is the difference in a slow cooker and a crock pot?" All crock pots are slow cookers, but the term "crock pot" is trademarked by Rival, so any "crock pot" is actually a slow cooker made by that brand. I always say "slow cooker" because all of my slow cookers are made by Hamilton Beach.
Slow Cooker Cheesy Chicken and Rice – Same as the Wild Rice for freezing and prep.
Dirty Rice – This homemade version of a classic meal freezes like an absolute dream. I love these rice meals because they are filling and economical. To reheat, heat in microwave or thaw slightly and reheat in a large skillet in 1-2 tablespoons of oil over medium heat.
Chicken Stew – So many soups and stews freeze well that I generally always double them when cooking. Allow soup to cool completely and place in ziploc type containers or gallon sized freezer bags (I prefer the bags). Freeze flat and reheat by bringing to a simmer in a large pot on the stovetop. Make one really big batch and you can freeze in individual containers for lunches all winter long.
Loaded Twice Baked Potatoes – These are a great side dish if you need to extend your meal but they also make a wonderful light meal on their own. I often have these for lunch. I cook these directly from frozen, no thawing needed. I am down to one bag (about eight) of these in my freezer right now so I'll be making more in a few weeks.
Green Beans – We don't always think about freezing sides but on a busy day, it is so easy to put a dish of chicken breasts and barbecue sauce in the oven and then reheat these delicious green beans to go with them for a nice meal. I made these on Christmas day and went ahead and made a big batch so I'd have some to freeze. I have 6 quart size bags in my freezer now. Think about your favorite vegetable sides and whether or not they would freeze well. If they do, double or triple the recipe next time you make it! I just heat these from frozen in my microwave or a pot on the stovetop.
Pre Cooked Ground Beef – One of my FAVORITE and most used timesaves in the kitchen is keeping a good supply of pre-cooked ground beef in my freezer. I cook it ahead of time, drain it well, and store in quart size zipper seal bags. I put anywhere from 1 cup to 1+1/2 cups in each bag. If I find I need more (or have company), I grab two bags. Having this on hand allows me to make Deep Dish Pizza, Taco Soup, Not Your Average Joe Sloppy Joe, Good Old Spaghetti, or even Tacos in the time it takes for me to assemble the dishes. For these recipes and more, check out my post on 35 Ground Beef Recipes to Help Stretch Your Food Dollar. You can also do this with chicken by just shredding it and even pulled pork or shredded beef roast.
I have about 20 pounds of pre cooked ground beef in my freezer right now.
To see my easy peasy, hands free way to shred meat, click here. 
Pre-Cooked Homemade Meatballs and sauces – If I find a good buy on Ground Beef (which is getting really difficult to do these days!) I like to make up a big batch of meatballs for my freezer. This recipe makes about 100. Then, I use one of the sauce recipes I have listed (they are at the bottom of the meatball post, click here) to make a delicious meal out of them. Salisbury, Stroganoff, Meatball Soup, or even Meatball subs. Of course, they are also delicious in spaghetti!
The beauty of this is that you don't have to make your own meatballs, you can just buy frozen meatballs and keep them on hand to use with one of these quick sauces as well. It is often easier to find a deal on the frozen meatballs than it is to find a deal on the beef to make them yourself. I'm out of homemade meatballs right now but I do have two bags of store bought frozen ones that I found on sale!
Peanut Butter Balls – This is not a meal but my husband likes to make one out of them! He said I needed to include this recipe 🙂 A great high protein rich and nutritious snack that my family absolutely loves, especially when made with honey! I don't actually have these in my freezer right now but Katy and I are going to mix some up as soon as I'm done with this post. We always work together on these and we each have our own cookie dough scoop to be able to make up a whole bunch in a flash!
There are over 800 recipes on SouthernPlate.com right now and a good many of them are freezer friendly, but I just thought I'd give ya something to think about and go over what I have in my freezer right now for inspiration.
Do you have any make ahead meals in your freezer or do you plan on putting some up soon?
Talk to me in the comments section below!
~~~~~~~~~~~~~~~~~~~~~~~~~~~
"You can make positive deposits in your own economy every day by reading and listening to powerful, positive, life-changing content and by associating with encouraging and hope building people."
~Zig Ziglar