Kielbasa Skillet Simple & Delicious
This simple and delicious kielbasa skillet is quick and easy to make and a hearty dinner the whole family will enjoy.
This simple and delicious kielbasa skillet is one of those sausage recipes that is really more of a concept than a recipe because you don't *have* to have a particular vegetable or a certain amount of any one veggie. You don't even have to use Polish sausage. You can use weenies instead or even use those little faux weenies, the vegetarian or soy ones if you like. I use turkey kielbasa these days.
But if you want to know the simple ingredients I'm using in this kielbasa skillet recipe, they are turkey kielbasa, potatoes, bell pepper, tomato, onion, and Season All. Keep reading for more options, but you can swap and change the meat, the veggies, and the seasoning. Basically, use this recipe as a base to build your perfect dinner. The instructions will be similar no matter the ingredients. Just brown the veggies, brown the sausage, add your seasoning, and let it simmer until those veggies are perfectly fork-tender. That's all there is to it.
No matter what you have on hand and end up using, this kielbasa skillet is hearty and full of flavor – and that's why I love it. I made the pictured dish this past Sunday in the afternoon and then divided it into individual containers to put in the fridge for lunches and breakfasts in a hurry. So, if you're looking for a quick and easy one-pot dinner for busy weeknights, look no further than this kielbasa with potatoes recipe.
Recipe Ingredients
Potatoes
Bell pepper
Tomato
Onion
Kielbasa (I prefer turkey)
Season All
Vegetable or olive oil
Helpful Kitchen Tools
How to Make Kielbasa Skillet on the Stove
To start with, pour a little oil into your skillet.
This is probably about four tablespoons. You're gonna need this to help get those potatoes cooked.
Put your skillet over medium-high heat.
Wash your taters and chop them up.
I don't peel mine but you can if you really want to. Personally, those skins have lots of good stuff in them and I like having them on there.
Cook the potatoes for about 10 minutes, stirring often.
While the potatoes are cooking, chop up the rest of your veggies.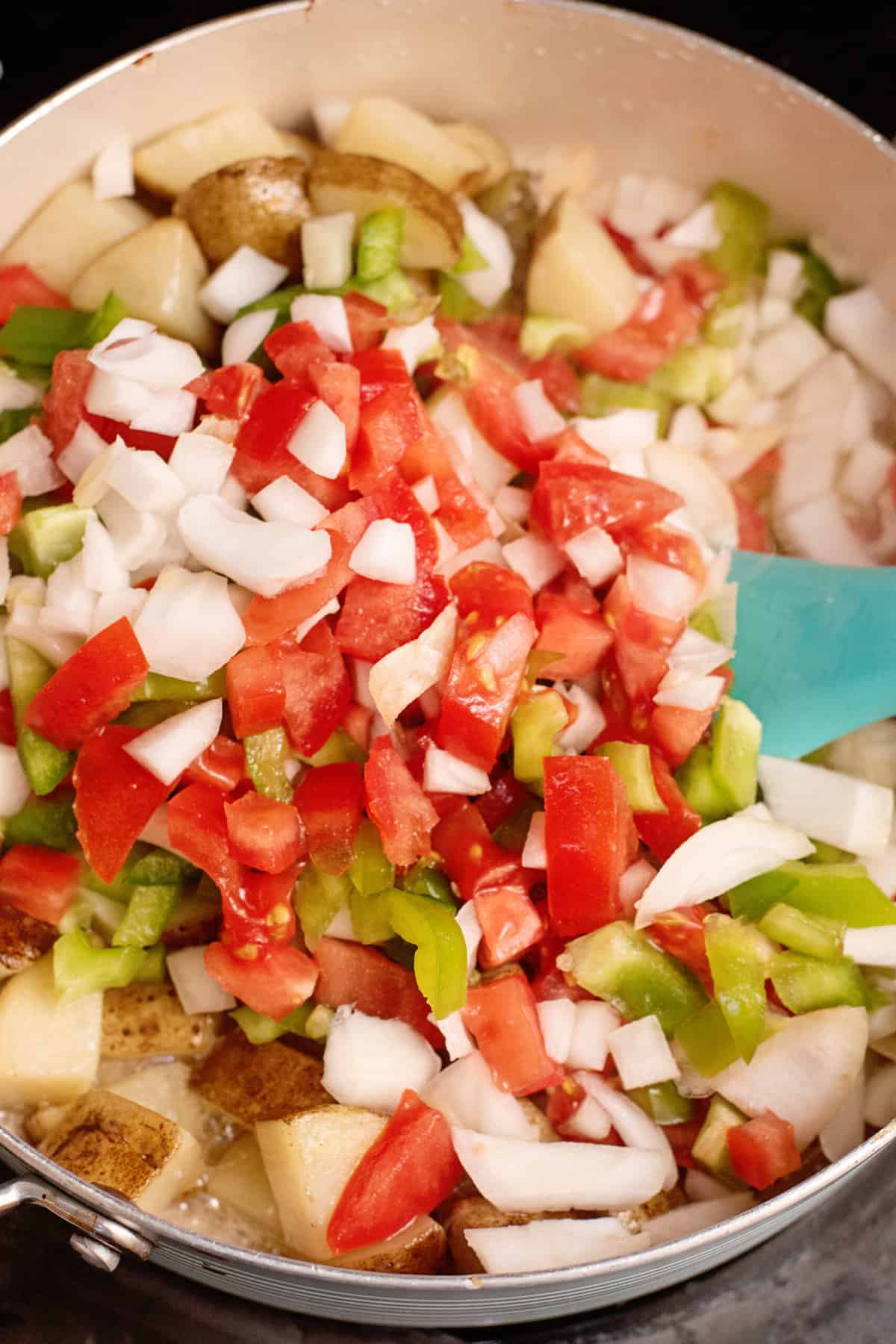 Add chopped veggies to the skillet with the potatoes.
Stir that up and let it cook for about another 5 minutes or so, stirring if you think about it every now and then.
At some point, you want to generously sprinkle the top of that kielbasa skillet with Season All.
I probably use about a tablespoon or so, but it's completely up to you. You can always add more if you want to, so don't be afraid to be generous because this is good stuff!
After my potatoes start getting close to tender, I scoot everything over to one side of the skillet and add my sliced kielbasa.
I then let it get good and hot, even a little browned on the bottom if I feel like taking the time to do so.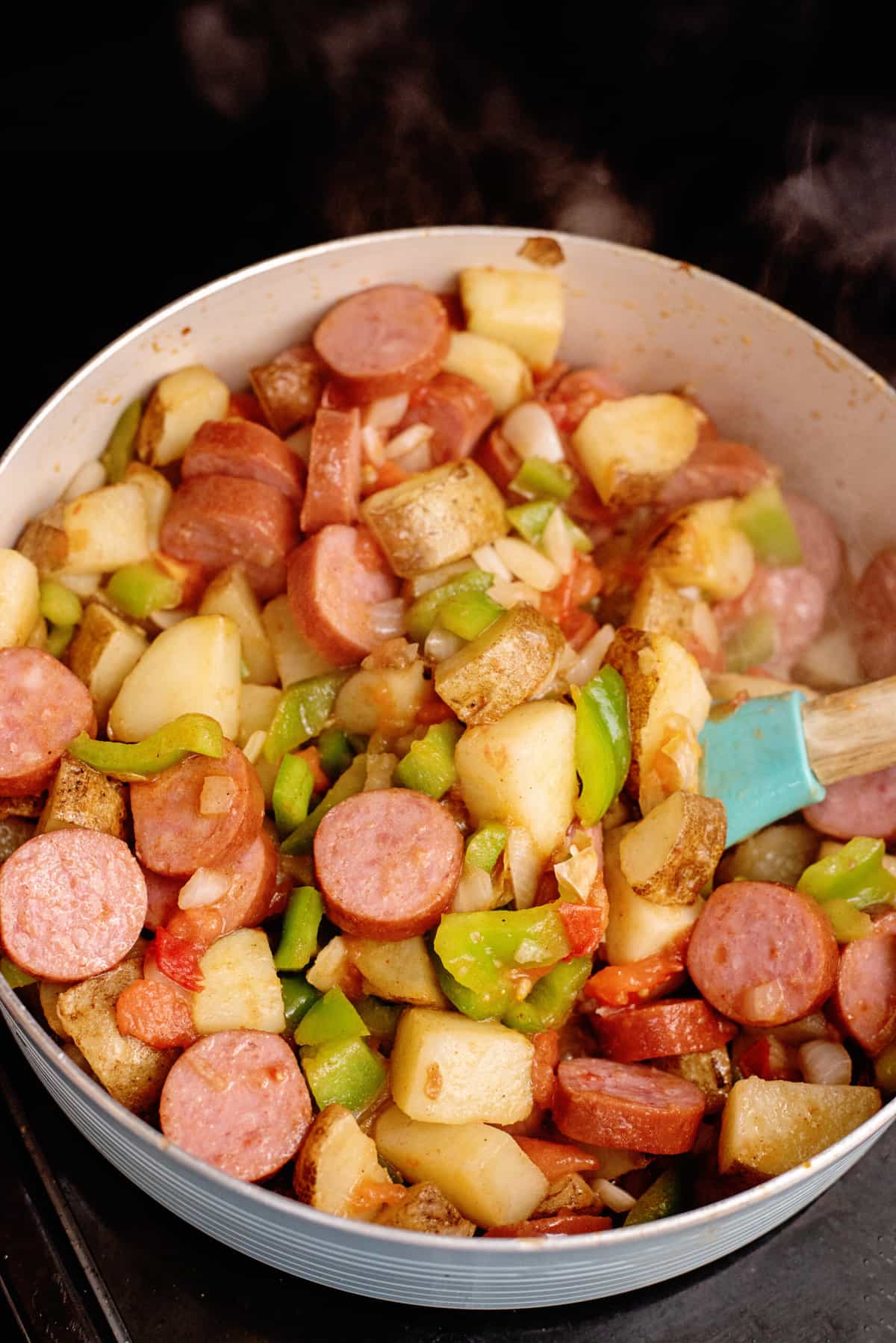 Stir that up well, then let it continue cooking until the potatoes are fork-tender.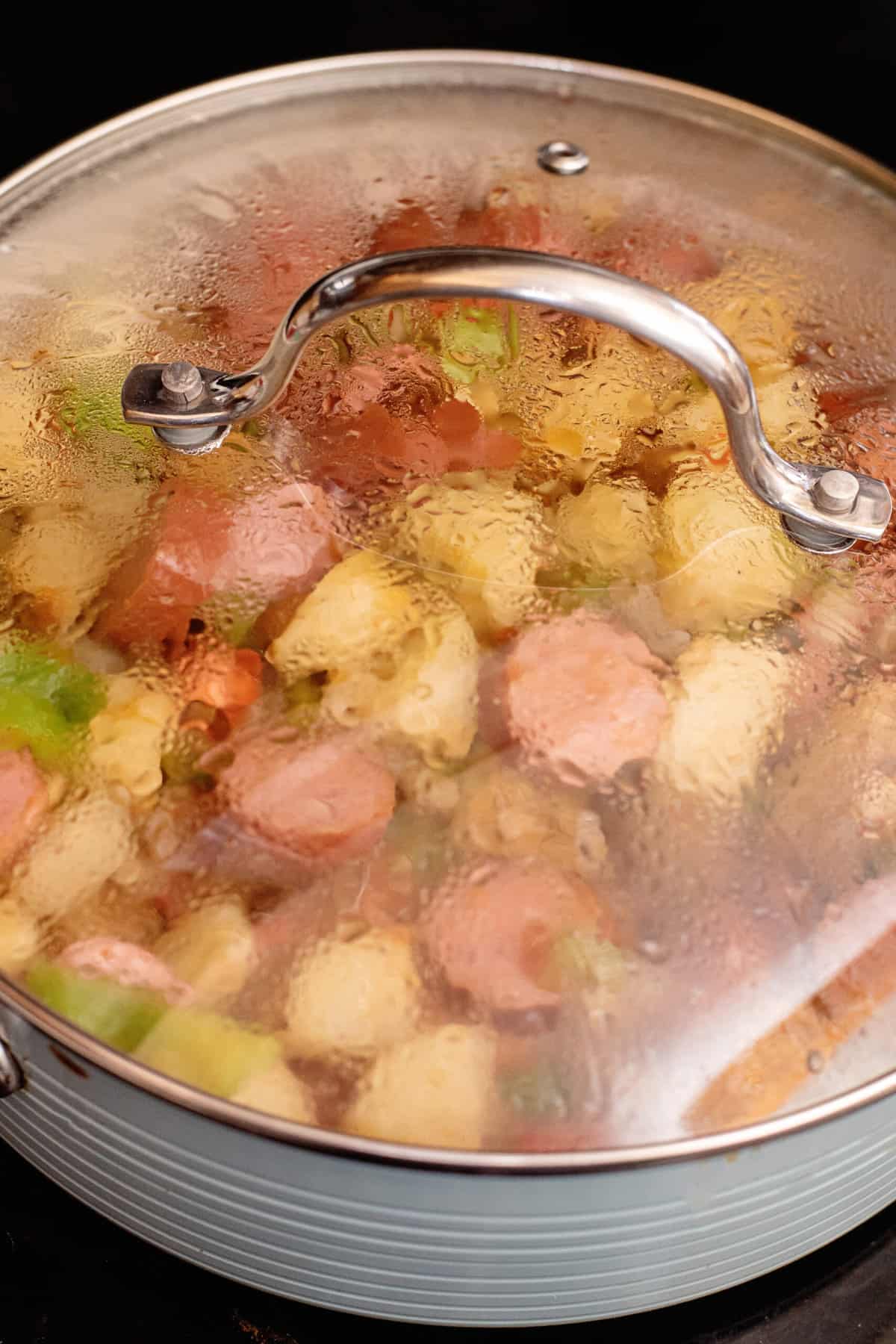 I then usually turn my heat down to medium-low, add a lid, and let the potatoes steam a little bit.
Look how pretty!
Now sprinkle this with some more Season All.
Go ahead, don't be shy.
Serve warm. Serve cold. Just sit down and eat!
This kielbasa skillet makes a great supper, breakfast, lunch, brunch, or dinner and is great to eat at the table, in the recliner, or on the porch.
Storage
Once the skillet is cooled, store leftovers in an airtight container in the fridge for up to three days. As mentioned, you can serve it cold or warm. You can reheat it in the microwave, oven, or on the stovetop until heated through.
Recipe Variations
Here are some variations to make this recipe work for you:
To make a low-carb version of this skillet, substitute the potatoes for cauliflower florets.
Use red potatoes or sweet potatoes instead.
Swap the yellow onion for red onion.
Use whatever veggies you have on hand, like broccoli florets, corn kernels, green cabbage, zucchini, yellow squash, frozen peas, kale, or baby spinach (add this at the end and just let it wilt before serving).
Sprinkle shredded cheddar cheese on top at the end and serve once it melts.
Drizzle your serving with hot sauce before serving for a little kick.
Swap the Season All for Italian seasoning.
Another popular kielbasa skillet seasoning is a Dijon vinaigrette. Combine 2 tablespoons of brown sugar, 2 tablespoons of apple cider vinegar, 1 tablespoon of Dijon mustard, and 1/2 teaspoon of dried thyme in a small bowl. Add it to the skillet instead of the Season All.
Add crumbled and cooked bacon at the end.
Garnish with chopped fresh parsley or cilantro.
Recipe FAQs
Is kielbasa already cooked?
Yes, when you buy kielbasa it has already been pre-cooked and smoked. So when you're cooking it, you only need to heat it and brown it for the dish.
What's the best way to cook kielbasa?
The best way to cook the whole or chopped sausage is on the grill or in a pan over medium heat. You want to turn the sausage until it's evenly brown on both (or all) sides.
How long does it take to cook kielbasa in a pan?
It will take between 5 and 10 minutes to cook the kielbasa in a skillet over medium heat.
How is kielbasa traditionally served?
Kielbasa is traditionally served with sauerkraut or fried onions.
What is the difference between sausage and kielbasa?
Kielbasa is a type of smoked sausage that originates from Poland. It has a distinct garlic taste.
Do you use oil to cook kielbasa?
Yes, I recommend cooking the kielbasa and vegetables in oil. Any oil works well.
What is Season All?
Now, Season All is a big player in this kielbasa skillet. It's a great all-purpose seasoning that is surprisingly cheap (I even use generic brands and like them just as well). It contains salt, chili pepper, black pepper, celery seed, onion powder, paprika, garlic, etc. It's great to have around the kitchen for pretty much all things, thus the name.
It's important to note that Season All doesn't have MSG. It even says so clearly on the bottle: "No MSG". I don't know if it used to have MSG or not, but I know it sure doesn't now! As I said, the name brand (Morton) is a great one, but I pick up bottles of generic Season All pretty often and like them just as well. Another recipe I use Season All for is hamburger steaks. Give the patty a good sprinkling on both sides.
What else can I make with kielbasa?
Kielbasa is a very versatile food. You can eat it from breakfast to dinner, alone or with a side dish. Here are some suggestions if you want to turn your kielbasa into something other than a skillet:
I like to serve my kielbasa with starches, like scalloped potatoes, rice, or pasta.
Serve it with a side dish, like mac and cheese, coleslaw, fried cabbage with bacon, potato salad, cucumber salad, or green bean casserole.
Do as the Polish do and serve it with sauerkraut.
For breakfast, kielbasa is the perfect accompaniment to a plate of eggs and hashbrowns.
Ingredients
All sizes are scalable based on what you have on hand or how many you are feeding. Feel free to use more or less.
16

ounces

turkey kielbasa, sliced into 1/2-inch (ish) rounds

6-8

medium potatoes

1

medium to large tomato

1

large bell pepper

1

large onion

2-3

tbsp

Season All

4

tbsp

vegetable oil
Instructions
Please oil in a large skillet and heat over medium-high heat while chopping the vegetables.

Cut all vegetables into bite-sized pieces. Add potatoes to skillet and cook, stirring often, for about 10 minutes.

Add all other vegetables and a generous sprinkling of Season All. Stir and cook for another 5 minutes.

1 medium to large tomato,

1 large bell pepper,

1 large onion,

2-3 tbsp Season All

Push veggies to the side of the skillet and place sliced kielbasa on the empty side. Cook, stirring every now and then, for about 5 minutes.

16 ounces turkey kielbasa, sliced into 1/2-inch (ish) rounds

Stir the contents of the skillet together and generously sprinkle with Season All again.

Cover with a lid or large dinner plate and reduce heat to medium-low. Cook until the potatoes are fully tender, which is about 5 to 10 minutes more.

Sprinkle with more Season All if you like (I like!) and serve.
Video
Notes
Please note, I am only telling you the measurements I used this time. I change this up all the time so consider this recipe a general guideline. The only thing I recommend doing is using a good bit of Season All or seasoning of your choice. That combined with the onion, sausage, and pepper really gives it a wallop of flavor but feel free to make it your own.
Nutrition
You may also like these skillet recipes:
Tomatoes, Okra, and Bacon Skillet
Chicken Broccoli Skillet with Pimento Cheese Sauce
"To get going, Get going."
~Tom Peters. Submitted by Cathy Kelley.