This is a sponsored post written by me on behalf of The Hillshire Brands Company. All opinions are entirely my own.

Today I'm going to let you in on something: I don't cook lunch. Sure, there are exceptions on some days and every now and then Katy and I will get a cooking bug mid day and head on into our little lab to experiment, but under normal circumstances, I do not cook lunch.
Why? Well for one, we're busy. I have a full time job with SouthernPlate®, Katy and I homeschool, and then there is the house and family to take care on top of all of that. Something has to give and we have so many fresh lunches that we enjoy that we've never missed a "cooked" lunch.
So today I'm going to show you a fresh lunch shortcut that we rely on a few times each week. It's always ready and we can even eat it at our desks if need be – great for homeschooling! This is also easy to convert to a lunch on the go if a particularly pretty day comes along and we decide to brown bag it to the park – or if Katy decides to read in her hammock outside.
This is where the start of the show comes from, the Wal Mart packaged deli aisle.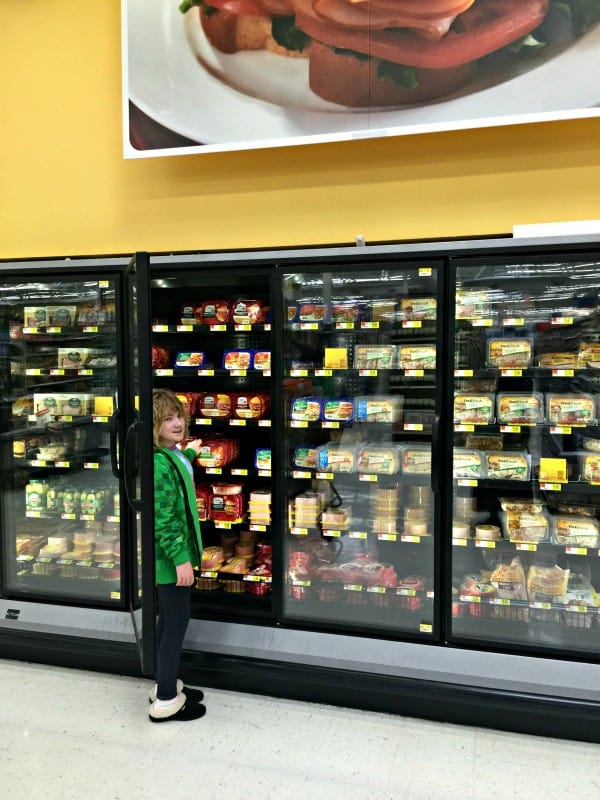 And if you look closely, you can see Katy's "Why are you taking a picture of me?" face!
We keep it simple because Katy and I both prefer our sandwiches plain, so we just use: Wheat bread, Hillshire Farm® Oven Roasted Turkey Breast,  Carrots, and whatever fruit we are in the mood for that week.
Rather than traditional sandwiches, Katy likes "turkey logs". To make these, we just roll out a piece of bread until flat, add a few slices of turkey, roll it up tightly, and cut the ends off. 
Hillshire Farm® comes in reusable containers so we just store our turkey logs in one of those. They sit happily in the refrigerator for lunches or quick snacks. We go through a LOT of carrots at my house so I have another empty turkey container for carrot sticks.
With these stacked in our refrigerator, it only takes a few minutes during the week for a Fresh Lunch Fast!
This is a sponsored conversation written by me on behalf of Hillshire Farm®. The opinions and text are all mine.