How To Perfectly Roast Vegetables
I had a lot of folks asking me how I made those veggies on my Fork Tender Swiss Steak post so here ya go: How To Perfectly Roast Any Vegetable!
How do you roast vegetables?
Roasted vegetables are all the rage right now. I love them for their ease and flavor. There's minimal work to do before putting them in the oven. Roasting vegetables brings out their natural sweetness while keeping their full bodied flavor intact. By adding a drizzle of olive oil, some kosher salt, and a few simple herbs, you can create a unique side dish of roast vegetables in no time using pretty much any vegetable that you have on hand.
Get Creative
It's fun to get creative with herbs and mix and match them (or leave them out entirely). While fresh herbs are wonderful, dried are also very economical and what I use most often. I love using dill, parsley, and basil, but I'll put dried Italian seasoning on just about anything. It is the ketchup of dried herbs for me!
I also use plain old vegetable oil if I don't have olive oil handy, and melted butter makes a flavorful substitute as well.
How to Roast Vegetables Perfectly
Today I am going to show the bare bones, basic way to perfectly roast any vegetable so I'm just going to use a little olive oil and salt to demonstrate how incredibly easy it is. Do it like I do or just use this as a general guide and add in your favorite flavors. The options are not only endless, but delicious every time!
This guide to roasting vegetables is from my latest book, Come Home To Supper (page 172). I wrote that book to be all about options. There are countless options from start to finish for the recipes inside, making it easy to prepare supper for your family based on what you have on hand.
Now, let me show you how easy it is to roast veggies 🙂
Today I am using carrots, brussels sprouts, red potatoes, yellow squash, and a sweet onion.
I have roasted tomatoes, asparagus, corn, eggplant, zucchini, turnips, bell peppers, mushrooms, cauliflower, baby carrots (straight from the package), and pretty much any other vegetables that have roamed into my kitchen.
This works every time and is simple as can be.
Chop your veggies into bite sized chunks, or bigger. I like to keep mine a little on the big side.
You're going to need Olive Oil and a little bit of salt to do this the simple way. I truly truly truly prefer kosher or sea salt on this. Especially that big crystal Kosher salt.
Having said that, if all you have on hand is iodized salt (table salt) go ahead and use it and they'll still turn out just fine.
Drizzle with a little olive oil.
Sprinkle with salt.
You can also add pepper if you like and even dried herbs.
I'm just gonna keep it simple today and go with olive oil and salt to let the vegetables flavor shine through.
Now use your hands and toss all of those veggies really well until they're coated in oil.
Spread them back out again into one layer.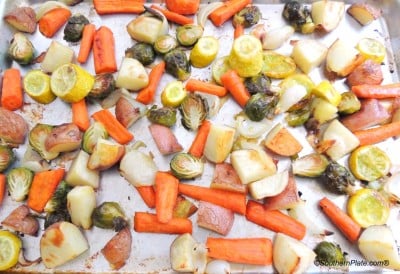 Tips about roasting vegetables:
You'll notice that some vegetables brown faster than others. Brussels sprouts are like that. So keep an eye on them.
Now if you want a little more color on your other veggies, what I do is just use a pair of tongs and scoot the brussels sprouts into one corner and then cover that corner with a small piece of foil while the rest continues to brown.
Enjoy and please share this post on Pinterest or Facebook if you've found it useful!
Ingredients
Raw Vegetables of your choice*

Olive Oil

about 2 teaspoons for each cup of vegetables

Kosher Salt to taste

Ground Black Pepper to Taste

optional

Herbs of your choice to taste

optional
Instructions
Preheat oven to 425. Chop up veggies into chunks and spread out onto a rimmed baking sheet.

Drizzle then with oil, about two teaspoons of oil for every one cup of vegetables, just enough to coat. Sprinkle them with salt, pepper (if using), and dried herbs (if using) to taste. I use about a teaspoon of kosher salt for an entire pan of vegetables.

Toss veggies with your hands until well coated in oil. Place in oven for ten minutes. Remove and flip veggies over with a spatula and return to oven for another 10-20 minutes or until vegetables are the desired brownness for your liking.
*You can roast pretty much any vegetable. Examples are: Carrots, brussels sprouts, potatoes, squash, onion, tomatoes, asparagus, corn, eggplant, zucchini, turnips, bell peppers, mushrooms, cauliflower, and pretty much whatever else you come up with.
Nutrition
You may also like these recipes:
Oven Steak Kabobs – A special meal on a budget
Delicious Roasted Asparagus (and other weird vegetables)
Broasted Potatoes (Seasoned, Smothered, & Covered Options)
Oven Roasted Butter & Herb Corn – and one of those days 🙂
"A dream doesn't become reality through magic; it takes sweat, determination and hard work."
~ Colin Powell
Submitted by Dianne. Click here to submit your own.