Sweet and savory collide in this delicious maple-glazed pork chop dish! Using only a few ingredients, this meal is easy and delicious and has a flavor that is not to be missed.
These delicious maple glazed pork chops are so easy to make and loved by my whole family. The recipe to make them can be very economical, too! I'm going to show you how in this post today. Don't love pork chops? Feel free to use another meat of your choice! This glaze also works super well with chicken.
Ingredients You'll Need for Maple-Glazed Pork Chops:
Ingredients You'll Need
4 pork chops
Balsamic Vinegar
Maple Syrup*
Kosher Salt
Pepper
*You can substitute maple flavored pancake syrup or even honey. Both will work just fine.
Helpful Kitchen Tips
How to Make Maple-Glazed Pork Chops:
Stir your salt and pepper together.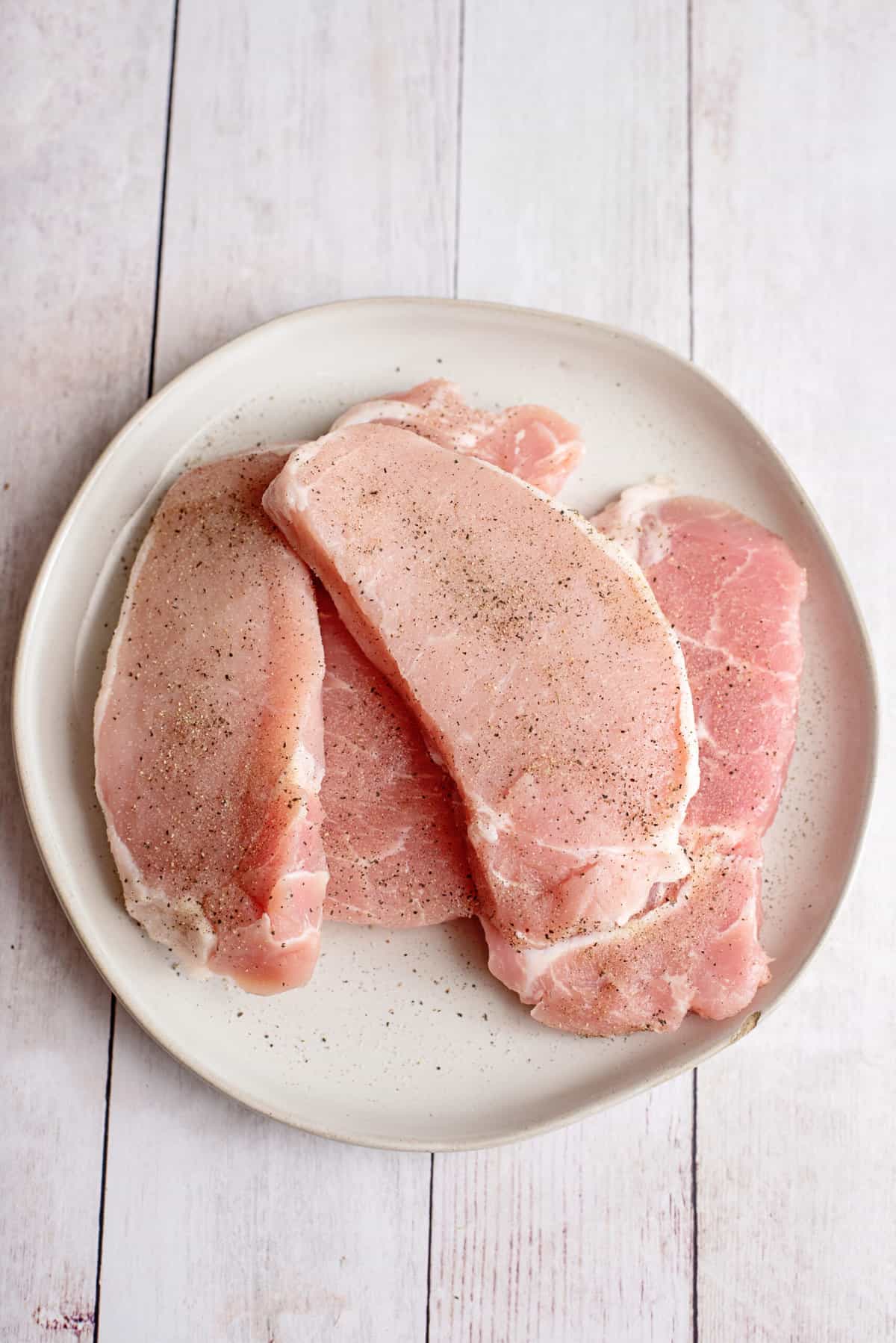 Sprinkle each side of the pork chops with salt and pepper
Place one to two tablespoons of oil in a large skillet over medium high heat.
I love making these pork chops in my favorite Caraway pans!
Add pork chops and cook until browned on both sides, about 3-4 minutes per side.
See all this yummy stuff on the bottom of the pan? We're about to work that up into our sauce.
Reduce the heat to medium and pour your balsamic vinegar into the pan.
It is going to bubble and steam a lot when you add it.
Just pour it in and use a wooden spoon to stir around and gently scrape the bottom of the skillet.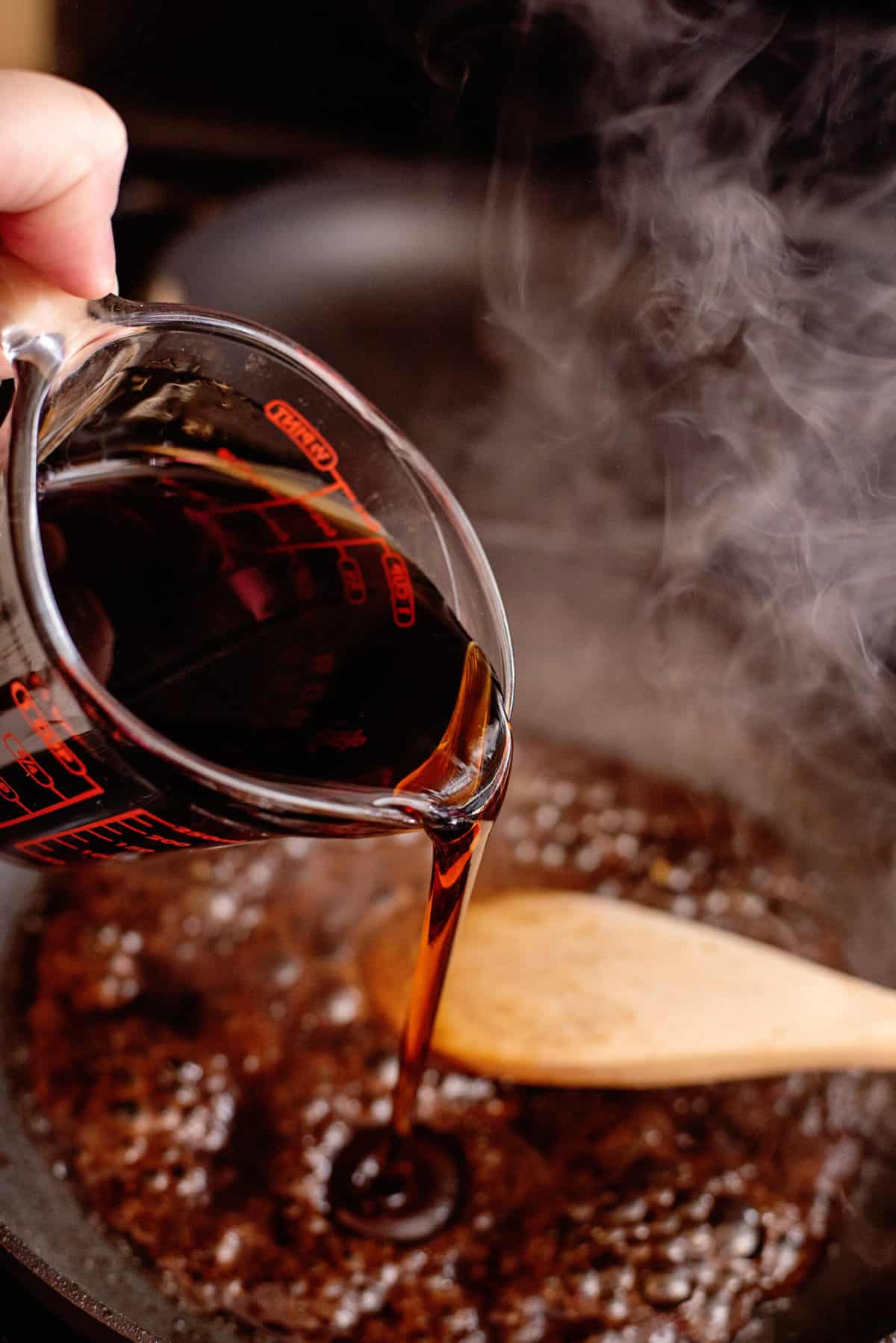 Pour in your syrup and stir well.
Add in pork chops and continue cooking, stirring frequently, over medium heat until sauce is thickened and pork chops are no longer pink in the center, 7-10 minutes.
**Important note about sauce: It's still going to be bubbly but will look kind of like this. Pancake syrup probably won't be as dark but color is not what we're looking for here, it's thickness.
Now this will most likely take the full ten minutes and maybe even a few more if you are using pancake syrup, but I find that maple thickens up a little bit faster so it will be more like seven.
It is hard to tell when the sauce is thickened because it will still be very fluid while it's hot. When I think we're there I spoon a little sauce over my pork chop to see if it is thick. Once it is, remove your pan from the heat and allow it to sit for about five minutes. Then, rub each pork chop in the glaze on both sides before removing to serving plates.
Enjoy!
Ingredients
4

pork chops

about 3/4 inch thick

1

cup

maple syrup or maple flavored pancake syrup

1/3

cup

Balsamic Vinegar

1

teaspoon

kosher salt

1/4

teaspoon

black pepper

1-2

tablespoons

vegetable oil
Instructions
Place oil in large skillet over medium high heat while you prepare the pork chops.

Mix together the salt and pepper and sprinkle both sides of each pork chop.

Place pork chops in hot skillet and cook for 3-4 minutes on each side, or until browned.

Remove pork chops and set aside.

Add vinegar to the skillet and stir with a wooden spoon to remove all bits from the bottom.

Add syrup and stir until well combined.

Return pork chops to pan and continue cooking until glaze is thickened and pork chops are no longer pink in the center, 7-10 minutes. See post for helpful hints on how to tell when glaze is done.

Remove pan from heat and allow to rest five minutes. Before removing pork chops, rub each side in the glaze to coat well and then remove to serving plates.
Nutrition