This is a chicken version of the popular pulled pork bbq that can be found at just about any BBQ joint in North Alabama. Many folks forego the sauce entirely because it is already juicy and flavorful so nothing else is needed. What's even better is that my version tastes just like the restaurants, but instead of a smokehouse, we use a slow cooker and boneless skinless chicken breasts! Another huge benefit of this for me is that I can make 5 pounds of pulled chicken bbq for what I would purchase 1 pound of bbq for. Pulled Chicken BBQ for sandwiches at around $2 per pound instead of nearly $11 a pound – that's a deal! Now, you are welcome to half this recipe but it freezes like a dream so my suggestion is to make the whole lot of it and then freeze it in one pound portions for quick suppers or potluck dishes throughout the summer. Chances are you'll like it so much that those 5 pounds don't last nearly as long as you expect them to!
Note, if you're looking for the recipe of that White BBQ Sauce Alabama is famous for, click here.
For those of you who want to jump right to the recipe, just scroll down until you see the printable recipe card. If you have time to visit a bit, grab a glass of something nice and settle in a bit because I'm about to state the understatement of the century, Ready? Let's go!
Navigating humanity is tricky these days. If you're surprised by this sentence, I'd love to know what secluded forest you live in and if there is room for a few more.
For very valid reasons in our cultural climate, we are all on the defensive to an extent. Everyone is offended, a lot of people are out to offend, and we never know when the wind is going to shift and it is all going to be aimed at us for whatever reason. It's stressful just to turn on the news, not to mention opening up Facebook. I mean, think about it, when was the last time you had an entire day (in which you were connected to the world) that wasn't dotted with moments of anxiety or news stories that made you widen your eyes and take a deep breath.
So today, I wanted to share with you what is on my heart in terms of how we should be dealing with all of this and the one word that defines that is : Grace.
When you go out into this world of ours, when you encounter people online who want to stir up trouble or who would argue with a hole in the wall, show grace. Even if it isn't shown to you. Show grace. Accept that some of people out there stirring the pot may not even realize what they are doing – So show grace.
Someone has to be different. Someone has to step up and see through the fear and the stress and the anxiety of the world around us. Living within it all, we understand where it is coming from. We are not surprised by it and we have to cut through all of that by showing grace to our brothers and sisters.
Someone is nasty to you – Don't be nasty back. Someone tries to cut you off – Give way to them. Someone tries to start an argument with you – Show them the peace in your heart instead of giving them a piece of your mind. Be at peace. Live in grace. Exude grace to others. If we train ourselves to put our effort into loving people we won't be so focused on wanting to be right of ourselves – we will want to be right with God. And we've got to love people again. People of all colors, all political parties, all religions, all accents, all occupations. We've got to get back to what connects us and focus on that because focusing on what divides us only divides us further.
And a person who feels no common bond will not get close enough to want to know about your hope, much less your God. And goodness knows God has shown us grace. Filled us to the overflowing with it. For what reason? So that we can overflow onto others.
With grace.
So navigating humanity is tricky these days. But the one way to stop the constant waves of animosity is to not be a conductor of it. Be the kindness in a crowd of complaints. Be the soft voice to an ear that spends their days with only yelling.
Be the safe place. Show grace. Be the grace.
And then, when they ask for your thoughts on a topic, you'll be amazed at how much folks actually listen to your answer.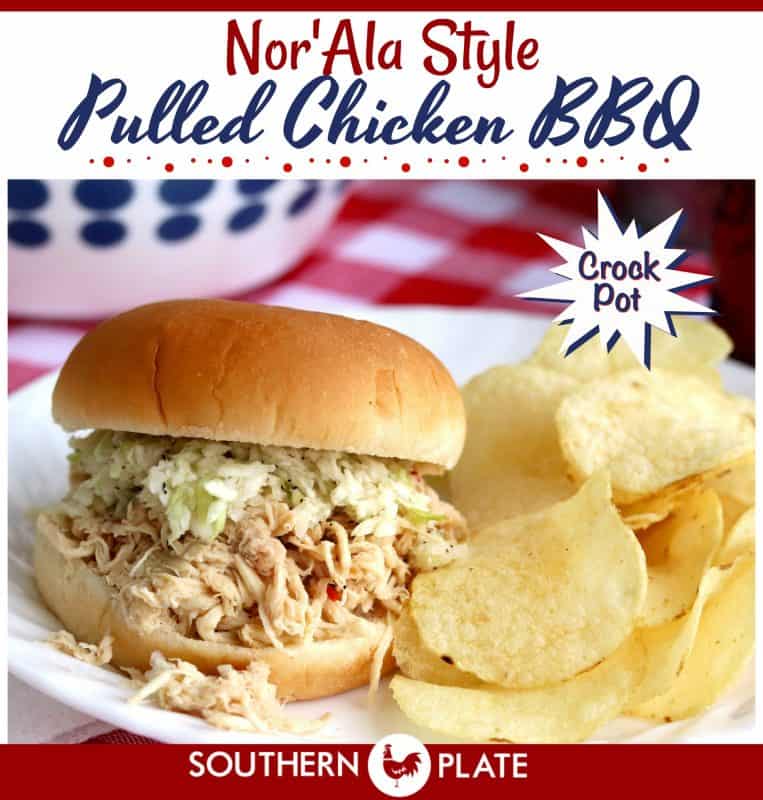 Ingredients
5

lb

boneless skinless chicken breasts

Tablespoon

salt

Teaspoon

pepper

1.5

cups

apple cider vinegar

2

tablespoons

brown sugar

1

tablespoon

hot sauce

1

teaspoon

crushed red pepper flakes

does not make it spicy
Instructions
Place chicken in slow cooker. Pour cider vinegar over and add salt and pepper.

Cook on high, 4-5 hours or low, 8-9 hours. Use tongs to remove chicken from slow cooker - note that chicken will fall apart as you do this.

Take out 2 cups of liquid from the slow cooker and discard rest. To that two cups, add brown sugar, hot sauce, and pepper flakes. Stir. Put chicken back in slow cooker, pour sauce over, stir, and enjoy!
Notes
You do not have to shred this chicken. It will be so tender that it falls apart as you remove it from the slow cooker and the act of removing it and putting it back in with the final sauce is all you need to break it up as it appears in this photo.
Nutrition
Click here to get my recipe for Alabama White BBQ Sauce
Click here to get my recipe for Vinegar Slaw as pictured in this photo.
Click here for Miss Millie's Best Coleslaw.
Click here to get my recipe for Beefed Up Baked Beans.
Click here for my homemade Banana Pudding, which could easily bring about world peace if used properly.
Love one another as I have loved you.
~Jesus