Recently, the J.M. Smucker company asked me to share a shopping experience at Kroger with you where I buy one of my favorite shortcut ingredients, Martha White Baking Mixes, and show you something awesome to do with it.
So today, Katy and I headed over to our neighborhood Kroger to pick up a few of our favorites and I'm going to use one in an amazingly easy (and delicious) recipe that I'll be bringing you tomorrow.
As you can see, they have an extensive offering of Martha White Muffin mixes, even the new flavors and gluten free mixes. I picked up a package of the apple cider muffin mix to try out, a package of bran muffin mix to make my Quick And Tasty Apple Bran Muffins I like so much, mixed berry, and blueberry! These mixes are great for a little breakfast treat or after school snack but we most often have them as a little lightly sweet dessert after supper.
This is Katy riding in the buggy with our muffin mix selection. I always pick up three or four at a time to have on hand. Katy has had a virus for the past two days and just now felt better today. She wanted to get out of the house a bit but wasn't quite up to walking around the grocery store so I got to push her around in our buggy. 🙂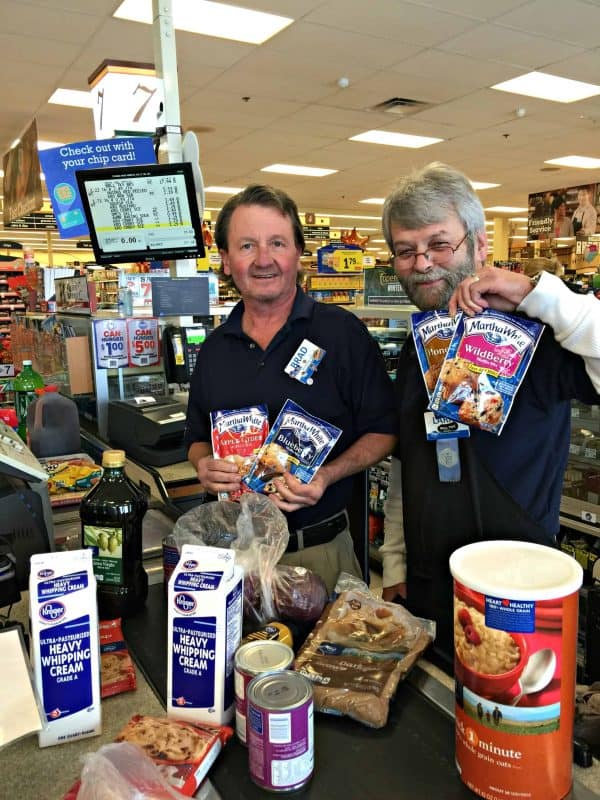 THIS is why I shop at Kroger, the people. I just love them. Okay, the deals are great, too.
This is the part where my Kroger buddies come over and ask what I'm about to cook! This is Brad and Larry and I can't ever leave Kroger without getting a hug from each of them. I love the whole crew at my Kroger's but I have to confess to being especially partial to Brad, Larry, and Tina.
And guess what? I forgot to use my plus card so you are about to get to meet Tina because she's over at customer service…
Y'all say hi to Tina! I got to taking pictures and chatting with Brad and Larry so I forgot to enter my Kroger Plus Card. Tina just needed my receipt to fix it and refund me the difference. I was thinking it would be a dollar or two but guess how much it was?
WOW! I never really paid attention to how much I saved before. My total was a little over $200 and then I got this much back with the plus card. Wow again. That's about all I can say about that!
So y'all tune in tomorrow when I will show you a versatile recipe using Martha White Muffin Mix as the main ingredient – and it's not muffins! This is a great shortcut recipe that is prepped and ready to bake in under five minutes, with limitless variations that you'll want to print out and add to your files!
 See ya tomorrow!
This is a sponsored conversation written by me on behalf of J.M. Smucker's®. The opinions and text are all mine.