Are you on Pinterest? Follow me by clicking here. Leave your pinterest url in the comments on this post and I'll follow you back! Now let's get to some Banjo Pickers!
I normally don't care for sandwiches for supper because when we were little, sandwiches were what we had when we didn't have anything "good" to eat. Sandwiches were a backup plan or a budget fall back. This is not one of those sandwiches. Banjo Pickers are a hot, hearty, and flavorful sandwich that leaves you feeling as if you'd just ate A MEAL!
A little background on the Banjo Picker: There is this restaurant in Decatur, Alabama called "The Brick" that I hardly ever get to go to. It is a sandwich place in a brownstone building downtown and everything they serve is wonderful. My favorite sandwich on the menu is the "5 Finger Banjo Picker". Since I don't get to go there as often as I'd like (I'm doing good to make it out once a year!) I have to make my own version at home. While my Banjo Picker is a little different, it's every bit as good to me and I know you'll enjoy it as much as I do. So I hope you get to make this at home soon and next time you find yourself around Decatur, Alabama you can stop in at The Brick and compare!
Ooh, but before we get to how to make it, I wanna share a bit of my thought process today.
When we were little, my brother used to play on baseball teams a lot. So Mama would pack up me and my sister and the whole family would head out to the ball park where my sister and I would try to find someone to play with or risk having to pretend we were actually following the baseball game.
There was this thing that the boys on the opposing team did whenever someone went up to bat, they'd chant "Hey batter batter batter batter batter batter batter batter.." No, they weren't requesting that someone mix up some muffins. Apparently this chant was to throw off the batter's concentration in order to give them an advantage (If you have to throw off their concentration in order to win though, what is that saying about your playing abilities? Just a random thought from a backseat driver, I'll shut up now).
I woke up this morning and was thinking of how many of us have something on the sidelines, chanting as we take our turn at bat. How many times we get distracted by petty things that nag, nag, nag, so distracted that we lose sight of our original goal.
On a grander scale, we may set out to change the world and be fully capable of doing that, but we get so caught up in swatting a honey bee that the sun sets and we missed the chance to give our orders to the assembled army. They've all gone home out of boredom, and we're not a single step closer to our goal.
Why? Because we spent our day swatting at a honey bee.
Annoying, isn't it?
There are so many batter chants in our life. Things that steal our focus, things that cause us to go tilting windmills instead of accomplishing what we're meant to accomplish. Those little honeybees could be anything from ugly acting people to congested traffic.
I have a hundred petty things that call for my attention each morning. I'm not talking about laundry, dishes, or such. Those aren't petty. I mean things like getting irritated over something someone else does or says, chasing after offenses or spending my time getting frustrated that I can't make something work the way I want it to when there is another way that will work staring me right in the face. Crazy, huh?
I have to remind myself that my life is too short to dedicate it to trivial things like that.
A dear friend (hey Auntie!) pointed out to me recently that the Greek word for "offense" also means "bait" as in, to bait a trap to ensnare. So if you think about it, when we waste our time taking the bait of a honeybee or those folks in the outfield trying to throw us off, we're allowing ourselves to be caught in it's trap – and when we're caught in a trap, we're not doing what we need/want to do.
I know you're gonna hear some chants today and probably have more than a few honeybees buzzing about your head but I challenge you to ignore them as you go up to bat. This is your time to hit it out of the park and you have limitless home runs within you 🙂
In the meantime, let's make a sandwich.
You'll need: Mayo, Swiss Cheese, Sauerkraut, Spicy Brown Mustard, Kielbasa, Hot sliced Banana Peppers, and a large loaf of French bread.
*You can use regular mustard in place of spicy brown. You can also use sliced jalapeños instead of the banana peppers. Really, you can do whatever you want because it's your kitchen. All we are required to do is die and pay taxes, everything betwixt is kinda up to us. 🙂
 Cut your sausage into two inch segments and cut each segment in half lengthwise.
Place these in a large skillet over medium high heat and cook, turning as needed, until lightly browned on both sides.
Cut your loaf of bread down the middle and open it up on a baking sheet. Spread mayo on one side and spicy brown mustard on the other.
I go a little light on both but you can go heavy if you prefer. I'm not a big mayonnaise person.
Spread out five slices of swiss cheese over your loaf.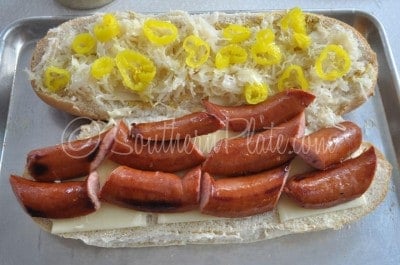 Place keilbasa slices over one half of the sandwich and on the other half put sauerkraut and pepper slices.
Place this in the oven, open faced,  at 350 for 10-15 minutes, or until cheese is melted and bread is toasted.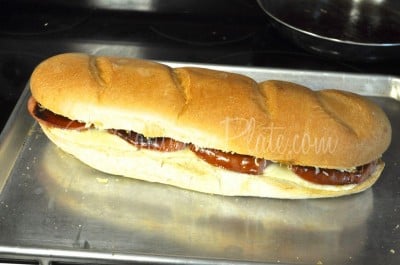 When you get it out of the oven, close the sandwich.
Cut into four sandwiches.
Banjo Pickers are great served with kettle chips or a side bowl of white beans.
Ingredients
1

large loaf French Bread from grocery bakery

1

package Polish keilbasa sausage

1 1/2

cups

Sauerkraut

that's one and a half, not eleven ;

Swiss Cheese Slices

1/4

cup

hot banana pepper slices or jalapeno slices

2

tablespoons

spicy brown mustard

more if you want

2

tablespoons

mayonnaise

more if you want
Instructions
Cut your sausage into two inch segments and cut each segment in half lengthwise. Place these in a large skillet over medium high heat and cook, turning as needed, until lightly browned on both sides.

Slice bread open lengthwise and lay open on baking sheet. Spread one side with mayo and one side with mustard. Arrange 5 cheese slices over bread. Top one side of bread with sauerkraut and pepper slices. Place browned keilbasa slices on bottom half of bread loaf.

Place in oven at 350 for 10-15 minutes, or until cheese is melted and bread is toasted. Remove from oven. Close sandwich and cut into four smaller sandwiches. Serve warm with kettle potato chips or a nice bowl of white beans.
Makes 4 generous sandwiches
"I see the glass half full and thank God for what I have."
― Ana Monnar
Thanks to Jackie for submitting this quote! You can add your favorite quotes to our collection or see others by clicking here.
Yum