These fried dill pickles are a crowd-pleasing Southern dish with the perfect combo of tangy pickle flavor and crunchy coating that keeps you coming back.
Fried dill pickles are a classic Southern side dish and appetizer and here's how I make them. This is a super simple and easy fried pickles recipe. All you need is dill pickle spears, milk, flour, cornmeal, and seasoned salt. And all we're gonna do is coat the dill pickles and deep fry them to make fried pickles! So quick but so delicious. I love the flavor and texture combination of the tangy pickle with the crunchy coating.
Have them on game day or take them to your next barbecue but be careful. They will be gone in a jiffy especially if you have some delicious ranch sauce to dip them into!
Recipe Ingredients
Dill pickle spears (you can also make with dill pickle chips for bite-size snacks).
Milk
Flour
Cornmeal
Seasoned salt
How to Make Fried Dill Pickles

Place cornmeal, some of the flour (see recipe), and seasoned salt in a bowl, and then stir it up really well.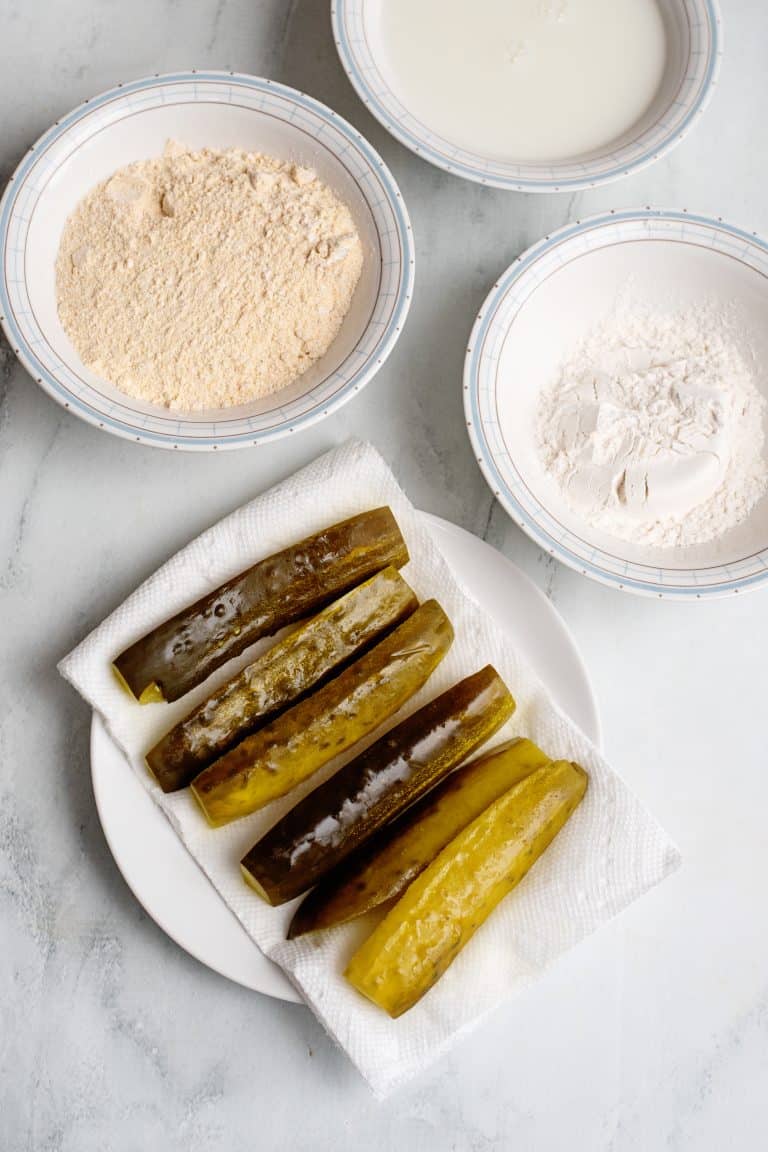 Drain your pickles and then lay them out on a paper towel-lined plate to absorb excess pickle juice.
Arrange three bowls for dredging:
Bowl #1: Milk
Bowl #2: Remaining flour
Bowl #3: Cornmeal mixture
Dip each dill pickle into milk, then dip into flour, and then…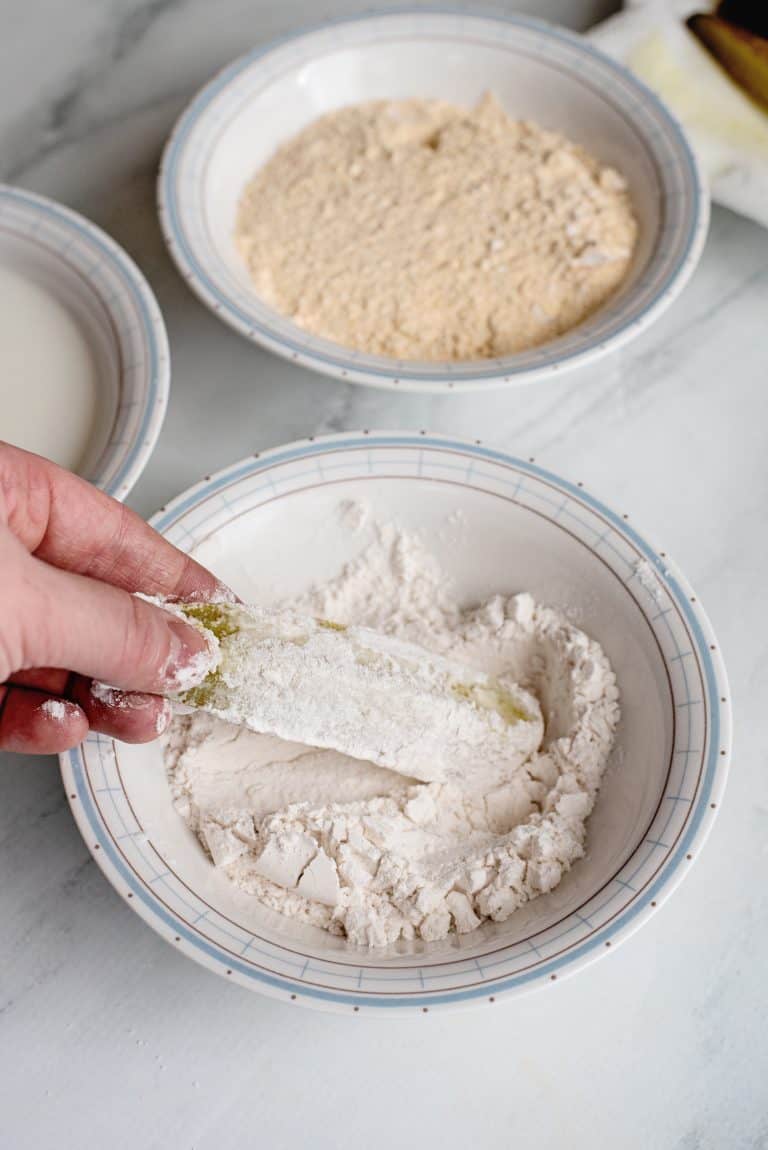 After you've dipped the pickle in milk and then flour, dip it in milk again.
Don't miss this important step!
This is an important step because what you're doing is basically making a sort of glue that will help adhere more of the cornbread mixture to the pickle. I've made these before without this extra milk and flour dip and you end up with significantly less breading on your final pickles.
This is also a great trick to use when making fried green tomatoes or pretty much any other breaded fried item.
After the milk, flour, milk dip, dip into the cornmeal and turn to coat all sides.
Repeat until all of them are done. Handle them carefully so you don't knock any breading off.
Place in a skillet of hot oil over medium-high heat and cook until golden brown (5 to 10 minutes).
Then cook until golden brown on the other side.
Unless you have enough oil to cover them, which I did not. If that is the case you won't need to turn them.
Once they get as brown as you want them, remove them to a paper towel-lined plate with a slotted spoon.
Serve with ranch dressing to dip them in.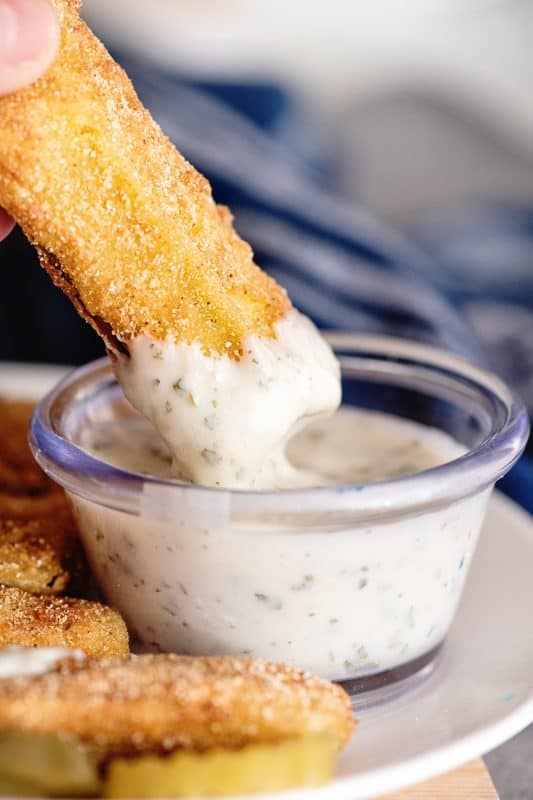 Even if you are like me and don't really care for ranch dressing, it's good on these puppies!
Try my chipotle ranch dressing for something different.
Storage
Store leftover fried pickles in an airtight container in the fridge for up to 3 days. Reheat them in the air fryer for a few minutes until heated through so they're crunchy once more.
Recipe Notes
As mentioned, you can use dill pickle spears, slices, or chips.
For a touch of heat, add a teaspoon of paprika or a pinch of cayenne pepper to the dry ingredients.
Recipe FAQs
What can I use if I don't have seasoned salt?
You can make do with salt and pepper if you don't have seasoned salt.
What kind of flour should I use?
My "recipe" calls for all-purpose flour but I grabbed self-rising flour first so that is what I'm using in this tutorial. It makes no difference.
How long should I fry the pickles?
5 to 10 minutes works fine. I realize 5 to 10 minutes is kind of a big window here but it depends on how hot your oil is when you put them in and how brown you want them. And if you are like me, whether or not you get busy with other things and forget them for a few minutes. They're pretty forgiving.
How do you serve fried pickles?
Here are some serving suggestions:
Serve them as an appetizer with your favorite dipping sauce, like ranch dressing, comeback sauce, blue cheese dip, or aioli.
Add them to a homemade burger for extra crunch and flavor.
How do I make sure my fried pickles are crispy and not soggy?
There are a few things to do for the best deep-fried dill pickles:
Pat dry the pickles to ensure the batter sticks and there's no excess moisture, as this makes them soggy.
Make sure the oil is hot enough (350 to 375 degrees) before adding the breaded pickles to make them nice and crunchy.
What is the best oil for frying?
You want to use an oil with a higher smoke point, like vegetable oil, peanut oil, or canola oil.
Check out these other appetizing Southern appetizers:
Southern Deviled Eggs Recipe (Keto-Friendly)
Hush Puppies Recipe, Southern-Style
Southern-Style Fried Okra Recipe
Ingredients
1

jar

dill pickle spears

1

cup

flour

1/2

cup

plain yellow cornmeal

1

tablespoon

seasoned salt

1

cup

milk

vegetable oil for frying

ranch dressing for dipping
Instructions
Pour vegetable oil to a depth of at least 1/2 inch in a medium-sized skillet and place over medium-high heat. Drain pickles and place spears on a paper towel-lined plate to absorb moisture while you prepare the breading.

vegetable oil for frying,

1 jar dill pickle spears

Place cornmeal in a small bowl. Add 1/2 cup of flour and seasoned salt. Stir until well combined. In a separate bowl, pour the remaining flour and place milk in a third bowl.

1 cup flour,

1/2 cup plain yellow cornmeal,

1 tablespoon seasoned salt,

1 cup milk

Using your hands, dip a pickle into milk, then flour, then milk, then cornmeal breading. Repeat until all pickles are breaded.

Carefully place pickles into the hot oil and cook until golden brown, stirring once if needed (about 10 minutes).

Remove from skillet and place on a paper towel-lined plate. Allow them to cool for a few minutes before serving with ranch dressing.

ranch dressing for dipping
These are extremely hot inside for several minutes after cooking.
Nutrition