See how easy it is to make the oven version of everyone's favorite Cheesy Chicken and Rice!
Rice is a staple in the homes of countless families around the world for good reason. It's filling, can be adapted to countless dishes, and the options for adding flavor are limitless. With September being National Rice Month this seemed like a perfect time to offer up the oven version of the most popular recipe of all time on SouthernPlate – Slow Cooker Cheesy Chicken and Rice! This is one of the most loved recipes because even the pickiest of eaters sing the praises of supper when this is on the menu.When my Katy was a toddler and determined not to try any new foods, this recipe is the one that changed all of that. Once I coaxed her into one bite, she realized she had been missing out on a lot by not trying new things and mealtime became a LOT easier at the Jordan house!
The recipe is pinned an average of 400,000 times per month and the video has been viewed over 24 million times on Facebook. It's a simple recipe to make and my original version shows folks how to make it in the crock pot but today I'm going to show you how easy it is to make in the oven for those days when you either forgot to put it in the crock pot or just want a quick and delicious family pleasing supper.
To make Cheesy Chicken and Rice, you'll need: Cooked cubed chicken*, Shredded Cheddar Cheese, Melted butter, Cream Of Chicken Soup (homemade recipe here), Can of Corn, and Zatarain's Yellow Rice Mix.
Now this is a key: Zatarain's Yellow Rice has always been the secret to success with this recipe. It has all the flavor and seasonings in it that you need. I know from time to time folks will tell me they used plain rice and such and that is fine but personally, I will not make this without this specific rice. If I don't have it I either run and get it or make something else – it's that important. I usually have at least five or six boxes of it in the pantry because it's a great last minute side dish to pretty much any meal.
*For the chicken I like to make a double batch from time to time and freeze part of it. I also use Rotisserie chicken from time to time and a can of chicken works great as well! (Canned chicken is just stewed chicken in water with a little salt added).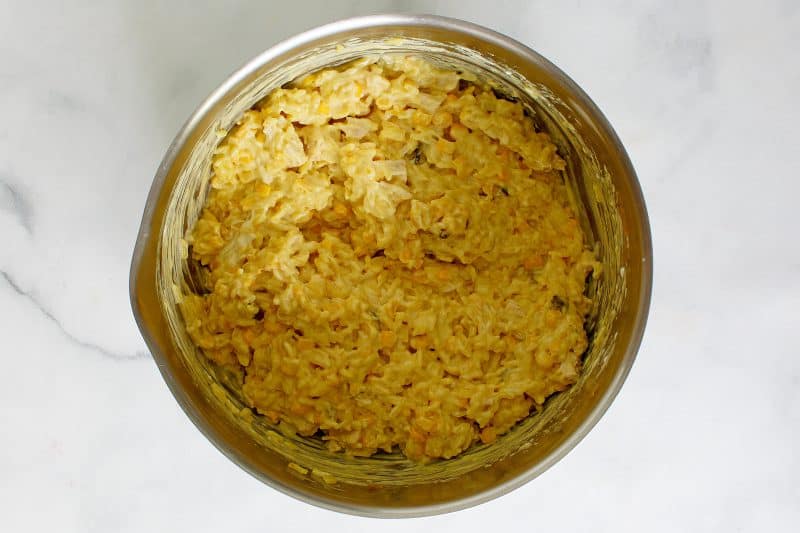 To make this: Cook rice according to package directions. Place rice and all other ingredients (except for cheese) in a medium mixing bowl and stir until well combined.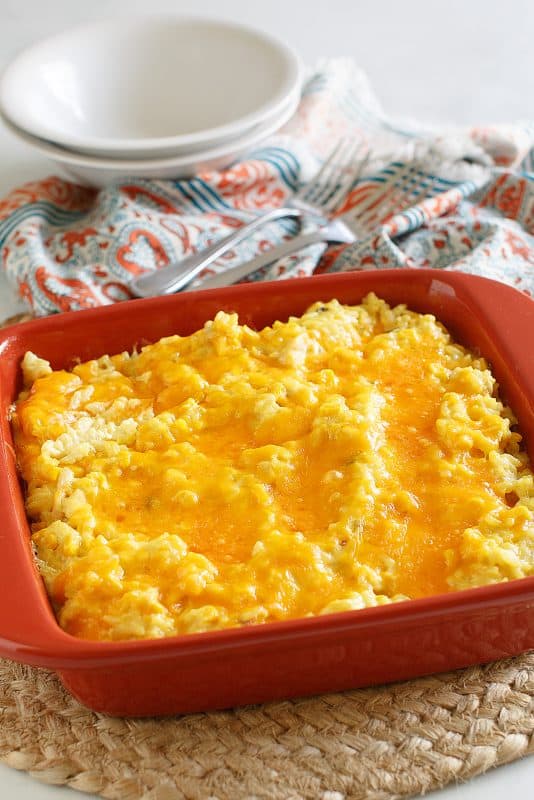 Pour into a lightly greased 8×8 baking dish and place in a 350 oven for about 20 minutes. Remove, top with cheese, and return to oven until cheese is melted. 
This Cheesy Chicken and Rice is also one of those recipes that reheats like a dream so feel free to double it and make it in a 9×13 to have some for later as well. An 8×8 generally serves a family of four to five if you serve it with a side of green beans but serving sizes and appetites vary widely by family.
I hope you get to make this soon!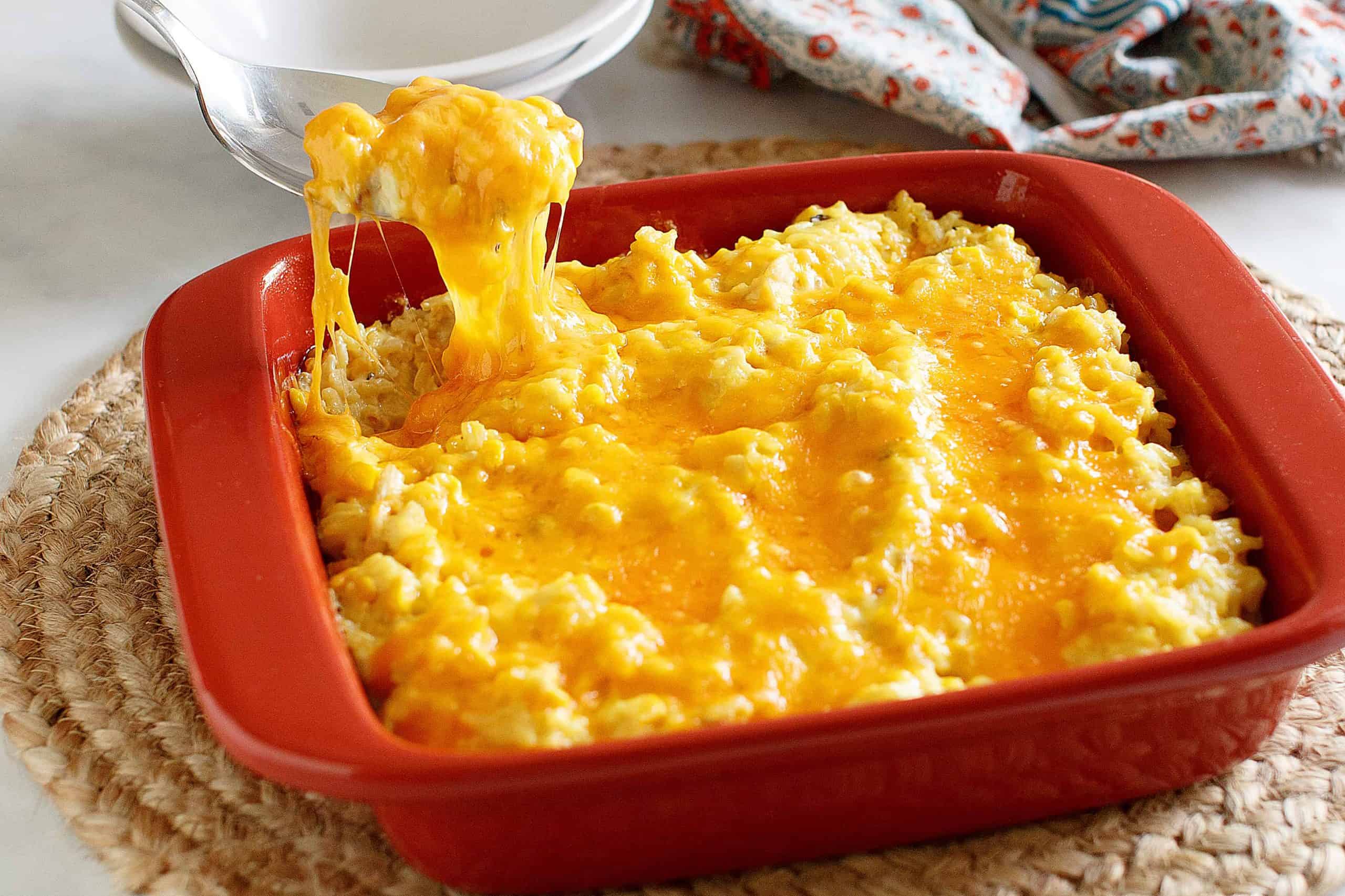 Ingredients
1

box Zatarain's yellow rice

1

can cream of chicken soup

homemade recipe here

1/2

stick of butter

melted

about 2 cups cooked chicken

cubed or shredded

1

cup

cheddar cheese

1

can whole kernel corn

drained
Instructions
Cook rice according to package directions.

In large bowl, stir together rice, chicken, cream soup, melted butter, and corn. Pour in casserole dish and bake, uncovered, for twenty minutes at 350.

Sprinkle cheese all over top and bake five minutes more, or until cheese is melted.
Here is another great recipe from the Zatarain's Website:
Creamy Parmesan Rice with Chicken 
This recipe is simple and delicious with very few ingredients! Click here to check it out
Check out the whole library of Zatarain's recipes by clicking here.
Disclaimer: This post was graciously sponsored by Zatarain's and I'm so excited to work with a brand I've relied on for years in my kitchen! Special thanks to them for their support of SouthernPlate! All opinions contained in this post are my own. 
Yum