I love this Crock Pot Chicken and Potatoes dish.
One of the biggest challenges for many of us today is figuring out how to find time to cook, clean, and get supper on the table. This recipe for Rotisserie Style Crock Pot Chicken and Potatoes changes all of that because this gorgeous chicken dinner that you see before you pretty much cooks itself in your crockpot while you go about your day.
How To Organize The Ingredients In the Crock Pot
This is a wonderfully easy recipe to throw together in your slow cooker—the chicken will end up tasting like a freshly made, juicy rotisserie from your local deli. I season mine lightly, but you can go heavier on flavor using whatever herbs and spices you like.
Keep In Mind Where To Put the Potatoes
Placing the potatoes under the chicken allows the chicken to cook above the juices rather than in them so that the chicken browns nicely, while the rich broth adds depth to the red potatoes beneath. Make sure you get small red potatoes about golf ball size because larger ones will hold the chicken up too high and the slow cooker lid won't fit on.
So grab a few ingredients (Three, you only need three things!) and put this Crock Pot Chicken and Potatoes on the menu for the weekend!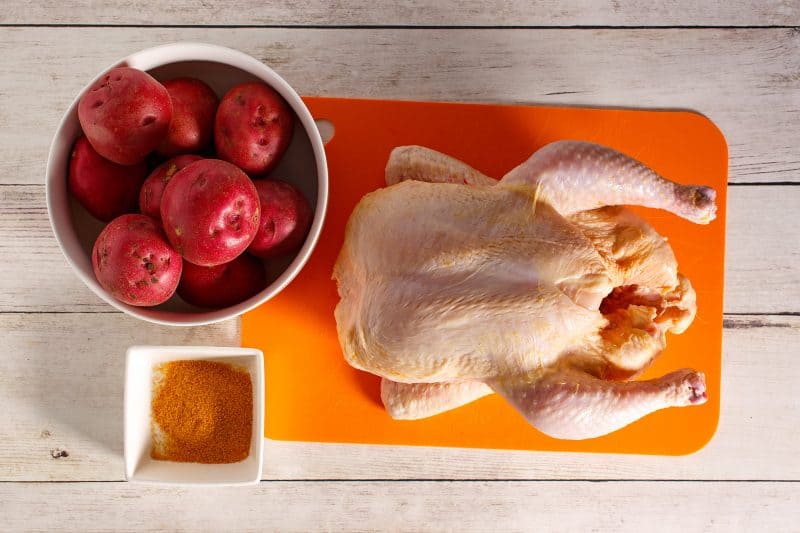 To make Rotisserie Style Crock Pot Chicken and Potatoes with you'll need:
Red potatoes
Seasoned Salt (such as Season All)
A whole chicken
Clear out the Inside of Your Chicken
Make sure nothing is inside your chicken. They used to always have giblets inside it but as a new generation of cooks have come into the kitchen I think most chicken companies have stopped doing that.
How to Make Chicken and Potatoes in a Slow Cooker
Place potatoes in bottom of a 6 quart slow cooker. Sprinkle chicken liberally with seasoned salt. Place atop potatoes.

Make sure chicken sits low enough in the pot for the lid to go down all the way. If it doesn't, you may need to cut your potatoes in half so that it sits lower.

Cover and cook until cooked through, juicy, and aromatic, 7 to 8 hours on low, 3 to 4 hours on high. I like to cook mine all day long.
Crock Pot Chicken and Potatoes Rotisserie Style is as pretty as a picture arranged on a nice platter and placed in the center of your table!
Now look at this fancy plate. They'll never know the crock pot did all the cooking!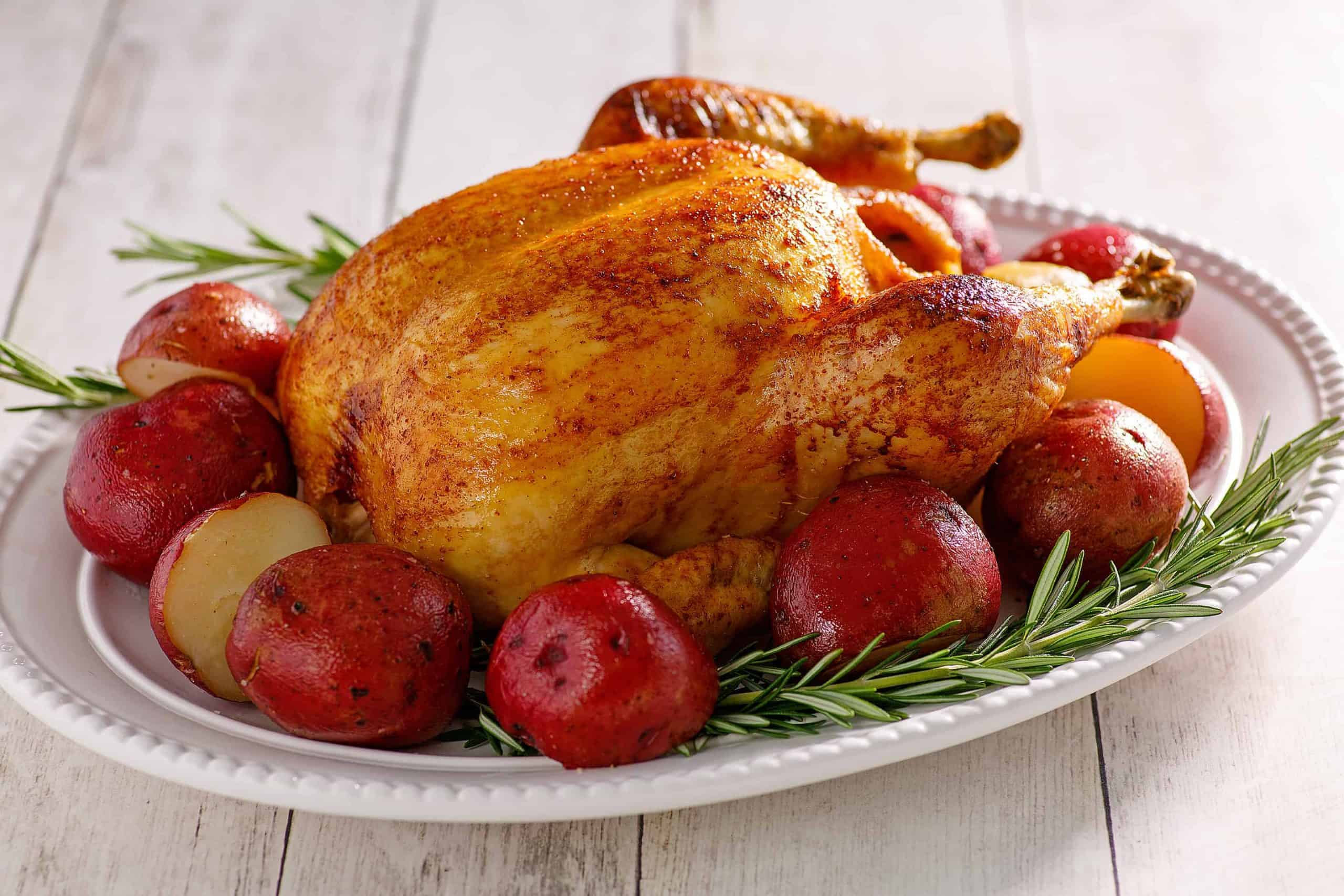 Ingredients
8-10

small red potatoes

1

whole chicken

3-5 pounds

2

tablespoons

seasoned salt

such as Lawry's, lemon pepper, or dried Italian seasoning
Instructions
Place the potatoes in a 6-quart slow cooker and set the chicken on top (be sure that the top of the chicken sits below the rim of the pot). Sprinkle the chicken liberally with the seasoning.

Cover and seal the pot and cook until the chicken is cooked through, juicy, and aromatic, 7 to 8 hours on low, 3 to 4 hours on high.
Nutrition
Other Chicken Crock Pot recipes you may like are:
Italian Chicken and Potatoes A simple crock pot meal!
AMAZING & EASY Crock Pot Chicken Lettuce Wraps
An old Southern saying I heard a lot as a child!