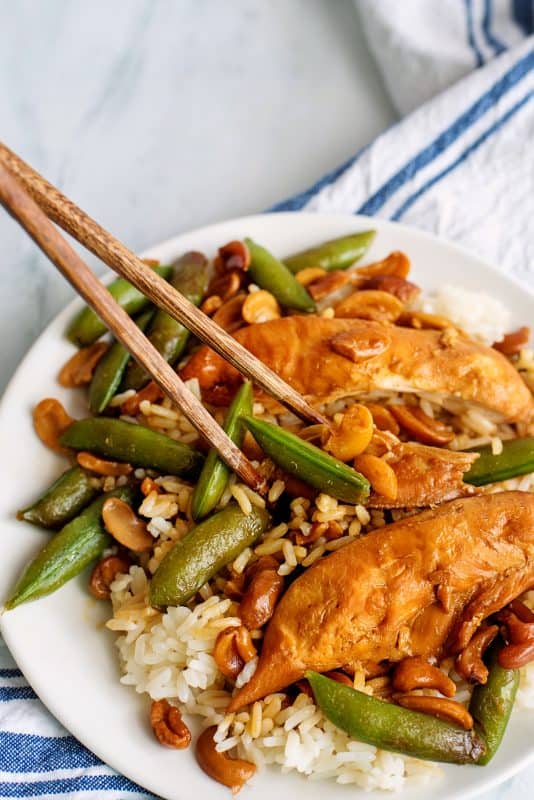 Slow Cooker Cashew Chicken is another takeout favorite made easy at home!
While many consider slow cookers to be for fall and winter dishes, I think most of us LOVE our slow cooker in the summer time. There is nothing like having supper ready on a day when it's 100+ degrees outside and not having to turn on your oven. A slow cooker sure does keep your kitchen a whole lot cooler!
I love chicken teriyaki and I also love cashew chicken. A combination of my favorite ingredients turns out a supper you'll want again and again.
You'll need: Chicken tenderloins, Teriyaki marinade and sauce, cashews, rice and some type of veggie. I'm using steam in bag sugar snap peas from the frozen foods section.
This is my favorite rice. You can get it near the Asian foods section, it usually isn't near the regular rice. It's kind of almond shaped and a friend of mine who is from Korea refers to it as "sticky rice". My Mama (and consequently myself) was raised eating rice for breakfast. We like to take hot rice and stir some butter and sugar into it for a quick breakfast, lunch, or even a sweet evening treat. I call it sweet rice and this brand makes the best on earth!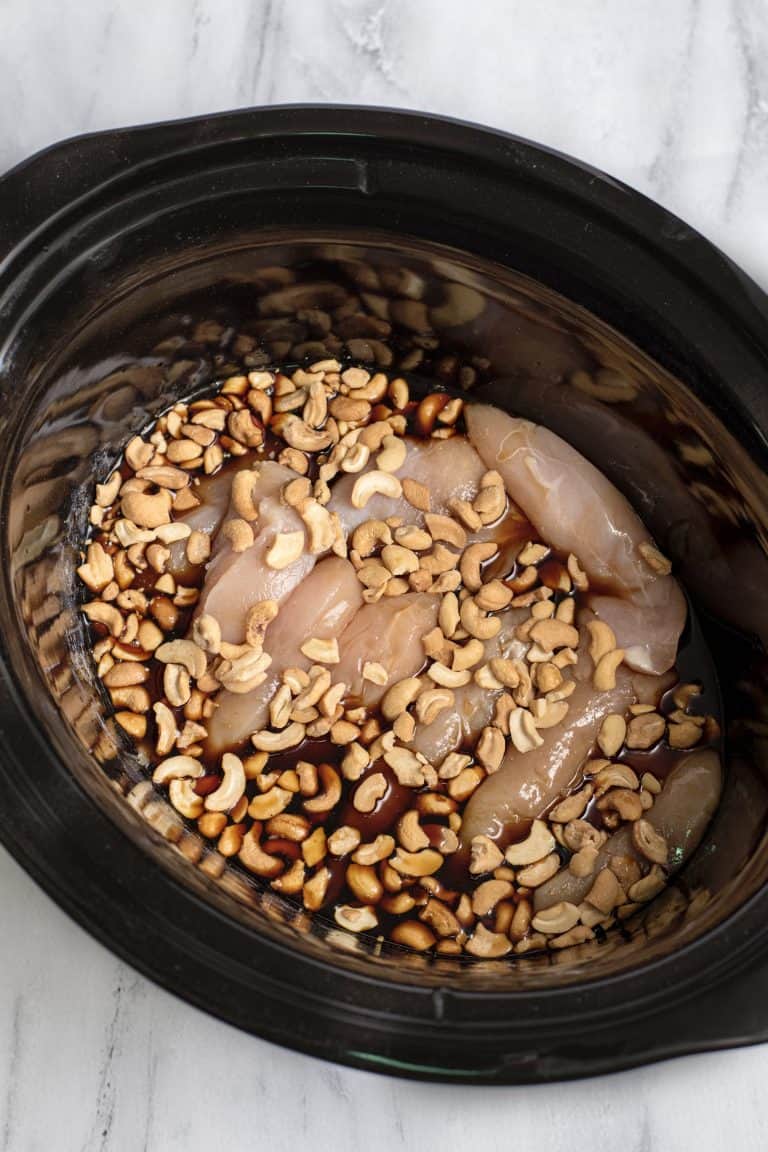 Place your chicken in your slow cooker.
Pour in one cup of teriyaki sauce and add in your cashews if you want them to be cooked and tender. *If you prefer your cashews to stay crunchy, add them in the next step.
Cover and cook on low for 7-8 hours or on high for 3-4 hours.
Lots of folks might prefer water chestnuts or even peanuts to cashews. If that is you then go for it!
After your chicken is fully cooked, add in some sugar snap peas if you like, or other vegetables. This is when you add in your cashews if you like them to stay crunchy.
Stir that up and cover again until your veggies are tender. Serve over rice and enjoy!
This supper is easy, delicious, and easily customizable for your family.
Ingredients
2

lbs

Chicken

can use less

9

ounce

package frozen sugar snap peas

or veggie of your choice, thawed

1

Cup

Teriyaki Marinade and Sauce

1

Cup

Cashews

can substitute water chestnuts or peanuts
Instructions
Place chicken in slow cooker. Add sauce. Add in nuts if you prefer them tender but if you want them crunchy wait until step #3.

Cover and cook on low 7-8 hours or on high 3-4

Thirty minutes before serving add in thawed vegetables and nuts (if you didn't in step #1). Cover and cook another thirty minutes.

Serve over rice and enjoy!
This post was originally published in 2011 and updated in 2020.
Enjoy this moment, for this moment is your life.
~Omar Khayyam
Yum