Easy Dutch Oven Bread Recipe
Perfectly crusty on the outside and soft and chewy on the inside, it takes just four ingredients to make this easy Dutch oven no knead bread recipe.
Today's easy Dutch oven bread recipe is a really simple one requiring very little work. Most of the time is spent ignoring it while it does its thing and you go about your business. This is a crusty bread on the outside with that wonderful hard crust and a chewy bread on the inside, which I love! Artisan bread at home with minimal fuss sounds really good, doesn't it?
When I was expecting my Katy Rose, I got this hankering for these hard crusty dinner rolls with chewy innards that were sold at Atlanta Bread Company. I used to ask my husband to stop by a few times a week just to get me two or three dinner rolls to munch on during the day. Well, this easy Dutch oven bread reminds me of that, only it's better. Plus, it's so simple to make and the best part is, it's a Dutch oven no knead bread recipe. The definition of easy in my books!
I'll probably bring you some other versions of it eventually as well.
Recipe Ingredients
Hot water
Yeast
Bread flour
Salt
Cast iron Dutch oven
How To Make Dutch Oven No Knead Bread
Place all of your dry ingredients into a medium bowl. This means your flour…
Salt…
And yeast.
Stir all of your dry ingredients together really well with a wooden spoon.
Pour in your water.
Tips About Yeast Bread
Now, remember that in yeast bread, if your water is too hot, it will kill the yeast. If your water is too cold, it will take ten forevers for your yeast to come alive. The trick is "baby bathwater". Anyone who has ever given a baby a bath knows just how that feels. Hot, but not too hot, more warm water on the hot end of the scale.
Stir that up until it is a glob.
You can use a mixing bowl for this but I have these handy little bread buckets I use that have a sealing plastic lid and plenty of room for the bread to rise. However, this particular bread isn't going to rise very much so a large bowl will be just fine.
I have some loaves of bread that overflow an eight-quart container!
Spray cooking spray in a bowl (or bread bucket) and cover to seal.
Set aside and let it rise for 12 to 18 hours.
Ideally, Let It Rise Overnight
This nice slow rise builds a wonderful texture for your bread but mostly it helps the bread's flavor to develop.
This is what your bread will look like the following morning.
All bubbly and spongey!
Dust a surface with flour.
Okay when I say dust, I mean coat!
Now dump the bread dough ball out like yesterday's troubles!
!SPLAT!
Sprinkle some more flour over the top of it.
Now lay a piece of plastic wrap over the dough ball…
Cover with a dishtowel.
Let rise again for about 2 hours.
When you're done letting your bread rise, preheat your oven to 475.
Please note: 475 degrees is hot.
Place your cast iron Dutch oven in the stove with the lid on for 30 minutes.
An Important Note About The Dutch Oven Lid
Please make sure the knob on the top of your Dutch oven is heatproof. I purchased a new knob for mine because the original one was not. If your knob is not heatproof it will come out of the oven looking like a deflated balloon that fell on top of your lid. Trust that I speak from experience here.
This is my Dutch oven no knead bread dough all ready to go.
Remove your HOT Dutch oven from the oven very carefully.
Pick up your bread dough with both hands and kinda sorta shape it into a round ball as you dump it into the pot, without touching the pot.
Be Very Careful to Avoid Touching the Pot
I know I sound like a broken record here. But in case anyone missed it, this pot is going to be hotter than Hades after it's been cranked up a few thousand years and gotten past the mild stuff.
Put your lid back on the Dutch oven and return to the oven.
Bake at 475 for 30 minutes, then carefully remove the lid and bake another 15 minutes to get that crispy crust.
Remove from oven.
This is what you have. Isn't that a gorgeous loaf of homemade bread?
I could happily live on this no knead Dutch oven bread for the rest of my life.
Well, I might need some pintos…and maybe a little fried chicken from time to time….and perhaps a little apple pie…or banana pudding…and some tea of course. But I'd be most content, I'm sure!
Storage
The trick to this easy Dutch oven no knead bread is that you don't want to store it in a plastic bag. It has a lovely crunchy crust, one of those earthy crust bread types with a chewy center that I just adore. If you put it in a plastic bag, though, you lose all of that crustiness. Instead, store it uncovered until it's ready to eat, or allow it to cool completely and wrap loosely in a dish towel if you must. Once you cut into it, try to eat all you can (this won't be hard to do!) and then slice and save whatever is left in a plastic bag. If you toast each slice before you eat it later it will get crunchy and crusty again.
Your bread should last up to 4 days when stored at room temperature or for up to 3 months in the freezer.
Recipe Notes
A quick note on brands: I prefer Red Star yeast when I can find it. It is easy to find in the packets here but I like to buy a jar because I use it so much that I prefer less fuss, so I had to get Fleishmann's last time I shopped. I have had better luck with Red Star yeast so if you see that, I'd suggest making it your first choice.
As for this bread flour, I usually use whatever I pick up first that is cheapest but there wasn't a lot of selection where I ended up so grab some bread flour but don't worry about getting this gold Medal. It works fine but one is just as good as the other.
You do need bread flour to make this easy Dutch oven bread recipe. All-purpose flour will work in some way but I've never made this bread with all-purpose flour so you're flying solo if you choose to go on that mission.
I do love my Kosher salt but plain table salt will work just as well.
If you find your bread sticks to the Dutch oven, next time try lining the entire pot with parchment paper or sprinkle the bottom with cornmeal.
To double-check whether your homemade bread is done baking, tap the bottom with your knuckle and if it sounds hollow, it's done. Another option is to check the internal temperature, which should be at least 190 degrees.
For flavored artisan bread, add some fresh herbs like rosemary or thyme to your dry ingredients. You could also add dried cranberries, roasted garlic, parmesan cheese, or your favorite nuts or seeds.
Recipe FAQs
What size Dutch oven do you use?
Pictured here is my 6-quart Lodge enamel-coated Dutch oven in Spice Red and my L Series Dutch oven in Apple Green. You can click on either photo or name to get more information. I got my red one from Walmart and my green one last Christmas when I found an incredible deal on Amazon. Both of these can be ordered from Amazon and they usually have free shipping options. All you need is one and you'll be good to go!
Common sizes are 3 quarts, 4 quarts, 6 quarts, and 7.5 quarts. Any of those sizes would work just fine.
What else can you use a Dutch oven for?
Oh goodness, it is my FAVORITE pot to cook in on the stovetop. I LOVE to make stews, chilis, soups, beans, and spaghetti sauce in my Dutch oven. If you're making a soup or stew, brown your beef in the Dutch oven, then drain it and toss everything else in for one-pot cleanup. The reason why I love it so much is because of the heat retention and distribution qualities of cast iron. Regular pots just cook from the bottom but the cast iron distributes and retains the heat all around the pot so it actually cooks from all sides, which makes it quicker and more efficient.
Then, once you're done cooking, just put the lid on and turn off the heat and it will stay piping hot for at least an hour (much longer than that but I've never timed it or anything).
And yes, I have always used cast iron on my glass stovetop. As long as the bottom of your cast iron pot is flat, it works perfectly!
Where did you get the ovenproof knob for your Dutch oven?
I picked up a stainless steel replacement knob at the Lodge factory outlet store near me but you can order one online by clicking here. As someone pointed out in the comments, you can also pick up a stainless steel knob at a home supply store and use it as well.
I don't have an enamel-coated Dutch oven. What else can I use?
A regular cast-iron Dutch oven, which is commonly used in camping and such, should work just fine. However, I've only used my enamel-coated ones in making this so I'm not telling you that for certain.
Many folks have talked about using a heavy Dutch oven with a glass lid. While I know some of the old heavier ones will work, I would steer clear of putting a glass lid in the oven at these temperatures. Tempered glass is not made as well as it used to be and I've had one too many new fangled glass "ovenproof" dishes explode upon taking them out of the oven to be willing to risk it.
If you have a thick and heavy Dutch oven with a lid not made out of glass and an ovenproof knob, it should work just fine.
Where did you get your bread buckets?
I bought my bread buckets at Sam's Club for around $12 back when I got them. They still have them every time I go in the restaurant supply section. Costco sells them as well.
I'd expect to pay anywhere between $12-$20 for a set of three. The ones at Sam's are labeled with their house brand but in the bottom corner, it says they are made by Rubbermaid – those are the ones I have. They came in a set of three with yellow lids that seal. They are technically "food storage buckets" but they work beautifully for bread, giving it plenty of room to rise and allowing you to see through the sides to see how far it has risen. The lids seal airtight as well, which saves me from having to grab the plastic wrap and dish towels every time I make bread.
These also have markings every inch or so on the outside of the bucket, making it easy to tell if your easy no knead bread has doubled in size because many recipes call for letting it double.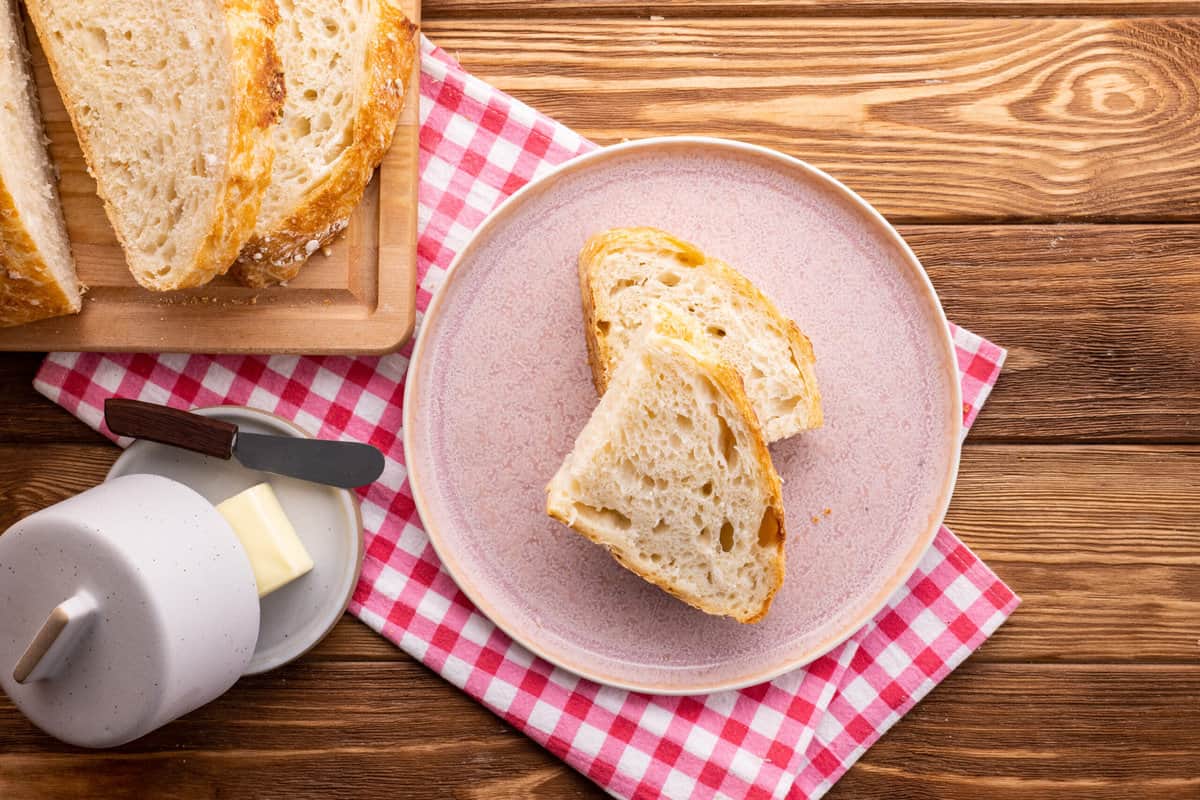 Ingredients
3

cups

bread flour

1 1/2

tsp

kosher salt

1/4

heaping tsp

active dry yeast

not fast-acting or bread machine yeast

2

cups

warm water
Instructions
In a large bowl, combine the flour, salt, and yeast. Stir together until well mixed. Add the water and stir until a sticky dough forms and there are no dry patches. Cover with plastic wrap or an airtight lid and place in a warm place to rise for 12-18 hours.

3 cups bread flour,

1 1/2 tsp kosher salt,

1/4 heaping tsp active dry yeast,

2 cups warm water

Turn the risen bread dough out onto a floured surface and dust with more flour. Cover with cling wrap and then a dish towel and allow to rise for another two hours.

Thirty minutes before the bread is finished rising, preheat your oven to 475 and place the cast-iron Dutch oven, lid and all, into the oven to preheat for thirty minutes.

Remove the Dutch oven and carefully set it on a heat-resistant surface. Set the lid aside on another heat-resistant surface. Using both hands, pick up the bread dough and shape it into a ball before dropping it into the pot.

Place the lid back on the pot and return it to the 475-degree oven for 30 minutes.

After thirty minutes, remove the lid and continue baking bread for another 15 minutes.

Allow to cool completely.
Nutrition
You may also enjoy these bread recipes:
Challah Bread (Easier than you think!)
Shortcut Amish Friendship Bread!
Tina's Zucchini Bread; and a funny story
Hawaiian Bread Soft Sandwich Style
"There is nothing noble in being superior to your fellow man; true nobility is being superior to your former self."
– Ernest Hemingway
Submitted by Jenny (thanks, Jenny!)