I love hot dogs. I really do. But I know, they can be boring sometimes. So to gussy them up a bit, I added my Daddy's Hot Dog Chili. This is one of those recipes you get told over the phone whenever you need it and no one actually bothers to write it down.
So I called Mama "Can you tell me how to make the hot dog chili recipe again?". She told me the instructions and I was off to the races – only this time, I'm gonna write it down. For y'all. Because I love ya'll 🙂
Does this Chili Freeze Well?
Well yes it does. So make a big batch and freeze it in smaller batches and have hot dog chili all summer long. Hey, its a double meat on a bun. How can you go wrong?
Ingredients for Daddy's Hot Dog Chili Recipe are::
Ground beef
Chili powder
Black pepper
Salt
Water
What Kind of Chili Powder Is The Best?
My mama insists on Mexene chili powder. She swears by it. I insist on Morton Salt for reasons I've mentioned a few times on Southern Plate.
How To Make A Hot Dog Chili Recipe
Fill a pot with about enough water to cover up your ground beef.
Take ground beef and submerge it in the water.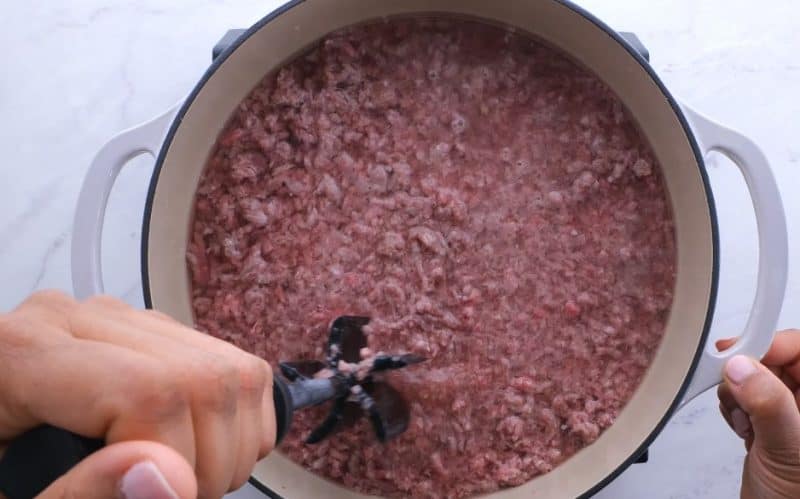 Moosh it up in there with your hands or masher.
Add chili powder. We add 3 tsp for every pound of meat so for this recipe I am adding 9 tsp.
Add salt to taste.
You'll need a good bit though. I am adding a heaping tablespoon. You might even want to add more.
Add a tablespoon of pepper as well (more if you like).
Stir that up and bring to a boil. Reduce heat and boil gently for about an hour. It'll look like this.
Now get a ladle and skim the majority of the grease off the top of the pot and into a separate bowl.
This is what we have left.
Yummmmmmm
Now get out what you need with a slotted spoon but to make the hot dogs really good, you need to put a bit of that juice on them, too!
Alright, now this looks good but it needs a little something…It looks naked to me.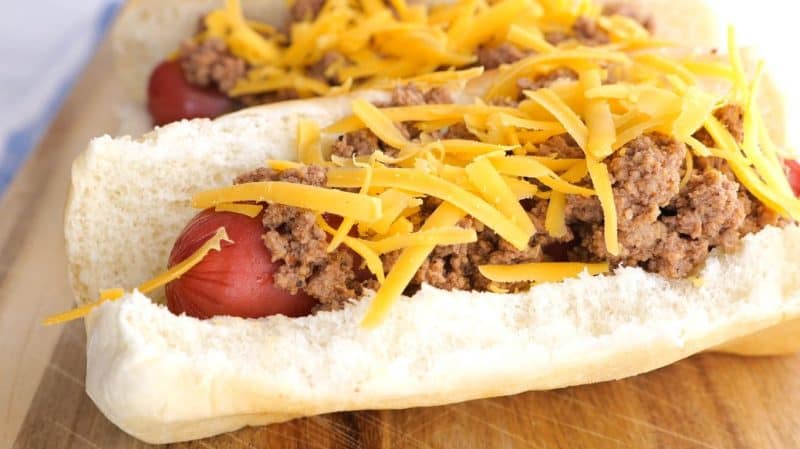 Aww yeah, that's the stuff! Enjoy!
Ingredients
3

pounds

ground beef

4-6

tablespoons

chili powder

1

Tablespoon

salt

more or less to taste

1

Tablespoon

pepper

more or less to taste

water

enough to cover your ground beef
Instructions
Place enough water in a pot to cover your beef. Take handfuls of the beef and submerge in the water, smooshing it up with your hands. Add seasonings and stir. Bring to a boil, reduce heat and boil gently for about an hour. Ladle off grease from the top. Remove chili with a slotted spoon to put on hot dogs. Freeze leftovers for your next cookout!
Notes
I first published this recipe back in 2009 but am republishing it with updated photos and a printer friendly format. Hope you enjoy!
Nutrition
Calories:
297
kcal
|
Carbohydrates:
2
g
|
Protein:
20
g
|
Fat:
23
g
|
Saturated Fat:
9
g
|
Sodium:
701
mg
|
Fiber:
1
g
|
Sugar:
1
g
What Can I Serve With Hot Dog Chili Besides The Hot Dog 🙂
Never grow a wishbone where your backbone ought to be.
-Clementine Padford