How To Make Doughnuts at Home
Today we're learning how to make doughnuts at home. It's so quick and easy to make crisp yet tender cinnamon-sugar doughnuts from scratch with a secret ingredient.
What if I told you that you could make this homemade doughnut recipe real quick, serving them warm and golden to your family, with no knowledge whatsoever of yeast or dough, no special equipment other than what you likely have on hand, and have them done start to finish in under 10 minutes, including prep time?
Sounds too good to be true right? Well, I'm here to show you how to make doughnuts at home quickly and easily with a secret ingredient… canned biscuit dough! A favorite ingredient down South, we're going to turn out canned biscuits into doughnuts and have doughnut holes to spare! And just in case you're wondering, no, they do NOT taste anything like a biscuit when you are done. They taste every bit as melt-in-your-mouth good as they look!
All you have to do is deep-fry them in oil, dip them in melted butter, and toss them in cinnamon sugar. 4 ingredients and 10 minutes are all it takes to make a batch of homemade doughnuts from scratch. Music to my ears! We Southerners (and humans in general) love our doughnuts and now you have an easy doughnut recipe to share with your friends and family. Biscuit doughnuts… they're the new trend 😉.
Recipe Ingredients
Vegetable oil for frying
Canned biscuit dough
Butter
Cinnamon
Granulated sugar
How to Make Doughnuts at Home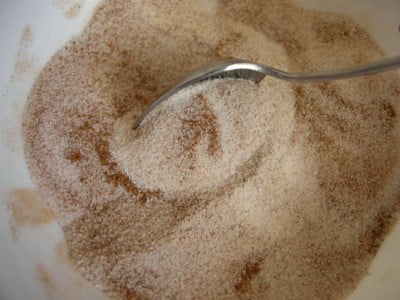 In a bowl, stir together cinnamon and sugar and set that aside.
Melt a stick of butter in another bowl and set aside as well.
Now they will both be handy as soon as the doughnuts are done.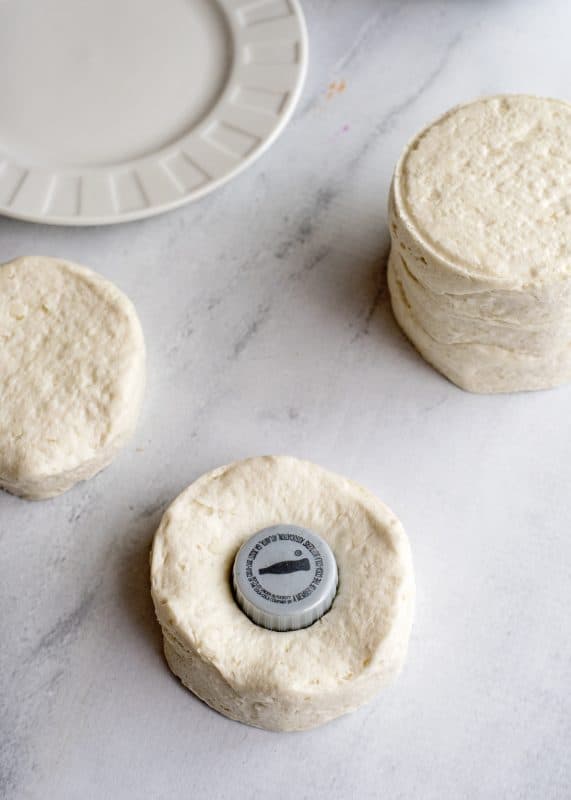 Making the doughnut hole
Now you can go buy a doughnut cutter or some other fancy finagled device (which I actually have tucked away in the dark recesses of my kitchen drawers), but I like to show y'all how to do things the simple way. I'm a big fan of not overcomplicating a simple matter.
For that very reason, we are going to just use a plain old 20 oz bottle cap to cut the centers of our doughnuts out.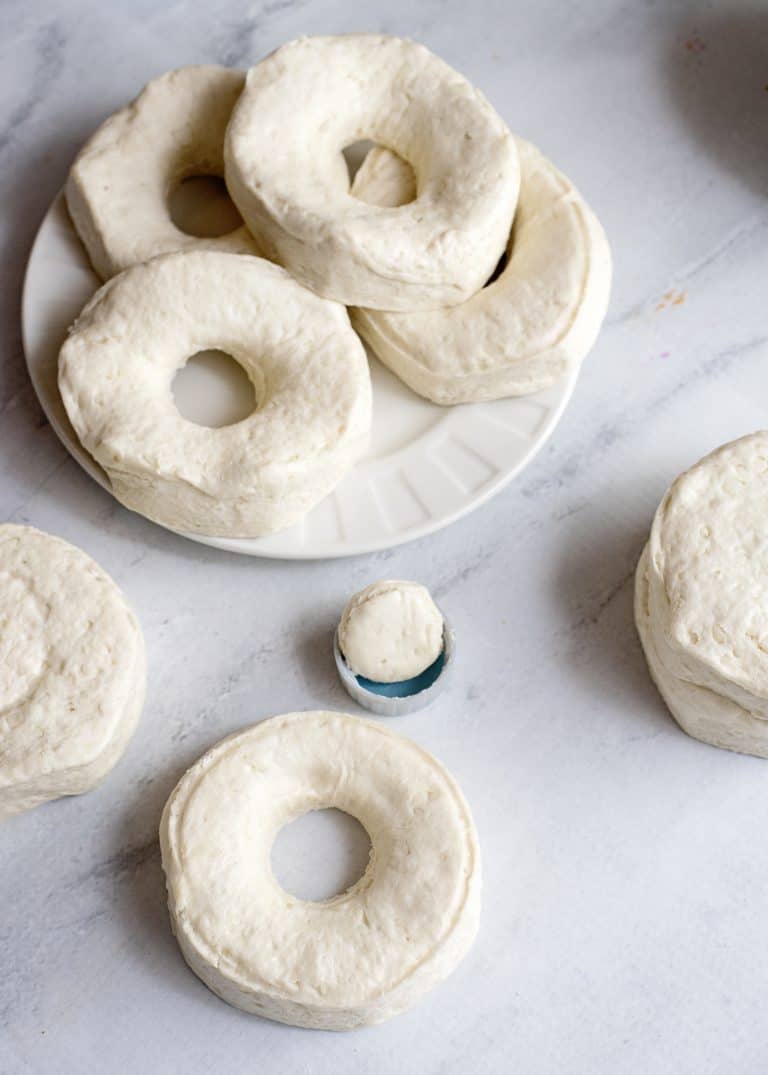 Cut out the holes in every doughnut, reserving them to cook along with the doughnuts.
Voila, our doughnuts are done.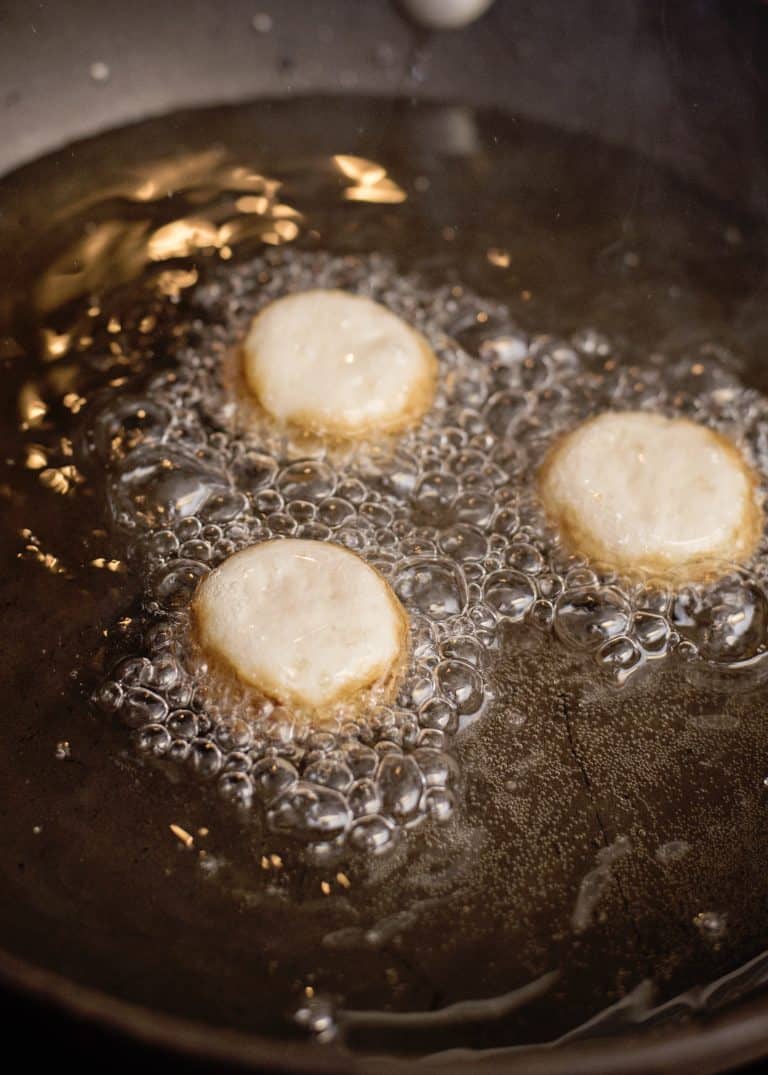 Pour your oil into a skillet. You need a little less than a half inch.
Heat your oil on medium to medium-high heat for several minutes. You want it to reach at least 350 to 375 degrees (use a thermometer to double-check).
We want it to be hot so that our doughnuts are instantly seared when they enter it. This prevents them from absorbing too much of the oil and being soggy. However, we don't want it too hot so that the outside gets done before the inside.
How to test your oil
I personally put a doughnut hole in mine. It should sizzle and bubble around the edges and then you know it's hot enough.
You may need to turn your heat down a bit after testing it with some doughnut holes to see if it is just right.
Once the doughnut hole is golden, remove it and let it cool for a minute before taking a bite to make sure it's fully cooked, not gooey, in the center.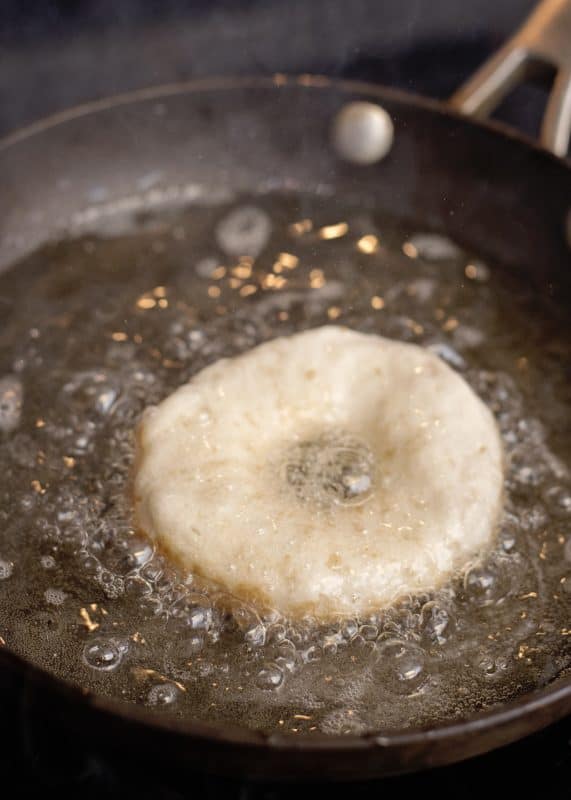 Time to cook the doughnuts!
If your skillet isn't big enough you may have to do them in batches. By the time you have put them all in, some may already be ready to turn. It takes less than a minute for them to be ready to turn over.
This is how they look, nice and golden.
Turn them all over and let them cook until the undersides are this way as well. All in all, this should take less than two minutes.
Remove cooked doughnuts from the oil with a slotted spoon and place them on a paper towel-lined plate or a wire rack if you're feeling fancy.
Now do the same thing with the doughnut holes.
Here are our cooked doughnuts, now let's add a little bit of heaven to them!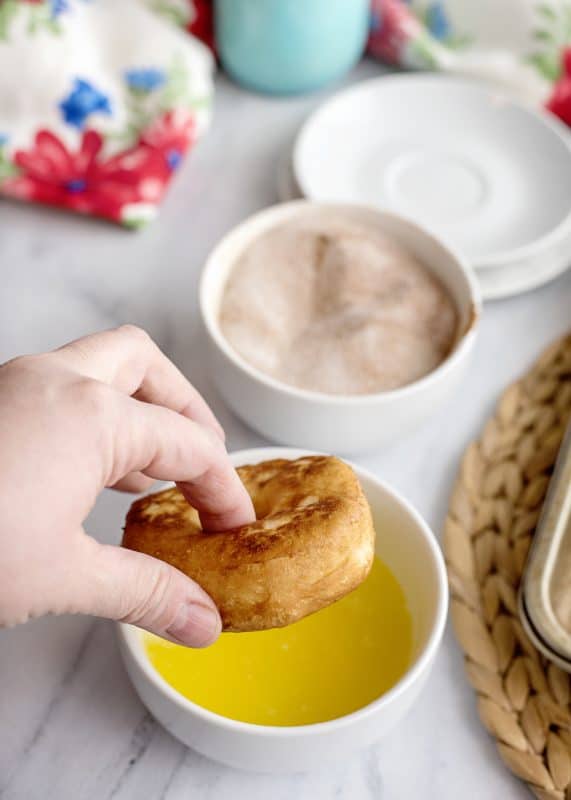 The doughnuts should have cooled just enough so that you can handle them but they will still be very warm.
Pick each one up and dip both sides in melted butter…
Then press them down into the cinnamon sugar on both sides.
Repeat with all doughnuts and doughnut holes.
Eat them warm.
They will positively melt in your mouth, they are so good!
No one will believe you started out with canned biscuits so let's just keep that little tidbit to ourselves 😉.
Biscuit doughnuts, ready in mere minutes!
What a fun breakfast or evening treat when the family is visiting.
Storage
Store leftover doughnuts in an airtight container at room temperature for up to 2 days. I recommend reheating them in the oven or air fryer.
Recipe Notes
For the biscuits, any style at all will do. Just don't get the flaky layers because they will absorb the oil whereas normal biscuits won't if we get our oil hot enough before frying them.
Besides the cinnamon sugar coating, you can cover your biscuit doughnuts in pumpkin spice sugar or simply powdered sugar. Alternatively, swap the granulated sugar for brown sugar.
Recipe FAQs
You only need to fry doughnuts for about 2 to 3 minutes, until both sides are golden brown.
The best oil for deep-frying doughnuts is a neutral oil like peanut oil, vegetable oil, or canola oil.
Do you bake or fry donuts?
Most doughnuts (like those from Dunkin' Donuts or Krispy Kreme) are deep-fried, not baked. If you'd prefer baked to fried donuts, follow this baked donut recipe to make them in the oven.
How do you make glazed doughnuts?
To transform this into a glazed donut recipe, skip the cinnamon sugar and instead drop the cooled doughnuts into a vanilla glaze instead. All you need is confectioner's sugar, vanilla extract, and milk. For a chocolate glaze instead, add a tablespoon of unsweetened cocoa powder to the above glaze ingredients and follow the directions in the post.
Check out these other delicious recipes:
Quick and Easy Jelly-Filled Doughnuts
How to Make Funnel Cakes at Home
Easy Fried Pies, Southern-Style
Ingredients
1

large can

Grands biscuits

1

cup

granulated sugar

1.5

tbsp

ground cinnamon

1

stick

melted butter

vegetable oil for frying
Instructions
Pour oil into skillet to a depth of a little less than 1/2 an inch and heat on medium to medium-high heat for about five minutes.

In a bowl, melt butter. In a separate bowl, combine cinnamon and sugar.

1 cup granulated sugar,

1 stick melted butter,

1.5 tbsp ground cinnamon

Using a plastic bottle cap, cut the center out of each biscuit. Drop dough into hot oil, watching carefully and turning when golden. Once doughnuts are golden on both sides, remove them to a paper towel-lined plate with a slotted spoon. Repeat until all dough is cooked, including doughnut holes.

1 large can Grands biscuits

Dip both sides of each doughnut into melted butter, then press both sides into the cinnamon sugar mixture. Serve warm.
Nutrition