Easy Fried Pies, Southern-Style
My easy Southern fried pies include juicy pieces of cinnamon-spiced dried fruit encased in deliciously flaky canned biscuit dough for a simple shortcut that saves on time but not on flavor.
Previously I brought you my Granny Lela's fried peach pies and promised you an easier version. This fried pie recipe is for those of us who don't have time or perhaps just don't have the desire to make our fried pie dough from scratch. I totally understand and I've got your back!
Believe me when I say that most folks who make fried pies have taken this shortcut at one time or another. Although it does yield a bit of a different result, I can guarantee it is still just as delicious. This fried pie recipe will certainly draw praise from those lucky enough to sample the wares.
So, besides the shortcut canned biscuit dough, what other ingredients do you need? It's simple really! You need the dried fruit of your choice (I've opted for dried apricots this time around), as well as lemon juice, butter, sugar, and cinnamon to make the juiciest and most flavorful filling. Once the filling is cooked, we place that in the middle of our biscuit dough, seal them shut, and get to frying our Southern fried pies until they're golden brown.
I just know you'll love the combination of the flaky dough and sweet juicy filling. It's a recipe for success! And hey, if you want to try another Southern fried pie recipe, let me direct your attention toward my chocolate fried pies recipe. Y'all, they're SO good! Okay, enough talking, more fryin'!
Recipe Ingredients
Canned biscuits
Cooking oil
Lemon juice
Ground cinnamon
Unsalted butter
Granulated sugar
Dried fruit
Helpful Kitchen Tools
How to Make Easy Fried Pies
To begin with, place your dried fruit in a pot and cover it with two cups of water. Bring to a boil.
NOTE: If you are using apples, you may find that your fruit needs about 1/2 cup more water.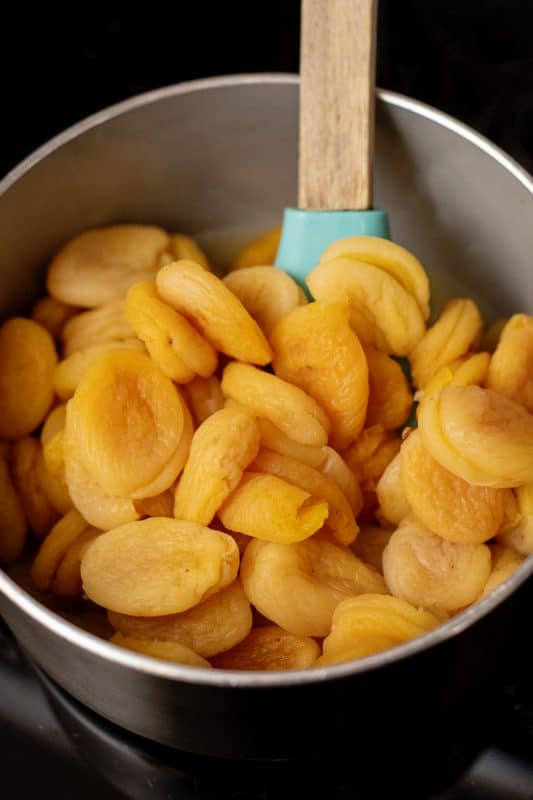 Bring that to a boil and then reduce heat and simmer until they are tender and soft.
This will take about 20 minutes.
To test, mash one with a fork and see if it is able to mash up a bit, like a cooked potato. If so, you're ready.
Turn off the heat and add butter…
Then sugar.
This looks like an insane amount of sugar but it's half a cup. You can also use another sweetener such as Stevia or Monk Fruit. Due to their significant sweetness, you would need a whole lot less.
Add cinnamon as above.
Add a splash of lemon juice.
Stir all of that up really well.
Then have a little fun smooshing it.
I use a potato masher but you can use a fork if you like, or pretty much anything else that works.
Dough time!
Open a can of biscuits and place them on a floured surface.
Sprinkle a little flour over them.
Roll out to make a six-inch circle with your rolling pin or glass.
Place a little filling on half of your circle, being sure to keep it away from the edges.
Wet your fingertips and run them around the outside edge so it will stick when you seal your pie, just like in the picture above.
Crimp the edges with a fork.
Pour about 1/2 inch of oil into a skillet.
Heat on medium heat for 5 minutes or so.
This ensures that your oil is hot enough to sear and cook the pies rather than just soaking (prevents greasiness).
Place your pies carefully in the oil and cook for a minute or two on each side until golden brown.
Remove to a paper towel-lined plate.
Now that's what I call a pie fried to golden perfection!
Gaze at your lovely creations and think about whose day you want to make a little brighter!
Start with yourself.
Storage
Because you're deep frying the pies, you really want to serve them immediately and have no leftovers. Feel free to halve the ingredients to minimise waste.
Recipe Notes
Do you want to know another shortcut to use in fried pies? Pie filling instead of dried fruit! You can bypass all the steps and just pop a spoonful into the middle of the biscuit dough instead if you wish. I won't tell!
Another option is to use fresh fruit like fresh Granny Smith apples instead of dried fruit. Follow the directions as above.
If you are making fried apple pies, I recommend adding a 1/4 teaspoon of ground allspice too! Anytime you are baking with apples and using cinnamon, just a pinch of allspice really makes your cinnamon flavor *POP*. Allspice amplifies cinnamon to that delicious degree that you smell when you go to cinnamon roll places or restaurants specializing in apple pie. Take a whiff of this amazing spice and you'll understand.
If you like, sprinkle your fry pies with powdered sugar or a cinnamon-sugar mixture before serving.
Recipe FAQs
What's the best dried fruit to use in Southern fried pies?
Any dried fruit will work, but my top suggestions are dried apples, apricots, and peaches.
Can you bake the pies instead of frying them?
Yes, if you'd prefer baked pies over fried pies, you'll want to place them on a parchment-lined baking sheet and bake them in a 390-degree oven for 20 to 25 minutes until golden brown. I recommend making a small incision on the top of the pastry before baking to help the steam release. They will be a different texture compared to frying, but still taste good.
Because there's no such thing as too many pie recipes…
Buttermilk Peach Pie With Canned Peaches
Mini Boston Cream Pies Southern-Style
Ingredients
6-7

ounces

dried fruit

1

cup

granulated sugar

2

cups

water

1/4

cup

butter or margarine

1

tbsp

lemon juice, optional

1/2

tsp

ground cinnamon

10-15

flaky layer biscuits
Instructions
Place dried fruit in a pot and add water. Bring to a boil and reduce heat to simmer until the fruit is tender.

6-7 ounces dried fruit,

2 cups water

Add other ingredients and mash together with a potato masher or fork. Set aside while you prepare the dough.

1 cup granulated sugar,

1/4 cup butter or margarine,

1 tbsp lemon juice, optional,

1/2 tsp ground cinnamon

Roll each biscuit out on a floured surface into a five or six-inch circle. Place two tablespoons of filling in each. Wet the edges and fold over, crimping with a fork.

10-15 flaky layer biscuits

Cook in oil (which has been heated on medium heat for 5 minutes or so), until golden brown on both sides, turning as needed. Remove to a paper towel-lined plate.
To read more about the history of dried fruit in the South, visit my previous fried pie post.
Burn the candles and use the fancy dishes. Don't save it for a special occasion. Today IS special.
~Southern Plate Reader, Vickie.