Learn to make one of the easiest pies you'll ever bake: Impossible Lemon Pie!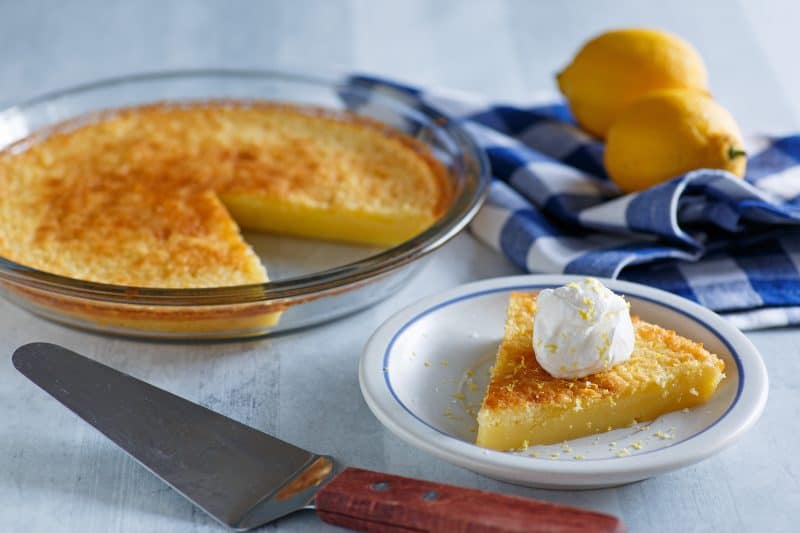 Every lemon pie I've ever tried has been immediately declared my favorite, so today I'm sharing my favorite for this moment in my life, Impossible Lemon Pie. You are going to be stunned at how little time it takes to mix up this pie. Seriously, don't blink or you'll miss it. In addition to using ingredients you probably already have on hand, this pie also makes its own crust, part of the "Bisquick Impossible Pie" craze of the seventies, back when the latest technology was a walkman cassette player – and everyone who owned a cassette became a master surgeon at getting the "guts" back in with a pencil when it got hung up.
Cassettes may be out but this pie is one that has stood the test of time, just sweet enough with a nice eggy texture to it somewhat reminiscent of a chess pie (I'll put links to my chess pie recipes at the bottom of this post). It's a sure bet to add to your files. If you want to jump right to the recipe, just scroll down to the printable recipe card. If you've got the time and inclination to visit a bit, keep reading.
My daughter, Katy, and I just got back from our first ever mother/daughter weekend. We decided it was high time that the two of us got away for a bit and just enjoyed each other's company without interruptions of outside forces (ie. the other half of our family). We decided on Helen, GA, a beautiful little alpine town in the north Georgia mountains. We had a nice little hotel room overlooking the rapids where folks were tubing each day and we spent most of our time talking, but did a little bit of shopping and ate out three times – all at the same restaurant. You see, my daughter is very much like me in that if she finds something she likes, she sticks with it. We're like that in our relationships, too. So the first day I asked a sales clerk if there was a place she recommended and she suggested this place called Cowboys and Angels. We were hungry and the suggestion of a stranger was better than nothing so we tried it out. The food was made fresh, the service was nice, and we became regulars just like that. It's such a treat for a creature of habit to find they're traveling with a fellow creature of habit. 🙂
It's always remarkable, as your kids grow up, to see who they have become. My Katy is so much like myself in ways I never expected, but she is uniquely her own in many more ways – and the longer I know her the more of a fan I become. It's an amazing Creator that allows us to raise our best friend and I can't wait to see where her life takes her. I'm so glad we had this weekend.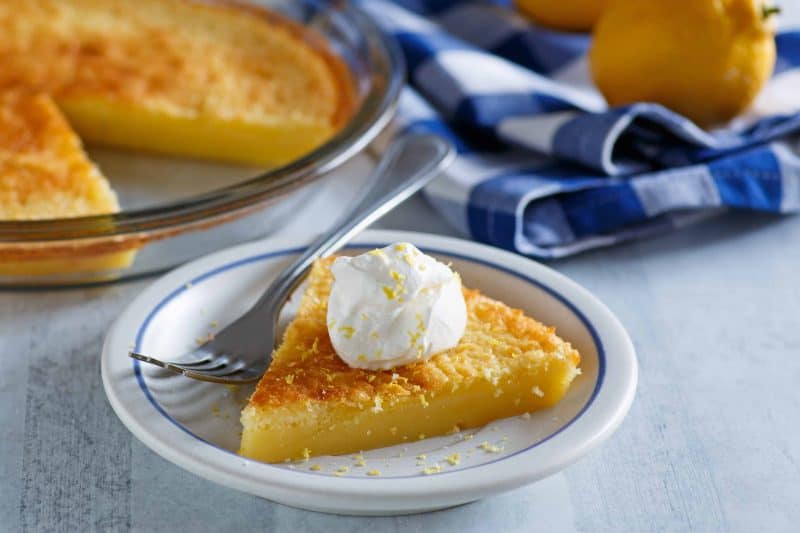 Now we need some pie, Impossible Lemon Pie to be exact, because I am always ready to testify that lemon desserts are like eating sunshine and I don't know a single person, especially in 2018, who couldn't use a little extra boost of sunshine in their lives.
I hope you get to make this soon, but more importantly, I hope you get to take that trip you've been thinking about with someone special to you.
In fact, I'd love to hear about special trips you've made in the comments below!
Ingredients
2

Cups

milk

¾

Cup

sugar

½

Cup

Bisquick Baking mix

4

eggs

¼

Cup

butter

melted and cooled

1½

teaspoons

vanilla

¼

cup

lemon juice

bottled is fine
Instructions
Spray 9 inch pie plate generously with cooking spray.

Place all ingredients in a blender.

Mix on low speed for three minutes. Pour into greased pie plate. Let rest for five minutes before placing in oven.

Bake at 350 for forty minutes. Allow to cool before cutting. Refrigerate leftovers. May be served straight from the fridge if you prefer it chilled.
To see the coconut version of this pie, click here.
Chess Pie Recipes you might enjoy:
"Don't let people pull you into their storm. Pull them into your peace." 
~Kimberly Jones
Yum