These sweet yet perfectly spiced chewy pear bars are densely loaded with brown sugar, juicy fresh pear pieces, and graham cracker crumbs. Trust me, they'll disappear from the kitchen counter in seconds!
Now, I'm no stranger to cooking with apples. There are many, many apple recipes across Southern Plate. But today I'm turning my attention towards pear, which isn't baked quite so often (although I do have a pear crisp recipe here). But really, that's a crime, because there's something about juicy and ripe pears that just transform this bar recipe.
These chewy yet wonderful pear pie bars taste of butter, brown sugar, and graham cracker crumbs studded with bits of ripe and juicy pear. Oh my word, are they ever good! Has that description alone piqued your interest? If not, let me tell you that you probably have the remaining ingredients at home already: baking powder, cinnamon, ginger, vanilla, eggs, salt, flour, and sugar.
These pear bars are so dense and scrumptious, your family will love them! You really should make them today because even if you don't have pears handy, you only have to buy two of them.
Ingredients You'll Need to Make Chewy Pear Bars:
Baking powder
Graham cracker crumbs
Dark brown sugar
Ground cinnamon
Vanilla extract
Salt
Flour
Ground ginger
Eggs
Butter
Sugar
Pears
Helpful Kitchen Tools
How to Make Chewy Pear Bars:
For Pear Bar Crust
Place sugar, graham crumbs, and butter in a medium bowl and cut together with a pastry cutter or long-tined fork until well blended.
*Here's a link to the Glass Mixing Bowl Set we love. Easy to store and easy to use!
It should look like this.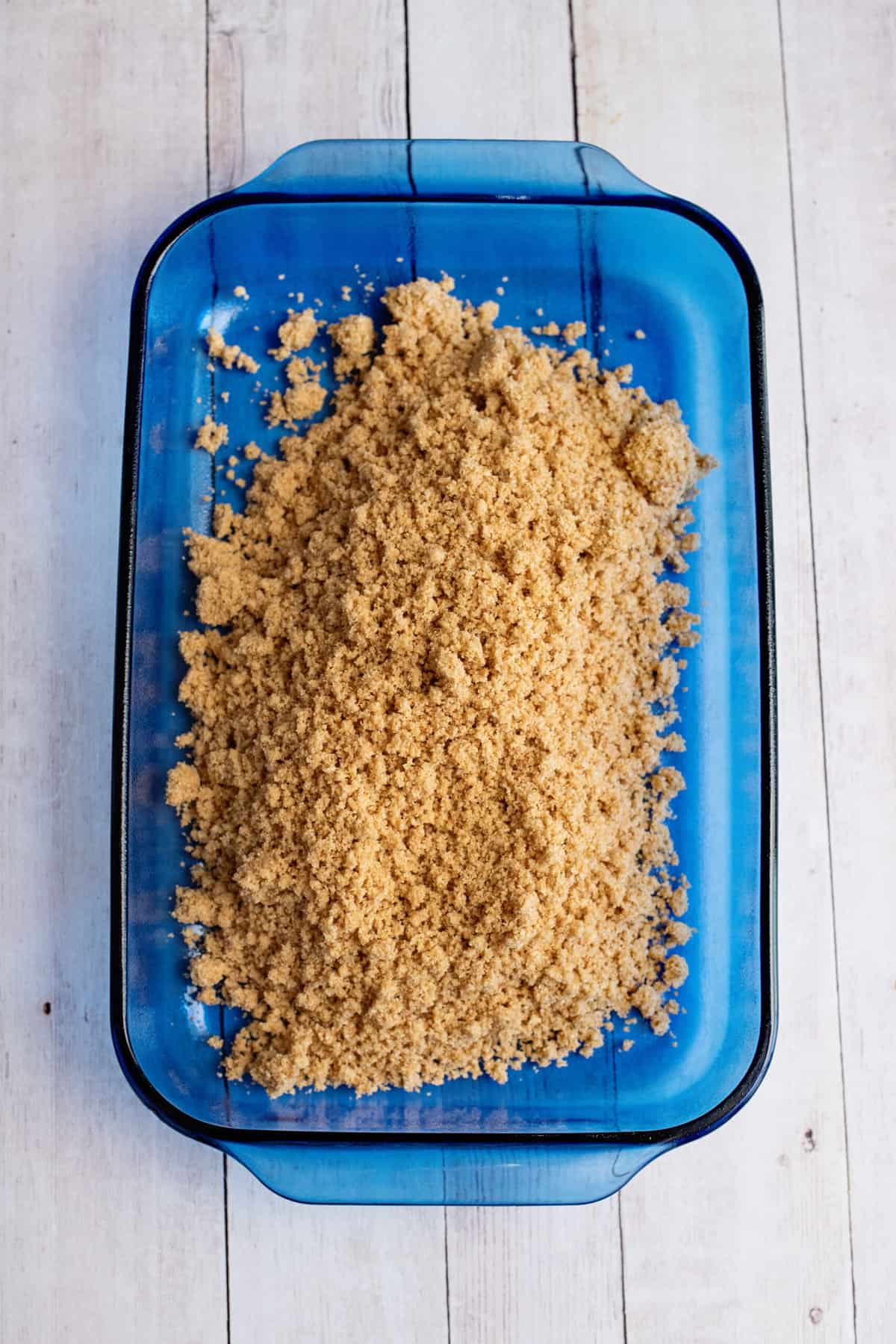 Dump the crumb mixture into the bottom of a 9×13 baking dish.
Press down into the pan with your hands.
Bake at 350 for 10 to 12 minutes or until golden brown.
While that is baking, we need to make our filling.
Place your flour, brown sugar, and graham cracker crumbs for the filling in the medium bowl.
Cut together with a fork until it is well combined.
Add in baking powder, salt, cinnamon, and ginger and stir again.
Add eggs and vanilla.
Stir that up until it becomes a batter.
*It is going to be awfully thick but as the brown sugar starts to break down it will become much more liquified.
Peel and dice your pears and fold those in gently.
*Note: The pear juice adds a lot of liquid as well.
Pour pear mixture over your baked crust.
Spread to the edges.
Bake this at 350 for about 25 to 30 minutes or until set in the center.
Voila, chewy pear bars!
Enjoy these chewy, buttery, brown sugary bars of goodness!
How to Store Pear Bars:
Store leftover bars in an airtight container either at room temperature or in the fridge for up to 3 days. You can also freeze bars for up to 1 month. Thaw at room temperature before serving.
Recipe Notes:
For added texture, fold 1/2 cup of nuts into the pear filling mixture, like sliced almonds or chopped pecans.
Recipe FAQs:
How do you serve pear bars?
They're delicious on their own, but for an unforgettable fall dessert, serve your pear bar slice with whipped cream or a scoop of vanilla ice cream, and a drizzle of caramel sauce.
What are the best pears to use for baking?
You can use any kind of pears, you just want to make sure they're ripe (not over-ripe).
Check out these other delicious bar recipes:
Easy Lemon Bar Recipe (With Video Tutorial)
Butter Bars From Scratch: Gooey Goodness Awaits!
Chocolate Chip Cheesecake Bars
Ingredients
Crust
3

cups

graham cracker crumbs

3/4

cup

softened unsalted butter

1/4

cup

sugar
Filling
2.5

cups

dark brown sugar

or light brown sugar

3

eggs

2/3

cup

graham cracker crumbs

1

cup

peeled and diced pears

about 2 pears

2

tablespoons

all-purpose flour

1

teaspoon

vanilla extract

1

teaspoon

ground cinnamon

1/2

teaspoon

ground ginger

3/4

teaspoon

salt

1/2

teaspoon

baking powder
Instructions
In a medium bowl, place the crust ingredients. Using a long-tined fork or pastry cutter, cut and stir ingredients together until crumbly. Press into the bottom of a 9x13 baking dish and bake at 350 for 10 to 12 minutes or until golden brown.

3 cups graham cracker crumbs,

3/4 cup softened unsalted butter,

1/4 cup sugar

While the crust is baking, use the same bowl to combine brown sugar, graham crumbs for the filling, and flour. Stir well until flour is well incorporated. Stir in cinnamon, ginger, salt, and baking powder. Add eggs and vanilla and stir until batter forms. Fold in chopped pear pieces.

2.5 cups dark brown sugar,

3 eggs,

2/3 cup graham cracker crumbs,

2 tablespoons all-purpose flour,

1 teaspoon vanilla extract,

1 teaspoon ground cinnamon,

1/2 teaspoon ground ginger,

3/4 teaspoon salt,

1/2 teaspoon baking powder,

1 cup peeled and diced pears

Pour the pear filling onto the baked crust and spread it to the edges. Return to the oven and bake for an additional 25 to 30 minutes, or until the mixture is set in the center. Allow them to cool completely before cutting.
Nutrition
"I am seeking, I am striving,
I am in it with all my heart."
~Vincent van Gogh