Filled with delicious maraschino cherries and chopped pecans, these sweet and tender cherry bars are ooey-gooey and oh so good.
Whenever I go to a potluck, reunion, or get-together centered around food (although I confess to not knowing of many get-togethers that aren't centered around food), I like to take a dessert that everyone is going to ooh and ahh over. Something uniquely decadent, extra special, that you can't find anywhere else and these ooey-gooey easy cherry bars are just the thing!
This recipe has been my special go-to for two years now, ever since I took one of my favorite bar recipes and played around with it to produce my ultimate favorite bar recipe. Special doesn't even begin to cover it. This cherry bars recipe is an experience – and one I hope you get to have soon.
It features a sweet and buttery crust, made with sugar, butter, and flour. On top of that is a soft filling made with baking essentials like eggs, vanilla extract, sugar, and flour, plus chopped pecans and maraschino cherries. These cherry bars are so easy to make with just a little mixing and baking. Add an extra dusting of sugar on top and they're complete. Sweet, soft, scrumptious, and bursting with juicy cherries.
Recipe Ingredients
All-purpose flour
Butter
Confectioner's sugar
Sugar
Eggs
Salt
Baking powder
Vanilla
Maraschino cherries (drained and cut in half)
Pecans
How To Make Cherry Bars
Begin by making the crust. I started with the same crust I use on my lemon bars.
Place flour, butter, and confectioner's sugar in a medium bowl and cut them together with a pastry cutter or long-tined fork until crumbly, as pictured on the right.
Press this evenly into a 9×13 baking dish that has been sprayed with cooking spray and bake until just lightly brown (about 20-25 minutes).
Once your crust is done, remove it from the oven and reduce the oven temp to 325 and make your filling. Place sugar, eggs, flour, salt, baking powder, and vanilla in the same bowl you mixed the crust up in – no need to wash it.
Stir together with a large spoon until smooth and creamy – the batter will be very thick. Once it's mixed, stir in cherries and pecans (note, pecans are optional).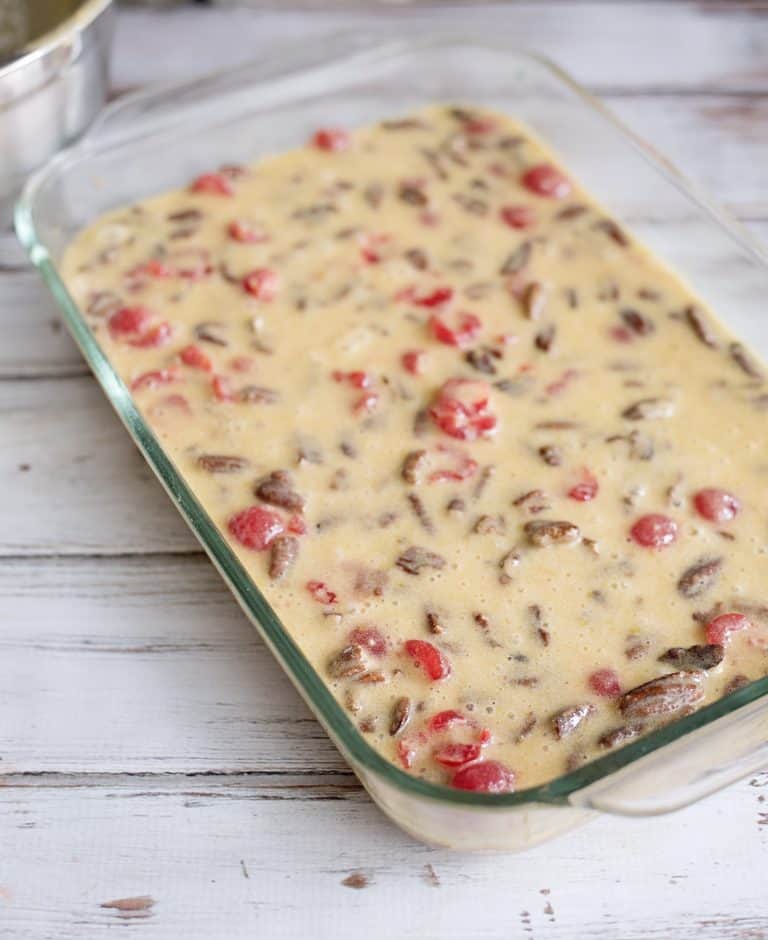 Spoon the filling over the crust and gently spread it to the edges. Bake until set and golden brown (about 30 minutes).
Isn't this pretty? Not even cooked and it's already pretty! I can't wait to get one of these cherry bars on my plate!
Allow to cool completely in the pan, then sprinkle with a light dusting of confectioner's sugar and cut into bars.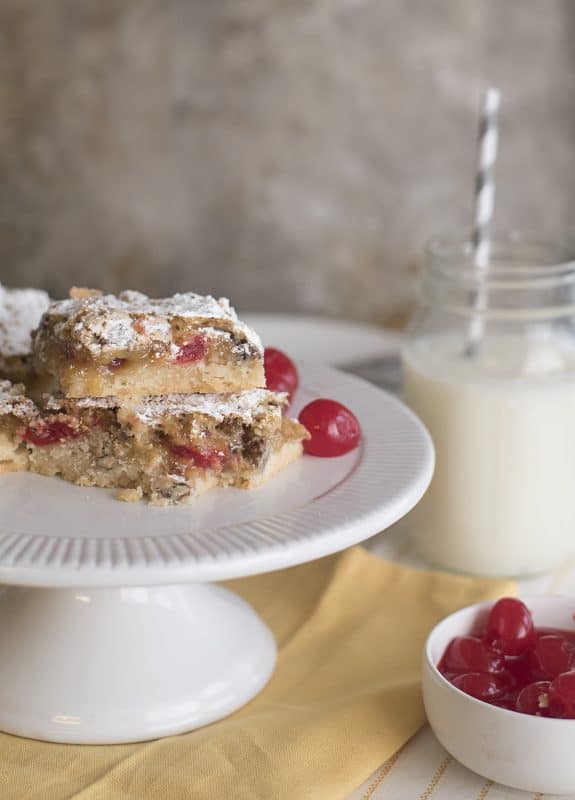 Oooh my goodness! These stay all ooey and gooey in the filling but that wonderful buttery crust holds it all together.
Cherry bars are definitely a treat worthy of a special occasion or one that can make any occasion special!
Storage
Store leftovers in an airtight container in the fridge for up to 1 week. You can also freeze them for up to 6 months. Thaw at room temperature before serving.
Recipe Notes
If you like, top your cherry bars with a simple vanilla glaze to take this dessert to another level. Simply combine 1 cup of confectioner's sugar, 1 teaspoon of vanilla extract, and 2 to 3 tablespoons of milk (or until it reaches desired consistency), and drizzle

the

on top.
You can substitute the maraschino cherries for chopped fresh cherries or frozen cherries, but the filling won't be as sweet. On the other hand, cherry pie filling will make the bars too moist.
Substitute the pecans for mini chocolate chips to make Black Forest

or

cherry bars.
You can also use almond extract and chopped almonds instead of vanilla extract and pecans for almond cherry bars.
For gluten-free cherry bars, simply substitute the flour for your favorite gluten-free flour alternative.
Recipe FAQs
How do you serve cherry bars?
While these dessert bars taste great as is, you can also serve them with some whipped cream (here's my homemade recipe) or a scoop of vanilla ice cream.
Can I make cherry bars ahead of time?
Yes, this is a great dessert to make in advance, as cherry bars last in the fridge for up to 1 week. I recommend leaving the sugar dusting off the top and sprinkling it just before serving though.
You may also enjoy these dessert bars:
Butter Bars From Scratch: Gooey Goodness Awaits!
Chocolate Chip Cheesecake Bars
Ingredients
Crust
2

cups

all-purpose flour

1

cup

butter, at room temp

or 2 sticks

1/2

cup

confectioner's sugar
Filling
2

cups

granulated sugar

4

large eggs

1/2

cup

all-purpose flour

1/2

teaspoon

salt

1

teaspoon

baking powder

2

teaspoons

vanilla extract

1

jar

maraschino cherries

drained and cut in half

1.5

cups

chopped pecans

optional

confectioner's sugar

for finishing
Instructions
Preheat oven to 350. Lightly spray a 9x13 baking dish with cooking spray and set aside.

In a medium bowl, place the crust ingredients. Cut butter into the flour and confectioner's sugar with a pastry cutter or long-tined fork, until well combined and crumbly. Press into the prepared pan and bake for 20-25 minutes until just lightly brown on the edges. Remove from the oven when done and reduce temp to 325.

2 cups all-purpose flour,

1 cup butter, at room temp,

1/2 cup confectioner's sugar

In the same bowl (no need to wash it), place the sugar, eggs, flour, salt, baking powder, and vanilla from the filling ingredients. Stir together with a long spoon until smooth and creamy. The batter will be thick. Stir in the cherries and pecans until well incorporated. Spoon the filling onto the crust and spread to the edges. Bake until set (about 30 minutes).

2 cups granulated sugar,

4 large eggs,

1/2 cup all-purpose flour,

1/2 teaspoon salt,

1 teaspoon baking powder,

2 teaspoons vanilla extract,

1.5 cups chopped pecans,

1 jar maraschino cherries

Remove from the oven and allow to cool completely. Dust top with confectioner's sugar and cut into bars. Enjoy!
Nutrition
Let us always meet each other with a smile for a smile is the beginning of love.
~Mother Theresa