If you have Pinterest or Facebook, I'd love it if you could help me out by using one of the buttons above. Thank you, now let's make some Phenomenal Red Velvet Cupcakes!
Yum!
This wonderful cake is usually made around the holidays but since it's gone mainstream I've seen red velvet everywhere all year long. From those fancy schmancy cupcake joints with the four inch high icing to frozen yogurt flavors and it's even showing up in snack cakes! Still, I usually only made it around Christmastime at home out of well…habit, tradition…and a little bit of "well it never occured to me to make it any other time of year!"
Recently Katy Rose got her first ever taste of red velvet. Now y'all don't go decrying my parenting skills over that, the child has had plenty of chances to try it but it was of her own accord that she chose not to eat the cake that looked like an animal had been slaughtered and stirred up into the cake batter. ~giggles~ You know, I think someone came up with that deep red color just to scare off the newbies so the diehards could have more for themselves!
So Katy Rose had Red Velvet – frozen yogurt. ~sighs~ I know, her first taste and it wasn't even the cake!
Anywho, I'm not gonna split hairs because it was enough to get her hooked and when we were in the Opryland Hotel this past weekend she saw a Red Velvet cupcake in a bakery and just about had a dying duck fit wanting it.
I, being the loving mother that I am, refused to get it for her – because it was $6.50! I said "Katy Baby, you know we can make those at home, right?" She turned to me with eyes wide with wonder. "YOU know how to make RED VELVET?"
Honestly, somedays I wonder if my children have ever met their mother.
"Yes Baby, I know how to make Red Velvet. I've been making it since I was a little girl and I use a really old recipe that Grandmama taught me."
Once I told her that we could make 18 of them for about the same price of that one, she was a happy camper and we went back to our fun day out while looking forward to a nice little baking session together later.
Now let me tell you something, I LOVE cake mixes and use them often. They are a lot of fun and a whole lot of convenience. HOWEVER, this from scratch red velvet cake is above and beyond anything a cake mix could possibly produce so make time for a few extra minutes of work because I promise it will be well worth it!
If you have my cookbook, you can find more on our Red Velvet Cake and what we do different from most people (and why) by reading page 170. If you don't have my cookbook and want a copy of all the recipes I'd ever need if stranded on a deserted island with a fully stocked Southern Kitchen, as well as learning my childhood nickname and how my Papa Reed scared me to death when he was teaching me how to drive in Toney, Alabama: click here. I do tend to share a lot, don't I?
Let's get cookin'!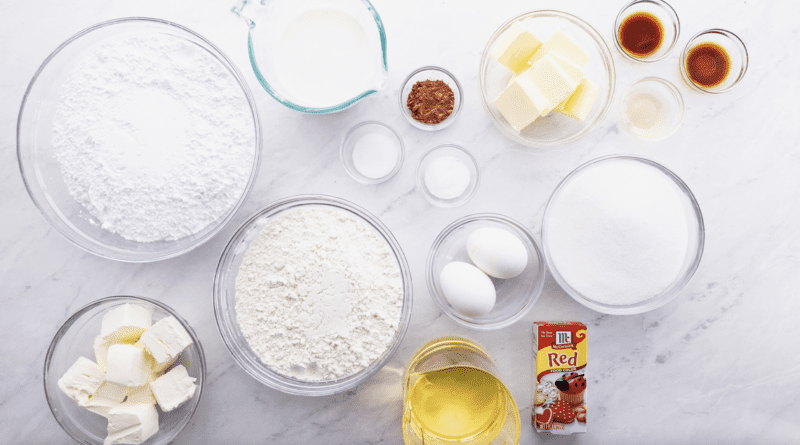 You'll need: Baking Soda, Sugar, Salt, Eggs, Red Food Coloring (you can also use Beet Powder for this as well), All Purpose Flour, Vegetable Oil, Buttermilk, Vinegar, Cocoa Powder, Vanilla, and some cupcake papers….
All of these ingredients are at the bottom of this post in the handy dandy printer friendly recipe thingiemawhosit so don't go studying them here like there's gonna be a test or something. 🙂
Place your flour in a medium mixing bowl. Add salt, bakinf soda, and cocoa powder. Mix that up!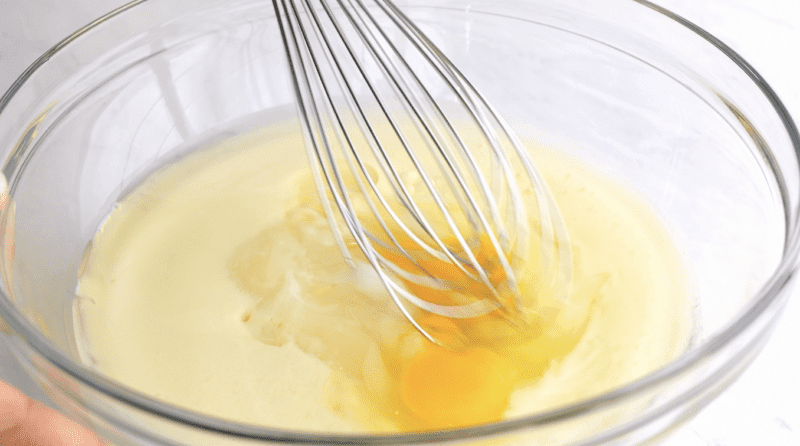 In a separate bowl, pour in buttermilk…
Add in Oil, Sugar, vinegar and eggs.
Stir that up really good.
Til it is kinda like this.
Now dump the liquid into a large mixing bowl and then dump your dry mixture on top of it.
Mix with an electric mixer until smooth and blended, about two minutes.
Here it is, all mixed up with the red food coloring (0r beet powder) and vanilla.
Mix that up all up really well with the electric mixer again until it is deep red and fully blended.
Get something cute to put cupcake papers into two pans for ya 🙂
This will make about 18 or so.
Fill your cupcake papers about 3/4 full.
Bake at 350 for about 25 minutes, or until cupcakes spring back when lightly pressed with a finger in the center.
Allow to cool before icing.
The recipe and instructions for icing are below in the recipe card, and it's really easy. you just dump everything in a bowl and beat the mess out of it until it's smooth and creamy 🙂 If you want to see how I make cream cheese icing, you can visit my Chocolate Velvet Cake Post for photos.
Don't feel like you have to put the icing on pretty like I did here.
Just slather the icing on there with a knife and just don't worry about it. ENJOY!
Ingredients
2

+1/2 cups all purpose flour

1

teaspoon

unsweetened cocoa powder

1

teaspoon

baking soda

1

teaspoon

salt

1

+1/2 cups granulated sugar

1

cup

buttermilk

1

+1/2 cups vegetable oil

2

eggs

1

teaspoon

vinegar

1

teaspoon

vanilla extract

1

ounce

bottle red food coloring
Cream Cheese Icing
8

ounce

package cream cheese

at room temperature

1/2

cup

butter

or margarine, at room temperature

1

pound

confectioner's sugar

1

teaspoon

vanilla
Instructions
In a medium bowl, stir together flour, cocoa powder, baking soda, and salt.

In a separate large mixing bowl, mix together sugar, buttermilk, oil, eggs, and vinegar. Add the dry mixture to the wet mixture and beat on medium speed until well blended.

Add vanilla and entire bottle of red food coloring to batter and mix again on low speed until well blended and uniform in color.

Line 2 - 12 cup muffin tins with papers. Fill each paper about 3/4 full with batter. Will end up with 18-20 cupcakes.

Bake at 350 for 20-25 minutes, or until center springs back when pressed lightly with finger. Allow to cool completely before icing.
For Icing
Cream together cream cheese and butter. Add sugar and vanilla and beat with electric mixer until smooth and creamy, scraping down sides as needed. Ice cooled cupcakes.

Can be left at room temp but I love it refrigerated!
Makes about 18-20 cupcakes.
Video
Nutrition
Oh wow! Here is a thought with an impact! Can you imagine?

"How would your life be different if…You walked away from gossip and verbal defamation? Let today be the day…You speak only the good you know of other people and encourage others to do the same."
― Steve Maraboli