All you need is 4 ingredients and 5 minutes to make my quick and easy red velvet hot chocolate recipe. It's rich and creamy chocolate goodness, perfect for a cozy night in.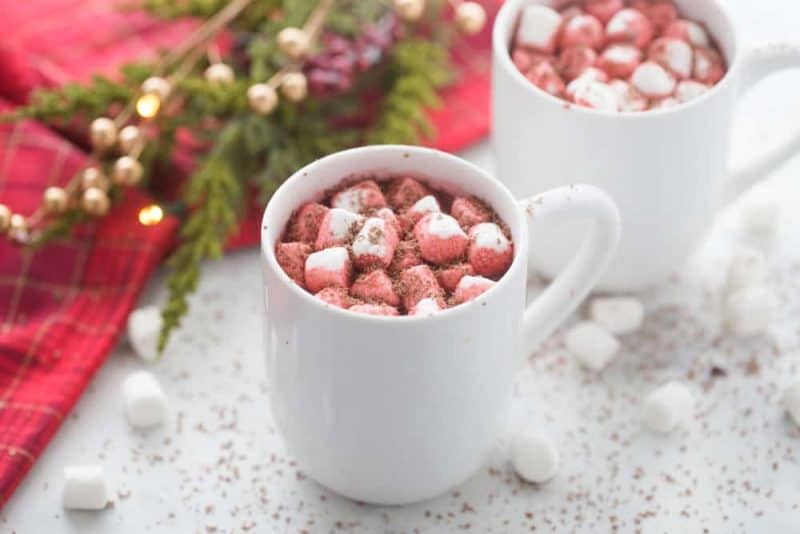 Most Southerners I know have a special place in their heart for all things red velvet, especially around the holidays. This week, I'm making mini red velvet cakes, last week we made red velvet cookies, and today I'm sharing my red velvet hot chocolate recipe. It has all the flavors of classic red velvet cake but in liquid form. I bet your tastebuds are already tingling!
This is an old-fashioned hot chocolate recipe, the kind you make on the stovetop, that will ruin you for store-bought mixes. This is what I grew up with: rich, creamy, and decadent chocolate as the day is long. All you need is granulated sugar, cocoa powder, and milk. Add a little of that food coloring the stores sell out of this time of year and you've got an instant classic!
The instructions are as simple as slowly combining all the ingredients on the stovetop. All it takes is a little bit of stirring (5 minutes only) and you'll be pouring your hot cocoa into a cup in no time at all. Sprinkle the top with miniature marshmallows, add a hot chocolate cookie on the side if you're feeling extra decadent, and you have yourself the perfect cozy night in.
Let's get on in the kitchen…
Recipe Ingredients
Milk
Granulated sugar
Unsweetened cocoa powder
Red liquid food coloring
Vanilla (optional)
How to Make Red Velvet Hot Chocolate
In a medium saucepan, stir together sugar and cocoa powder, then add ½ cup of milk.
Stir constantly over medium heat until the mixture comes to a boil.
Cook, stirring constantly, for 2 minutes.
Did you catch that "stir constantly" part?
Add the remaining milk and food coloring.
Reduce heat to low, continuing to stir just until the milk is good and warm. Do not boil.
Remove from heat and stir in vanilla if desired.
Ooooh, look how pretty this red velvet hot chocolate is!
And did you catch how quickly it came together, even though it was made from scratch?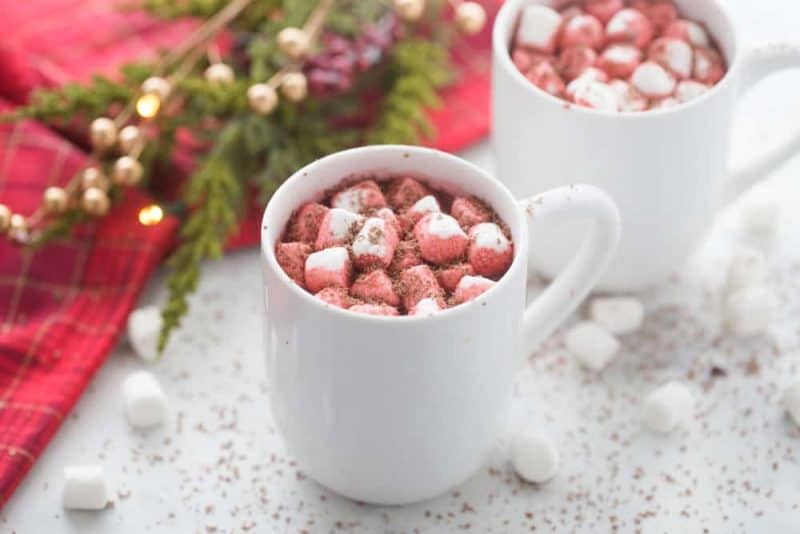 Serve red velvet hot cocoa immediately with marshmallows (or without, look at you being a rebel).
Storage
You can store the cooled hot chocolate in an airtight container or jug in the fridge for up to 3 days. It can easily be reheated in the microwave or on low heat on the stovetop.
Recipe Variations
Here are some recipe variations:
Use honey, brown sugar, or Swerve instead of sugar.
Substitute whole milk for any type of milk, including almond milk or coconut milk (which has a similar richness to whole milk).
Use a combination of whole milk and heavy cream (like 3.5 cups of milk and 1 cup of cream). Another idea is to blend the milk with 2 ounces of softened cream cheese before adding it to the saucepan. This will make it creamier and richer and will give the drink a more traditional red velvet taste (like cream cheese frosting but not).
Use 2 teaspoons of beetroot powder instead of food coloring.
Add 1/2 cup of coarsely chopped white chocolate or white chocolate chips for a truly decadent hot cocoa. You can also use semi-sweet chocolate or chocolate chips too. If you go down this route, you will probably want to reduce the sugar to 2 tablespoons only.
Use a different food coloring for a different occasion i.e. green food coloring for St Patrick's Day.
Recipe FAQs
Does red velvet taste good with chocolate?
Red velvet and chocolate is the ultimate combination. In fact, you can't really have red velvet without chocolate. Red food coloring + cocoa powder = red velvet.
Can you make spiked red velvet hot chocolate?
Absolutely! When you add the vanilla, add a shot or two of your favorite spirit, like Bailey's or rum.
How do you serve red velvet hot chocolate?
Besides mini marshmallows, here are some other serving suggestions:
Chocolate shavings
A dollop of homemade whipped cream
Sprinkles (bonus points if they're pink or red sprinkles).
Check out these other cozy drink recipes:
Snowman Soup With Homemade Hot Chocolate
Skinny Pumpkin Spice Latte at Home
Ingredients
1/3

cup

granulated sugar

1/3

cup

unsweetened cocoa powder

4.5

cups

whole milk

2

tbsp

red liquid food coloring

1/2

teaspoon

vanilla extract, optional
Instructions
In a medium saucepan, stir together sugar (or honey) and cocoa powder, then add 1/2 cup of milk.

1/3 cup granulated sugar,

1/3 cup unsweetened cocoa powder,

4.5 cups whole milk

Stir CONSTANTLY over medium heat until the hot chocolate mixture comes to a boil. Cook, while stirring, for about two minutes. Do not stop stirring or it will scorch.

Add the remaining milk and food coloring (or beetroot powder). Reduce heat to medium-low and continue the constant stirring until the milk is to the desired temperature. Do not boil.

2 tbsp red liquid food coloring,

4.5 cups whole milk

Remove from heat and add vanilla if desired. Serve hot and enjoy!

1/2 teaspoon vanilla extract, optional
Nutrition