Featuring a crumbly streusel topping, this spiced pumpkin crumb cake is soft, moist, and bursting with pumpkin flavor.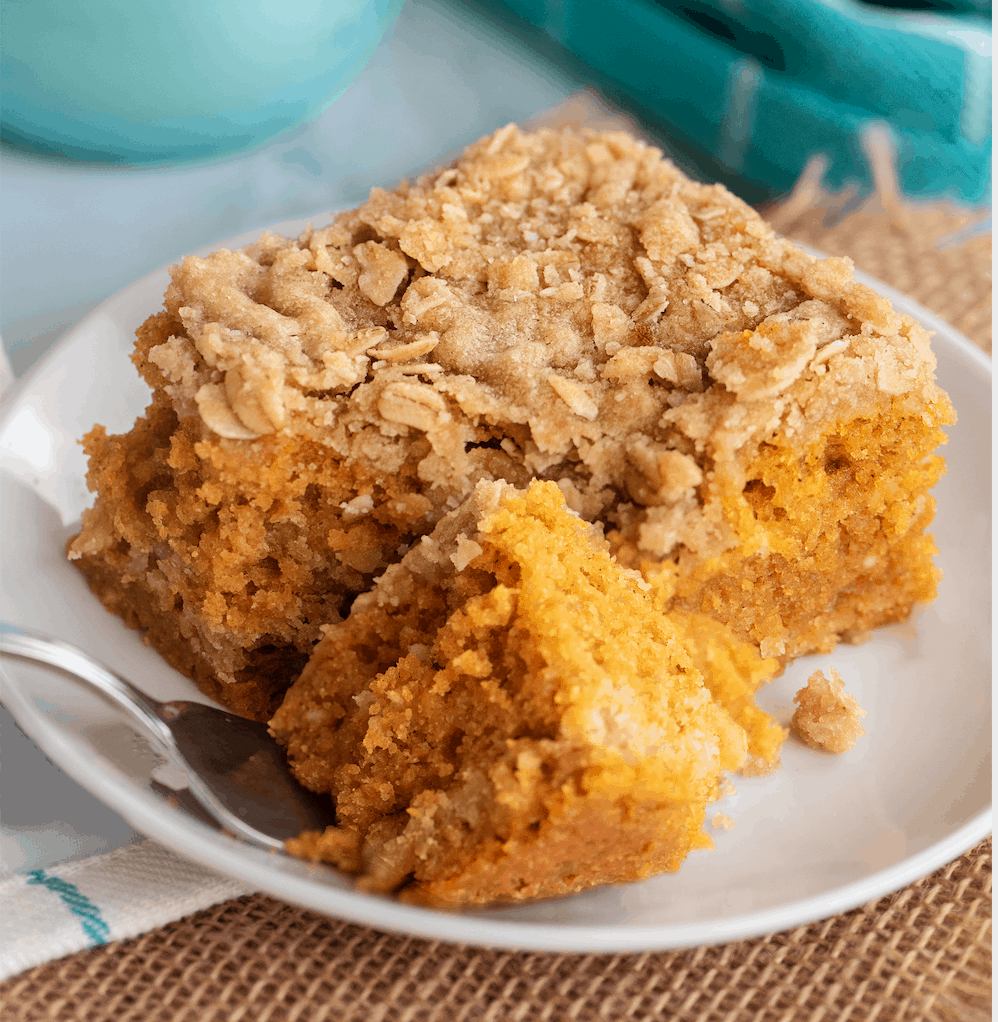 This pumpkin crumb cake recipe is inspired by another recipe I have on Southern Plate: pumpkin muffins with streusel topping. We love banana crumb cake (which I came up with as a mixture of Mama's banana bread with Grandmama's streusel topping) and a can of pumpkin seemed like a great substitute for the bananas.
The result is an aromatic, delicious, and filling pumpkin cake, with just the right amount of sweetness. It's so soft, moist, and the perfect treat with your morning cup of coffee or a suppertime dessert. Each crumb cake slice is also filled with the most delicious streusel topping, consisting of oats, brown sugar, and cinnamon.
The combination of pumpkin and cinnamon instantly makes this cake the perfect fall-inspired dessert. Don't miss the Recipe Notes section below either if you'd like to add a little extra sweet addition to your pumpkin crumb cake, in the form of a vanilla glaze. Yum!
Recipe Ingredients
Sugar
Milk
Vanilla
Eggs
Canned pumpkin puree
Butter
Brown sugar
Oats
Cinnamon

Place all of the cake batter ingredients into a large bowl.
Mix until well blended.
In a separate bowl, place all of the streusel ingredients.
Mix streusel ingredients together with a fork.
Pour half of your cake mix into a greased 9×13-inch cake pan.
Spread throughout the prepared pan evenly (ish).
Sprinkle with half of your streusel topping.
Pour the remaining cake mix over the top and spread evenly.
Sprinkle with the rest of the crumb topping.
Bake at 350 for about 45 minutes.
Remove the pumpkin crumb cake from the oven.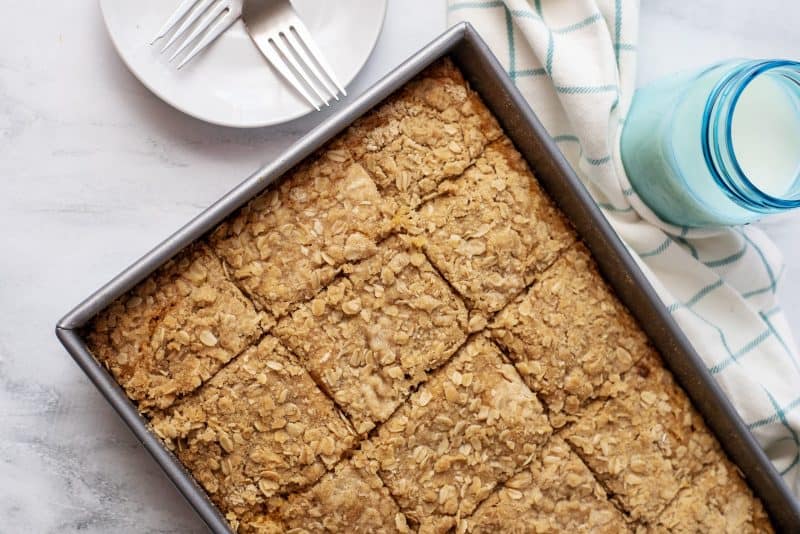 Cut in squares then watch out for the stampede of family and friends to grab them a piece of this freshly baked pumpkin crumb cake.
And when you have a chance find a quiet little place to sit, enjoy yourself a little slice of heaven in the form of pumpkin coffee cake.
Storage
Store your cake leftovers in an airtight container at room temperature or in the fridge for up to 3 days.
You can also freeze cake slices for up to 2 months.
Recipe Notes
Folks have been asking me how to keep the streusel topping crunchy the next day. So for this recipe, I added oats to the mix, giving us a more crumbly texture.
If you want to go that extra sweet step, top your pumpkin crumb cake with a dollop of whipped cream,

a scoop of

,

or delicious vanilla icing. You'll need: 1 cup of confectioners' sugar, 2 tablespoons of milk, and a 1/4 teaspoon of pure vanilla extract. Whisk together and pour over the top of the warm or cooled cake. Enjoy!
Make sure you're simply using canned pumpkin puree and not pumpkin pie filling, as it has added sugars and spices, which will affect the crumb cake's overall flavor.
If you're a big fan of cinnamon, add an extra teaspoon to the crumbly topping.
Speaking of spices, you can also add 1/2 teaspoon of ginger, 1/4 teaspoon of nutmeg, and a pinch of cloves (or simply one teaspoon of pumpkin pie spice) to the cake batter.
For a nutty and buttery crumb topping, add 1/3 cup of chopped pecans or walnuts to the streusel batter.
You could also add 1/2 cup of mini chocolate chips or 3/4 cup of chopped cranberries to the pumpkin coffee cake batter.
Want to learn how to make your own self-rising flour? See my FAQ page to learn how to make your own.

To make this a gluten-free

, all you need to do is use a gluten-free self-rising

alternative. Follow the steps above to make self-rising

with

.
Enjoy more of my favorite pumpkin desserts:
Pumpkin Praline Cake With Cream Cheese Frosting
Easy Pumpkin Pie Recipe From Scratch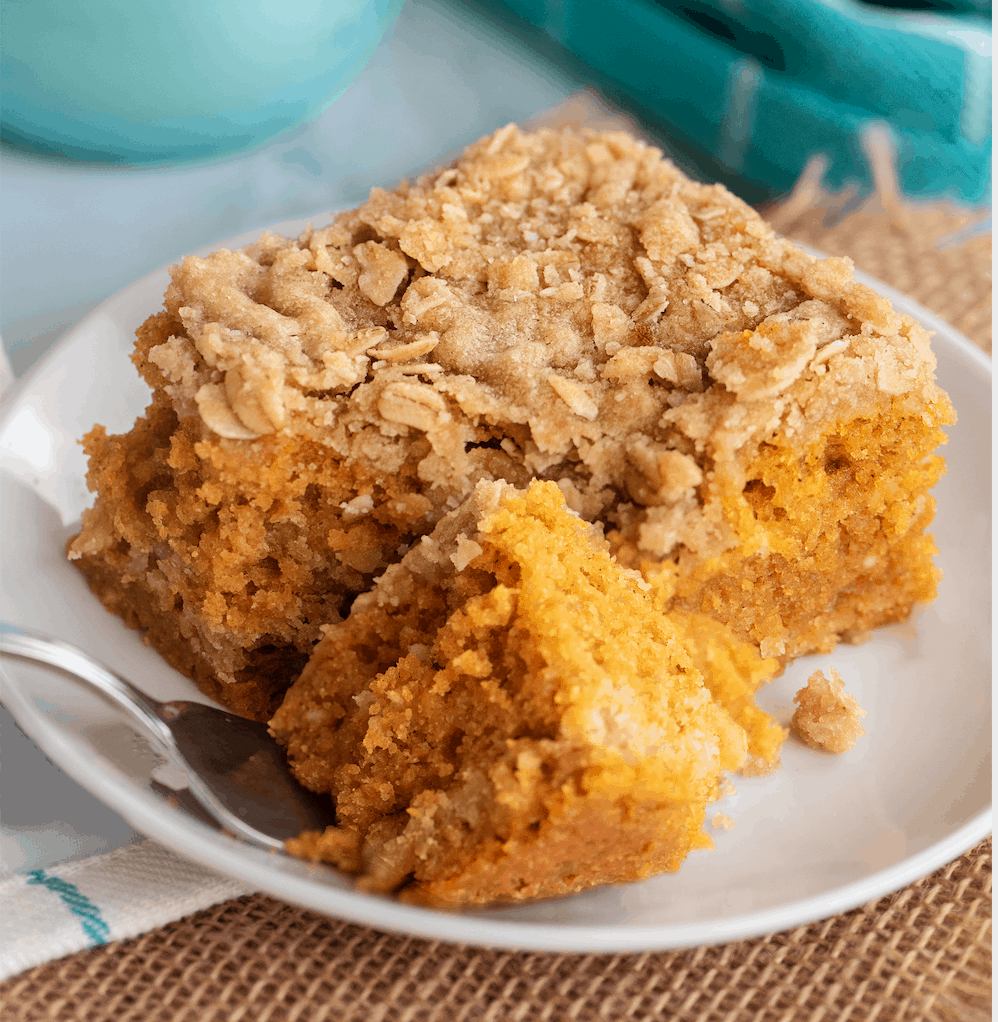 Ingredients
For the Batter
1

can

pumpkin puree

2

cups

sugar

1

cup

milk

2

cups

self-rising flour

1

stick

butter

2

eggs

1

tsp

vanilla

1 1/2

tsp

cinnamon
For the Crumb Topping
1

stick

butter

or 1/2 cup of butter

1

cup

brown sugar

dark or light

1

cup

flour

self-rising or plain, whatever you have on hand

1

cup

oats

quick or old-fashioned
Instructions
Spray a 9×13-inch pan with cooking spray. Place all the cake batter ingredients into a large bowl. Mix until well blended.

1 can pumpkin puree,

2 cups sugar,

1 cup milk,

2 cups self-rising flour,

1 stick butter,

2 eggs,

1 tsp vanilla,

1 1/2 tsp cinnamon

In a medium bowl, place all the topping ingredients. Cut together with a long-tined fork until well blended.

1 stick butter,

1 cup brown sugar,

1 cup flour,

1 cup oats

Pour 1/2 of the batter into the prepared pan, then top with 1/2 of the crumb mixture. Then top with the remaining batter and remaining crumb mixture.

Bake for 45 minutes to an hour at 350. The cake is done when a toothpick inserted in the center comes out clean.
Life is short!

Lick the dang bowl 🙂

Southern Plate

To submit your quote, click here.