If you ever want to get a hankering to make pies, see that movie Waitress. I watched the entire thing thinking of nothing but baking. Keri Russell did a pretty good Southern accent too (thank you Kerri, and bless your heart). This is a point of contention among Southerners because all too often actors and actresses will play a southern character and have the most exaggerated accent, with a drawl so deep in their throats you wonder how they can even swallow.
So you have folks from all over stumbling over a pseudo Southern accent on the big screen but when it comes time to hear the real thing, the same folks act like it's a foreign tongue. Case in point would be Diane Sawyer's special on Appalachia called "Children Of The Mountains", which aired a few months back. Myself and several of my Southern twitter friends watched with eyes bugging out in shock as they proceeded to use subtitles every time a Southerner talked. My goodness, I've seen some accents from other places that were every bit as thick if not thicker than a Southerner and they've never subtitled them. All I can say is I sure am glad Diane's team wasn't around when they were putting together Gone With the Wind. Bless their hearts.
But I digress…
(and if me digressing comes as a surprise, you must be new around here. ~smiles~ Pull up a chair and get comfy, we're awful glad to have you!)

This is a pie I've always wanted to make but never have. This past weekend though, We took a day off to gallivant around and have some fun. We ended up in Belvedere, Tennessee, one of my favorite places to buy grits (Note to Mrs. Hernandez, I brought you back some!). Afterward we went to my other favorite place in Belvedere, The Swiss Pantry. This is a Mennonite owned bakery and small grocers that carries baked goods, breads, and more delights than you can shake a stick at. The people who run it are awfully nice, too.
We left there with whoopee pies, several dried ingredients you just can't get elsewhere, some fresh cheese, and two cups of their own sourdough starter. Oh my goodness, that starter smells so good!
I also left there with the resolution that I was gonna finally get around to making a Shoofly pie, using my son's school bake sale as the grand excuse.
Now, if you're not a molasses person, this pie won't be for you. Me, I'm a molasses person. I find that the older I get the more I crave and adore the rich strong flavor of deep, dark molasses. Adding to the fact that I'm a brown sugar lover and those are the two primary ingredients in a Shoofly pie, I can't imagine not loving it.
Hopefully, someone at the school bake sale will love it, too!
You'll need: All Purpose Flour, Baking Soda, Molasses, Margarine (or butter), Brown Sugar (I'm using dark), eggs, and hot tap water.
Two important things to remember when you get in the kitchen with your kids are:

Floors are sweepable and kids are washable!
Wash their hands really well before beginning because cooking tends to get hands on pretty quick with kids (as you'll see later on in this post). Make sure you oversee the washing of hands with younger kids.

With that in mind, watch throughout this post as my little tablecloth gets progressively messier and messier! 🙂
You're also going to need two pie crusts, already baked.
I am using store bought ones because I need the dishes to be disposable. Make your own or buy them, whichever works best for you. We're making pies and having fun so don't get hung up on the idea that anything other than made-from-scratch is somehow below standard. Get in there and don't let anyone rain on your parade!
Someone emailed me a few months back and asked my opinion on baking a cake from a mix. They wanted to know if I considered this homemade or not, because their gift of a cake made from a mix was met with one of "those" looks "Oh, you didn't make this from scratch?".
My thoughts are…when you bought that mix home from the grocery store, was it a cake? No, it was a box of powdered ingredients, not too different from a sack of flour or sugar. You took the time and care to add other ingredients and bake it into a cake. You made that box's ingredients into a cake in your home. How is that not homemade? Of course it is! If anyone ever tells you different or complains, just mark 'em off your goodwill baking list and there will be more for the folks who appreciate your kindness – because YOU ARE AWESOME!
My mama always says "Of course its made from scratch, I scratched the whole time I was making it!"
Lets make us a pie, shall we?
Place your brown sugar in a bowl…
Add in flour
Have happy child stir it up.
Note the mischievous twinkle in happy child's eyes. Those wheels are turning…
Crack eggs into mixing bowl.
Like so…
Let responsible child work mixer to beat those up a bit.
Allow responsible child to pour in molasses.
Wave at reflection of responsible child's father in microwave while he takes photos.
Mix that up well.
Add baking soda to hot water and stir to dissolve.
Add into mixture.
Mix that up a bit.
Look back to happy child and ask her to kindly remove her hands from the flour mixture.
See how cute and innocent she looks when you ask her to stop playing in the flour?
This is classic Katy. Do something you aren't supposed to do and then DAZZLE 'em with cuteness so they end up smiling.
Little stinker. 🙂
Aren't ya glad I'm such a stickler over kids washing hands?
Take flour mixture from happy, stinker child and add in margarine.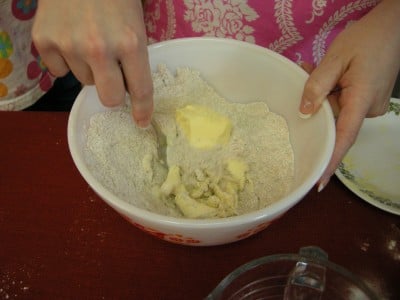 Cut in with fork.
Until well mixed up, like so.
Take about half of that and add it to the wet mixture.
Bradybug…not such a good job hiding down there, hon. 🙂 But it's okay. I don't know why we all kept trying to get out of camera shot at certain times…probably because we are all a bit on the silly side – but it works for us 🙂
Like so…
Tell responsible child to let 'er rip and mix it up really well.
Pour (or ladle in my case) mixture into each pie shell .
Like this. 🙂
Sprinkle remaining dry mixture over tops.
There, all ready to bake now! Bake according to recipe at bottom.
Allow to cool.
Tell kids to smile and get this instead…
Try again….
Good enough. 🙂
This was my first taste of Shoofly pie and I have to say I was delighted. I expected it to be a lot stronger flavor and even considered substituting honey for the molasses at one point just in case but it came out much milder  than you'd expect and with a bit of a spongy, cakey texture. Would be DIVINE served warm with a scoop of vanilla ice cream drizzled with molasses!
~looks guilty~
Oh, and only one is making it to the bake sale. ~grins~
I made Lemon chess pies, too though.
Shoofly Pie

Ingredients

1½ C All Purpose Flour
1 C Dark Brown Sugar
6 T margarine (or butter), cut into slices
2 eggs
1½ C Molasses
1⅛ C Hot tap water
1½ tsp Baking Soda
2 pie shells, baked

Instructions

Preheat oven to 450. Stir flour and sugar together. Cut butter in with a fork until well incorporated. In large mixing bowl, beat eggs. Add molasses and blend well. Stir baking soda into hot water until dissolved; add to molasses mixture and beat with an electric mixer until well blended. Stir in half of dry mixture, mix well. Pour into two prepared crusts. Top with remaining crumb mixture. Reduce oven temperature to 350 and bake for 30 minutes or until set (no longer jiggly in the center).
~~~~~~~~~~~~~~~~
We had such a wonderful weekend, I thought I'd share a few photos with you. I've posted some others and will be posting more on the Southern Plate Facebook Fan Page so please hop over there and join if you'd like!
As always, know that I am so very grateful that you took the time to read Southern Plate today! Thank you for all that you give to me.
Gratefully,
Christy 🙂
Ricky, Katy and her doll "Clumsy", and Brady at Fall's Mill in Tennessee.
Me and my younguns 🙂
You can count the seeds in an apple, but you can't count the apples in a seed.
To submit your quote or read others, please click here.
Yum