Shoofly pie is something I always wanted to make but never did until now.
Gotta be a molasses person to love Shoofly pie
Now, if you're not a molasses person, this pie won't be for you. Shoofly Pie or Molasses Cake as some have called it dates back all the way to 1876 in Amish country.
Me, I'm a molasses person. I find that the older I get the more I crave and adore the rich strong flavor of deep, dark molasses. Adding to the fact that I'm a brown sugar lover and those are the two primary ingredients in a Shoofly pie, I can't imagine not loving it.
Where did Shoofly Pie get it's name?
Well according to the Chicago Tribune article
the unusual name was penned because 'the pools of sweet, sticky molasses sometimes formed on the surface of the pie while it was cooling (and) inevitably attracting flies.' Not so nice, but makes sense! Let's try not to think of those flies as we move on to
How To Make A Shoofly Pie Recipe
Ingredients You'll need are:
All Purpose Flour
Baking Soda
Molasses
Butter
Brown Sugar (I'm using dark)
Eggs
Hot tap water
Two Pie Crusts
Store bought or from scratch pie crusts are fine for this Shoofly Pie recipe
I am using store bought pie crusts because I need the dishes to be disposable. Make your own or buy them, whichever works best for you. We're making pies and having fun so don't get hung up on the idea that anything other than made-from-scratch is somehow below standard. Get in there and don't let anyone rain on your parade!
Lets make us a pie, shall we?
Place your brown sugar in a bowl…
Have happy children stir it up.
Crack eggs into mixing bowl.
Use mixer to beat those up a bit.
Add baking soda to hot water and stir to dissolve.
Take flour mixture and add in butter.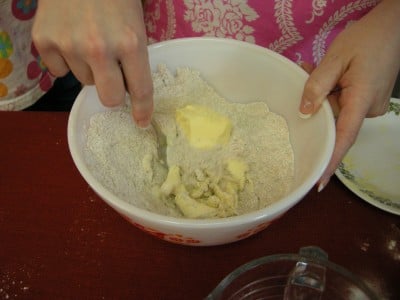 Until well mixed up, like so.
Take about half of that and add it to the wet mixture.
Let 'er rip and mix it up really well.
Pour (or ladle in my case) mixture into each pie shell .
Sprinkle remaining dry mixture over tops.
There, all ready to bake now! Bake according to recipe at bottom (preheat at 450 then reduce to 350 and cook for 30 mins)
Allow to cool.
This was my first taste of Shoofly pie and I have to say I was delighted. I expected it to be a lot stronger flavor and even considered substituting honey for the molasses at one point just in case but it came out much milder than you'd expect and with a bit of a spongy, cakey texture. Would be DIVINE served warm with a scoop of vanilla ice cream drizzled with molasses!
[amd-zlrecipe-recipe:113]
~~~~~~~~~~~~~~~~
You may also like these pies:
Caramel Banana Pie AKA Easy Banoffee Pie
Sweet Potato Pie Southern Plate Style
You can count the seeds in an apple, but you can't count the apples in a seed.