One of our favorite recipes to throw in the crock pot, this Coke Chicken is delicious for an easy, weeknight meal.
Coke chicken is easy and delicious! There is something about these flavors slow cooking with the meat that brings out a really unique and yummy flavor. Better yet, breaking out the slow cooker is perfect for busy weeknight meals as your prep work is mostly done in the morning! I like to serve this with stewed potatoes in butter sauce and a simple dinner roll. The chicken steals the show.
This recipe is super versatile and works with pork chops, boneless breasts, ribs, and even roast. I ask that you first try it with a fryer if at all possible, though. There is a magic that takes place when you cook a fryer like this that just doesn't happen with other cuts of meat, even boneless skinless breasts. The fryer, after slow cooking all day in this amazing blend of flavors, becomes completely permeated with the flavor and literally falls off of the bone. Every shred of chicken, even the inside meat, is tinted the color of your sauce, proving that it has completely saturated the bird.
Why You'll Love Coke Chicken
Easy: The use of a slow cooker makes this a set-it-and-forget-it meal. Prep it in the morning and forget about it until you serve in the evening!
Versatile: You can use your favorite meat in this meal! Try pork, roast, boneless chicken breasts, whatever your family's favorite is! You can also make this with a different carbonated beverage, as long as it is carbonated and has sugar in it.
Crowd-pleaser: Everyone loves this meal. Even the pickiest eaters love it every time!
Ingredients You Need to Make Coke Chicken:
A whole fryer chicken
Coca Cola
BBQ Sauce
an onion
a lemon
How to Make Coke Chicken: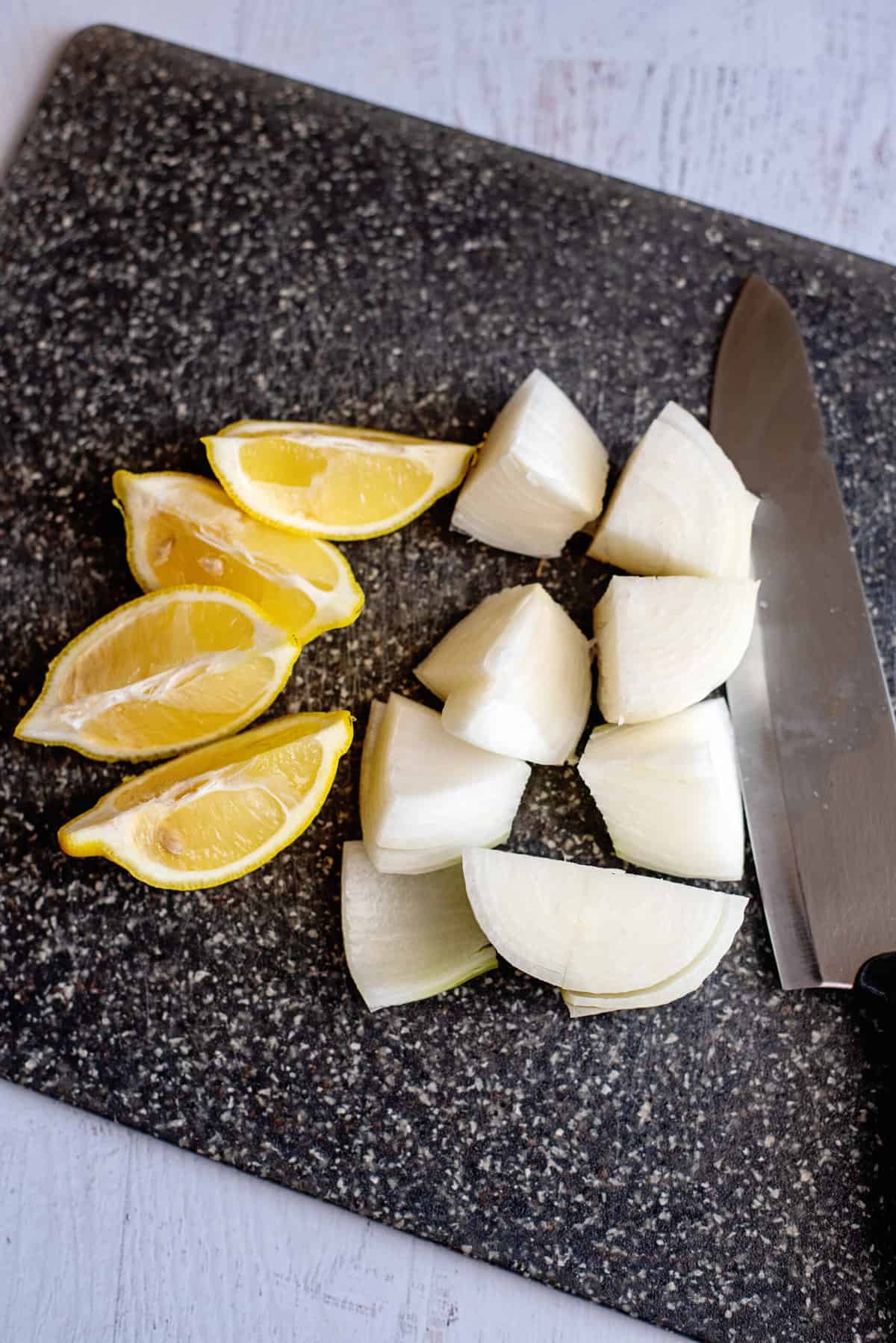 Peel your onion and cut onion and lemon into quarters. That's all, just make yourself four wedges and you're done!
Put your chicken in the crock pot.
**Need a new crock pot? Ours was starting to get old so we got
this Crock Pot
that we love and are excited to share with you!
Toss that lemon and onion onto the chicken.
Pour whole bottle of BBQ Sauce over it.
Pour whole can of Coke over it.
Put the lid on and cook on low all day long or high for 3 to 4 hours. This is great to put on in the morning before you go to work. Your house will smell phenomenal when you come home.
Here is what your coke chicken will look like when it's done. All cooked up and ready for your plates!
How to Serve Coke Chicken:
I like to serve this one of two ways. You can pull bits of chicken off and serve it with a more breast-like portion of chicken, like so:
OR you can shred the chicken and serve on a roll, like this:
I also like to serve this with a side stewed potatoes in butter sauce and a simple dinner roll. Also consider a side salad for a lighter feel. The chicken steals the show either way!
Ingredients
1

Chicken

1

Lemon

1

Onion

1

Bottle BBQ Sauce

1

Can Coca Cola
Instructions
Peel onion and cut into quarters. Cut lemon into Quarters. Place chicken in crock pot. Toss in onion quarters and lemon quarters. Pour in entire bottle of BBQ Sauce and entire can of Coke. Cover and cook on low all day or high 3 to four hours.
Nutrition