Strawberry Salad With Zesty Honey Mustard Dressing
This strawberry salad recipe features an eclectic mix of ingredients, like strawberries, mandarin oranges, pistachios, dried cranberries, and crumbled feta. I pair it with a honey mustard dressing, which is bursting with zesty citrus flavor to perfectly complement this scrumptious salad.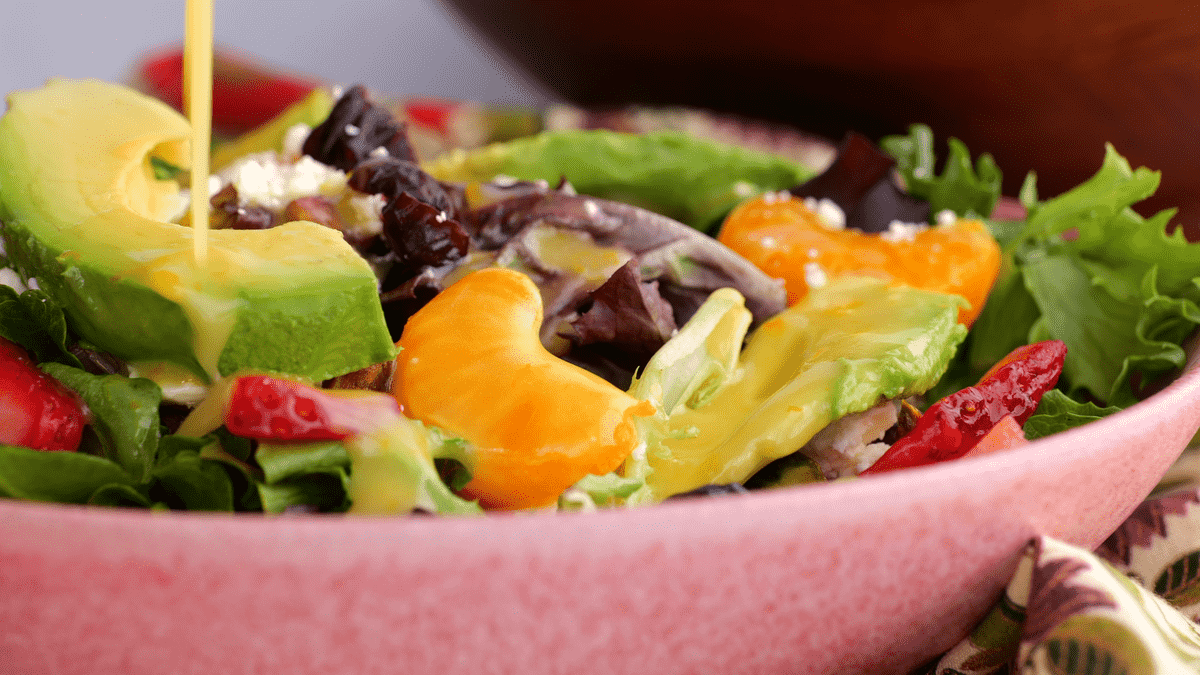 This strawberry spinach salad recipe makes me smile. It's filled with flavor, texture, and refreshing ingredients. You've got fresh strawberries, fresh mandarin orange, fresh avocado, and fresh greens, which we pair with dried cranberries, pistachios, and crumbled feta. Yeah, when I said the ingredients were eclectic, I wasn't kidding. But trust me, they work so well together. One bite and you'll know exactly what I mean!
Next up we have the strawberry salad dressing. While honey and Dijon mustard are the stars of the show, there's also a lot of citrus flavor from lemon zest, lemon juice, mandarin orange juice, and mandarin orange zest. Add some olive oil and salt to balance out the zestiness and you have yourself such a refreshing dressing.
This is such a quick and easy strawberry salad to make. It's perfect to prep ahead and have all week for lunch! Then, all you have to do is toss the salad ingredients together, drizzle with your homemade dressing (which takes about 15 seconds and you can batch make that ahead of time too!) Your salad will be ready in about 10 minutes. I've included serving suggestions below, as well as substitutions and variations to make this recipe work for you and with what you have on hand.
Perfect for a summer barbecue, potluck, or picnic, I hope you enjoy this strawberry spinach salad recipe.

Recipe Ingredients
Salad
Mixed spring green lettuce or fresh spinach
Fresh strawberries
Mandarin oranges
Dried cranberries
Pistachios (or nuts of your choice)
Crumbled feta cheese (or whichever cheese you like)
Sliced avocado (optional)
Dressing
Olive Oil
Mandarin orange zest
Juice from oranges
Lemon zest
Fresh lemon juice
Honey
Dijon mustard
Salt
How to Make Strawberry Salad With Honey Mustard Dressing
In a large bowl, combine the lettuce…
Sliced strawberries…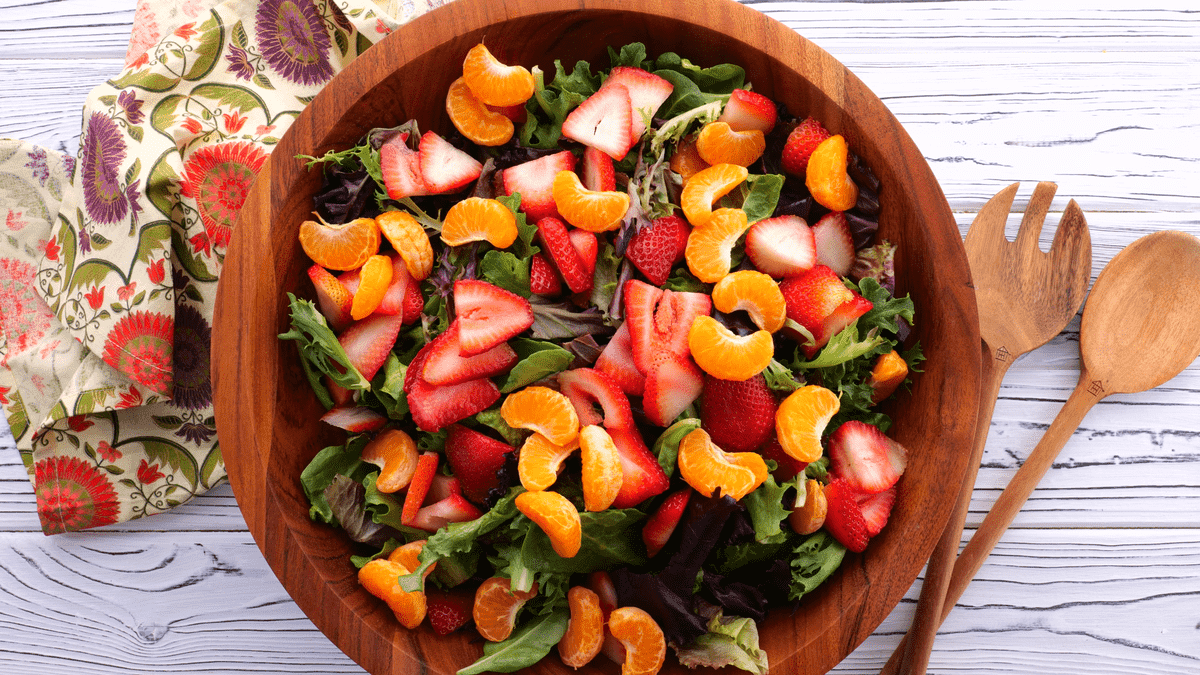 Orange sections…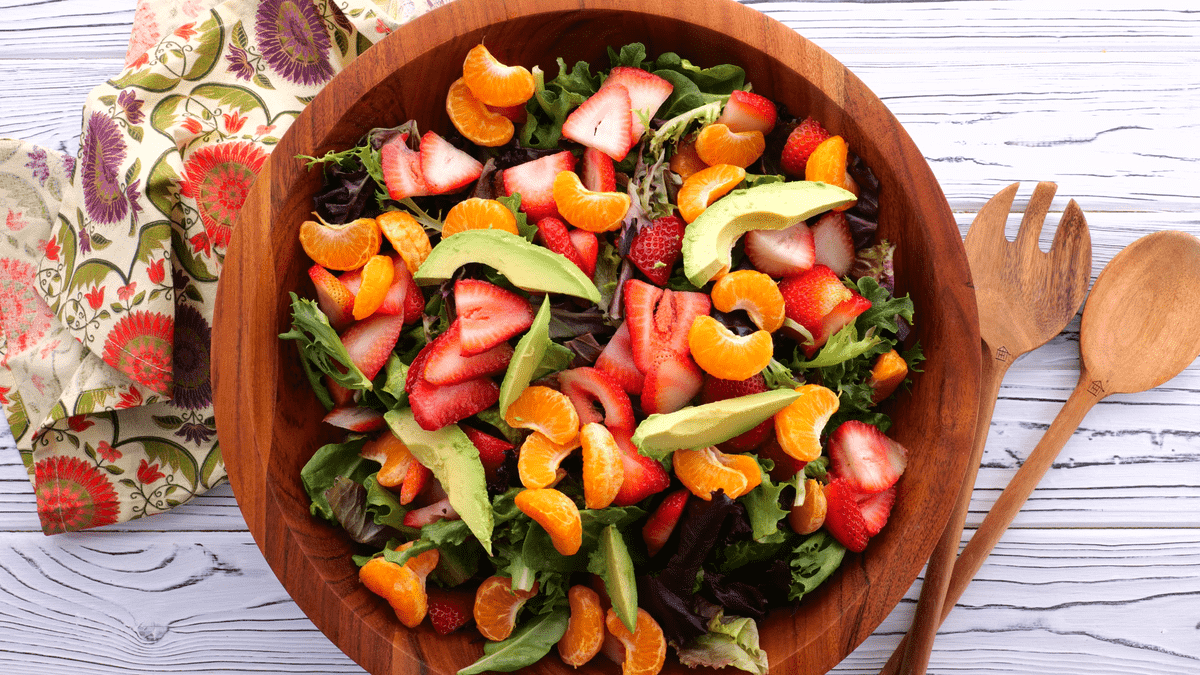 Avocado slices (if using)…
Dried cranberries…
Pistachios…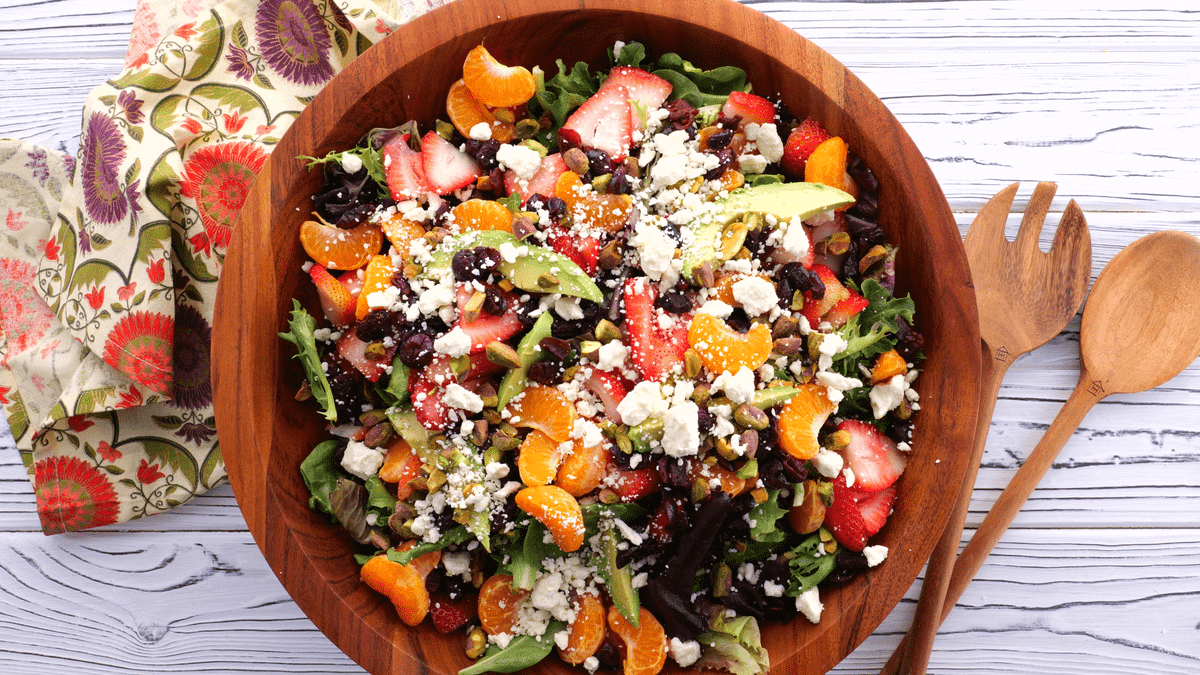 And the crumbled feta.
Toss these ingredients together.
If you like, save some to top it off at the end if you are serving it to guests.
Now, we make the salad dressing. In a food processor or blender, we're going to add the orange juice…
Mandarin orange zest…
Lemon zest…
Lemon juice…
Honey…
Dijon mustard…
And salt.
Blend.
Then add in the oil while pulsing in the processor or blender until well combined.
This should only take 10-15 seconds or so.
Add the dressing to the tossed salad ingredients, but you may not need it all.
And toss again.
Before serving, add more dressing and scatter strawberry slices, orange slices, and avocado on top and sprinkle a bit more feta and nuts if desired to make a beautiful salad to serve.
There you have it! A gorgeous salad just for you! This would be such a fun salad to make to have a ladies lunch or even to prep to drop off to an elderly neighbor. So many possibilities!
Storage
Store leftover salad covered in plastic wrap or in an airtight container in the fridge for up to 3 days. But just know it will get soggy because of the dressing, so if you can, store them separately and then combine them just before serving.
Recipe Notes
Here are some substitutions and variations to make this easy summer strawberry salad recipe work for you:
Substitute the chopped pistachios for another nut, like candied pecans, walnuts, or sliced almonds.
Use goat cheese or blue cheese instead of feta cheese.
Substitute the Dijon mustard for wholegrain mustard.
Substitute the honey for maple syrup.
Add a teaspoon of poppy seeds to the dressing to make a poppy seed dressing (a popular addition to a strawberry salad).
As mentioned, I use olive oil in the salad dressing.
Want to add more fruit? Opt for about a cup of chopped Granny Smith apples, blueberries, or kiwi.
On the other hand, want to add more vegetables? Add 1 cup of alfalfa sprouts, a thinly sliced red onion, or a cup of chopped cucumber.
Substitute the lemon juice for apple cider vinegar to make a honey mustard vinaigrette.
Recipe FAQs
How do you serve a strawberry salad?
This strawberry salad pairs well with meat like grilled chicken, shrimp, or salmon. Add some crusty bread or quinoa, pasta, or farro and you have a complete main dish.
Check out these other refreshing summer salads:
Fresh Summer Salads with Simply Dressed Dressing
Recipe for Caprese Salad with Chicken and Avocado
Low-Carb Broccoli Cauliflower Salad
Ingredients
Strawberry Salad
10

ounces

mixed spring green lettuce or fresh spinach

1

pound

strawberries, thinly sliced

4

peeled mandarin oranges (separate the segments)

3/4

cup

dried cranberries

3/4

cup

pistachios (or nuts of your choice), shelled and coarsely chopped

3/4

cup

crumbled feta or whichever cheese you like

sliced avocado, optional
Dressing
1/2

cup

vegetable oil

1

tsp

mandarin orange zest

2-4

tbsp

juice from oranges

1/2

tsp

lemon zest

1-2

tbsp

fresh lemon juice

2

tbsp

honey

2

tsp

Dijon mustard

1/2

tsp

salt
Instructions
Combine the lettuce, strawberries, orange sections, avocado, and dried cranberries in a large bowl. Toss these ingredients together.

10 ounces mixed spring green lettuce or fresh spinach,

1 pound strawberries, thinly sliced,

4 peeled mandarin oranges (separate the segments),

3/4 cup dried cranberries,

sliced avocado, optional

Salad Dressing: Add all of the ingredients listed except for the oil in a food processor or blender and blend. Then add in the oil while pulsing the processor or blender until well combined (should only need to do this for 10-15 seconds or so).

1/2 cup vegetable oil,

1 tsp mandarin orange zest,

2-4 tbsp juice from oranges,

1/2 tsp lemon zest,

1-2 tbsp fresh lemon juice,

2 tbsp honey,

2 tsp Dijon mustard,

1/2 tsp salt

Add the dressing to the tossed salad ingredients (you may not need it all) and toss again.

Before serving scatter strawberry slices, orange slices, and avocado on top and sprinkle a bit more feta and nuts if desired to make a beautiful salad to serve.

3/4 cup pistachios (or nuts of your choice), shelled and coarsely chopped,

3/4 cup crumbled feta or whichever cheese you like
Video