Also called Frito Pie, these Texas Straw Hats are an easy meal that are satisfying and quick for weeknight prep! Top with your favorite toppings and enjoy!
Today I'm bringing you another easy ground beef recipe. Don't you just love recipes that use the words "easy" and "ground beef"? For me, that spells food for the masses! This one is also easy to tailor to what you have on hand so don't go out buying special ingredients if you don't already have them. Feel free to add drained diced tomatoes or tomato sauce in lieu of the tomato paste, leave out the thyme if you like, and just add a little extra chili powder. Cook it until it is nice and thick for layering and you've essentially just made yourself a Frito Chili Pie.
Ingredients You'll Need to Make Texas Straw Hats:
ground beef
chili powder
tomato paste
onion
pepper
thyme
salt
fritos
cheese
Quick tip! Sometimes I make the meat up and then just pop whatever is left in the fridge so throughout the week if anyone is hungry they can just heat up some meat and toss it on some corn chips! It's kinda like my pizza rolls, gives you some time off from cooking later 🙂
Helpful Kitchen Tools
How to Make Texas Straw Hats:
Brown your beef and onion together.
Use this amazing Ground Beef Chopper while you brown your meat. This is one of my very favorite cooking implements. It makes browning ground beef SO much easier, AND is under $5!
Another quick ground beef tip: Usually I have my beef all browned and in the freezer and just take out a bag to use in order to cut out this extra step
Drain your grease off good and add tomato paste…
then add Salt, Pepper, Thyme and Chili powder.
and Worcestershire sauce.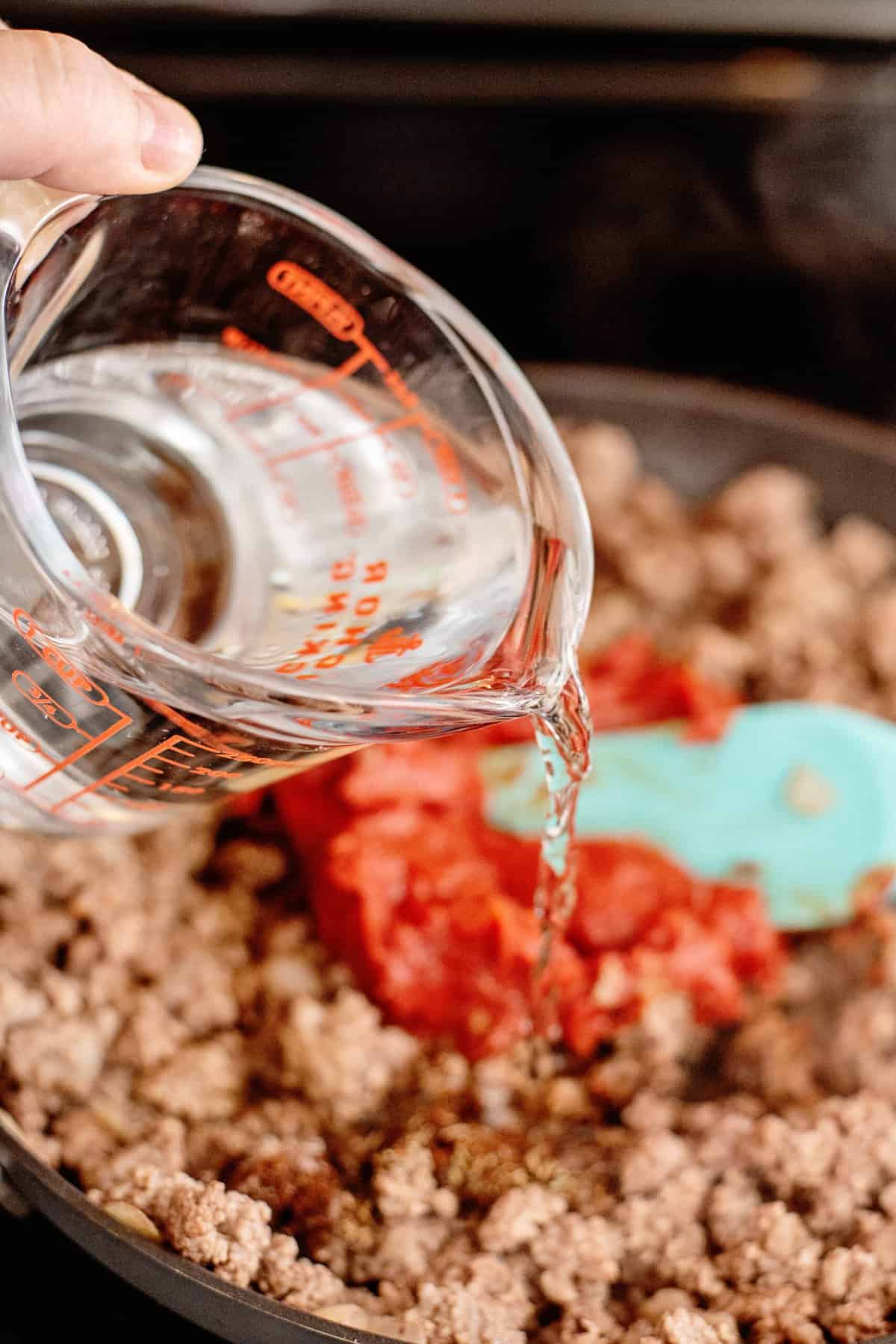 and pour in your water.
Stir all of that up good and bring it to a boil. Reduce heat and simmer for twenty minutes, stirring occasionally.
How to Serve Texas Straw Hats:
Serve hot atop corn chips! Top with your favorite toppings. Some of our suggestions are:
cheese
sour cream
tomato
avocado
lettuce (make it a taco salad and add a yummy dressing!)
your favorite salsa
guacamole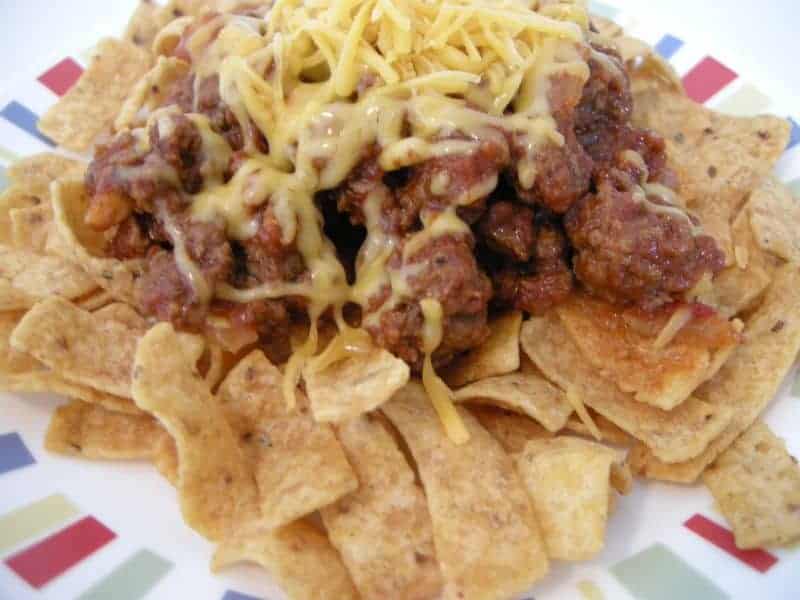 Ingredients
1

lb

ground beef

6

ounce

can tomato paste

2

tsp

chili powder

1/2

tsp

salt

1/8 tsp pepper, 1/4 tsp thyme

1

c

chopped onion

1

c

water

1

tsp

Worcestershire

2

c

shredded cheddar cheese

corn chips
Instructions
Brown beef and onion in a skillet. Drain off grease. Add all other ingredients except corn chips and cheese. Stir and bring to a boil. Reduce heat and simmer for twenty minutes, stirring occasionally. Serve atop corn chips, topped with cheese.