This easy skillet chili bake recipe is a hearty and tasty one-pot meal perfect for those busy weeknights. The ground beef, tomatoes, beans, and rice are covered in melted cheese and baked to perfection.
Chili is one of those comfort food dishes we all know and love. Southern Plate is no stranger to chili recipes either. I have recipes for white bean chicken chili, buffalo chicken chili, crockpot chili, and hot dog chili. But today I'm focusing on my easy skillet chili bake recipe, which is perfect for those days when you don't want to get out the slow cooker.
This is a filling, satisfying, and meaty main meal. Plus it has the bonus of involving very little effort to make because it's a one-pan meal. Or in this instance, a one-skillet meal. When I say it's easy, y'all know I mean it. First, we brown the ground beef in the skillet. Then we add the remaining ingredients: kidney beans, Ro-Tel tomatoes (or diced tomatoes), uncooked rice, water, and chili powder.
We have to be patient and let that simmer for 20 minutes so the rice can absorb the liquid and cook. Plus, it lets all the flavors mingle together. Then we cover our chili bake with lots and lots of shredded cheddar cheese and then wait for it to melt and get all ooey-gooey. Another option is to pop it in the oven or under the broiler to put the "bake" in chili bake.
But after about 30 minutes your easy skillet chili casserole is ready to serve. In my household, we ditch the utensils and eat it with tortilla chips or corn chips for less clean-up. Yes, please! We often have this dish for supper but it's great to serve at a game day party or a potluck as well. Now let me show you how easy it is to make.
Recipe Ingredients
Ground beef
Kidney beans
Ro-Tel tomatoes
Rice
Chili powder
Shredded cheddar cheese
Helpful Kitchen Tools
How to Make My Easy Skillet Chili Bake
Place ground beef in a large skillet and brown it over medium-high heat, chopping it up as you do so.
Drain any grease once it's done.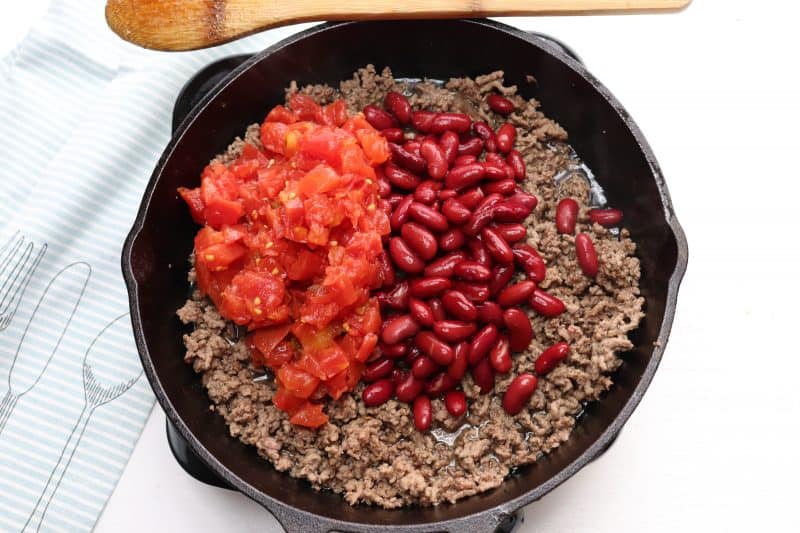 Pour in the can of kidney beans, juice and all.
Add the can of Ro-Tel, juice and all.
Add in rice and chili powder.
You can also add 1 cup of water. Sometimes I don't have to add the water, it depends on the amount of juice in my tomatoes and kidney beans. When in doubt, you can always add the water and your rice will absorb what it needs and the rest will cook out.
Stir that all up.
Cover with a lid and simmer for 20 minutes or until the rice is done, stirring once if you think about it.
Most of the time I just grab a baking sheet to use for a lid.
Remove the lid and sprinkle liberally with shredded cheese.
Allow the cheese to melt.
Serve with tortilla or corn chips.
And now I have to go make this chili bake!
Yum.
Storage
Store leftover chili in an airtight container in the fridge for up to 4 days. Simply reheat them in the microwave.
You can also freeze chili leftovers for up to 3 months. Thaw overnight in the fridge before reheating them in the microwave.
Recipe Variations
Here are some recipe variations to make this chili bake recipe work for you:
Ro-Tel is a mixture of diced tomatoes and green chiles. So in its place, you can use a 14-ounce can of diced tomatoes (or crushed tomatoes) and a small 4-ounce can of chopped green chiles.
Use any kind of shredded cheese, like mozzarella for maximum melted goodness or Monterey Jack cheese.
Saute 3 minced garlic cloves and 1 chopped onion before browning the ground beef.
Add more seasoning alongside the chili powder. Popular options include 1 teaspoon of ground cumin, 1 teaspoon of dried oregano, 1 teaspoon of garlic powder, 1 teaspoon of hot sauce, and a pinch of cayenne pepper.
Add a Jiffy corn muffin mix on top and bake at 400 degrees for 20 minutes until golden brown. It'll be a chili cornbread casserole similar to my Mexican cornbread casserole.
Want to add more veggies? Add 3 chopped celery stalks, 1 cup of frozen or canned corn kernels, 1 cup of sliced mushrooms, or 1 cup of chopped bell pepper with the remaining ingredients. They'll soften as it simmers.
Bake the casserole in a 350-degree oven for 20 minutes or under the broiler until the cheese melts.
Use ground turkey or ground chicken instead of ground beef.
Use black beans, pinto beans, or cannellini beans instead of red kidney beans.
Substitute the water for beef broth, chicken broth, or vegetable broth instead.
Recipe FAQs
What can I add to chili to make it special?
Here are some chili special ingredients:
1 teaspoon of espresso powder or cocoa powder (yes, really) to enhance the chili's flavor.
A teaspoon of ground cinnamon to balance out the savory notes.
A teaspoon of natural peanut butter.
1/4 cup of red wine to give your chili more depth, body, and richness.
A dash of liquid smoke or smoked paprika if you're after a smoked chili recipe.
Yes, the longer you simmer chili, the more flavorful it will be. It gives the seasonings time to develop and mingle with the other ingredients.
You can cook your chili uncovered or covered. In the instance of this chili bake though, you want to cook it covered so the liquid doesn't evaporate. We need that liquid to cook the rice, after all.
This recipe shows just how good and easy it is to cook chili in a cast iron skillet. It's honestly ideal for low and slow cooking and baking.
How do you serve chili bake?
I love to serve my chili bake with tortilla chips or corn chips. But instead of making a chili cornbread casserole, you could also just serve it with cornbread or homemade biscuits instead. Or some tortillas. You may also enjoy it with your favorite chili/taco toppings:
Chopped jalapenos
Sour cream
Salsa
Chopped fresh cilantro
Chopped green onion
Sliced black olives
Finely chopped red onion
Lime wedges
Diced avocado (or guacamole)
How do you make a vegetarian chili bake?
To make this recipe vegetarian, you have a few options:
Use a plant-based ground meat alternative.
Add an extra can or two of beans.
Add a cup of peeled and chopped sweet potato cubes.
You may also like these scrumptious skillet recipes:
Garden Skillet Supper (a.k.a Ground Beef and Vegetables)
Chicken Broccoli Skillet with Pimento Cheese Sauce
Asian Pork Tenderloin Skillet (Quick & Budget-Friendly)
For more comforting chili recipes, head back to the intro.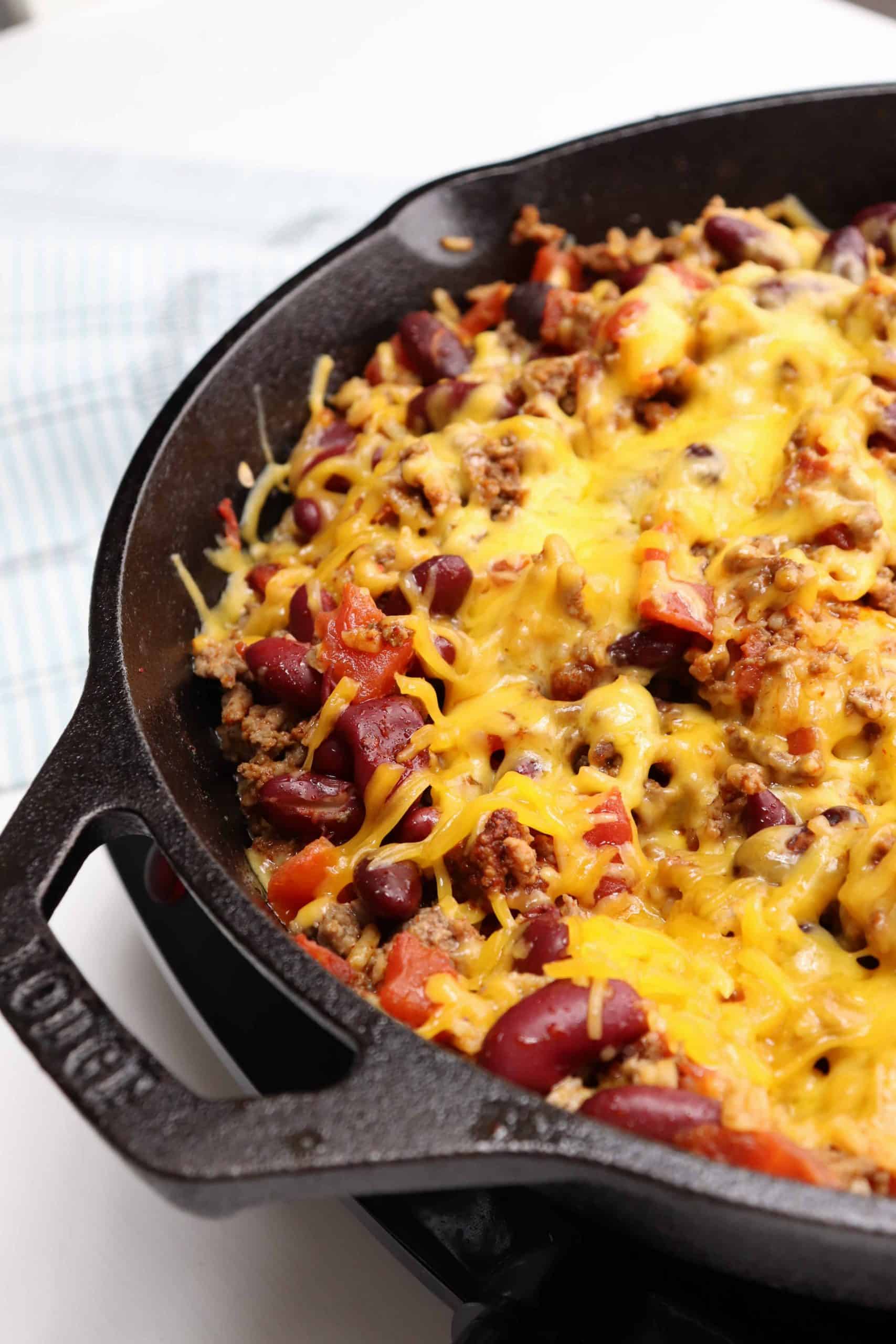 Ingredients
1

lb

ground beef

1

can

red kidney beans

1

can

Ro-Tel tomatoes

1/2

cup

uncooked rice

2

tbsp

chili powder

1

cup

shredded cheddar cheese

1

cup

water (if needed)
Instructions
In a large skillet, brown beef and drain well.

Add beans, Ro-Tel tomatoes, uncooked rice, chili powder, and water (if needed).

1 can red kidney beans,

1 can Ro-Tel tomatoes,

1/2 cup uncooked rice,

2 tbsp chili powder,

1 cup water (if needed)

Simmer, covered, for 20 minutes or until the rice is done.

Uncover and top with cheddar cheese. Continue cooking until the cheese melts.

1 cup shredded cheddar cheese

Serve with tortilla or corn chips.
Nutrition
A person isn't who they are during the last conversation you had with them – they're who they've been throughout the whole relationship.
~ Ranier Maria Rilke