This One Skillet Chili Bake is a good and hearty meal. This is a filling, satisfying, meaty dish, plus it has the bonus of involving very little effort to make.
Whats more, it is eaten with chips so you can ditch the utensils which means less clean up!
We have this dish for supper but it's great to serve at sports events and such as well. Let me show you how easy it is to make.
Recipe Ingredients:
Ground beef
Kidney beans
Ro-tel*
Rice
Chili powder
Cheddar cheese
Ro-tel is a mixture of diced tomatoes and green chilies. In place of Ro-tel, you can just use a 14 ounce can of diced tomatoes and a small can (4 ounces) of chopped green chilies.
Place ground beef in a large skillet and brown it over medium high heat, chopping it up as you do so. Drain any grease once it's done.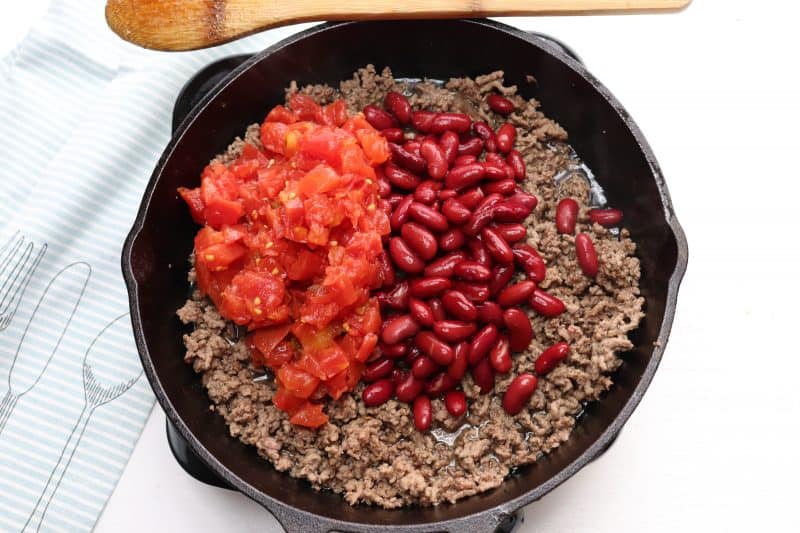 Pour in can of kidney beans, juice and all.
Add can of Ro-Tel, juice and all.
(or substitution for Ro-Tel as listed in ingredients)
Add in rice and chili powder. You can also add 1 cup of water. Sometimes I don't have to add the water, it depends on the amount of juice in my tomatoes and kidney beans. When in doubt, you can always add the water and your rice will absorb what it needs and the rest will cook out.
Stir that all up.
Cover with lid and simmer for twenty minutes, or until the rice is done, stirring once if you think about it.
Most of the time I just grab a baking sheet to use for a lid.
Remove lid and sprinkle liberally with shredded cheese.
Allow cheese to melt. Serve with tortilla or corn chips.
And now I have to go make Chili Bake!
Yum!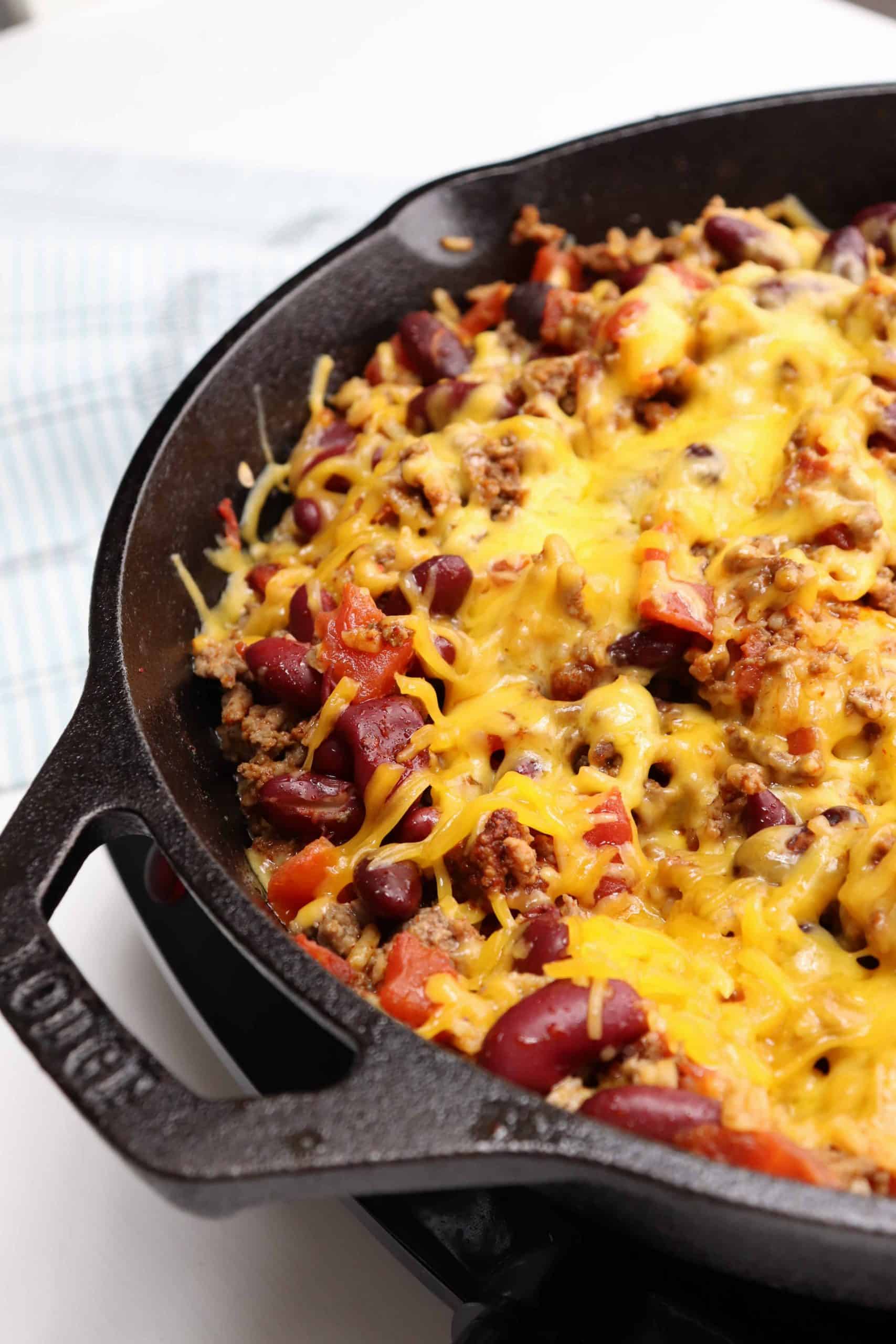 Ingredients
1

lb

ground beef

1

can red kidney beans

14-15 oz

1

can Ro-Tel

or one small can diced tomatoes and small can chopped green chilies (10 oz*

1/2

Cup

uncooked rice

2

Tablespoons

chili powder

1

Cup

shredded cheddar cheese

1

Cup

water

if needed
Instructions
In large skillet, brown beef and drain well.

Add beans, Ro-Tel, Rice, and Chili Powder.

Simmer, covered, for 20 minutes or until rice is done. Uncover and top with cheddar cheese. Continue cooking until cheese melts. Serve with tortilla or corn chips.
Notes
*If you don't have Ro-Tel in your area, you can either move to Alabama or substitute 14.5 ounce can of diced tomatoes (with juice) and a 4 ounce can of chopped green chilis. This is going to be a larger amount than the Ro-Tel but it will be just fine.
Add in ideas:
Anything you'd normally add into chili, of course, works great in this. I love to add corn and have sour cream handy for folks to top theirs if they like. Green onions are also wonderful. I have been known to add an additional can of beans, usually rinsed black beans, as well. If you want this recipe to feed more people, simply add a little more rice and the needed water for that and it will go pretty far!
I've also used mozzarella when I didn't have cheddar and more than once I've simply topped it with a few slices of cheese in a pinch!
Nutrition
A person isn't who they are during the last conversation you had with them – they're who they've been throughout the whole relationship.
~ Ranier Maria Rilke
You may also enjoy my Skillet Cherry Cobbler!