Bisquick Blueberry Muffins On A Budget
Overloaded with juicy blueberries and just the right amount of sweetness, these Bisquick blueberry muffins are so quick and easy to make with a baking mix.
I was fortunate enough to get to visit Canada a few years back and was treated to the loveliest vision – my first real live slice of blueberry pie. We can get blueberries here, of course, but they cost so dear and I am always about saving money. So when I had my piece of blueberry pie in Ottawa, sitting in a little diner where folks flipped back and forth between French and English as easily as drawing breath, I was determined to convert this delicious pie into an affordable treat.
Sure enough, I came up with the best blueberry muffin recipe on a budget. There are two tricks to this recipe. The first is we're using budget-friendly frozen blueberries. The second is my time-saving twist, which is a baking mix. I have a lot of rabbits in my hat that I pull out with the use of a baking mix, including some bar cookies that are out of this world, but you don't always hear about using it to make muffins.
These Bisquick blueberry muffins are one of my favorites because they aren't too sweet, they are very filling, and they really make the perfect setting to complement juicy blueberries. It doesn't hurt that they're awfully pretty and easy to make to boot. Let's get baking!
Recipe Ingredients
Sugar
Baking mix
Milk
Egg
Vegetable oil
Blueberries
How to Make Bisquick Blueberry Muffins
Pour your blueberries into a small bowl and pour 1/4 cup of baking mix over them.
Stir 'em up! This will keep them from sinking down into the bottom of your muffins.
Pour the remaining Bisquick mix into a large bowl.
Add in your egg, milk, vegetable oil, and sugar.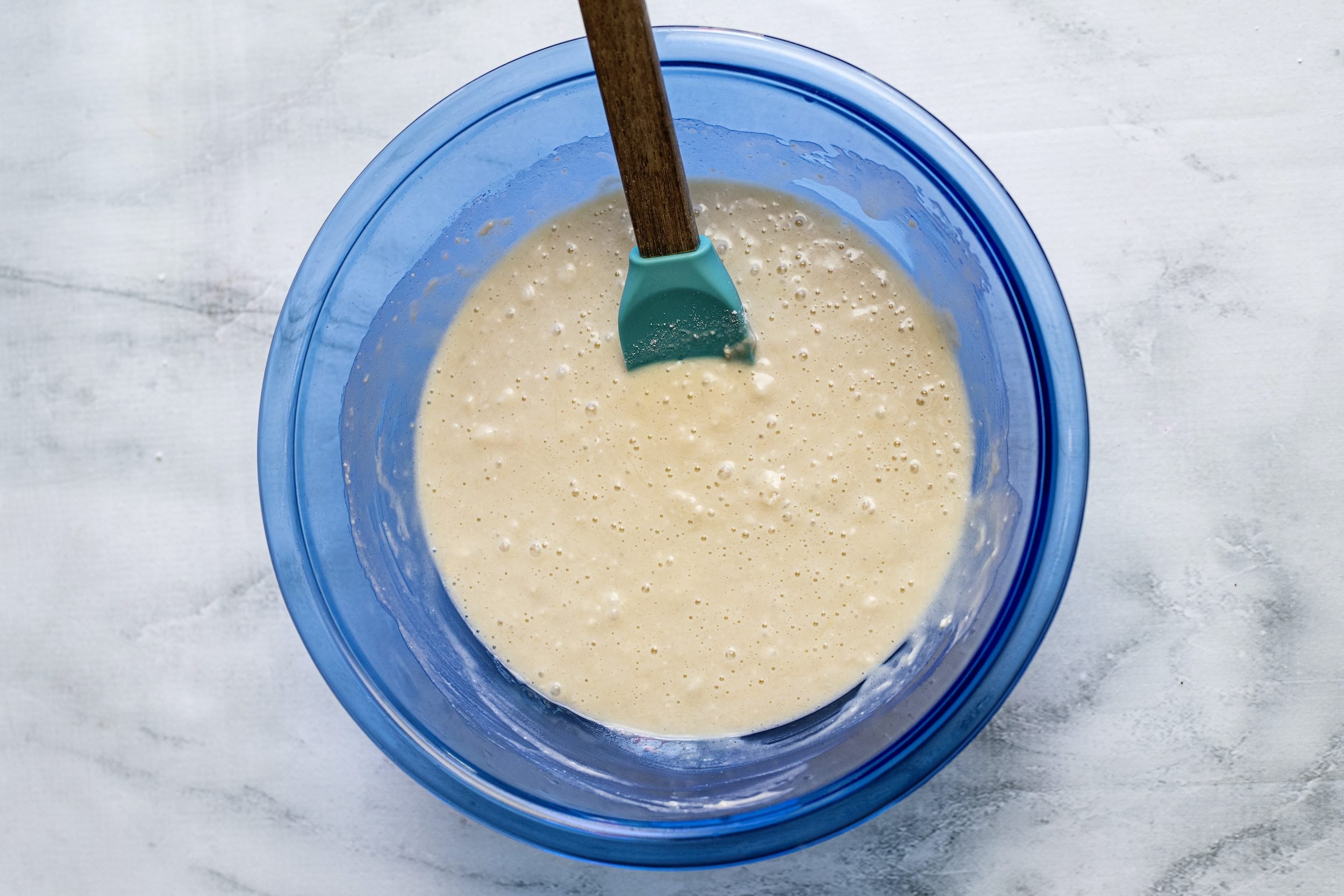 Give that a good stir. It will be lumpy and that's okay.
Pour in your blueberries and baking mix and gently stir.
Spray a muffin tin with cooking spray.
Evenly spoon the blueberry muffin recipe mix into each of the 12 regular-sized muffin cups.
Bake at 400 for 15 to 20 minutes, or until lightly brown on top.
Eat warm, cool, or any way you like. These homemade blueberry muffins will always be deeeelicious!
Storage
Store leftover muffins in an airtight container in the fridge for up to 1 week. Zap them for 20 seconds in the microwave if you like 'em warm. You can also freeze them for up to 3 months. Thaw at room temperature or in the fridge.
Recipe Notes
Feel free to use your favorite berry to make this muffin recipe, or even a combination, like frozen blueberries and diced strawberries. I want to try a berry medley I found in the freezer section of blueberries, raspberries, and blackberries.
If you have them, you can totally use fresh blueberries instead.
Ensure you don't overmix the ingredients. This will keep your blueberry muffins light and fluffy.
If you prefer brown sugar, you can use half brown sugar and half granulated sugar. Another option is to use coconut sugar.
Top your Bisquick muffins with powdered sugar or a streusel topping. To make this, mix together 1/4 of granulated sugar, 2 tablespoons of softened butter, and 1 tablespoon of the Bisquick baking mix until it's a crumbly texture. Add this on top of the muffin batter in the muffin pan before baking.
You can use any milk you like, including buttermilk to make them extra moist, almond milk, or soy milk.
To make gluten-free blueberry muffins, simply use a gluten-free Bisquick baking mix instead.
Ingredients
2 1/4

cups

baking mix

such as Pioneer Brand or Bisquick

1

cup

frozen blueberries

not thawed, can use fresh

1

cup

milk

1/3

cup

sugar*

1

egg

2

tablespoons

vegetable oil
Instructions
Spray a 12-cup muffin pan with cooking spray.

In a small bowl, place blueberries. Pour 1/4 cup of the baking mix over them and stir. Set aside.

2 1/4 cups baking mix,

1 cup frozen blueberries

In a large bowl, place all the other ingredients and stir until well mixed, but still lumpy. *Note: If you prefer a sweeter muffin, use 1/2 cup of sugar.

2 1/4 cups baking mix,

1 cup milk,

1/3 cup sugar*,

1 egg,

2 tablespoons vegetable oil

Add the blueberries to the muffin batter and gently stir. Spoon evenly into each muffin cup of the prepared muffin pan.

Bake at 400 degrees for 15 to 20 minutes, or until lightly brown on top.

When done, carefully remove the muffins from the muffin pan and allow them to cool.
Nutrition
If I keep a green bough in my heart, the singing bird will come.
~ old Chinese proverb