This recipe was originally posted in 2012 and I've updated the photos in 2019 to better showcase these delicious muffins!
Let me dive right in and tell you why these Any Time, Any Kind Muffins Oatmeal are wonderful and why you need to make them TODAY.
You mix up the batter ahead of time and you probably have most, if not all of the ingredients already.
The batter keeps for up to a month in your fridge, provided you use fresh eggs and milk (but why would you use old eggs and milk anyway, right?) This will probably remind you of that raisin bran muffin recipe but I actually like it better, so much more versatile and you don't have to buy that gargantuan box of Raisin Bran.
You can make just one muffin at a time, or five dozen at a time.
You can mix in whatever you want to make whatever type of muffin you want.
They are moist, so so moist, tender, so so tender, and delicious.
They freeze well once they are baked – but even the batter freezes well before it is baked.
They're pretty dern healthy too. Don't go spreading that, though, because these days more than ever "healthy" is relative. Some people think the only way you can claim "healthy" is if a dish has two ingredients: Grass and water. I never did pay no mind to them. Common sense wise, this is pretty dern healthy.
Seriously, what are you waiting for? Oh yeah, you want to tell you my story about how an Alabama girl handles an earthquake in Los Angeles, right? Pfft. What was I thinking! Of course ya do. Then you can make the AnyTime, Any Kind Muffins. If you'd rather skip the story, just scroll on down to the recipe.
You're still here? Well, get comfy then.
Back in 2012 I filmed a series for GSN called Beat The Chefs. It directly followed The American Bible Challenge and we even filmed both series at the same time on sets that were next door to each other. I had a wonderful time filming Beat The Chefs and the crew of folks I got to work with were just exceptional in every way. It only ran for one season and after that I was given opportunities to audition for several different shows but being gone that length of time was hard on my family and I decided that I didn't want anything like that unless it was God's clear will for my life.
Now the Earthquake story (as I wrote it in 2012)…
This was my third time in Los Angeles. Kraft flew me out there a few years ago and then a television production company flew me out to meet with me about two years ago. I hadn't thought I'd be back this soon but Beat The Chefs called and wanted to work with me and within two weeks I was there filming a television series. As always with new experiences, there have to be a few surprises. My surprises on this trip were learning that Jeff Foxworthy is even more awesome in person (especially when you send 200 moon pies to his set), finding out that a one hour game show can actually take 12-15 hours to film, and experiencing my very first earthquake.
Yes. Earthquake. Now y'all get this. I'm from Alabama. I live in tornado alley. I survived my first huge round of tornadoes at the age of two weeks old. I'm used to that. But the earth moving beneath you? That mess t'ain't natural.
I'll never forget that experience. Some said it was "just a 3.8" with a wave of their hand, as if that made it okay. As if the earth needed to stand up, play music, and do a full on Macarena for it to be noticed by the ultra cool of California.
Dear California,
I love you and all that – but y'all crazy.
I woke up at 3:19. Isn't it wierd how we check our watches when something like this happens? As if knowing the time of our almost death is gonna somehow help us later on…Well it helps us to tell the story I suppose.
I woke up at 3:19…There was a single loud boom and it felt like someone had picked up my bed and slammed it down one time. But anytime you're awakened from a dead sleep by having the earth decide to toss your bed in the air, once is more than enough to make a point.
My heart was instantly racing, instantly. Did I say instantly? Because, seriously. It went from dozing on the porch swing to KILL THE ATTACKING GRIZZLY in less than a blink. Adrenaline pumping, my thoughts came in surprisingly calm order – completely defying the way my heart was beating.
Holy COW An earthquake!
Then, as I waited one…two seconds for whatever was going to come next I braced myself with "This is probably gonna hurt but there's nothing I can do about that."
My third thought, which really happened within moments of the quake was "Not to split hairs, God, but I remember distinctly asking for no earthquakes while I was in LA." And then my fourth thought: "What do I do?" At this point, maybe four seconds had passed. My Southern kicked in and I flew into full on "pull me from the rubble mode". Which meant I had to get dressed really quickly because the last thing I wanted was to be on national television in my pajamas. I got dressed in all of thirty seconds, it's amazing how fast you can do things when there is a real possibility of the building you're in crumbling around you.
Then I got to thinking "Well if they pull me from the rubble, and my body gets on news cameras, no one will recognize me if I don't have makeup…" So I grabbed my makeup bag and went and sat in the bathroom floor. Southerners are programmed that when disaster strikes, you go to the bathroom. Technically, this is supposed to be because it is one of the safest places to ride out a tornado but in reality, it's just where we keep all the good books and magazines because that is the one place women can get a little privacy – if you lock the door…AND your kids don't know how to pick a lock yet. I can't tell you how many times I've sat in my bathroom floor reading in the evenings just to have some time to myself. You ever notice that women like to get those huge plush bathroom rugs for their private bathroom? Yeah, you think they're rugs, but they're really nap mats…
So I put on makeup really fast. Not the full face, mind you. Just base, concealer, eye shadow, eyebrow liner, eyeliner, mascara, and lipstick – I left the lipliner off since this was a rush job ~winks~ After I finished my makeup I got out of the bathroom floor and turned on the news, expecting to see a full report and live, on the scene eye witnesses.
Again, I'm used to tornadoes. Whenever there is a severe weather warning where I'm from, schools let out and workplaces shut down just so we'll have more people stationed around the state who can call in and describe the sound a train makes (inside Southern humor there).
I turned the news on, expecting to see a headline of "Woman from Alabama experiences first earthquake!" Nothing. Not even a blip. I'd later find that most of the natives slept through it about like I would an F3 or 4.
After that there were no further shakes so I went and sat on the edge of the bed, my heart still racing. Where should I go? What should I do? If a bad one comes no one will come looking for me. I'm out here in Los Angeles all by myself and no one will even think about me here in this hotel in Podunk nowhere. Ok so my hotel wasn't Podunk nowhere and I was surrounded by millions of people , but when all of those people are complete strangers, it feels like Podunk no matter how close you are to LAX.
So then I thought about driving to the studio. I'd have to be there in a few hours anyway, but I didn't know if security would be at the gate to let me in unless someone was filming overnight there…so I may end up sitting in a parked car in a parking lot or outside the studio, and that would lead to more encounters with people knocking on my car window yelling at me to give them money – this happens often to me in LA.
After about half an hour, I decided to lay down again and turned off the bedside lamp, accepting my fate and knowing that if the big one hit I'd at least be partially identifiable, should anyone care to or even think to identify me. I mean hey, eventually my husband back in Alabama would say "I'm hungry. Kids, didn't we used to have someone who took care of stuff like that?"
I laid down in the pitch dark and total silence and it felt eery, because that is exactly how it was right before the world decided to toss my bed up in the air one good time to see if I'd notice. Fortunately, nothing else happened. So I just closed my eyes and tried to convince my heart to slow down.
Then, as I laid there in the dark I got to thinking "There wasn't anything on the news about this…" I took a deep breath as another thought occurred to me "Crud. What if it wasn't a earthquake. What if my hotel room is haunted?" Now, I just had to turn that one over to God right then and there. "God, you know how I said I didn't want any earthquakes, well I meant ghosts, too so I'm just giving this one to you and I'll get up in about twenty minutes and head on out of here."
Just in case, I pulled the covers up to cover my face, because everyone knows that makes you invisible.
ALRIGHT so onto AnyTime, Any Kind Muffins…..
You'll need: Eggs, sugar, all purpose flour, salt, cinnamon, old fashioned oats, butter (can substitute shortening), baking soda, buttermilk, and hot hot hot water.
I know I like for y'all to use what you have on hand but I'd really like you to get old fashioned oats for this because they're just so good with them and you CAN make do but if you buy generic old fashioned oats, they don't cost very much – so you can justify it. If you don't feel comfortable buying generic, pretend you are reaching for name brand and then put generic in your buggy and don't tell them that they're not Quaker. See the secret is, ingredients can't read! So if you don't tell them they're not name brand they'll never know ~beams~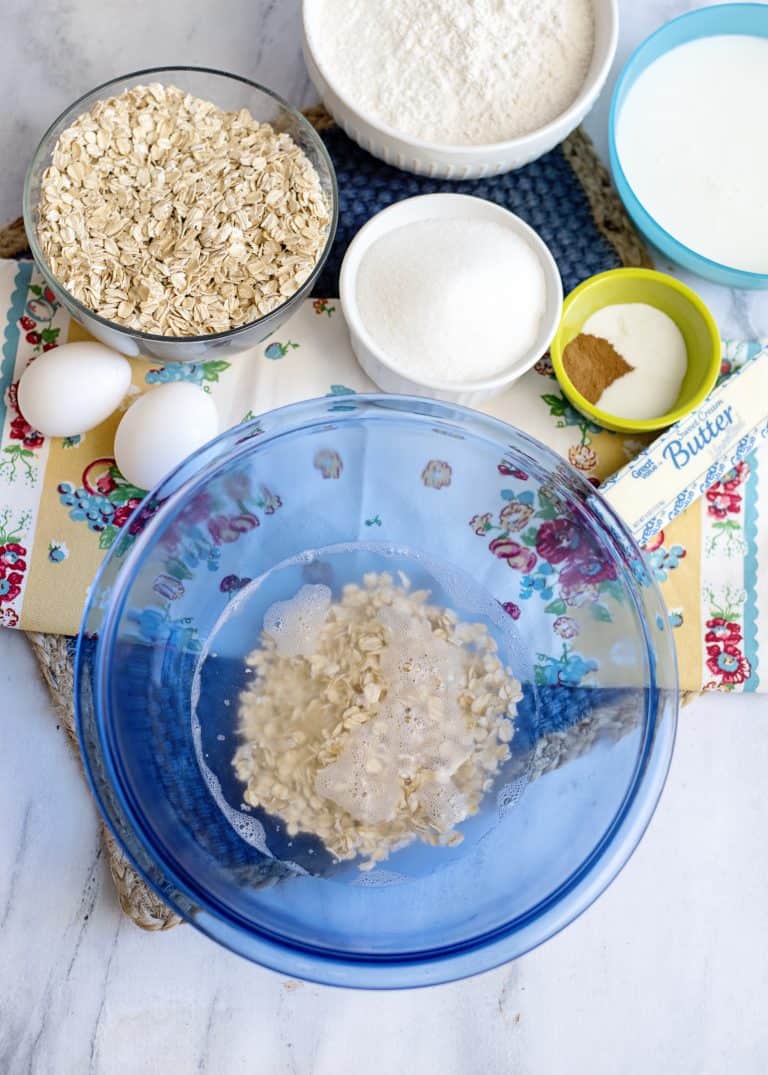 Pour your boiling water over 2 cups of the oats. Set that aside to soak a bit while you work on the rest of the recipe.
Don't worry, these exact instructions are below in the printable recipe at the bottom of this post 🙂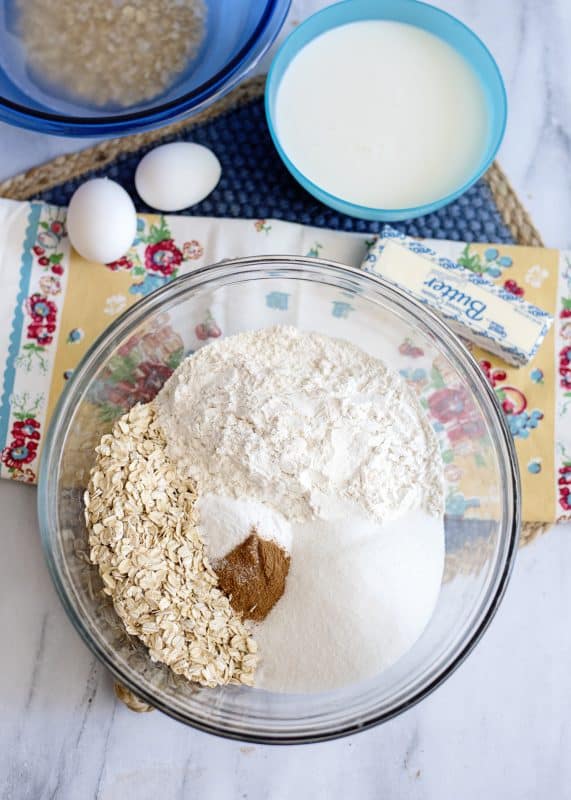 In a large dishpan or really big bowl place all of your remaining dry ingredients.
Stir 'em up good and then make a little well in the center kinda sorta like what you see pictured.
Crack your eggs in there… Get you a wooden spoon or something similar and beat 'em up a bit with it.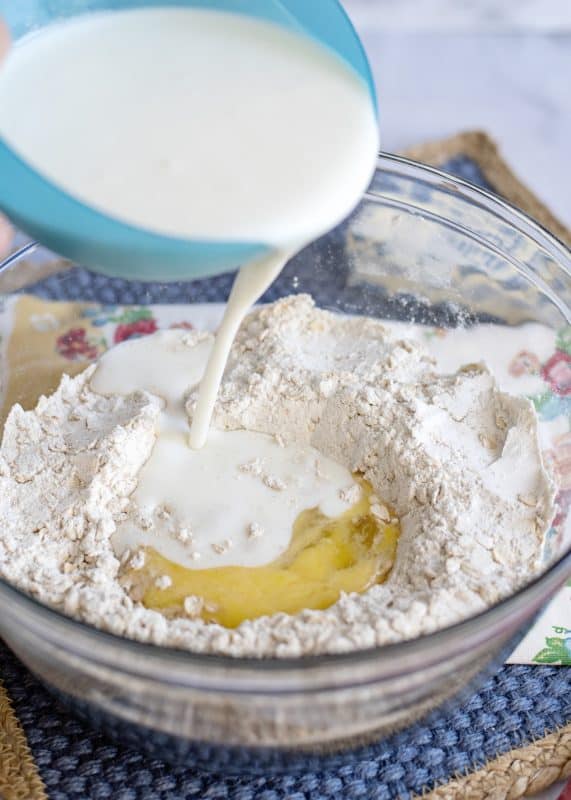 Add your milk….
You know that is a habit I had to work on breaking when I was cooking on television and camera for folks. Directors would always tell me I need to say "Break the eggs" instead of "break your eggs" and "pour the milk" instead of "pour your milk."
Which is silly because if you're cooking it at home along with me, I would fully expect it is your milk and your eggs…unless you borrowed them. In that case I'd say "Pour your neighbors milk….break your neighbors eggs…" So today, I'm talking however I want to because I may not be Leslie Gore, but it's still my party.
Stir that up really good.
Any Time Any Kind Oatmeal Muffins are about to happen!
Stir your melted butter into the hot oats.
Dump that oat mixture into your batter and stir again.
This is what it will look like.
Cover that up and let sit at least overnight in the fridge.
When you're ready for any time any kind oatmeal muffins, add mix ins…
1 cup of batter will make about 4 muffins. To every cup of batter, add about 1/2 cup of mix ins.
Pictured clockwise are: Almonds and dried cherries, chopped apple, blueberries, and chocolate chips.
Instructions for making one muffin are in the recipe card at the bottom of this post.
Just stir those up with a spoon until they are stirred in good.
Place Any Time Any Kind Oatmeal Muffins into a muffin tin that has been sprayed with cooking spray or muffin papers like I'm using here. Either one works just fine. Top with additional mix ins if you want – but you don't have to.
Bake at 400 for 20 minutes, or until lightly browned on top. ENJOY!
Baked muffins keep for up to three days if kept in a sealed container on the countertop, and at least a week if kept in the fridge.
Prepared batter keeps for up to one month in the refrigerator, provided you use fresh eggs.
This batter also freezes well, as do the prepared muffins!
I'd love to hear your mix in ideas for Any Time Any Kind Oatmeal Muffins!
What would you add to these muffins?
Please tell me your ideas in the comments section below! Also, do you have any earthquake stories?
Ingredients
6

Cups

old Fashioned Oats

5

cups

all purpose flour

2

cups

very hot water

1

cup

butter

melted (can substitute melted vegetable shortening)

2

cups

sugar

4

eggs

4

cups

buttermilk

5

teaspoons

baking soda

2

teaspoons

cinnamon

2

teaspoons

salt
Instructions
For each batch, you can add 1/2 cup mix ins to one cup of batter. Mix in ideas are: Blueberries, chocolate chips, sliced almonds, walnuts, chopped pecans, diced apples, dried cranberries or cherries, other dried fruit or berries, chopped banana

In a medium bowl, place 2 cups oats and hot water. Stir and set aside.

Place all remaining dry ingredients into a large bowl or dishpan. Stir to combine. Form a well in the center and crack eggs into the well while beating them lightly with a spoon. Add milk and stir batter well with large spoon until well combined.

Melt shortening or butter and pour into hot oat mixture, stir. Pour hot oats into batter and stir again until well combined. Cover and refrigerate at least overnight.
To make 4 muffins muffins: 1 cup of muffin mix makes approximately 4 muffins. To every cup, add about 1/2 cup of mix ins such as berries, chocolate chips, nuts, or dried fruit. See post above for more ideas.
To make only one muffin, use 1/4 cup batter and approximately 2 tablespoons mix ins.
Bake in greased muffin tin or a muffin tin lined with cupcake papers at 400 for 20 minutes, or until lightly browned.
Batter keeps for up to a month. Prepared muffins freeze well as does batter.
Makes approximately 60 muffins. Batter can easily be halved.
You might also enjoy Crock Pot Chicken Tetrazzini – and how we changed our focus.

The art of being happy lies in the power of extracting

happiness from common things. — Henry Ward Beecher
Yum