Oatmeal Muffins Recipe (Add Your Own Mix-Ins)
This oatmeal muffins recipe is so easy to make with shelf-stable ingredients. Add your own mix-ins (from fruit to chocolate chips) to these moist, tender, and delicious muffins.
Let me dive right in and tell you why this oatmeal muffins recipe is wonderful and why you need to make them TODAY.
You mix up the batter ahead of time.
You probably have most, if not all of the ingredients already. We're talking eggs, sugar, all-purpose flour, oats, salt, cinnamon, butter, baking soda, and buttermilk (plus whichever mix-ins you choose).
The muffin batter keeps for up to a month in your fridge, provided you use fresh eggs and milk (but why would you use old eggs and milk anyway, right?). This will probably remind you of that raisin bran muffin recipe but I actually like it better. It's so much more versatile and you don't have to buy that gargantuan box of Raisin Bran.
You can make just one homemade muffin at a time, or five dozen at a time.
You can mix in whatever you want to make whatever type of muffin you want. This might be blueberry oatmeal muffins, a banana oatmeal muffin recipe, or chocolate oatmeal muffins. The choice is yours.
They are so so moist, so so tender, and so so delicious.
They freeze well once they are baked. But let me tell you, even the batter freezes well before it is baked.
They're pretty darn healthy too.
Seriously, what are you waiting for? Let's get baking!
Recipe Ingredients
Eggs
Sugar
All-purpose flour
Salt
Cinnamon
Old-fashioned oats
Butter (can substitute for vegetable shortening)
Baking soda
Buttermilk
Hot hot hot water
How To Make My Oatmeal Muffins Recipe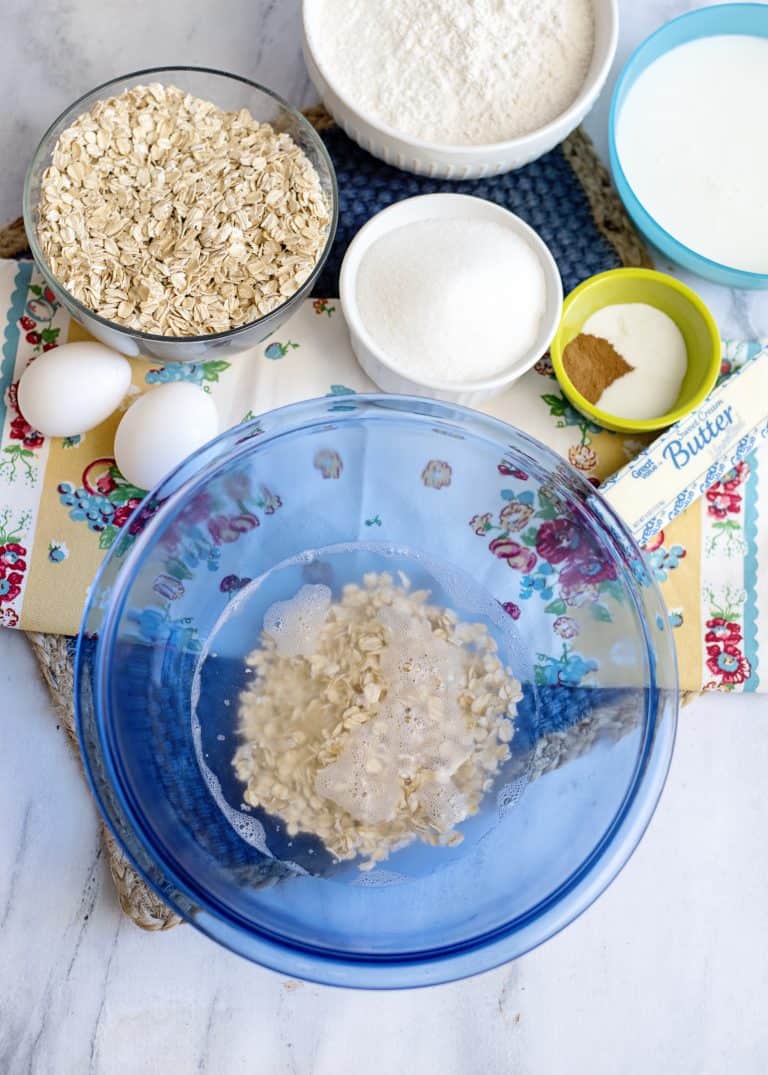 Pour your boiling water over 2 cups of the oats. Set that aside to soak a bit while you work on the rest of the recipe.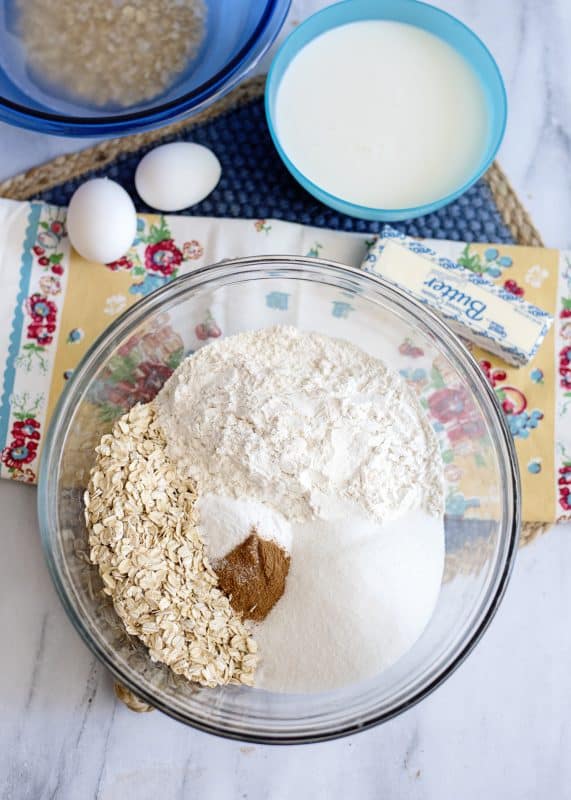 In a dishpan or large bowl, place all of your remaining dry ingredients.
Stir 'em up good and then make a little well in the center kinda sorta like what you see pictured.
Crack your eggs in there… Get you a wooden spoon or something similar and beat 'em up a bit with it.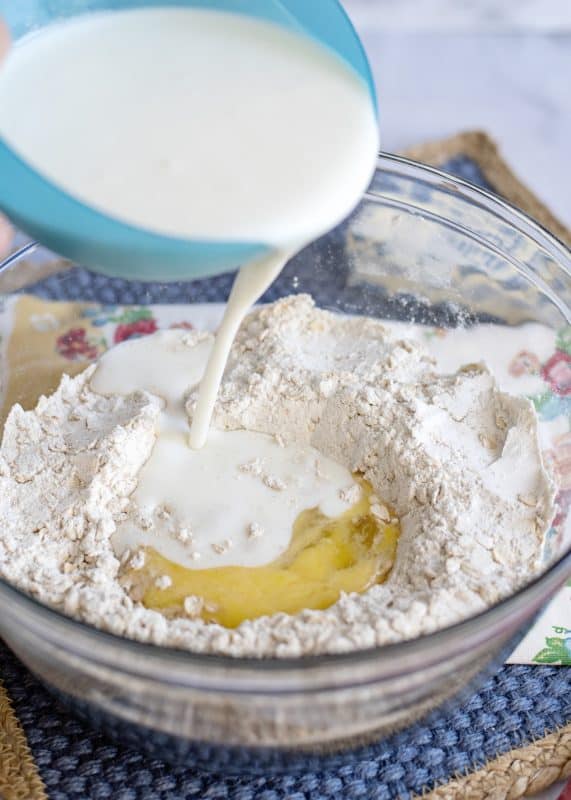 Add your milk.
You know that is a habit I had to work on breaking when I was cooking on television and camera for folks. Directors would always tell me I need to say "Break the eggs" instead of "break your eggs" and "pour the milk" instead of "pour your milk." This is silly because if you're cooking it at home along with me, I would fully expect it is your milk and your eggs… unless you borrowed them. In that case, I'd say "Pour your neighbor's milk….break your neighbor's eggs…". So today, I'm talking however I want to because I may not be Leslie Gore, but it's still my party.
Stir that up really well.
Your oatmeal muffins recipe is now taking shape!
Stir your melted butter into the hot oats.
Dump that oat mixture into your batter and stir again.
This is what it will look like.
Cover that up and let sit at least overnight in the fridge.
It's time to add your mix-ins!
When you're ready to bake your oat muffins, add your mix-ins…
1 cup of batter will make about 4 muffins. To every cup of batter, add about 1/2 cup of mix-ins.
Pictured clockwise are almonds and dried cherries, chopped apple, blueberries, and chocolate chips.
Just stir those up with a spoon until they are stirred in good.
Place the muffin batter into a muffin tin that has been sprayed with cooking spray or a muffin pan lined with muffin papers like I'm using here. Either one works just fine.
Top each muffin liner with additional mix-ins if you want, but you don't have to.
Bake at 400 for 20 minutes, or until lightly browned on top. ENJOY!
I'd love to hear your mix-in ideas for this oatmeal muffins recipe!
What would you add to these muffins?
Please tell me your ideas in the comments section below! Also, do you have any earthquake stories?
Storage
Baked oatmeal muffins keep for up to three days if kept in a sealed container on the countertop, and at least a week if kept in the fridge.
The prepared muffin batter keeps for up to one month in the refrigerator, provided you use fresh eggs and milk.
This batter also freezes well, as do the prepared muffins!
Recipe Notes
I know I like for y'all to use what you have on hand, but I'd really like you to get old-fashioned oats for this because they're just so good with them. You CAN make do, but if you buy generic old-fashioned oats, they don't cost very much, so you can justify it. If you don't feel comfortable buying generic, pretend you are reaching for name brand and then put generic in your buggy and don't tell them that they're not Quaker. See the secret is, ingredients can't read! So if you don't tell them they're not name brand they'll never know ~beams~.
Substitute the melted butter for 1/3 cup of the vegetable oil of your choice.
Sprinkle your muffins with cinnamon sugar before baking.
Feel free to add a teaspoon of vanilla extract to your muffin batter.
Don't use an electric mixer, as this will overmix the batter. If you want moist and dense oat muffins, you skip the mixer!

For gluten-free muffins, you can use a gluten-free

alternative like

.

Here are some more mix-in ideas:

Blueberries

Chocolate chips

Sliced almonds and a teaspoon of almond extract added to the muffin batter.

Chopped walnuts or c

hopped pecans. You can also sprinkle some chopped nuts on the top of the muffins before baking, no matter the mix-in.

Diced apples for .

Dried cranberries, apricots, raisins, or cherries.

Chopped banana or mashed banana.

I prefer fresh fruit, but you can use frozen blueberries, for example

, to make a

.

Just make sure they're thawed before throwing them into your batter.
Check out these other mouthwatering muffin recipes:
The Best Blueberry Muffins On A Budget
Ingredients
6

cups

old-fashioned oats

5

cups

all-purpose flour

2

cups

very hot water

1

cup

melted butter

can substitute for melted vegetable shortening

2

cups

sugar

4

eggs

4

cups

buttermilk

5

teaspoons

baking soda

2

teaspoons

cinnamon

2

teaspoons

salt
Instructions
For each batch, you can add 1/2 cup of mix-ins to one cup of batter. Mix-in ideas include blueberries, chocolate chips, sliced almonds, walnuts, chopped pecans, diced apples, dried cranberries or cherries, other dried fruit or berries, and chopped banana.
To make the oatmeal muffins
In a medium bowl, place 2 cups of oats and hot water. Stir and set aside.

6 cups old-fashioned oats,

2 cups very hot water

Place all of the remaining dry ingredients into a large bowl or dishpan. Stir to combine. Form a well in the center and crack eggs into the well while beating them lightly with a spoon. Add milk and stir batter well with a large spoon until well combined.

6 cups old-fashioned oats,

5 cups all-purpose flour,

2 cups sugar,

4 eggs,

5 teaspoons baking soda,

2 teaspoons cinnamon,

2 teaspoons salt,

4 cups buttermilk

Melt the shortening or butter, pour it into the hot oat mixture, and stir. Pour the hot oats into the batter and stir again until well combined. Cover and refrigerate at least overnight.

Bake in a greased muffin tin or a muffin pan lined with cupcake papers at 400 for 20 minutes, or until lightly browned.
Notes
To make 4 muffins: 1 cup of muffin mix makes approximately 4 muffins. To every cup, add about 1/2 cup of mix-ins.
To make only one muffin: use 1/4 cup batter and approximately 2 tablespoons mix-ins.
Nutrition
You might also enjoy Crock Pot Chicken Tetrazzini – and how we changed our focus.
The art of being happy lies in the power of extracting
happiness from common things. — Henry Ward Beecher