How To Make Mama's Apple Spice Muffins
We had Mama's Apple Spice Muffins ALL OF THE TIME growing up. Just about every week!
I have never known anyone who did not absolutely love these muffins.
The cool thing about them, and what my mother liked so much with a large family to feed, is that you can use any type of apple in this apple spice muffin recipe and it makes no difference – they will still be just as good. You can also use those apples that are starting to get a little soft as well. They work great in here and no one will ever know.
These make a delicious breakfast or treat any time of day. I try to make two batches so we have them to snack on for a few days afterward. These muffins are filling and tasty.
Remember to scroll down for the full recipe after the list of ingredients
Recipe Ingredients:
Pecans
Apples
Self rising flour*
Quick oats
Vegetable oil**
Eggs
Sugar
Cinnamon
You're also going to need either some nutmeg or allspice.
*Instructions for making your own self rising flour from all purpose are in the recipe card at the bottom of this post.
**You can also use a light olive oil or coconut oil in place of vegetable oil.
In large bowl add flour, sugar, cinnamon, allspice or nutmeg, and oats.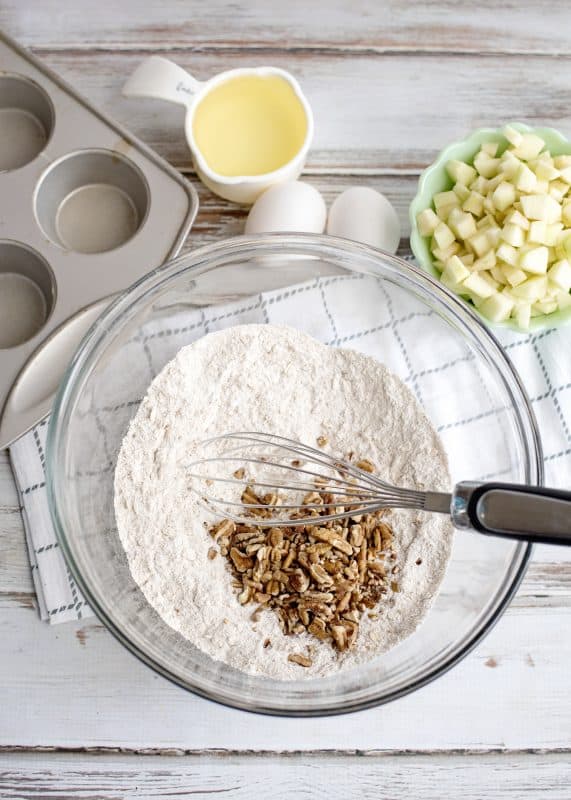 Now add in your nuts.
Stir until blended.
In a separate bowl, beat your eggs and then add to them oil, water, and apples.
Stir that up until it's mixed pretty well and apples are coated.
Now take that bowl with the apples in it and dump it into the bowl with your dry ingredients.
Stir it up really well until it looks like this.
Now y'all know I'd never ever advocate for you eating raw batter or anything so I'm going to tell you that you don't have to because I always take a taste right at this point, on your behalf, and I can report that it's absolutely delicious. I'm just trying to keep you safe.
😉
Spray your muffin pan with vegetable spray and fill your muffin cups.
Bake at 400 for about twenty minutes for regular sized muffins. Smaller ones will be done in about fifteen.
Filled with flavorful bites of apple, the perfect blend of spices, and that little slight crunch of the crust and pecans. This is one of those recipes that I implore, beseech, and pretty much beg you to make as soon as possible!
Trust me. I'm looking out for your happiness here!
Ingredients
1 1/4

cup

self rising flour*

3/4

cup

sugar

1/2

cup

chopped nuts

1/4

cup

quick cooking oats

3/4

teaspoon

cinnamon

1/2

teaspoon

nutmeg or allspice

your preference

2

eggs

2

cup

peeled

cored, and chopped apples

3/4

cup

vegetable oil

1 1/2

Tablespoons

water
Instructions
Prepare muffin pan by spraying with cooking spray.

In large bowl, mix flour, sugar, nuts, oats and spices.

In separate bowl, mix beaten eggs, apples, oil and water.

Pour egg mixture all at once into flour mixture: stir just until flour is moistened.

Spoon batter into muffin cups.

Bake 20 minutes at 400 degrees or until tested done. Makes one dozen.
Notes
*To make your own self rising flour, simply add 1 1/2 tsp baking powder and 1/2 tsp salt for EACH cup of all purpose flour.
This recipe featured on Meal Plan Monday
Tips for Apple Spice Muffins:
You can make the dry part up the night before to save time.
If you are going to make these first thing in the morning it really helps in terms of time and effort. I have actually made this up several batches at a time and stored it for a few weeks in ziploc bags in the pantry for quick apple spice muffins!
These muffins don't rise that much so you can fill them up almost all the way to the top of the muffin tin.
I like to make these as mini muffins as well. They just have a great texture and are wonderful as one or two bite muffins.