Let me introduce you to raisin bran muffins, my Mama's favorite muffin recipe. Bursting with raisin bran cereal, these moist muffins are packed full of flavor and texture and make the perfect grab-and-go breakfast option.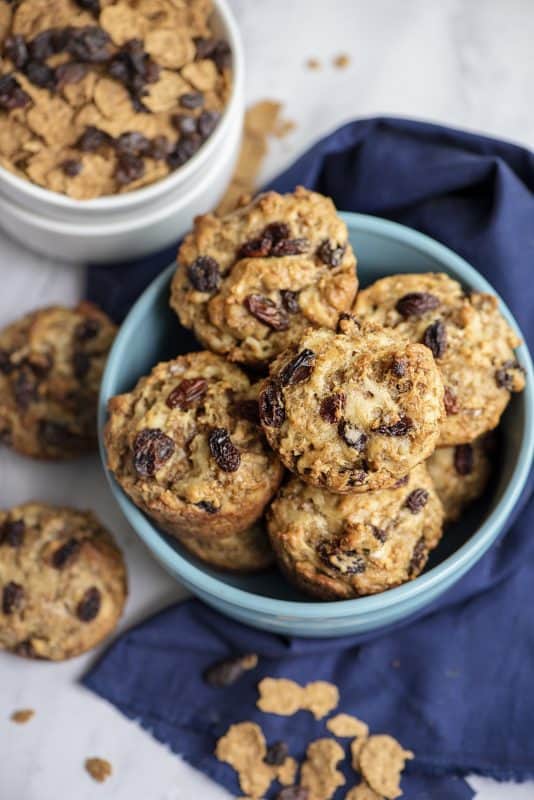 I am a morning person, but I gotta tell you, I don't even bother to think about my own breakfast beyond a cup of coffee until my kids are all settled into school for the day. There are two exceptions to this rule: when I've made my slow cooker oatmeal and when I have these raisin bran muffins in the fridge just waiting to be baked.
This is my mother's favorite muffin recipe and there is a darn good reason why. Once made, the muffin batter sits happily in your fridge for up to one month. Yes, really! It's like grab-and-go cookie dough but for breakfast.
All you need to do is scoop out enough to make your muffins for the day. Only need one or two muffins for your breakfast? Perfect, just scoop out that much and cover the rest to have another day. Want a last-minute bread accompaniment to your supper? Here ya go! Afternoon snack? Go go gadget muffins! I can't think of any time that isn't perfect for one of these delicious and wholesome raisin bran muffins, especially since they are just a preheated oven and a scoop away.
Fortunately, the batter for my raisin bran muffin recipe is a cinch to make using mostly ingredients you probably already have on hand. This includes flour, baking soda, oil, sugar, buttermilk, eggs, and salt. Add in raisin bran cereal and you're good to go! The buttermilk makes sure these muffins remain tender and moist, no matter when you bake them, and the cereal's bran flakes and juicy raisins add flavor and texture.
I can't remember many times growing up that we didn't have some of this batter in the fridge. Once you try them, I bet you'll have a permanent shelf for this batter in your fridge, too!
Recipe Ingredients
All-purpose flour
Baking soda
Kellogg's Raisin Bran cereal
Vegetable oil
Sugar
Buttermilk
Eggs
Salt
How to Make Raisin Bran Muffins
Place all dry ingredients in a large bowl.
Stir those up until well combined like this.
Add the wet ingredients to the flour mixture in the large mixing bowl.
Stir until well mixed, then cover and place the cereal mixture in the refrigerator overnight.
This is how it will look the next day.
When ready for muffins, preheat the oven to 400 degrees and grease your muffin tin or line each muffin cup with muffin paper.
Then scoop out enough for however many muffins you want to bake and bake for 15 minutes or until done.
Put the rest of the batter back in your fridge and keep it there for up to a month!
Enjoy these warm, yummy, raisin bran muffins anytime! I love adding a spread of butter to mine.
Storage
The unbaked raisin bran muffin batter will last in an airtight container in the fridge for up to 1 month. Just bake as instructed when you're ready. However, baked muffins will also last up to 5 days when stored, covered, at room temperature.
Recipe Notes
For added flavor, substitute the granulated sugar for brown sugar or use half and half.
Speaking of added flavor, you can also add 1/2 teaspoon of ground cinnamon or 1 teaspoon of vanilla extract, depending on whether you want extra spice or sweetness.
Want to make a raisin bran muffin in a mug instead? Scoop the batter into a mug or ramekin and microwave for 1 minute and voila, you have yourself a quick and easy mug muffin for breakfast.

For extra crunch, add a cup of chopped

or almonds.
Here are more muffin recipes to munch on:
Bisquick Blueberry Muffins On A Budget
Gluten-Free Banana Nut Muffins (No Dairy or Eggs)
Oatmeal Muffins Recipe (Add Your Own Mix-Ins)
Ingredients
6

cups

raisin bran cereal

2 ½

cups

plain all-purpose flour

2

cups

buttermilk

1

cup

sugar

½

cup

oil

2

eggs, beaten

2 ½

teaspoons

baking soda

1

teaspoon

salt
Instructions
In a large bowl, mix the dry ingredients, then add the wet ingredients and stir until well incorporated. Cover and refrigerate overnight.

6 cups raisin bran cereal,

2 ½ cups plain all-purpose flour,

2 cups buttermilk,

1 cup sugar,

½ cup oil,

2 eggs, beaten,

2 ½ teaspoons baking soda,

1 teaspoon salt

The next morning, stir well and bake as many as needed in a muffin tin. Make sure each needed muffin cup is greased with cooking spray or lined with muffin paper. Bake in a 400-degree oven for 15 minutes or until a toothpick inserted comes out clean.

Store the remaining batter tightly covered in the refrigerator for up to one month.
Nutrition
This post was originally published in 2008 but I updated the photos in 2020.